Best 5 Ways to Convert PPTX to PDF Online/Offline
 Update:

Recently, Microsoft is making a change to its Microsoft Office branding. Microsoft Office is being renamed by Microsoft 365. After the official renaming, our article content will be updated accordingly.
PPTX is a popular format used for presentations. However, you have to use Microsoft PowerPoint to open slides in this format. But not everyone installed this software on their computers.
By contrast, PDF is a user-friendly format that compatible with more devices. If a PDF file is shared, People on nearly any platform can open and read it. This post looks at various tools that can help you convert PPTX to PDF, and it will be easier for you to share and open the files on different platforms.
Best 2 Ways to Convert PPTX to PDF Offline
You can use these two desktop PDF converters to convert a PowerPoint file into PDF format and open it easily.
1. Convert PPTX to PDF on Windows with EaseUS PDF Editor
EaseUS PDF Editor is a powerful software that can convert files in many formats into PDF. For example, you can create a PDF from JPG, PNG, DOC, XLSX, and PPTX.
Every slide of the PPTX file will be converted into PDF pages with images and text in the converting process. You can then use the OCR function to make the PDF searchable and editable.
Apart from that, it's a full-fledged editor to manage PDFs from almost every aspect, ranging from creating a PDF to annotating a PDF. There are some of its main features.
Key Features:
Make scanned PDFs editable using the OCR feature
Remove background from PDF easily
Add bates numbers to PDFs for easy identification and retrieval
Sign PDF files with e-signature or digital ID
This all-in-one software can perfectly play the roles of both PDF editor and PDF converter. If you want to convert your PPTX slides into PDF, don't miss this software. Click on the button below to download it now.
Steps to Convert PPTX to PDF on Windows:
Step 1. Open EaseUS PDF Editor and click on the "Create" option in the menu bar next to "Convert". It will reveal a pop-up menu to ask you if you want to create a PDF from scratch or from a file.

Step 2. Select the second option, and then browse the computer to select the PPT or PPTX file you want to convert. It will then display the file conversion process. Please wait for it to complete.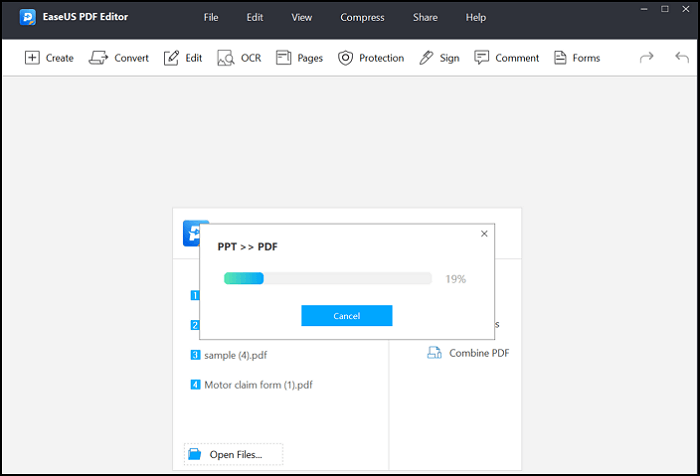 Step 3. Once done, it will display the PPT/PPTX file as a PDF. Each slide will be converted to a page in the PDF file. Make sure to save the file to the computer.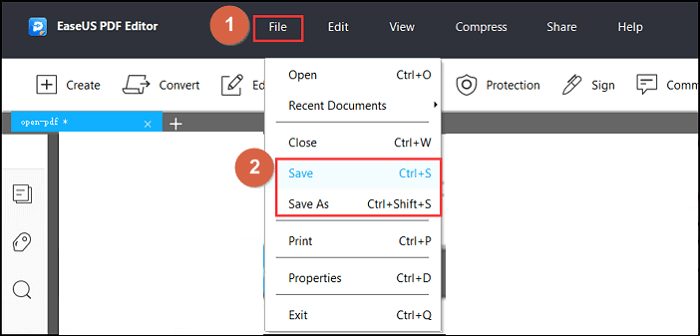 2. Convert PPTX to PDF on Mac with Preview
The Preview app on Mac is the default application to view images and documents on macOS. It also supports basic image editing, document editing, and many other features, making sure the users don't have to install any other application on Mac.
The application supports a large number of formats, including document and image formats like JPG, PNG, and PPT/PPTX. Preview is also well integrated with the OS and can access the clipboard images effortlessly.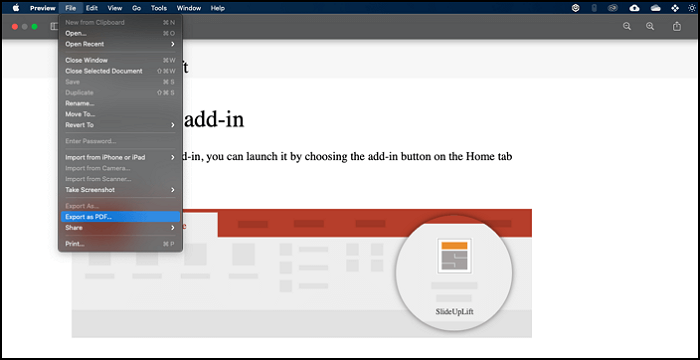 Features:
Convert file or image into PDF
Support a large number of formats
Draw on the PDF with the shape tool
Add a signature to PDF with the signing tool
Steps to Convert PPTX to PDF on Mac:
Step 1. Use "Command" + "Spacebar" to open the finder. Type "Preview" and launch the app.
Step 2. Click on "File" > "Open", and then navigate to select and open the PPTX file.
Step 3. Once the file is open, click "Export as PDF" and save the PDF with a unique name.
Best 3 Ways to Convert PPTX to PDF Online
Here are the three online ways to convert a PowerPoint file into a PDF file. These tools will upload the file to their server and convert them into PDF files.
1. Convert PPTX to PDF Online with SmalPDF
Converting PPTX to PDF is one of the most common but tedious PDF tasks you have to do. Smallpdf is here to help you out, with a great number of options you can use. 
The converting process is straightforward: select your desired (such as "Convert PPTX to PDF") tool, upload your file, and wait for the conversion. You can create a free account and convert your files directly from the browser.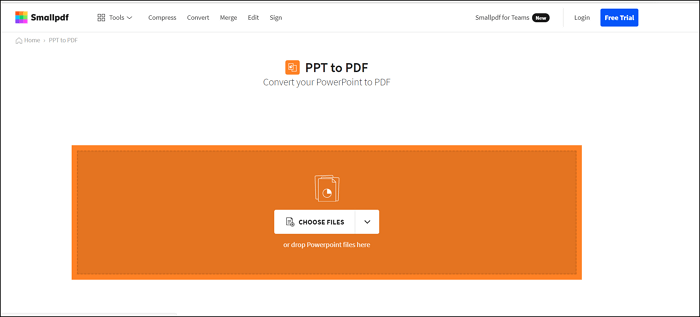 Features:
Compress, convert, merge, split PDFs
Support adding signatures to PDF
Support large file size
Online storage integration
Steps to Convert PPTX to PDF Using Samllpdf:
Step 1. Open the online convertor in the browser, and then click on the "Choose Files" button.
Step 2. Navigate to the location of the PPTX file, select it, and upload it.
Step 3. Wait for the conversion to complete, and then download the file.
2. Convert PPTX to PDF Online with Zamzar
Zamzar is a site where you can convert PPTX to PDF online for free. With Zamzar, you don't need to download or install any software, and there's no registration or sign-up required.
The Zamzar PPTX to PDF converter can convert PowerPoint slides to PDF that are fully compatible with most modern browsers and can be opened on different operating systems.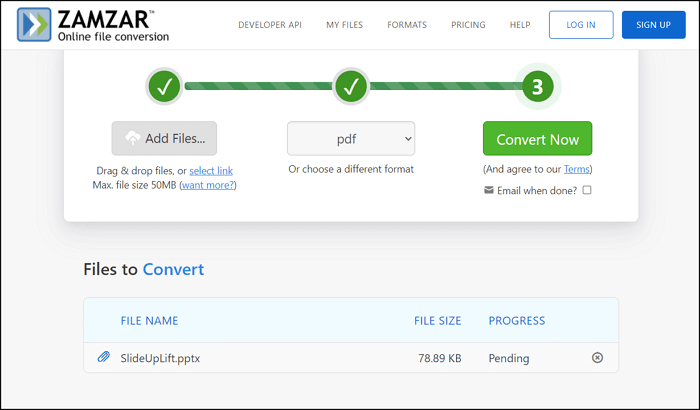 Features:
Support various document formats
Google Drive and Dropbox integration
No user account is needed
Steps to Convert PPTX to PDF Using Zamzar:
Step 1. Open the website of the Zamzar converter, and click on the "Add Files..." button to select the file to upload.
Step 2. Select PDF as the target format, and then select to get an email when the conversion is complete.
Step 3. Once done, download the file on the computer, and open it with a PDF editor or viewer.
3. Convert PPTX to PDF Online with PDF Convertor
If you work with PowerPoint files, you might need to convert them to PDF format from time to time. Files in PDF format are suitable for sending to a client or colleague without worrying about compatibility issues. Luckily, the process is pretty simple, and it doesn't take any specialized software.
PDF Converter offers tons of online convertor tools to convert PPT or PPTX into a PDF in seconds.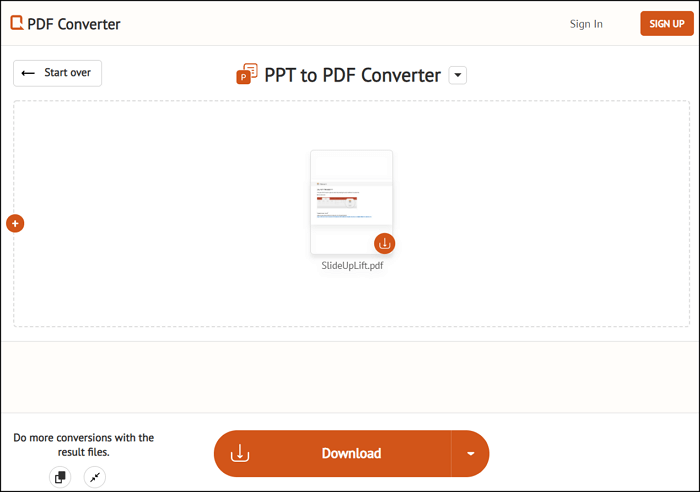 Features:
Free online converter
Automatic deletion of files
Work on various operating systems
Manage PDF files easily
Steps to Convert PPTX to PDF Using PDF Convertor:
Step 1. Open the PPTX to PDF converter on your browser. Keep your file ready for upload.
Step 2. Drag and drop the file, and the conversion will instantly start.
Step 3. Once the conversion is complete, click on the "Download" button and open it in a browser to check it.
Conclusion
It is easy to convert PPTX to PDF files using both online and offline tools. Online tools are useful when you do not want to install software, and they are easy to use.
However, when you need more functions, you need to use desktop software such as EaseUS PDF Editor. It offers many useful features which allow you to manage PDF without much effort.
About the Author

Jane is an experienced editor for EaseUS focused on tech blog writing. Familiar with all kinds of video/PDF editing and screen recording software on the market, she specializes in composing posts about recording and editing videos. All the topics she chooses are aimed at providing more instructive information to users.