How to Convert Word to Fillable and Editable PDF [3 Ways]
PDFs have lots of benefits over MS Word Documents as they can display on pretty much every operating system, you can add passwords and read-only mode, and the final document will look just like the way you created it. If you have a Word document and you want to convert it to a fillable and editable PDF form, how do you do it?
Due to all these reasons, PDFs are so widely used. If you want to convert Word files to fillable PDF files, this article will help you. This article will help you create your own fillable PDF form very quickly with a variety of different software.
See contents below:
How to Convert Word to Fillable PDF with EaseUS PDF Editor
EaseUS PDF Editor is the best PDF editor for Windows right now! It has all the features you would need without getting too complex and also has a beautiful interface. You can convert your Word file into a PDF and make a fillable form out of it easily.
It has all the form capabilities like lots of different input fields like radio box, checkbox, MCQ, long and short answer text, advanced properties for each element you add, and lots more. And the conversion of a Word file into a PDF is seamless and very easy. It happens with the click of one button only! Apart from that, it has lots of encryption features like password, read-only mode, and limiting the printing and copying access of your PDF to name a few.
Some of its top features:
Convert to and from Word, Excel, PPT, JPEG, etc.
OCR supports converting already scanned PDFs to editable format
Adding and modifying text, images, extracting data, etc.
Create fillable PDF forms with checkboxes, radio boxes, etc.
Compress PDF files to decrease the file size
Now, you may download EaseUS PDF Editor by clicking the button below and start converting.
Step 1. First of all, launch EaseUS PDF Editor. There are three options on the right side of the main interface, and you need to select the second option, "Create PDFs".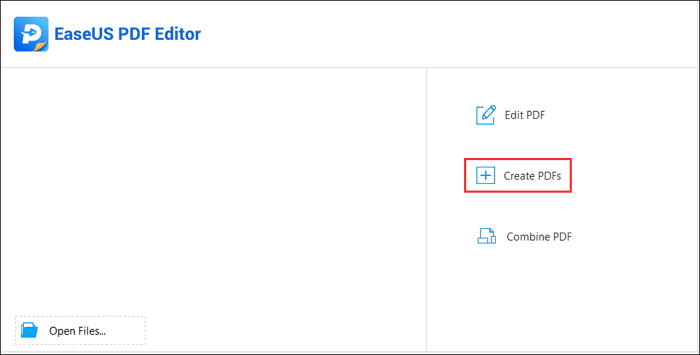 You can also click on the "Create" button at the top left and select "From File..." to import the Word document.

Step 2. Select the Word document you want to convert from the folder, and click on the "Open" button to move on to the next screen.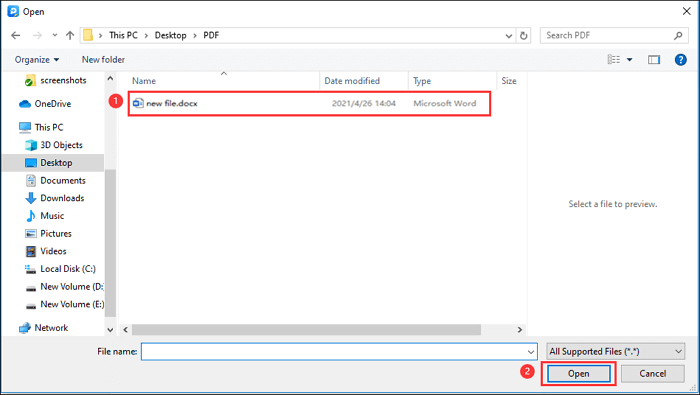 Step 3. Now, you only need to click on the "File" button and select "Save" or "Save As" from the drop-down menu.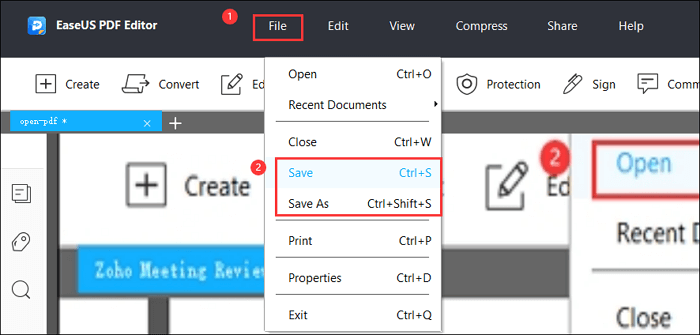 Step 4. Choose the target folder where you want to save the PDF file, and click on the "Save" button to convert the Word document to PDF format.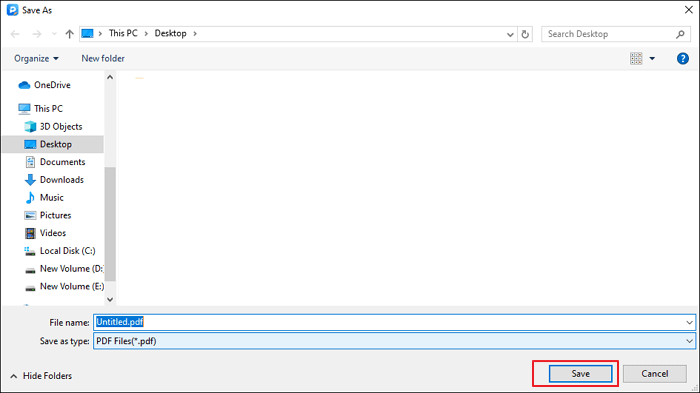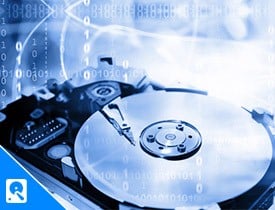 How to Create PDF Form from Word Using Adobe Acrobat
The software to be used for completing this task is called Adobe Acrobat and we will be using its latest version. It is the industry-leading software when it comes to PDF editing as it comes with a ton of features. You can convert, compress, split, OCR, add videos, and do lots more. Some of its top features are:
Encrypt your PDF files
Add E-Signatures to a PDF
Compare Two PDFs to find the differences
Adobe Acrobat comes from Adobe which is also the foundation of the PDF format. Acrobat is widely used in every industry like business, legal, education, etc, because of its easy-to-use interface, many features, and integration with other Adobe apps. It is very simple to use for a beginner and still has very advanced features for professional users. 
The downside to this software is that it is very expensive and starts at $15 per month.
It's available for both Windows and Mac. The tutorial is as follows:
Step 1. Open the Word Document in MS Word. After that go to 'File > Print' and click on the 'Print' button over there. A dialogue shall open and from there click on the dropdown which says 'PDF' and select 'Save as Adobe PDF'.
Another box shall come where you need to select some properties. Don't do anything over here and click on 'Continue'. Select a location on your computer to save the file.
Step 2. Now the file shall open in Adobe Acrobat. Here, to add a fillable form to your file, in the right sidebar, search for 'Prepare Form'. Upon clicking that, you will have access to many form fields and options.
Step 3. In the top bar, you can see lots of different options. Let's add a text field for now by clicking on the 'T' icon. Now, add a text field and then name it. By clicking on the Properties button, you will have access to many more options like its appearance, alignment, colors and thickness, advanced calculations, and validations.
Similarly, you can also add MCQ, dates, e-signatures, and other fields and also customize them. 
Step 4. To preview the form which you have just created, click on the 'Preview' button at the top. Once you have done the editing and added a form, click on the 'Close' button. Next, to save your PDF, go to 'File > Save As', and select the output location and name.
Read also: PDF vs Word
How to Convert Word Document to Fillable PDF Online
If you don't want the power of offline software and want a simple, easy-to-use, and multi-platform compatible online tool, then the part is for you. The best tool for completing this task is called 'Sejda'. It is a complete online PDF suite with a variety of different tools like form-making, compression, conversion, e-signature, splitting, etc.
This tool works on all major browsers and apart from an online version, it also has an offline version in case you need one. There is a forever free version with some limitations and the paid pricing starts at $6/month.
For creating a form online, you will have to use a workaround and first convert a Word document to a PDF and then create a form in it. Don't worry, it's very easy!
The tutorial is as follows:
Step 1. Go to this webpage: https://www.sejda.com/word-to-pdf. On this page upload the Word document you want to convert. You can also upload from Dropbox, Google Drive, One Drive, or by URL. Once the file is uploaded, it shall get converted to PDF.
Step 2. After the file is converted, click on the three dots, and from the menu which pops up, select the option which says 'Create Forms'.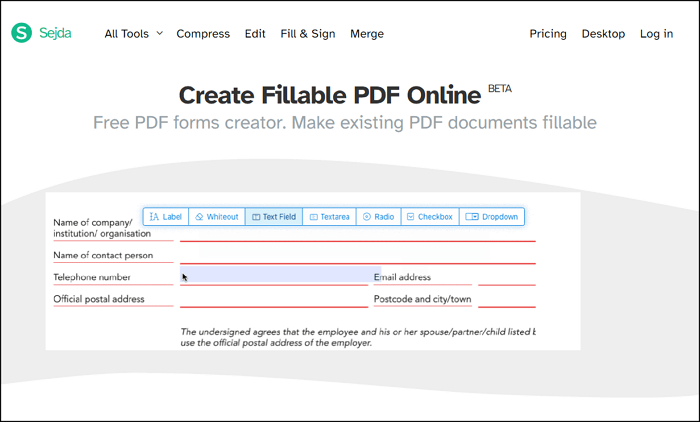 Now Sejda shall process the file and you will be dropped into a text editor where you can add form fields.
Step 3. In the top bar, you will have options to add text fields, labels, MCQ, dropdown, etc... Now add all the fields and edit the PDF form to your liking. 
Step 4. Once you're done, click on the 'Apply Changes' button. Another popup will come and on that popup click on the 'Keep' button. After processing, click on the 'Download' button and download the file. And that's it!
You have successfully added a form using an online tool.
Convert Word to Fillable PDF FAQs
Check the frequently asked questions related to this topic below.
1. How do I convert a Word document to a fillable PDF without Acrobat?
If you want to convert a Word document to a fillable PDF without Acrobat, you can try EaseUS PDF Editor. With this tool, you can do it simply by importing your Word file into this tool, and it will convert the file to PDF automatically.
2. How do I convert a Word document to electronic form?
You may do it with Word. Just upload your Word document using the DocuSign for Word app. And it will automatically convert the document to a PDF file format.
3. How do I make a PDF editable for free?
If the PDF file is password protected, then you cannot edit it freely. But with EaseUS PDF Editor, you can remove the password and edit it as you like. Just download it and unlock your PDF files with simple steps.
Conclusion
So that was it! See it's so easy to make a Word file into a fillable PDF form. We showed you how to do it with various different tools both online and offline. Although the most recommended tool is EaseUS PDF Editor for this task. It's a versatile and easy-to-use PDF Editor and someone who works with PDFs should definitely choose this software. It makes different tasks very easy! That was for this tutorial! We hope that this article helped you complete your task effectively!
About the Author
Melissa is a sophisticated editor for EaseUS in tech blog writing. She is proficient in writing articles related to screen recording, video editing, and PDF file converting.