Top 8 Photo to PDF App for Android/iOS/PC/Online
 Update:

Recently, Microsoft is making a change to its Microsoft Office branding. Microsoft Office is being renamed by Microsoft 365. After the official renaming, our article content will be updated accordingly.
With the rapid development of wireless communication technology, more and more people use portable devices every day instead of computers. The most efficient way to create a PDF file from pictures on your mobile phone is to convert them with a competent photo to PDF app.
This post will introduce the top 8 app that turns picture into PDF on both Android and iOS. With a view to Windows users who didn't connect a scanner to the computer, we will also recommend the photo to PDF converter app on Windows, and you can even directly use some of them online.
Read also: JPEG vs. PDF
Best 2 Image to PDF Converter for Android
Finding a powerful photo to PDF app is not difficult for Android users, but which is the best one? In this part, you will get to know two recommendable photo to PDF app Android you can choose from.
Microsoft Office Lens
This is a great photo to PDF converter app which Microsoft designs. This is a full-featured Android app that allows you to take pictures and edit them by trimming, cropping, and sharpening. As you can easily enhance the pictures on your phone, the images of whiteboards and other documents can become more readable. You can convert them into PDF clearly without loss of quality.
Besides converting photos into PDF, you can also turn images into other formats, including Word and PowerPoint. Saving it into OneNote is also possible with this wonderful app. Whether you want to use the converter in your work or study, Microsoft Office Lens is the best choice.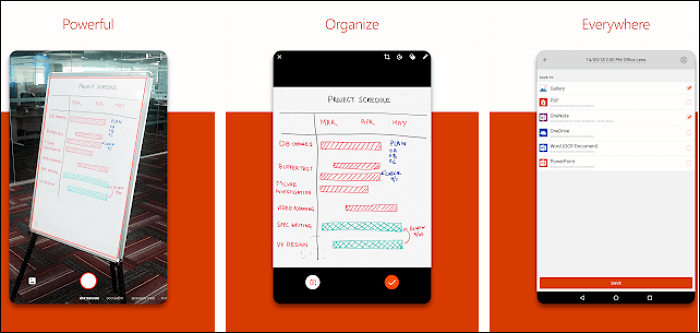 Pros:
Support OCR via Word in Microsoft Office
Clean and simple interface
Capture and share
Cons:
Loading time is sometimes long
Bit of a learning curve
CamScanner
This is a powerful and professional photo to PDF app that allows you to utilize your phone as a scanner. Its OCR functionality makes it easy to extract text from photos, and you can also edit, search, and share the contents with little hassle. The operating steps to convert pictures into PDF files is straightforward, and a few simple clicks will be enough.
After you convert your photos of books or documents into PDF, you can use this app to enhance it. For instance, you can add annotations to the PDF to emphasize some important lines. If you want to claim your ownership of the PDF, the function of adding a watermark can be helpful.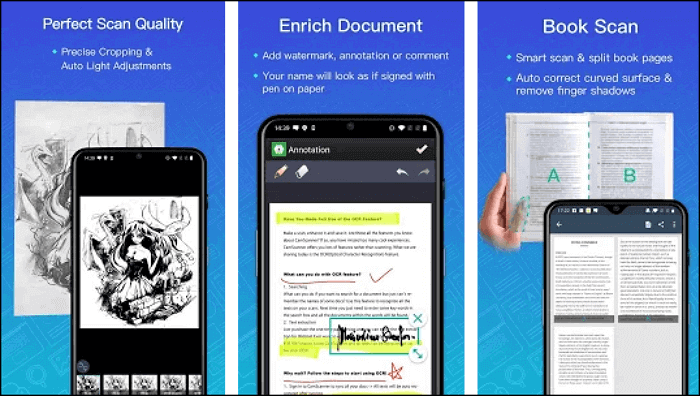 Pros:
Free and easy-to-use
Scan and digitize various types of paper documents
Support editing photos before the converting
Cons:
The price may be high for some users
Best 2 Photo to PDF App for iOS
When it comes to the best picture to PDF app on iPhone and iPad, two excellent converters cannot be neglected: SwiftScan and PDF Photo‪s‬.
SwiftScan
As to the best scanner for documents and QR codes, you can't miss SwiftScan. First of all, its well-designed interface enables nearly everyone to use it with only several taps, and even you are a beginner who doesn't know how to turn a picture into a PDF. You can also further edit the converted PDF file by rotating, adding, or deleting pages.
For people who need to protect the PDF files on iPhone and iPad, this app support adding a password to encrypt your document. And both your Touch and Face ID can be used as the password.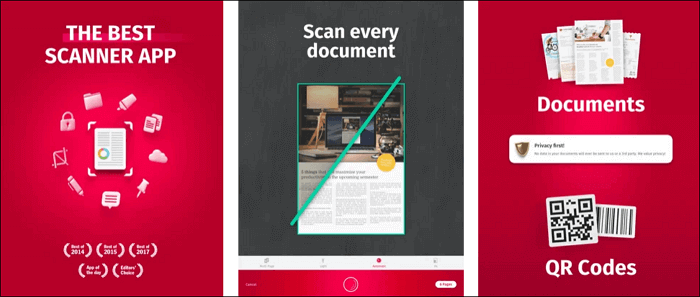 Pros:
Support iCloud synchronization
Support converting single or multiple pages freely
Good output quality
Cons:
The distinction between types of documents is not clear
Poor automatic background correction
PDF Photo‪s‬
If you want to share a batch of photos with your friends or colleagues, sending them a PDF file that contains all those pictures is a good option. To get that done, you have to find a powerful app to convert picture to PDF.
Among all the choices, PDF Photos is a good one as you can use the built-in photo grid layout to arrange the pothos you want to convert and preview it before converting. Those features enable you to create a perfect PDF file from multiple images with a few taps.
If you want to make the output file more individualized, you can add a cover page to the PDF. In addition to that, you can even add your own name and logo on the PDF's header and footer.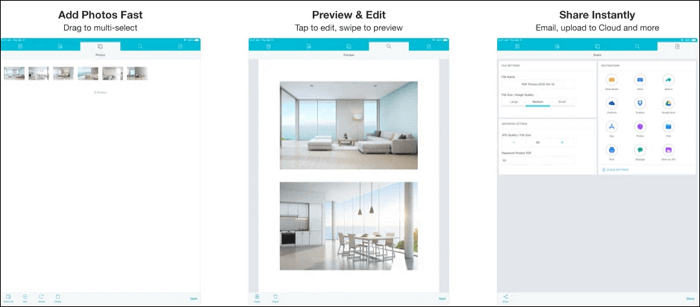 Pros:
Support creating collections of photos in PDF format
Reduce the size of images
Rotate the pages and change the margins
Cons:
Best 3 App to Convert Picture to PDF on PC
A helpful photo to PDF app for PC is necessary for those who need to scan paper documents into PDFs but have no scanner connected to their computer. If you want to get more information about the image to PDF app on Windows, keep reading this part.
This is a versatile PDF converting program for Windows users. This software allows you to import and convert images to PDF format, including jpg, png, gif, etc. Also, it supports to convert PDF to the images formats mentioned before in just one simple clicks. Unlike other PDF converters, this PDF converting software will keep the original fonts and formatting.
What's more important, this converter allows you to batch convert more than one image files to PDF at once. Also, you can batch convert PDF files back to images. For instance, you can batch convert PDF to JPG in one click. So, if you have more than one images to be converted, this program could save a lot of time for you. You can download this tool on your computer by clicking on the button below.
Now, let's take a JPG file as an example, and see how EaseUS PDF Converter converts it to PDF for you.
Step 1. Launch EaseUS PDF Converter, import your image files into this program by clicking "Open Files". You can also drag and drop them to it.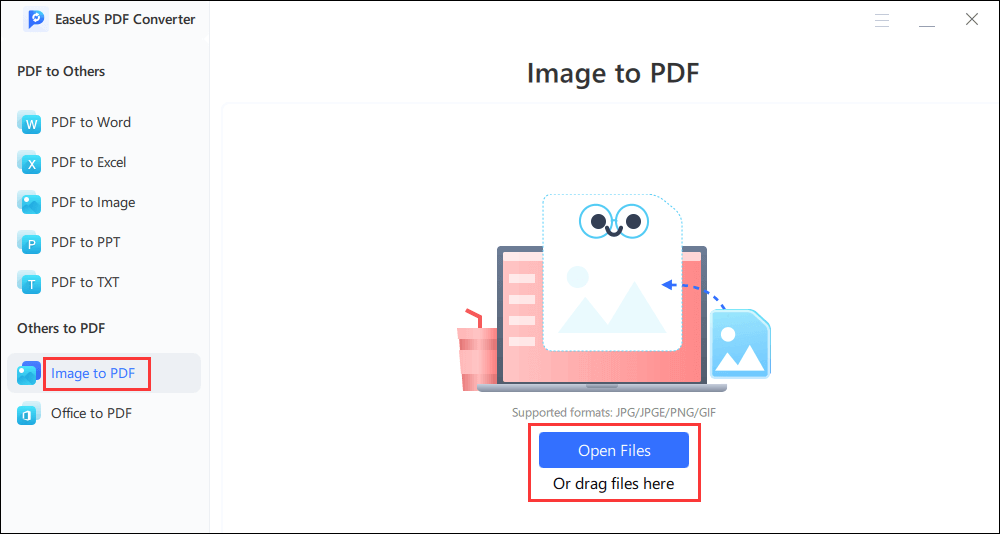 Step 2. Choose a save path for the output PDF file. If not, the tool will save the PDF to the path same as your image file by default.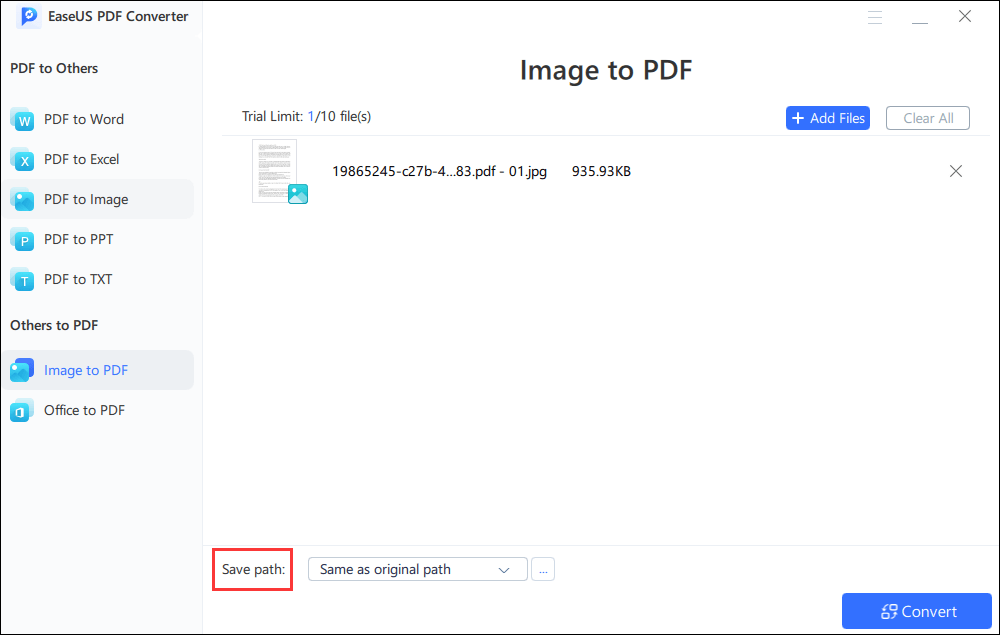 Step 3. After conversion, you can view the PDF file and save it to your computer.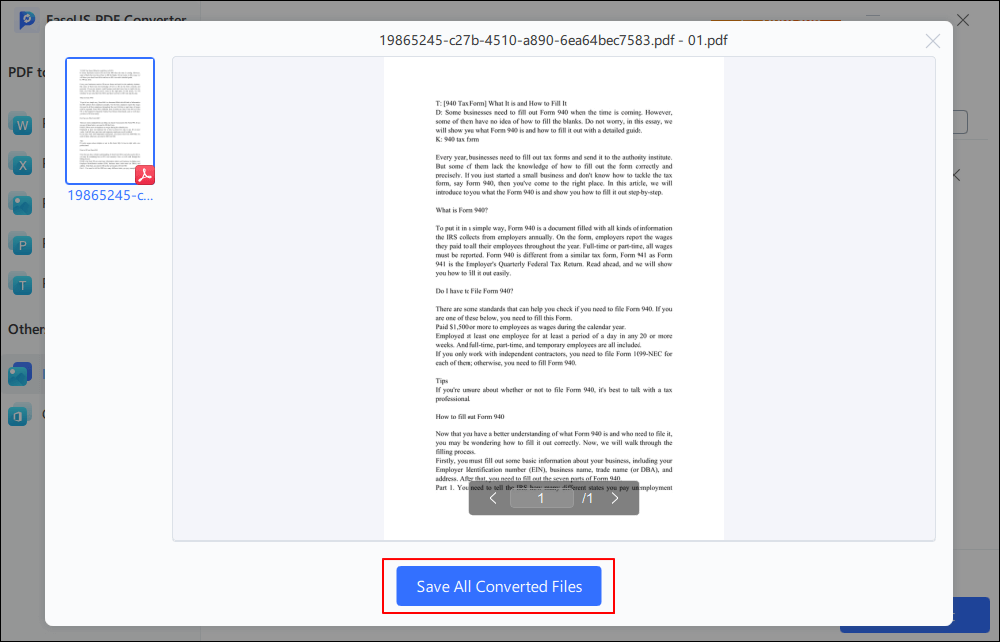  Notice:

EaseUS also offers you an online picture to PDF converter, and you can click here to try it for free: >> Online JPG to PDF Converter
Image To PDF
This is a very user-friendly app to convert photo to PDF on Windows PC. You can easily add images in various formats in your folders to this app and click on the "Start Convert" icon on the bottom right to create a PDF file from the pictures you imported. If you want to fill in some necessary information, such as the title,  author name, and the file's subject, the input boxes on the right side can enable you to do that.
And the most convenient thing is this app supports almost all the frequently-used image formats, including PNG, JPEG, BMP, GIF, etc. You don't need to worry about the conversion will fail due to the format issue. This software can get that done successfully.

Pros:
Support many image formats
Only a few steps are needed
Cons:
Only work with Windows 95 operating systems
JPG To PDF Converter
This app is named a JPG to PDF converter, but it supports more than one image format. For instance, you can import GIF, BMP, and PNG to it. This is definitely a good photo to PDF converter on PC because the operation to use it is extremely easy. If you need some photo layouts to arrange your pictures, this app will satisfy your needs.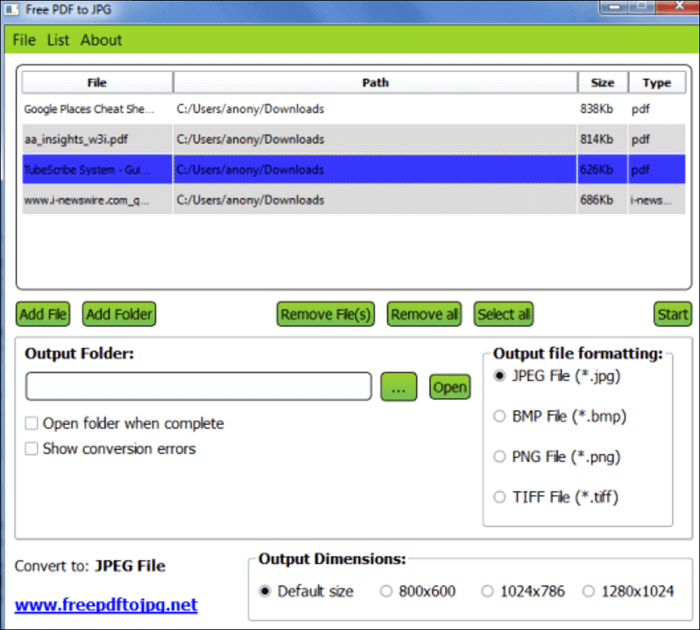 Pros:
Support many formats
Select different paper size
Support adding more than 50 pictures
Cons:
Best App to Convert Picture to PDF Online
Converting pictures into PDF file directly online is undoubtedly the most convenient and simple way for users who don't want to install any app on your devices. To help you complete the conversion online, we will introduce an online tool in this part.
Smallpdf is a nice choice for many reasons. First, when you want to import the source photos, there are many available options. It allows you to add from your device, as well as from Dropbox and Google Drive. Therefore, you don't need to spend a lot of time downloading the source files from the Internet, and the conversion will be quickly done online.
Pros:
Converting speed is fast
Easy-to-use interface
Files are protected by SSL encryption
Cons:
It's not free to edit the converted PDF
Try: https://smallpdf.com/jpg-to-pdf
Conclusion
There are 8 powerful and intuitive apps on Android, iOS, Windows, and online. If you want to turn the pictures on your devices into PDF on Windows but don't know which app is the most suitable one you can use, you can try EaseUS PDF Converter now.
Photo to PDF APP FAQs
1. Which app is best for converting images to PDF?
Here are some great apps for converting images to PDF:
Microsoft Office Lens
CamScanner
SwiftScan
PDF Photo‪s‬
EaseUS PDF Converter
Image To PDF
2. Can you turn a photo into a PDF file?
Yes, turning a photo into a PDF file is easy. But first, you need to find an easy-to-use photo to PDF converter. Here we take EaseUS PDF Converter as an example. All you need to do is to import the image, choose the PDF as the output format, and click Convert. That's it.
3. How do I convert a picture to PDF on my phone?
You can use Adobe Acrobat to convert a picture to PDF on your phone:
Step 1. Open your web browser and navigate to the Convert JPG to PDF tool.
Step 2. Tap Select a File and choose your picture. Then this tool automatically converts your picture to a PDF.
About the Author
Melissa is a sophisticated editor for EaseUS in tech blog writing. She is proficient in writing articles related to screen recording, video editing, and PDF file converting.