How to Convert WPS to PDF Online & Offline [Full Guide in 2022]
 Update:

Recently, Microsoft is making a change to its Microsoft Office branding. Microsoft Office is being renamed by Microsoft 365. After the official renaming, our article content will be updated accordingly.
PAGE CONTENT:
WPS file derives from Microsoft Works Word Processor before Microsoft Word. To some extent, a WPS file (.docx) has few differences from a Word file (.doc). Yet, compared with Word files, WPS files lack some of the advanced formats, and they cannot use macros. Due to its drawback, it is not the best choice for users. By contrast, PDF takes up little space, and it is easy for us to read and edit the content with it.  Above all, PDF files are more secure than Docx files. So, it is necessary to convert DOCX to PDF.
To avoid issues when we use files, the easiest way is to save as PDF. Therefore, the article below will introduce different methods for converting WPS to PDF both online and offline. Keep reading here, and you will get the answer.
Methods for Converting WPS to PDF
Converting WPS to PDF is quite needed for many users. Many ways you can choose to convert WPS to PDF, and here we will focus on four of them, including WPS Office, Microsoft Office, Zamzar, and Convertio.
Convert WPS to PDF with WPS Office
WPS Office is the first method we will introduce. It is software that we can use both online and offline. Also, WPS has a conversion function that is easy to use. Look at the following steps to convert WPS to PDF with the WPS Office.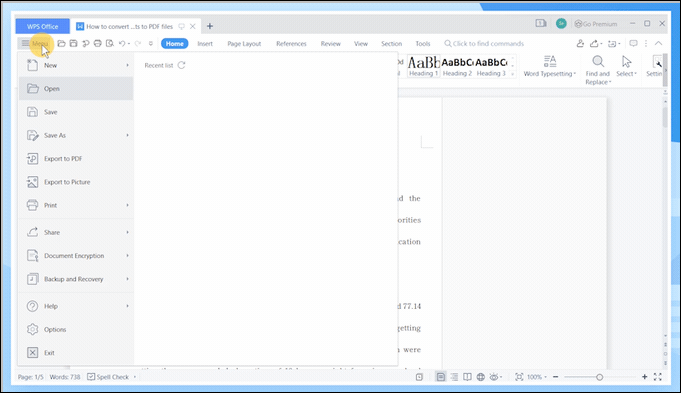 Step 1. Firstly, open WPS files in the WPS Office.
Step 2. Tab on the "Tools Option" in the menu bar, then press export to pdf
Step 3. Or you can click on the "Menu Bar", and you can find the "Export to PDF" button. Tab on this button, and then the conversion will be finished.
Step 4. Besides, go into the "Save as" option, and choose "File Type" as a pdf file. You can also complete the conversion from WPS to PDF.
Convert WPS to PDF in Microsoft Office
Another way to convert WPS to PDF is to utilize Microsoft Office. By using Microsoft Word, you can create professional-quality documents, reports, letters, and résumés. At the same time, you can quickly and easily transform your WPS files into PDFs with it. In addition, you can directly convert PDF to Word or other formats in Microsoft Office. Here are the guiding steps below.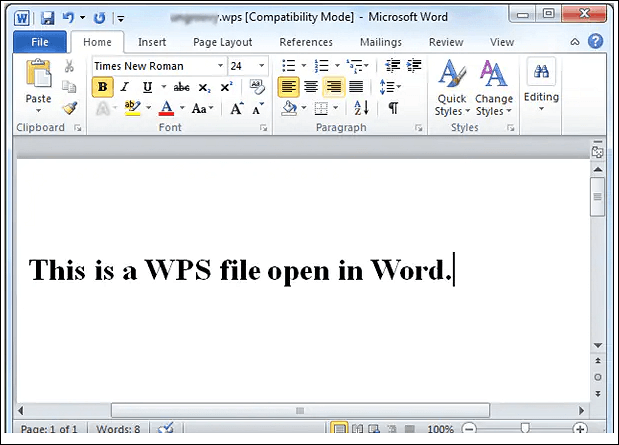 Step 1. Start up your Microsoft Office Word 2010 or other advanced versions, then open the file browser by using the shortcut keys "Ctrl + O".
Step 2. Select files in WPS format (.wps) in the "File Type" box. Then, select the WPS file with the integrated file browser
Step 3. Tab on the "Open" button, then the file will be opened in Word.
Step 4. Enter the "Save as" window, and press "File" and "Save as". Choose PDF format in the "Save as Type" option.
Step 5. Name the file in the "File Name" bar. Press the "Save" button.
Zamzar WPS to PDF Converter
Zar is an online converter for turning WPS into PDF. It is compatible with many file formats like Word, Excel, PDF, PPT, etc. So, when you need PDF files, you can easily convert PPT to PDF and any other file format to PDF, or vice versa.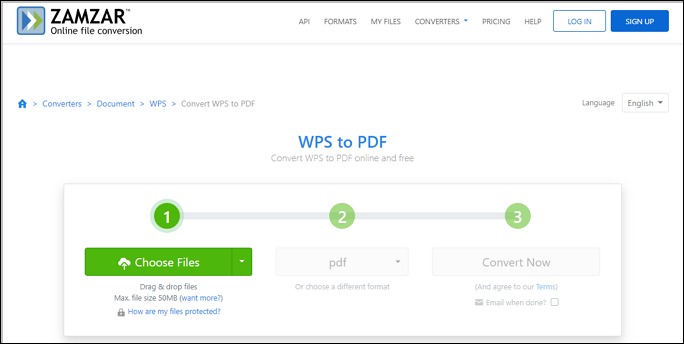 In addition, you can use it without any trouble because of its simple operation. And the conversion process will not waste too much of your time. It is very quick. The steps shown below will teach you how to use this tool.
Step 1. Enter the Zamzar online converter homepage interface.
Step 2. Press "Add Files" and go to the file directory.
Step 3. Select the WPS file and press the "Open" button.
Step 4. After the file is uploaded, select "PDF".
Step 5. Click on "Convert Now". Wait for a while and the process will be completed.
Convertio WPS to PDF Converter
The last tool is Convertio, which is also a free online program. Besides the conversion from WPS to PDF, this program can also help users batch convert PDF to JPG if it is needed. It will not take up resources on your computer. Also, it is easy to run without any complex steps, and the conversion process is very fast. You can refer to the steps below to use it.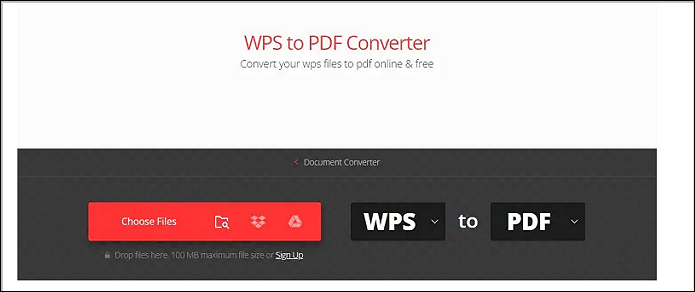 Step 1. Go to the Convertio operation interface on the website.
Step 2. Click on "Choose Files".
Step 3. Open the WPS file on your computer and select the "WPS to PDF" button.
Step 4. After the converting process is finished, click on the "Save" icon.
Bonus Tip: Convert Word to PDF Using EaseUS PDF Editor
Apart from the four methods above, we often need to turn Word or other files in Microsoft into other file formats. It is quite true that the task can be completed by using Word. EaseUS PDF Editor is one of the best choices you should not miss.
This program enables you to convert Word to PDF oflline or vice versa without changing the formatting. Additionally, it supports many other file formats including Excel, Powerpoint, JPG, etc. We provide steps here for you to use this wonderful program.
Features:
Intuitive interface for straightforward functioning
Support Word, Excel, Image, PPT, and TXT
Drag & drop function to import files
Keep the formatting over conversions
Work as a batch pdf converter
Step 1. First of all, launch EaseUS PDF Editor. There are three options on the right side of the main interface, and you need to select the second option, "Create PDFs".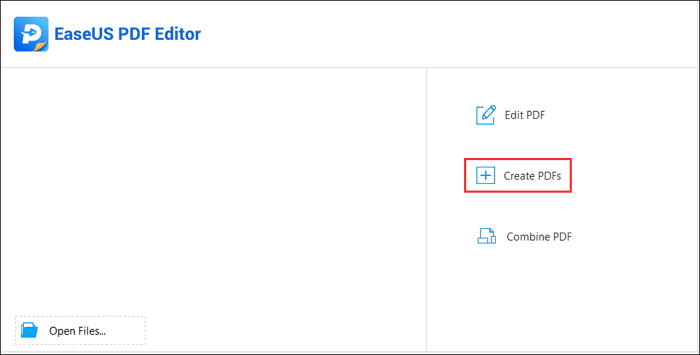 You can also click on the "Create" button at the top left and select "From File..." to import the Word document.

Step 2. Select the Word document you want to convert from the folder, and click on the "Open" button to move on to the next screen.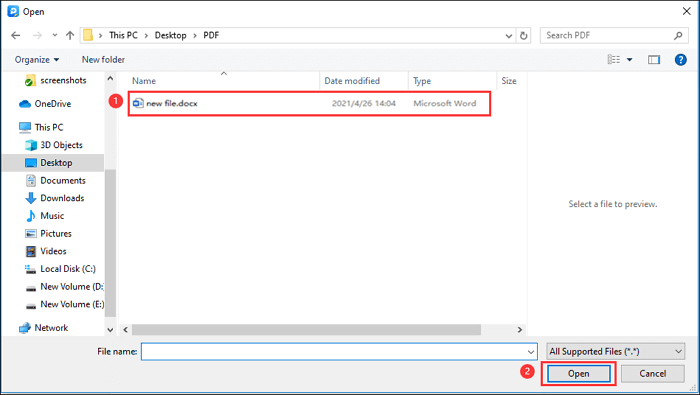 Step 3. Now, you only need to click on the "File" button and select "Save" or "Save As" from the drop-down menu.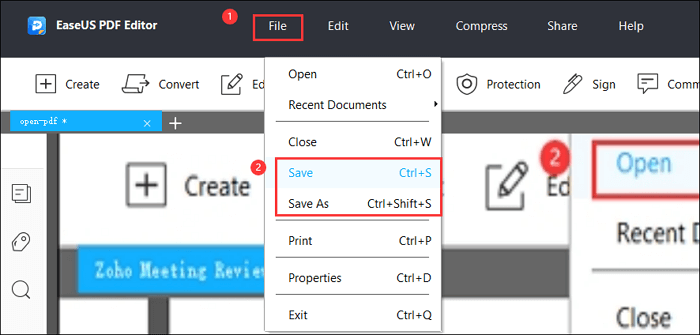 Step 4. Choose the target folder where you want to save the PDF file, and click on the "Save" button to convert the Word document to PDF format.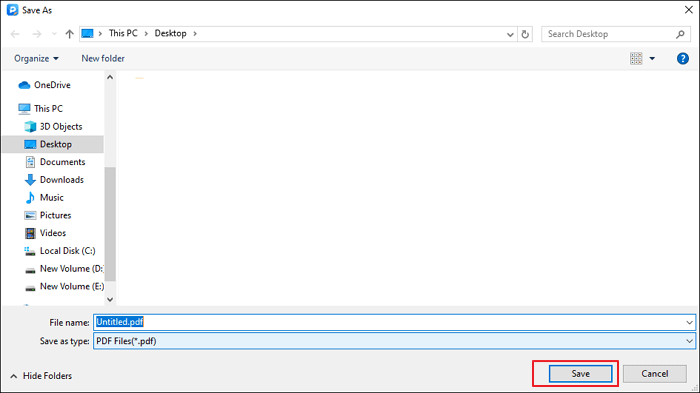 If you are interested in knowing more PDF editors, see the article below: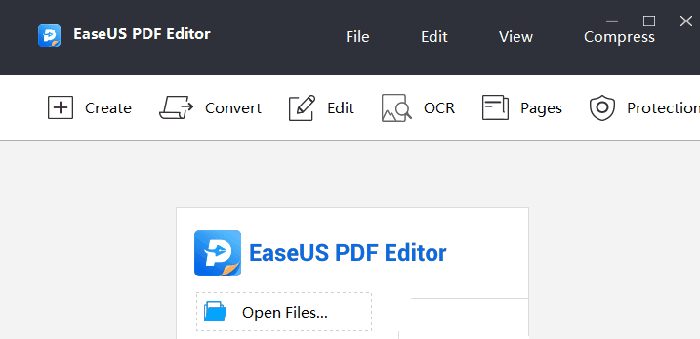 Conclusion
In this passage, we have offered methods both online & offline for you to convert WPS to PDF, including WPS Office, Microsoft Office, Zamzar, and Convertio. In addition, to convert Word to PDF or vice versa, we have introduced the EaseUS PDF Editor, which is of great help. We hope all we talk about above can benefit every one of you.
FAQs
1. Can Google Docs Open WPS Files?
Fortunately, Google Docs does support WPS-type file format, therefore it can open and convert such files.
2. How Do I Save a PDF in WPS Office Without Premium?
Users can use WPS for free by downloading it from its official website. After users activate their account, they can sign in and use WPS without payment. It is free and convenient. For all, easy your work with WPS office suite. The steps are here:
Step 1. Open the document and click the "Menu" button.
Step 2. Then click the "Save" button in the drop-down menu.
3. Is WPS Compatible with Word?
YES. Microsoft is the most famous office suite software. Microsoft Word, PowerPoint, and Excel have been many people's top choices for creating and editing content.
About the Author

I'm glad you can find my post. I hope my article can help you a lot. If you have any questions, please feel free to contact me!