Best 7 CSV to PDF Converters on Windows/Mac/Online
 Update:

Recently, Microsoft is making a change to its Microsoft Office branding. Microsoft Office is being renamed by Microsoft 365. After the official renaming, our article content will be updated accordingly.
A CSV, or comma-separated values, is a type of text file that, as the name suggests, is made up of values separated by commas. The CSV file is used in various applications, from spreadsheets to relational databases, but is most commonly used to import or export data in plain text.
If you have to deal with CSV files daily, you will eventually need to convert them to PDF. Why? Because working with them in a spreadsheet program can be a hassle. PDF files are better to deal with and are easy to print out, read, share with clients, etc. This post looks at various tools across platforms that can convert them into PDF files.
Top 3 CSV to PDF Converters on Windows 
Unlike standard documents, CSV files are not made to be human-readable. So the software we will share here will be able to convert to create a readable PDF format.
CSVed
It's a Windows PDF editor that can read almost any CSV format and convert to many formats, including PDF, Excel, HTML, and XML. It can automatically figure out the separator and then convert it into a table which is printed in a PDF format.
Once you load the CSV file, it displays data in columns to edit, change the separator, and hide some of the columns before printing to PDF file. Once you are ready, you can use the Export option and then choose Acrobat PDF under others. You can select the layout of the output.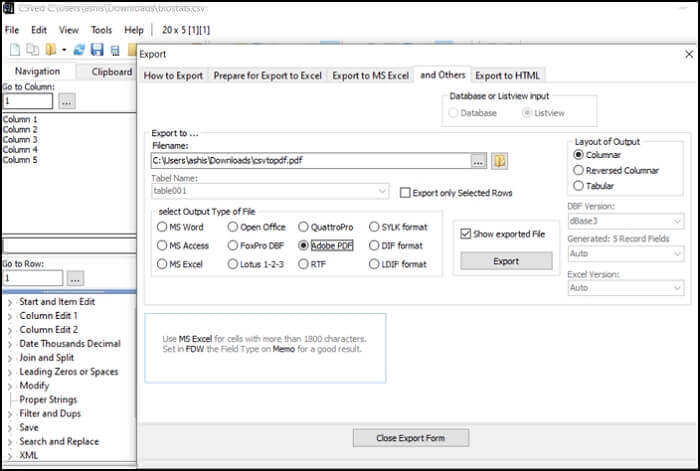 Pros:
Manage CSV files to create a perfect output
Edit, add, insert and delete items from the CSV columns
Search and replace data
Export to HTML, Excel, Word, XML, and more
Cons:
Complex layout
No way to preview PDF before exporting
URL: https://csved.sjfrancke.nl/
Exportizer
It's a free tool that can read database files, including CSV files, and it offers an interface that allows you to manage fields inside it and edit them.
Since the CSV files are represented as tables, it becomes easy to change any data if required. The software features a database reader, edit tool, export tools, and database query tools, which allow users to sort or filter data before exporting it to a PDF file.
You can use the print option to open the print dialog box in Windows and then use the Microsoft PDF Print feature. The software prepares the table format, which looks excellent in the final output.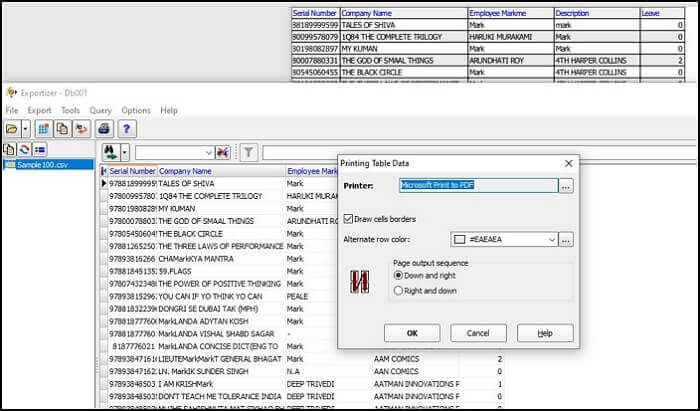 Pros:
Export into a plethora of formats, including HTML, XLS, Text, etc.
Duplicate, filter, and run SQL queries based on columns
Integrate with the print function of Windows
Support multiple database sources
Cons:
Fit for Pro users only because of the complex interface
A lot of features are locked under pro mode
URL: https://www.vlsoftware.net/exportizer/
This is a rich-featured PDF converter on Windows that supports many popular formats. You can effortlessly convert documents and pictures into PDF format. For example, you can convert Word document to PDF and turn Excel forms and PowerPoint slides into PDF.
In general, most people save their Excel documents in .xls or .xlsx format. Something that can't be ignored is that some users also select .csv as the target format, but in fact, many converters don't support CSV. How to solve the problem of converting CSV to PDF using EaseUS PDF Editor? 
Firstly, you need to turn the CSV file into .xls or .xlsx format by renaming its file extension, then import the .xls document to EaseUS PDF Editor to convert it to a PDF. Some online tools are also helpful, such as Convertio (https://convertio.co).
How to turn the .xls file into PDF? There is a post that can guide you to do that. Before that, you need to click on the button to download the converting tool.

Now, you got a .xls file, which is easier to convert. Follow the steps in this post to obtain your PDF now.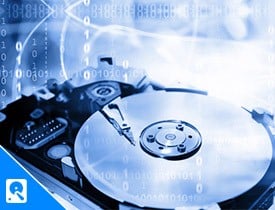 Top 2 CSV File to PDF Converter on Mac 
When using macOS, a new user might be consumed about which app to use to convert. Even though macOS is not used by many, it has powerful tools to offer.
Systools
While the application says it's a contact CSV convertor, it can manage any CSV file which follows the format.
The tool offers an enhanced software experience where it can automatically map all the fields, allows to manage and end fields, and, if needed, hide fields from the list. It supports a wide variety of CSV files, including versions 2.1, 3, 4, and those imported from Online and Desktop email clients.
The tool further allows you to create separate MSG, HTML, or text for each contact in the CSV field. In case you need to export, you can do it for individual entries or multiple such files. The tool is one of the good ones that allow you to convert CSV files into PST, saving you a lot of time.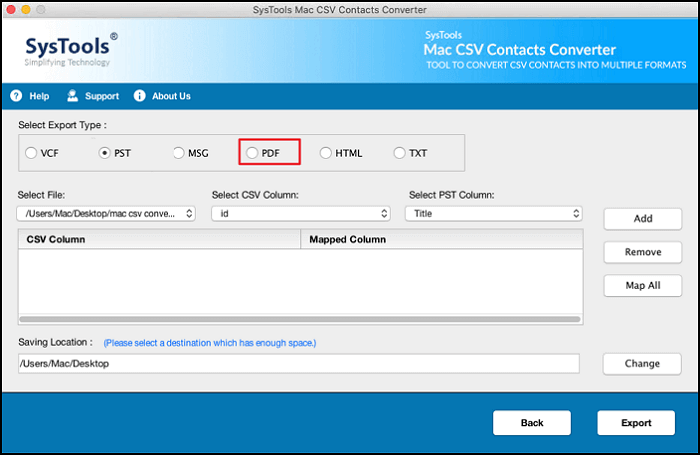 Pros:
Convert to PST, PDF, TXT, HTML, and more
It supports up to 50 fields
Automap and manual mapping of fields supported
Import multiple CSV contacts to selected file format in bulk
Cons:
Some features are paid
Only for basic home-usage
URL: https://www.systoolsgroup.com/csv-converter/
Numbers App
It's a preinstalled app for all macOS users and is an equivalent of the Microsoft Excel app. It can open most of the database files. Since it's a full-fledged application, you can perform any modifications, including removal and addition of extra columns. Once done, you can print the file in PDF format using the built-in option.
Apart from this feature, Number App on macOS offers tons of features, including the creation of charts, real-time collaboration, cross-platform support, resizable multiple tables, with support to iCloud. The application can also turn handwriting into text, create and fill forms, play videos.
When it comes to searching, it offers RegEx and XLOOKUP tools. You can also open a Microsoft Excel file with it. In fact, like Excel, you can create charts, tools, templates, and more.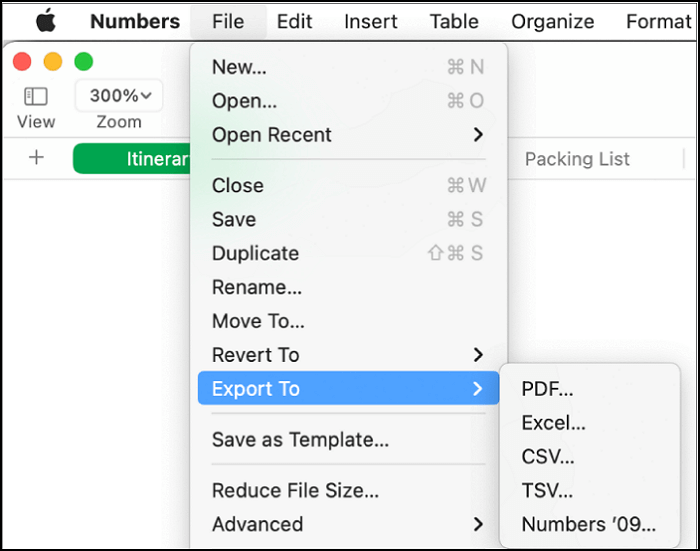 Pros:
Support large size of the file
Full editing of CSV files
Support for extensive formatting
Cons:
It can be too much for simple usage
Only useful for large files
URL: https://apps.apple.com/in/app/numbers/id409203825?mt=12
Top 2 Online Converter to Convert CSV into PDF 
If you do not want to install any software, then you can use these online tools. While they might not be as powerful as the software counterpart, but they get the job done.
Zamzar
It's an online tool and known for its list of convertors it offers. It's a free converter website for almost everything. Right from files to audio to video, you name it. You can also signup with them and manage all the conversions.
If you are a developer, you can use their API. To convert the file, open the website, and drag and drop the CSV file and then download it in PDF. The file is printed in the table format as it would appear in applications such as Excel or Google Sheet.
Since there is no preview, make sure to edit the file on the computer before uploading here. Zamzar also offers paid plans that are useful if you need such a service every day or develop an application.
Pros:
Fast conversion
Output follows the table guidelines for readability
Upload and process multiple files
Cons:
No preview and editing of data in the file
Limited to 50 MB of file size
The files cannot be deleted once uploaded t the server
URL: https://www.zamzar.com/convert/csv-to-pdf/
ConvertCSV
Similar to the above tool, this online tool offers tons of conversion, including CSV to PDF. The interesting part of this tool is that it does the conversion instantly without many prompts and inputs. Once you upload a file or a URL of the file, it will immediately download the PDF file, and it can handle large files very easily.
The only limitation is the amount of time it takes to upload and download. You can configure options such as table borders, font size, page size, and orientation. It will also display the following details: header, fields, separator, number of fields, and records.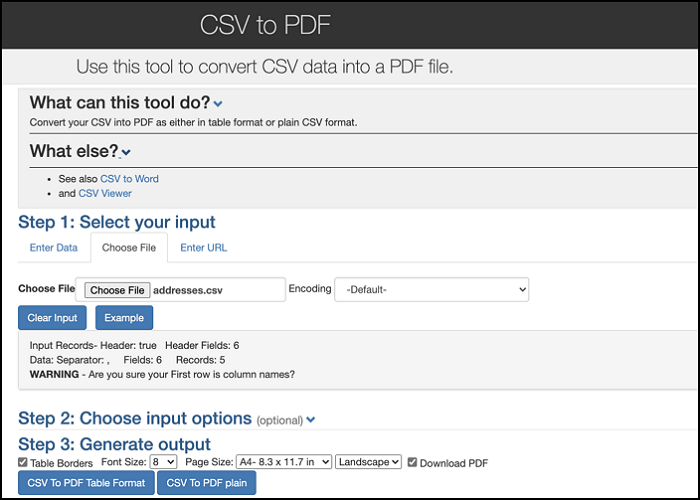 Pros:
Superfast conversion
Print options
Option to change the header, separator type, and separators
Cons:
Editing is not possible
File size limit
Privacy issue
URL: https://www.convertcsv.com/csv-to-pdf.htm
Conclusion
CSV files are straightforward to use and can be opened by any spreadsheet program, but they lack many features of more complicated and more flexible file formats because of this simplicity. There is no official specification for CSV files, so there is no guarantee that your file will be readable by another program.
The easiest way to create a CSV file is to export a table from your database or spreadsheet into a CSV file, automatically creating a CSV file. However, if you want to create a CSV file from scratch, you will need to use your operating system's command-line interface or a text editor.
That said, these tools are powerful enough to convert any CSV file into a PDF file. This format makes sure that data is readable, can be printed, and what needs to be printed can be controlled.  
About the Author
Melissa is a sophisticated editor for EaseUS in tech blog writing. She is proficient in writing articles related to screen recording, video editing, and PDF file converting.