How to Convert Word to JPG [Quick Tips]
 Update:

Recently, Microsoft is making a change to its Microsoft Office branding. Microsoft Office is being renamed by Microsoft 365. After the official renaming, our article content will be updated accordingly.
PAGE CONTENT:
Word documents are usually converted to JPG to make them sharable, which is why they can be opened across platforms. Nevertheless, there are situations where a user may want to ensure that no one else will be able to alter any part of the Word content. If you like this, you can apply the simple method of first saving Doc or Docx to PDF. 
Are you still trying to get more satisfied with this? You can also convert your Word document to a JPG if you want to insert text into another document. An interesting fact about JPF files or graphics is that they are easy to share with others and can be inserted into many kinds of documents. If the content of the JPG file is in text form, its size will also be small, just like most Word files.
Tip 1. EaseUS PDF Editor
EaseUS PDF Editor is an all-in-one PDF maker, reader, converter, and editor. It can interpret many languages, makes it possible to edit scanned pdf files, sign pdf files digitally, encrypt and remove password from PDF files, and many more amazing features. It is highly recommendable for any industry ranging from real estate to education, legal or financial industry.
Now click here and download this great software.
Features:
Support formats like PDF, JPG, Docx, PPTX, TIFF, PNG, and BMP
Convert PDF documents to PowerPoint, Excel, images, or vice-versa
Encrypt, sign, remove passwords from and add watermark to PDF
Allow you to edit a scanned PDF document
Accurately interpret and convert up to 29 languages like English, French, German, Japanese, and Italian
The steps below will guide you on converting a word file to JPG format:
Step 1. First of all, launch EaseUS PDF Editor. There are three options on the right side of the main interface, and you need to select the second option, "Create PDFs".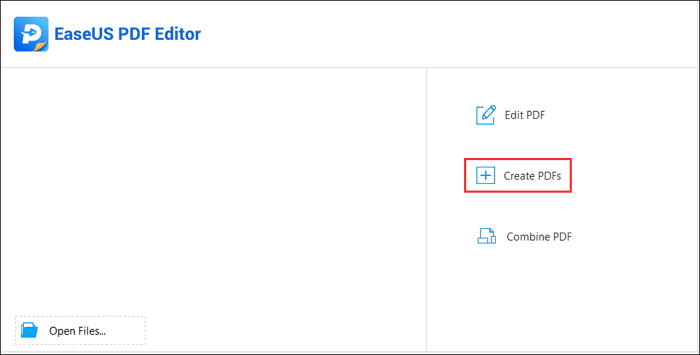 You can also click on the "Create" button at the top left and select "From File..." to import the Word document.

Step 2. Select the Word document you want to convert from the folder, and click on the "Open" button to move on to the next screen.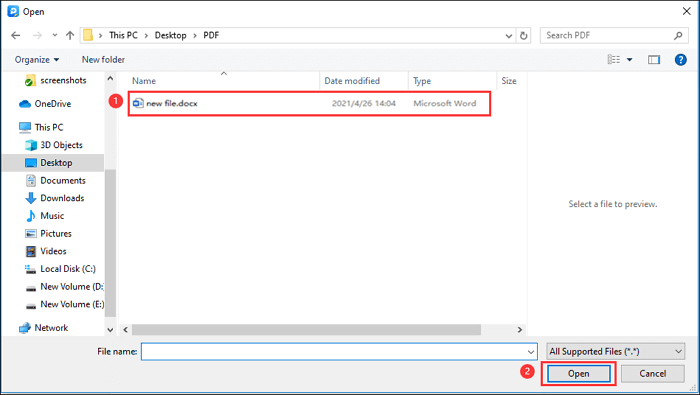 Step 3. Now, you only need to click on the "File" button and select "Save" or "Save As" from the drop-down menu.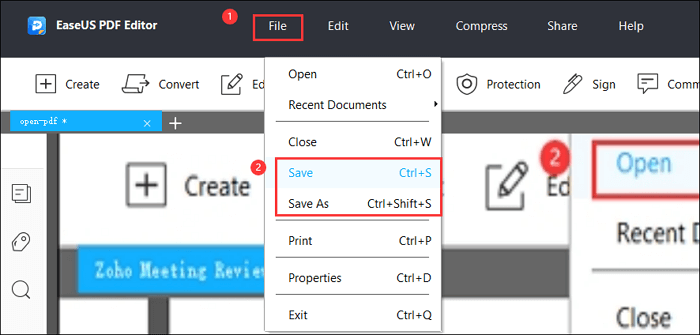 Step 4. Select the word file required to convert. Click on "Convert" and select "PNG". Select "All Pages" and then save the file.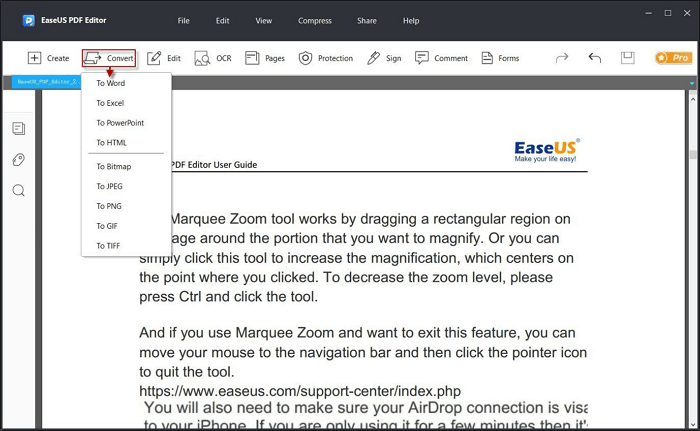 How to Convert Word to PNG [4 Methods]
Microsoft Word is a necessary tool of the Microsoft Office family for managing different documents. However, cases may arise that Microsoft Word users need to convert their word files into other formats.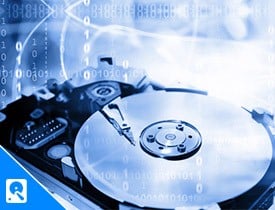 Tip 2. Microsoft Word 
Microsoft Word provides some tools that make converting word documents to JPG possible, and Word works with the Snipping Tool on the Windows OS to make this a possibility. The succeeding paragraphs highlight the features and how to convert a Word file to JPG.
Features:
Word supports XPS, PDF, DOC, DOCX, and Web page formats
It works with the Snipping Tool on the PC to make the conversion of Word to JPG possible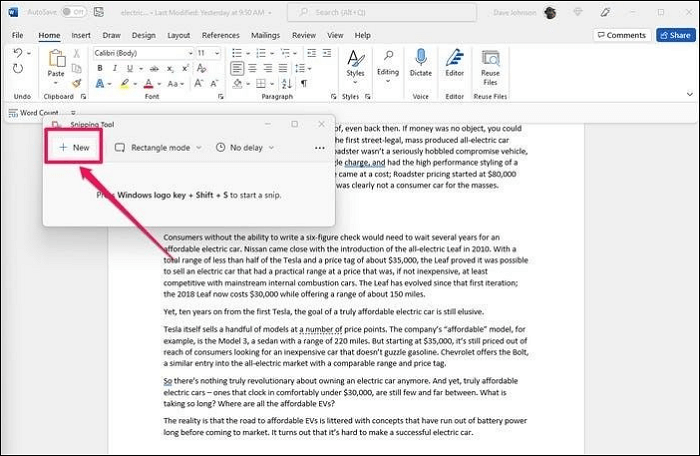 These are the steps to convert Word to JPG with Microsoft Word:
Step 1. Start Microsoft Word. You can use the zoom slider at the bottom right if you like.
Step 2. Search for "Snipping Tool" in the Windows search bar. Afterward, open it.
Step 3. Open a new page by clicking "New".
Step 4.  Drag the selection frame into the Word document you want to convert.
Step 5.  Click "Save Snip" in the Snipping tool.
Step 6.  In the "Save As" dialog box, select "Save as type" on the drop-down menu and choose JPG.
Step 7. Name your file and select "Save".
Tip 3. Smallpdf
Smallpdf is an online PDF tool that converts Microsoft Word files to JPG and vice-versa without losing the quality of the image. In the paragraphs below, find the features of Smallpdf and a step-by-step guide to converting Word documents to JPG format.
Features:
It can batch convert JPG to PDF and vice-versa
It supports file formats like Doc, Docx, PDF, JPG
With Smallpdf, you can create an e-signature, sign your PDF, and request other users to sign digitally
It enables users to add text to PDF files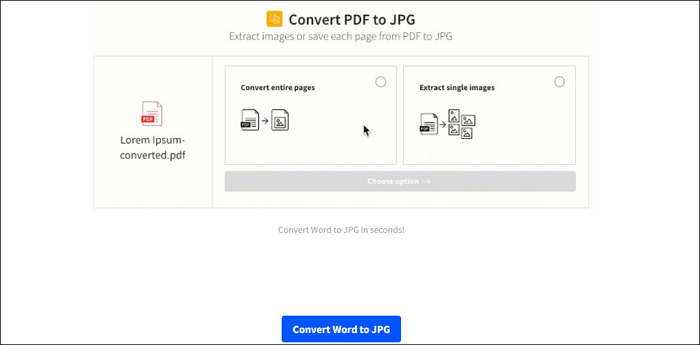 How to convert Word documents to JPG Online via Smallpdf:
Step 1. Open the Word converter on smallpdf.com.
Step 2. Select "Choose Files" on the next page it displays. You can also use "PDF converter" to change the Doc or Docx file to PDF.
Step 3. Click "PDF to JPG" on the drop-down menu.
Step 4. You can convert a single page or an entire page to images, and Smallpdf will immediately correct the files to JPG format.
Step 5. Save the JPG image to your computer.
Tip 4. Word to JPEG
Word to JPEG is a free online tool that converts word documents to JPEG images while retaining their excellent quality. An interesting fact about Word files is that they can be opened on different platforms, and they can also be edited and manipulated easily. This is why Word files are recommended to be converted to JPG formats if a user does not want the document to be tampered with.
Features:
Word to JPEG supports formats like JPG, PNG, HEIC, WEBP, and Vectorizer
It can translate into many languages such as English, Espanol, Francais, Indonesia, Portuguese, Chinese, and Deutsch
It allows files up to 50 MB
It converts Word documents to JPEG and still retains its quality

How to convert Word to JPG by using Word to JPG tool:
Step 1. Open Word to JPEG.
Step 2. Drag and drop your files onto the area "drop your files here." You can upload up to 20 Doc/Docx files.
Step 3. Select "Convert".
Step 4. Download the converted JPEG images by clicking "Download".
Step 5. Create a ZIP file with all the JPEG images.
Tip 5. Zamzar
Zamzar online file conversion is an online platform that supports various file formats like PSD, JPG, EPUB, ZIP, TIFF, and PNG. Aside from this, it also has an ebooks converter, archives converter, image to PDF converter, and video converter for free. If a user wants a more advanced service, it guarantees excellent delivery at varied but affordable plans.
Features:
It supports different file formats ranging from image file formats to document file formats, CAD file formats, and archive file formats
Zamzar allows you to convert large-sized files; up to 2GB
With a paid account, you have unlimited daily conversions and compressions, making it possible to upload up to 100 files simultaneously
On Zamzar, you can convert files by Email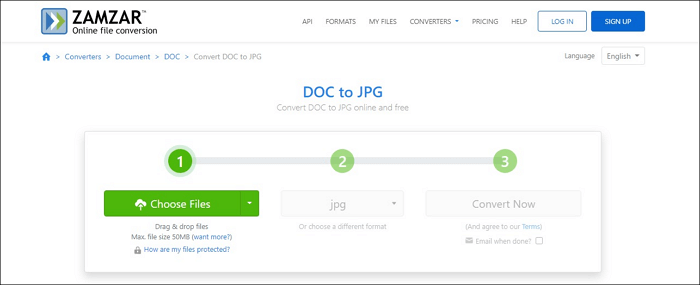 Steps to converting Word to JPG with Zamzar:
Step 1. Open Zamzar. Click the icon at the top right and select "Converters".
Step 2. Select "Document Converters".
Step 3. Select the file you want to convert by clicking on "Choose files".
Step 4. Select the "convert to" option below the "choose files" option. Click on the drop-down menu. Select "JPG".
Step 5. Below the drop-down menu, select "Convert now", and your conversion begins.
Step 6. Save your file by clicking "Download".
Conclusion
The different tips in this article are very resourceful to help convert a word document to JPG format. Each of them possesses unique features that enable them to perform their functions.
Also, EaseUS PDF Editor is really a good program for you to complete this process as it is easy to use and has great functions. Carefully going through this article should have solved any puzzle about file conversion.
FAQ on How to Convert Word to JPG
After learning details about the tips to convert Word to JPG, you may have some questions related to the same. So, below are the quick questions that can offer much-needed help to the readers in Word-to-JPG conversion:
1. Why can't I save a Word document as a JPEG?
There's no built-in option to save a Word document as an image file. To save it as a JPEG, you'll need to use a screenshotting tool. This'll allow you to copy a single Word page and save it as an image.
2. How do I save a Word document as a JPEG in Windows 10?
Step 1. Select "File > Save As > JPEG Picture".
Step 2. Select the location where you want to save the file.
Step 3. Enter a name for the image file, choose JPG in the "Save as Type" box, then select "Save".
3. How do you take a picture of writing and turn it into text?
Step 1. Download an OCR handwriting-to-text web app or software.
Step 2. Upload a photo of your handwritten notes or use a scanner and transfer it to your computer, tablet, iPhone, or android device.
Step 3. Upload the photo into a handwriting or text converter.
About the Author

I'm glad you can find my post. I hope my article can help you a lot. If you have any questions, please feel free to contact me!