4 Ways to Combine Word Documents into One PDF
Adobe PDF and Microsoft Word DOC formats both have their strengths and weaknesses. When your goal is to produce a high-quality print file in which precise page layout and high-resolution images are essential, PDF is the better choice over DOC. While the Word format is the best choice for editing and making changes to your files.
There can be many reasons for you to merge Word files into one PDF. Maybe you want to order your Word files neatly, or you want to send many Word files at once in an E-mail. The reasons may vary, but the key is how to do it. In this article, we give you four ways to combine Word documents into one PDF file.
Things You Need to Know
Before merging more than one Word documents into one PDF, you need to be aware of the following things:
1. If you choose to use an online tool, make sure the internet connection is stable so that the merging process will not be interrupted.
2. Do not upload any highly private files for conversion. Your files are temporarily saved on the server, so there may be a risk of information leakage.
3. Re-check the PDF output before sending it out. The conversion quality may vary due to different tools qualities.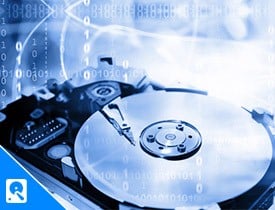 Part 1. Manually Copy and Paste Word Files into PDF
If you only need to combine a small number of files, let's say two short files, you can simply copy and paste the content of one file to another. After that, just save it as a PDF file format. You may follow the steps below.
Step 1. Open one of your Microsoft Word documents, click "Ctrl-A" and then "Ctrl-C" to copy all the content.
Step 2. Open the other file, navigate to the bottom of it, and click "Ctrl-V" to paste the content copied here. The two Words are now merged as one.
Step 3. Click "Office" and "Save As", choose the "PDF" option from the drop-down menu and click "Save" to convert the Word document into a PDF document.
Part 2. Merge Multiple Word Files with Microsoft Word
You can do the manual copy-and-paste job as we showed you above, but that can be quite tedious and time-consuming when you have many files on hand. In this part, we will go through the steps to merge Word documents in batches, in a short time.
Step 1. Open the first Word document. A blank document would work too.
Step 2. Click "Insert" > "Object", which might be hidden under "Text", then select "Text from file".
Step 3. In the "Insert File" window, select the Word documents you want to combine into a PDF file and click the "Insert" button.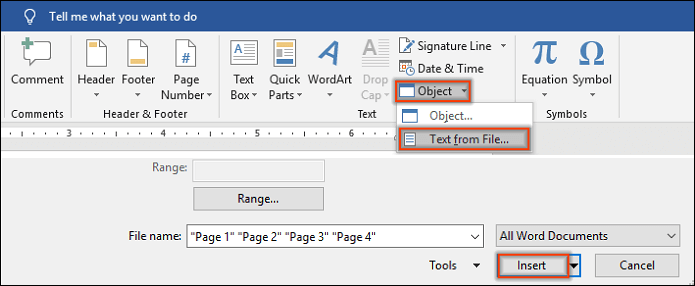 Step 4. Then all selected documents are inserted into the current document. Now you can click "File" > "Save As" > "Browse".
Step 5. In the "Save As" window, give a name to the PDF file, select the location you want to put this PDF, and click the "Save" button. Now the work is done.

Part 3. Combine Word Documents into PDF with EaseUS PDF Editor
EaseUS PDF Editor is a capable PDF editor for Windows that offers you a solution to combine multiple Word documents into a single PDF file. While many PDF editing tools allow you to import files one by one, you can add a folder of more than two files into this PDF editor and make them become an integrated PDF document with only several clicks.
After the combination, you can also convert it to other formats if needed. Moreover, there are many other functions you may need. For instance, rearranging the PDF pages, annotating the PDF, encrypting the PDF with a password, etc.
Features of EaseUS PDF Editor:
Convert and merge PDF files with simple clicks
Adding, removing, and splitting PDF pages
Create PDF from scratch or by converting
Add a password to protect your PDF
Add/remove watermark in a PDF
Now you may download EaseUS PDF Editor and follow the steps below to combine Word documents into one PDF file.
Step 1. Launch EaseUS PDF Editor and click on "Create PDFs" to choose the Word files you want to merge.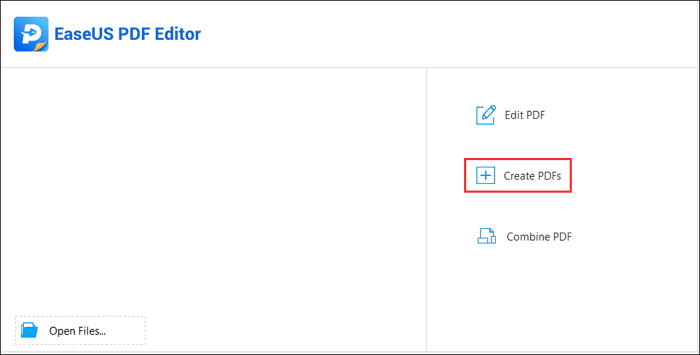 Step 2. When the Word files are all converted to PDF files, click "File" > "Save As" to save them as to your PC. We suggest you put the files into one folder.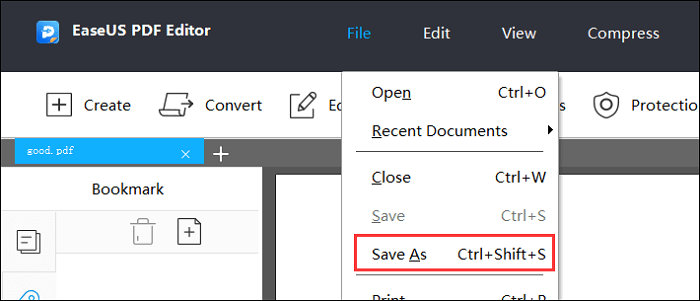 Step 3. Click on the "Combine PDF" button on the interface.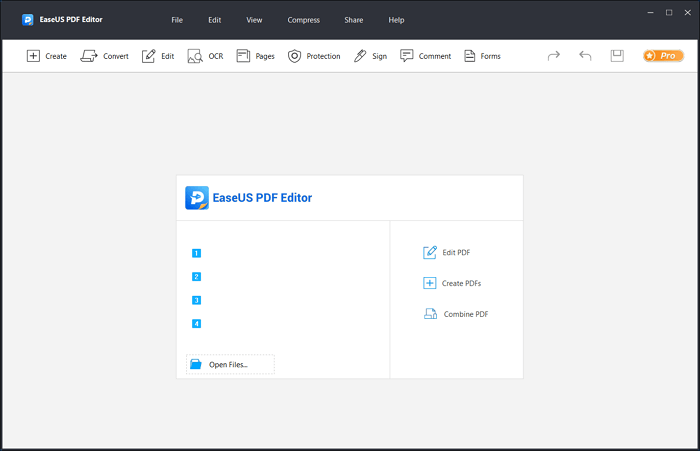 Step 4. When a new window pop up, click on the "Add Files..." button, and choose "Add Folder..." from the drop-down menu to import the PDF folder.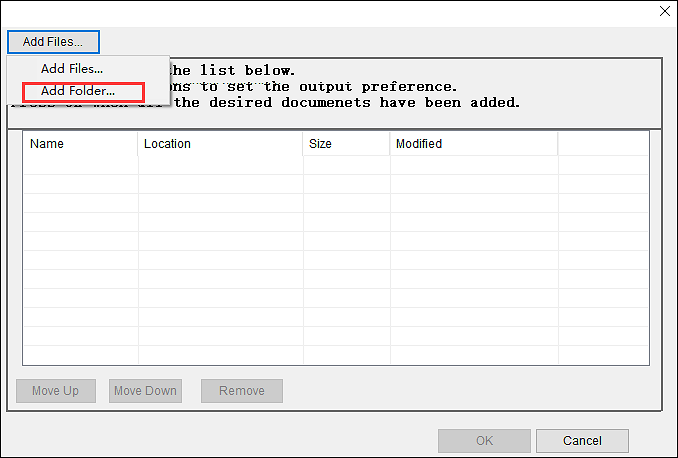 Step 5. After adding all the pictures and PDFs into the software, click on the "OK" button to start the processing. A few moments later, a new PDF that contains all those files will appear. Click "File" > "Save" or "Save As" to export the PDF to your PC.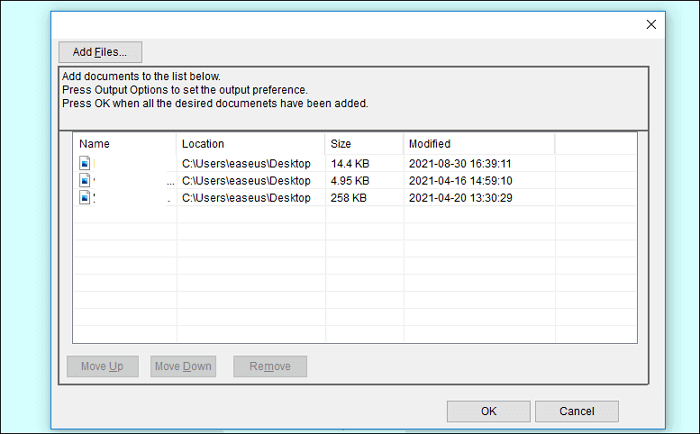 Part 4. Combine PDF Files With Online2PDF
Online2PDF.com is an online tool that can merge more than one files into one PDF file. It is a good tool for those who don't want to install any software on their devices. Also, it can convert files to PDF, edit PDFs for free. Besides, it can print multiple pages per sheet after editing.
However, as we said at the beginning of this article, uploading confidential data online might not be completely safe. If you are aware of all that and still want to use this online tool to merge multiple Word documents into one PDF, just follow the steps we give you below.

Step 1. Drag and drop your Word files into it, or you can also click "Select files" to upload your documents. Note that there is a file size limit, please don't upload files that exceed the limit.
Step 2. Once the files are uploaded, go to "Mode" and choose "Merge files".
Step 3. Click "Convert" to combine all these Word files into one PDF. Once the conversion process is completed, a download prompt will appear, you may follow the guide to save the PDF on your computer.
Conclusion
If you want to merge more than one Word files into one PDF, using a tool is the best choice. However, since there are so many tools on the market, which one should you choose? No worries, the four ways we give you in this article are tested, and you can choose one of them as you wish. But having considered security and stability elements, we suggest you download and use EaseUS PDF Editor. Just click on the button below to get it on your computer!
About the Author
Melissa is a sophisticated editor for EaseUS in tech blog writing. She is proficient in writing articles related to screen recording, video editing, and PDF file converting.