Image to HTML Converter Online and Offline [Top 5 Tools]
 Update:

Recently, Microsoft is making a change to its Microsoft Office branding. Microsoft Office is being renamed by Microsoft 365. After the official renaming, our article content will be updated accordingly.
PAGE CONTENT:
Converting images to HTML enables the use of templates, simplifying the process of creating a website. It downloads quickly since the text is compressible. When you convert your picture into an HTML file format, your users will establish paths for each image on that particular HTML page, making things easy.
You'll need to convert the image to HTML when your project reaches the phase where the design must be implemented. Here's a detailed guideline on the top 5 tools you can use to convert your image to HTML.
Here are the five top tools you can use to convert images to HTML online and offline without any hassle.
Top 1. EaseUS PDF Editor
EaseUS PDF Editor allows you to convert PDF files to Excel, Word, PowerPoint, images, or vice versa. For Windows users who want to create a PDF from a photo, EaseUS PDF Editor is an excellent choice. This software allows you to import various popular image formats, such as PNG, JPG, TIFF, and so on, and you can convert them into PDF with simple clicks.
Apart from a converter, it is an excellent Windows PDF editor. This program makes it easy to edit, annotate, split, merge, and crop a PDF file on your PC. EaseUS PDF Editor is one of the excellent PDF to HTML converters that allows you to turn a PDF file into a hypertext markup language without losing formatting. Now click here and download it!
Features:
Convert PDF to HTML, TIFF, JPG, etc.
Convert or edit PDF without losing file quality
Edit and customize PDF files whenever you want
You can merge, split, compress, sign and protect PDF files
Use text or image in your PDF file as a watermark
Advantages:
Disadvantages:
Only compatible with Windows
Compatibility: Windows 10/8.1/8/7
Here are the steps to convert an image to HTML with EaseUS PDF Editor:
Step 1. First of all, launch EaseUS PDF Editor. There are three options on the right side of the main interface, and you need to select the second option, "Create PDFs".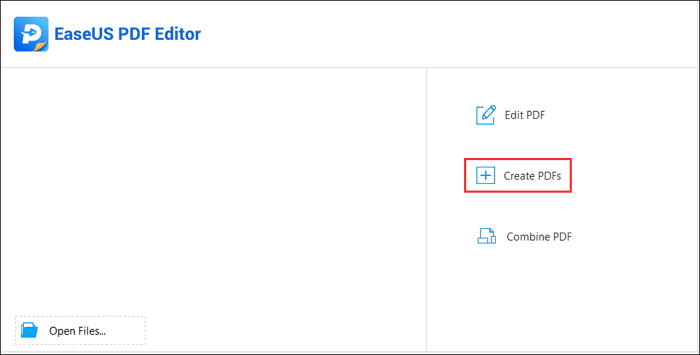 You can also click on the "Create" button at the top left and select "From File..." to import the image document.

Step 2. When your image document is imported, EaseUS PDF Editor will automatically converted it to PDF. Then, you can click "Convert" > "To HTML" to begin your conversion.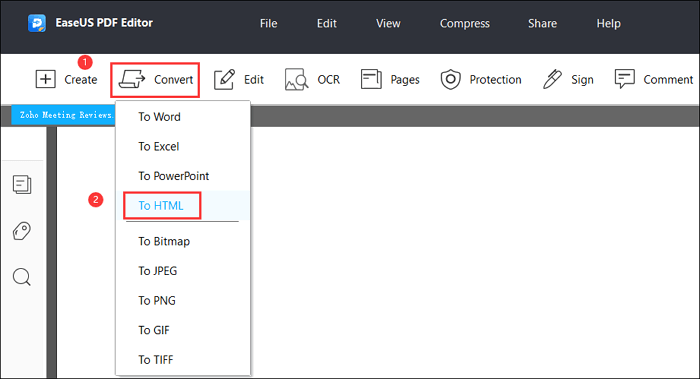 Step 3. Once done, you can view your .html file on your computer.
Top 2. Cisdem PDF Converter OCR
Cisdem PDF Converter OCR for Mac originally worked as a dedicated PDF converter but has now evolved into a professional image-to-HTML converter as a powerful and free OCR software. It gives users a chance to convert images (JPG, PNG, GIF, BMP, TIFF) to HTML with minimal effort.
You can utilize this tool and give full play to its features. Also, it allows users to choose when converting; for illustration, they can convert multiple images or prefer to tweak the advanced setting for more accurate OCR results.
Advantages:
Convert images to HTML and other editable formats
Convert one image format to another (PNG to JPG, etc.)
It does not require internet access or a web browser
Disadvantage:
The program is primarily designed to convert PDF files
Compatibility: Mac, Windows, Android, or iPhone
Top 3. Online-Convert
Online-Convert allows you to convert PDF to HTML or convert HTML to PDF in high quality. It also offers a free online image converter that converts to various formats. You can also apply effects and enhance images during conversion.
You can upload your image file and choose filters after choosing the design you wish to convert to. In a matter of seconds, your image will be automatically converted, and you can download the final result.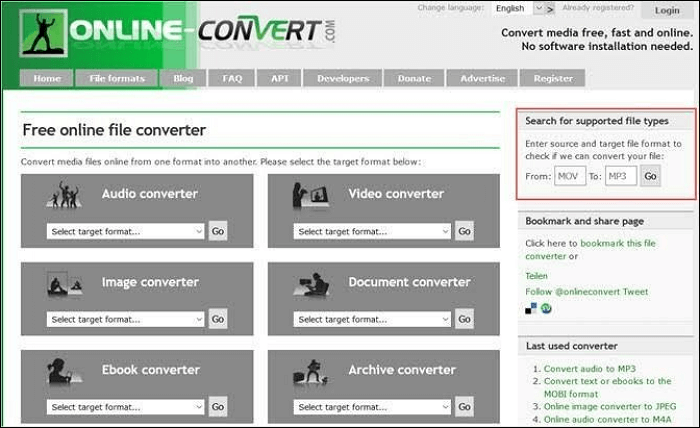 Advantages:
Applies effects and enhances images during conversion
Converts to a variety of target formats
You can convert URL to PDF with ease
Disadvantages:
Usage could predispose you to issues around safety, privacy, and quality
Compatibility: iOS, Android, Windows, and Mac
Top 4. Aspose
Aspose Image Conversion application allows you to convert pictures to PDF, PSD, GIF, PNG, DICOM, JPG, SVG, JPEG2000, APNG, BMP, TIFF, WEBP, HTML5 CANVAS, EMF, WMF, and other image formats.
This tool embeds your image into the output HTML document. During the conversion process, you can also use an effective OCR tool (text in picture recognition) to extract text from a PDF image. You will get the text as an independent unit, which you can copy and adjust.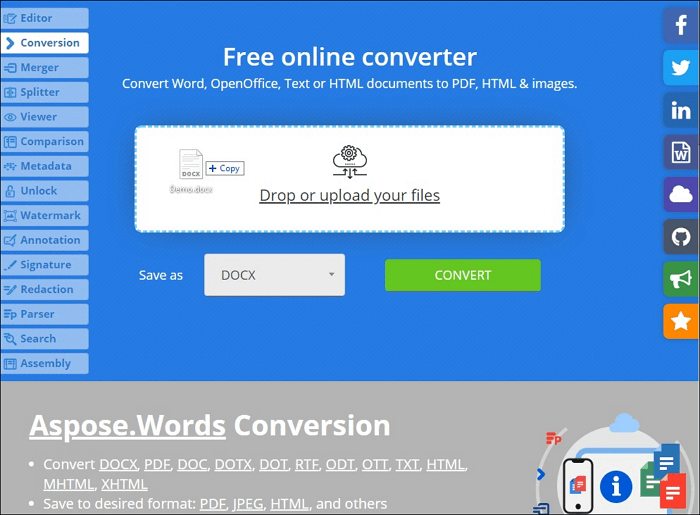 Advantages:
Aspose is one of the best tools available for conversion speed and accuracy
Comprehensive document import and export with over 35 supported file formats
Quickly and reliably convert documents
Disadvantages:
The product is a bit pricey, but they have multiple licensing models
Compatibility: Works on all major platforms, including Windows, Mac, Android, and iOS
Top 5. Google Docs
Google Docs is an online platform developed by Google to help users manage their documents online, and it also works on OCR images to HTML. Though it takes several steps to finish the conversion process, the conversion accuracy is better than other similar platforms.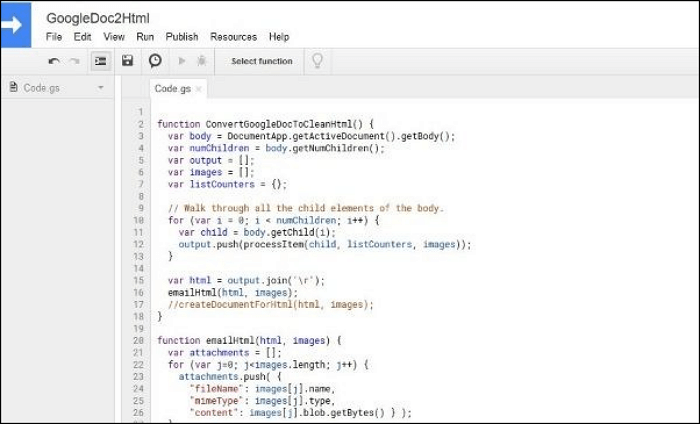 Advantages:
Disadvantages:
The interface is not user-friendly
Compatibility: Windows, macOS, Linux, Chrome OS. Apps for Google Docs are available for Android and iOS
Conclusion
You may need to convert images from JPG or other formats to HTML code, and these tools are beneficial image-to-HTML converter software that allows you to convert images to HTML formats quickly. No matter if you are looking for online or offline free solutions, the tools recommended in this article will be of great help.
I strongly recommend EaseUS PDF Editor because it quickly converts your PDF file to the most common formats without losing original fonts, images, and formatting. Other applications like Cisdem PDF Converter OCR, Online-Convert, Aspose, and Google Docs will significantly save your time and efforts to modify any image or scanned document to HTML quickly.
FAQ on Image to HTML Converter
Here are some frequently asked questions related to the image-to-HTML converter. Have a look at them to find an answer.
1. Can Microsoft Word convert to HTML?
Using Microsoft Word, documents can be converted to HTML format. To produce documents for the web, choose "Save as Web Page" from the option.
2. How do I convert a chrome image to HTML?
Step 1. Open your HTML file in your browser or any viewable tool.
Step 2. Take a snapshot of an area with your screen capture tool (Snipping tool on Windows, for example).
Step 3. Click "File". Select the location and select "Save as JPG".
3. How do you create an HTML format?
Step 1. Open Notepad (PC) on Windows 8 or later open TextEdit (Mac).
Step 2. Rewrite some HTML in the interface.
Step 3. Save the HTML page.
Step 4. Then, view the HTML page in Your Browser.
About the Author

I'm glad you can find my post. I hope my article can help you a lot. If you have any questions, please feel free to contact me!