How to Convert Files to PDF Online & Offline
 Update:

Recently, Microsoft is making a change to its Microsoft Office branding. Microsoft Office is being renamed by Microsoft 365. After the official renaming, our article content will be updated accordingly.
Converting files to PDF online and offline is essential in today's fast-paced world. But it's not always easy to get the job done. But don't worry, we're here to tell you the easiest ways to convert files to PDF online and offline. More importantly, you need to convert files to PDF when you want to preserve the formatting for security purposes. Let's discover more!
Convert Files to PDF with Online Tools
In the digital age, you're likely to receive more documents than ever in the future. That's why it's essential to ensure that these documents remain in an accessible format. So that's why you need to convert different files, whether online or offline, to PDF files to access them easily. Let's discover how you can convert different file formats to PDF quickly. Here are valuable online tools that help you convert your files within seconds.
1. EaseUS PDF Online
When it comes to technology, it's not always enough to have a high-quality product. It's also essential to ensure that technology is easy to use and understand. EaseUS PDF Online has both of these characteristics. One of the main reasons why people choose EaseUS PDF Online is because it's fast and easy to use.
Users can upload a file from anywhere and convert it into a PDF; they don't have to worry about downloading any software. All they need is a web browser.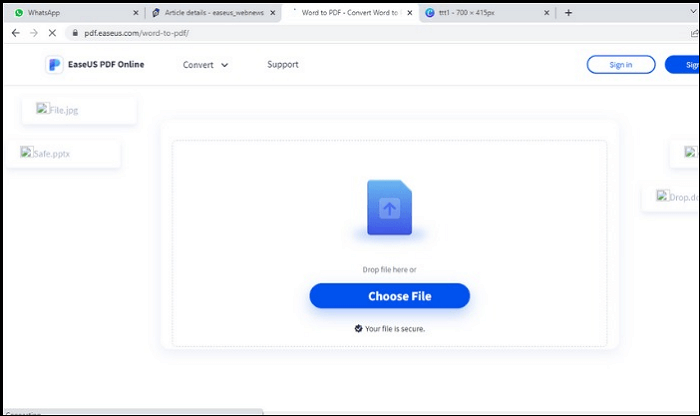 Well, if you're new and don't know the process, we've got a step-by-step process for you:
Step 1. Open EaseUS PDF online, and click "Choose File".
Step 2. After choosing your file, wait a few moments, until it converts your file to PDF.
Step 3. Finally, download the converted file.
2. Smallpdf
Smallpdf is a software application designed for converting files to PDF. It supports all types of documents and offers a simple. The user-friendly interface makes it easy for people to perform all tasks. If you don't know how to use it, then read on.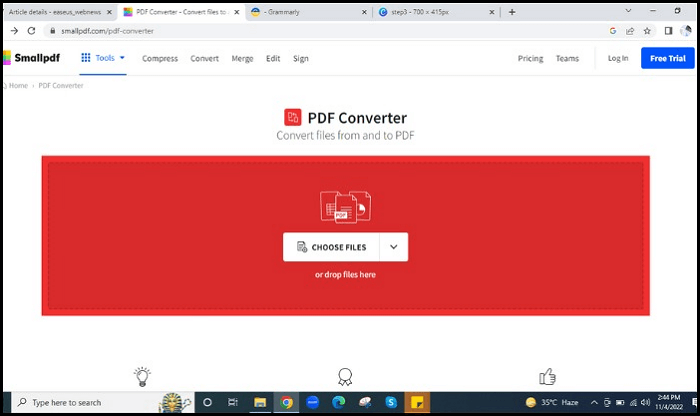 Here are the steps for you:
Step 1. Open smallpdf.com and click "Choose Files".
Step 2. Wait until it is converted, and click "Download" at the top right.
3. Online2PDF
Online2PDF is the best conversion tool. It will convert various file types, including images, movies, audio files, text documents, and many more, into PDF format. You will be amazed that this service is free for all its customers. And it does not take time.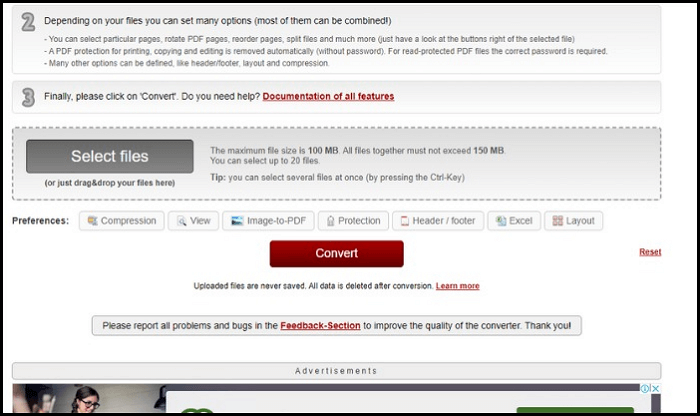 Let's discover the most straightforward steps to use it:
Step 1. Visit online2pdf.com, and click "Select Files", after selecting a file from your system, click "Convert".
Step 2. Wait a few moments until processing is complete. It will be downloaded automatically.
4. ToPDF
The name says it all. ToPDF is a free tool for converting files into PDFs. You don't need to install anything on your computer, just a web browser. Now move on to explore how it works.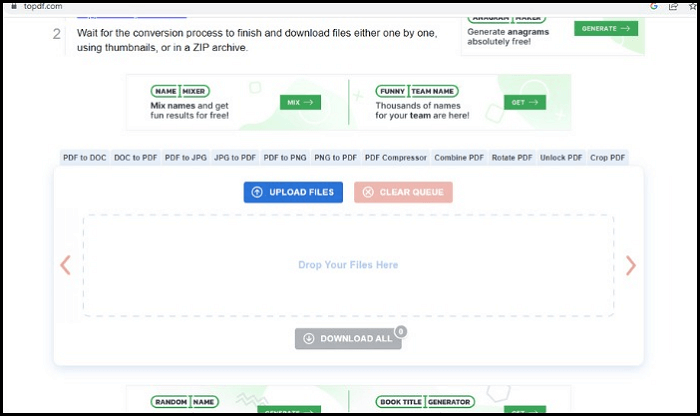 Now move on to explore how it works:
Step1. Visit topdf.com, and click "Upload Files".
Step 2. After selecting your desired file, click "Download".
5. Free PDF Converter
Free PDF Converter is a powerful tool that supports many popular formats, such as PDF, Microsoft Word, Excel, PowerPoint, Publisher, RTF, and text. So, you can easily convert Excel to PDF with this tool. Of course, when you convert other file formats, it's also the same.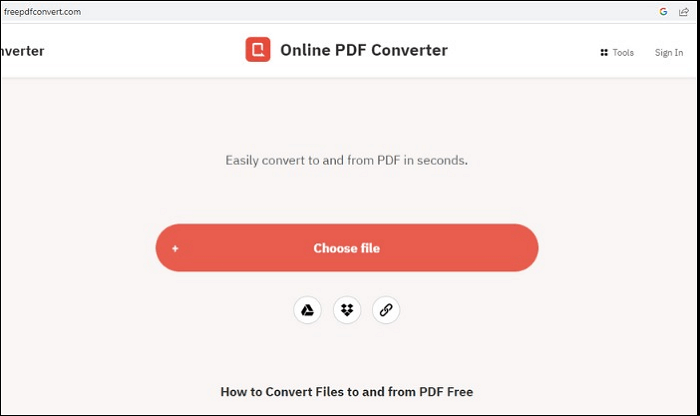 Here's how to use it:
Step 1. Visit freepdfconvert.com, and click "Choose file".
Step 2. Wait a few moments and click "Download".
Convert Files to PDF with Offline Tools
After knowing the many different tools that convert files to PDF now, you must be thinking about how to convert files into PDF offline. So don't worry, as I'm here to assist you. Just read on, and you'll find the perfect answer.
Offline tools are the most convenient way to convert files into PDFs. These tools come in the form of apps and are available in various operating systems, such as Windows, iOS, and Android. One of the best offline tools is EaseUS PDF Converter.
1. EaseUS PDF Converter
When it comes to converting files to PDF offline, then no one can beat EaseUS PDF Converter. This EaseUS PDF converter also provides many essential functions offline, such as converting different file formats to PDF.
Undoubtedly, it converts MS word, Excel, PPT, TXT, and several other file formats to PDF. Even it converts many files at the same time quickly. Just download it and get countless advantages of the EaseUS PDF converter. 
Features:
Here are steps to convert Word to PDF:
Step 1. Launch EaseUS PDF Converter, go to "Office to PDF" and import your Word file by clicking "Open Files". You can also drag and drop the files into the program.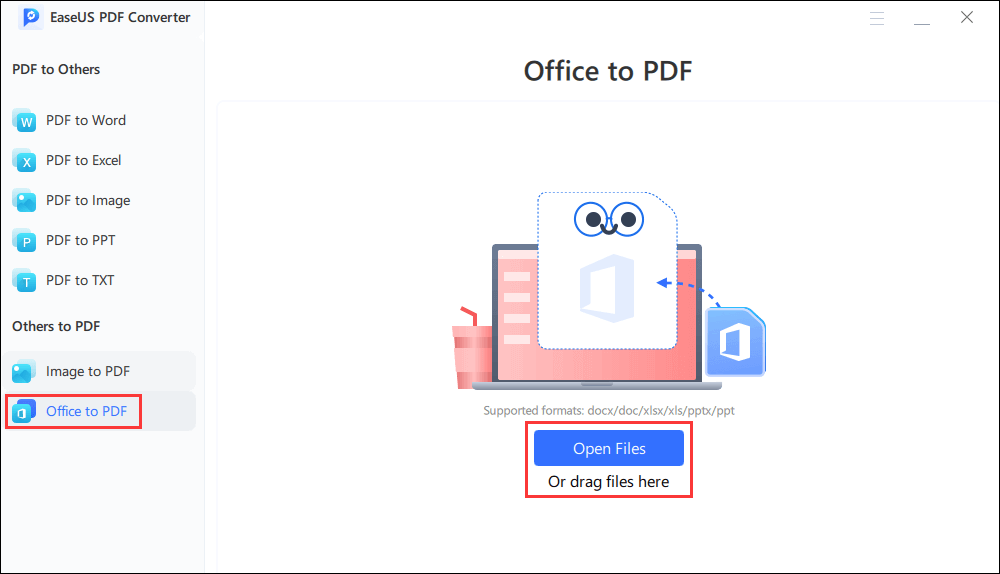 Step 2. When the file is imported, choose a save path for the converted file and click "Convert" to continue.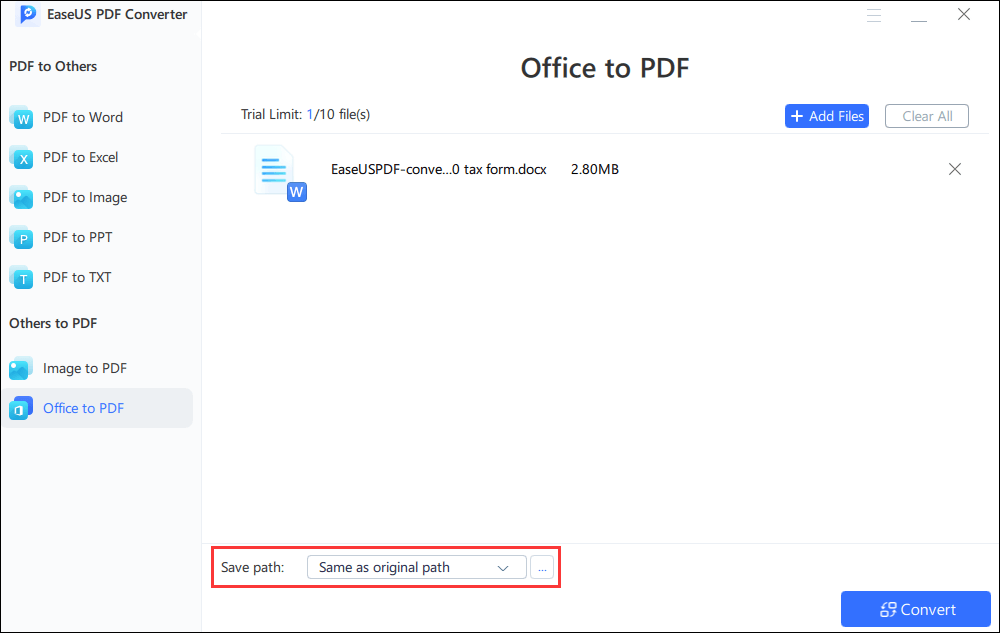 Step 3. Wait for a while, and you can view the converted PDF file. Or, you can save it to your computer by clicking the "Save All Converted Files" button.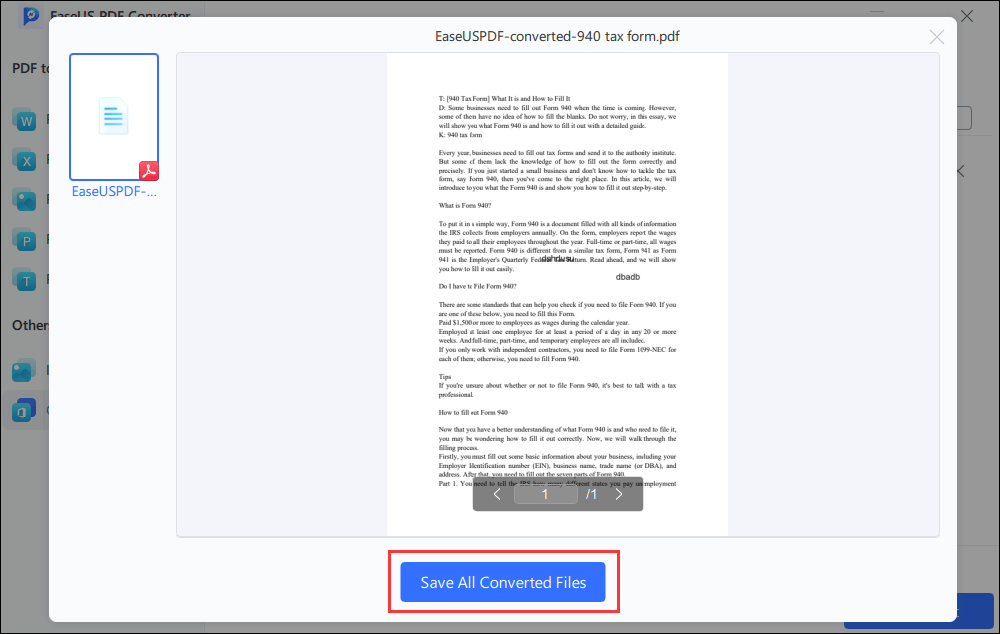 2. Adobe Acrobat
Adobe Acrobat is the best PDF converter that allows us to convert files into PDF offline and save, edit, print, sign, and secure PDF documents online or offline. It is really powerful software that is important and useful to us.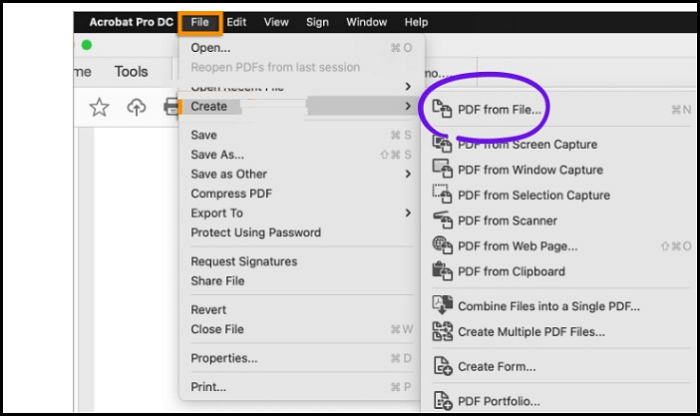 Here's how to use it:
Step 1. Go to the File menu, click "Create", and choose "PDF from File".
Step 2. After that, you'll be redirected to your system folders, and choose the desired file you want to convert.
Step 3. Once it is loaded in Adobe Acrobat, click "Open" to convert the file to a PDF.
Step 4. Once a new PDF opens, click "File" and click the "Save as" option to save the converted file on your PC.
3. iLovePDF
To meet users' demands, iLovePDF offers its users the ability to convert different files to PDF so that customers can access the content offline. With this tool, you can easily convert PPT, Excel, and Docx to PDF.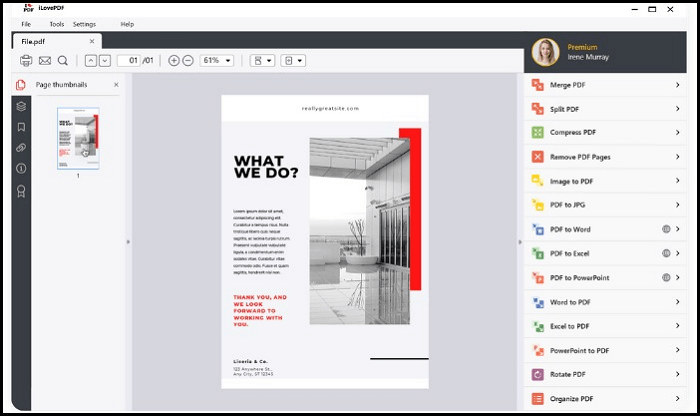 Here are simple steps to use it:
Step 1. Insert your File into the main window.
Step 2. Then select the format "PDF". The program will show you the complete process of converting your File to a PDF
Step 3. The File can be edited and modified if necessary. Also, the software ensures you can open your File directly after converting.
4. Soda PDF
Soda PDF is a tool that lets you convert any file to PDF format offline. Whether you have an existing PDF document or you want to convert HTML to PDF, this tool will help you create a new PDF document.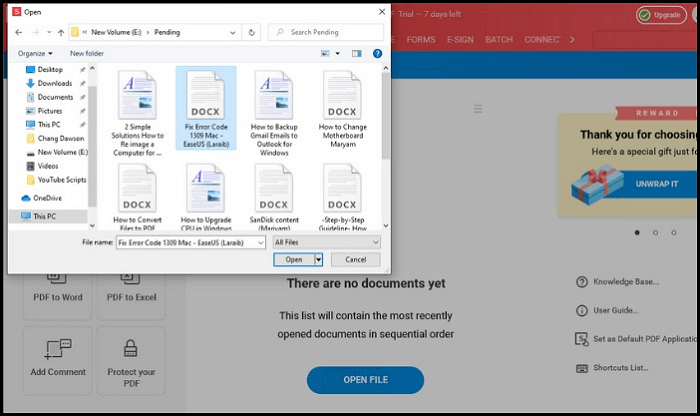 Look at the steps to use this tool:
Step 1. Open Soda PDF, and click "Open File".
Step 2. Choose the desired file that you want to convert, from your system.
Step 3. Click three little dashes to open the main menu at the top left.
Step 4. Click "Save as".
Step 5. After clicking "Save as", click "Save" at the top right.
Conclusion
The online converter tools are easy to use and convert files to PDF Online &Offline. But you may lose your data or privacy while using fake tools. In this regard, I suggest using EaseUS PDF Online and EaseUS PDF Converter because they are secure and convert your files to PDF in seconds.
FAQs on Convert Files to PDF
You may still have a few queries. Here are a few FAQs, but if these FAQs don't cover your questions, don't worry. Let us know in the comment box. We'll love to assist you. We carefully read your comments.
1. Does converting to PDF reduce quality?
The short answer is "yes". The quality of a PDF file can suffer if the original document is a low-resolution image. It's true for all images, but the higher the source file's resolution, the better the PDF quality. The same holds for text. The larger the font size and the fewer characters per line, the better the quality of the PDF.
2. How do I convert an image to a PDF?
Most computers have a tool that lets you turn documents into PDF format. The basic process is simple: choose File→Export, and Print or Save as PDF.
However, there are some additional steps involved. You might have to install Adobe Reader before you can use this tool. But if you've already installed it, this is a straightforward way to save documents without wasting time and effort.
3. Are PDF converters safe?
While PDF converter software has been around for some time, it's worth noting that converting PDF documents to Word, Excel, PowerPoint, or another format is relatively new. Because of that, the market for PDF converters is mainly unregulated.
This means that you may not be sure what's inside the program you're using. Some come with a bundled virus; others don't even have a virus detection program.
You also can't be confident whether the converter is capable of removing adware, malware, spyware, and other kinds of unwanted programs that may be present on the computer.
About the Author

I'm glad you can find my post. I hope my article can help you a lot. If you have any questions, please feel free to contact me!