Top 6 XML to PDF Converter on Windows/Mac/Online
 Update:

Recently, Microsoft is making a change to its Microsoft Office branding. Microsoft Office is being renamed by Microsoft 365. After the official renaming, our article content will be updated accordingly.
XML is a markup language like HTML, but its structure is more flexible. XML lets you define rules for how your data is structured so that any program with an XML parser (i.e., any program designed to read XML) can understand the data. However, it is difficult to view on a computer because there is no default editor.
It isn't easy to share the file and let others view it without installing third-party software. That's where the PDF file conversion comes into the picture. This post will guide you to convert XML to PDF using software, online tools on different platforms.
Top 6 best XML to PDF converters
Best XML to PDF Converter on Windows
Two methods can help get a PDF file from the XML document. Keep reading this post to know the steps of the conversion process.
1. EaseUS PDF Converter
As we all know that XML is also a format type of Excel document. However, as a fact, many PDF converts don't support this format. When it comes to EaseUS PDF Converter, this software allows you to convert various types of documents to PDF. For instance, it's easy to convert Word document to PDF using this tool.
Before the conversion, you need to click on the following button to download this software and install it on your computer.
Method of Converting XML to PDF on Windows:
 Tip

Although you are not able to import an XML file to it, there is an alternative way. Firstly, you need to open the XML file in Excel and save it in .xls or .xlsx format, then open the .xls or .xlsx document in EaseUS PDF Converter, and this software will convert it into PDF automatically.
Step 1. Download and install EaseUS PDF Converter. Then, open it and click the "Office to PDF" option. To import your Excel file, drop or drag Excel file into the window. Or you can hit "Open Files" to select the target Excel from your computer.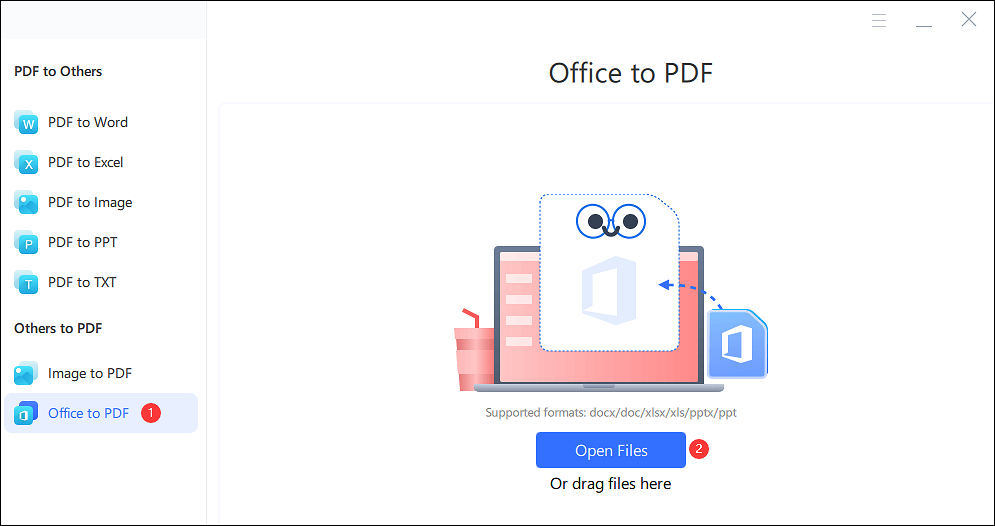 Step 2. From the "Office to PDF" option, you can view the imported Excel in the window. Here, you can click "+Add Files" to import the Excel files in the converter. Also, click "Convert" to start the conversion.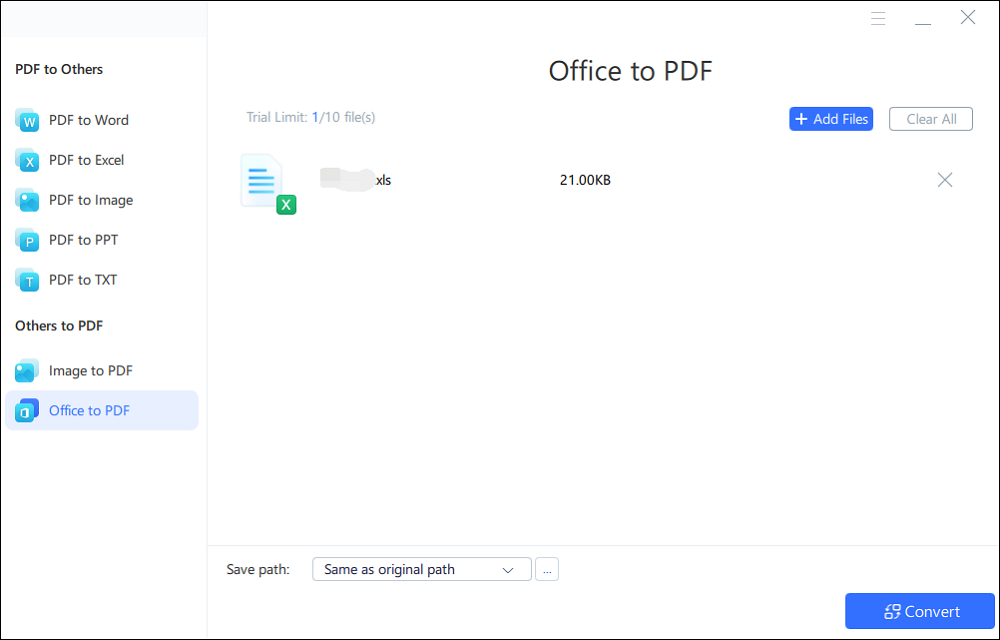 Step 3. Finally, after conversion, you can see the converted Excel file from the viewing window. Meanwhile, to save the converted file, you can click the "Save All Converted Files" option.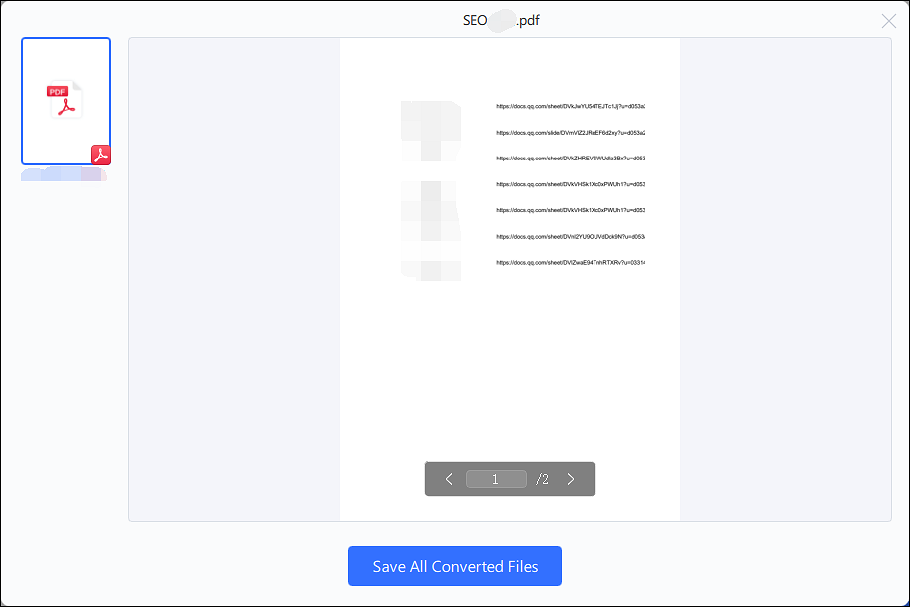 2. Microsoft Word
At the basic level, XML is nothing but a syntax set that users can open in any editor, such as notepad. If you are using Windows, you can use Microsoft Word or WordPad to open an XML file. It will allow you to make any change or fix a problem with the syntax.
Microsoft Word is a powerful document editor which allows you to create and edit the document. It includes the best possible combination of tools that anyone would need for documenting, writing books.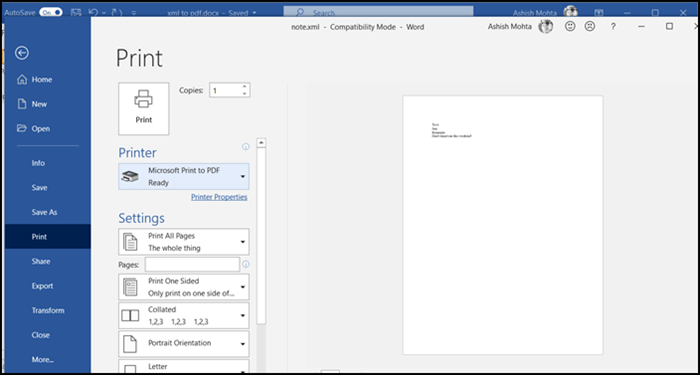 Steps to Convert XML to PDF Using Word:
Step 1. Right-click on the XML file and click on Open With. Next, locate Word from the list. Click "OK."
Step 2. The XML file content will be visible in the Word document. Now click on "File" > "Print."
Step 3. In the print dialogue box, select PDF as the output, and click "OK." Make sure to check on print preview.
The best part of using Microsoft Word is to parse the XML file and reveal the output. Printing it is very helpful then. If you want to create a PDF file with syntax, then use WordPad.
Best XML to PDF Converter on Mac
If you are serious about viewing XML data on Mac, then NCH Converter Software is the software you need to look at. The software can parse the XML file, convert them into PDF in a format you can use.  
The software is straightforward to use, and anyone with basic knowledge can use it. However, make sure to set the file's output location where you can find the converted files.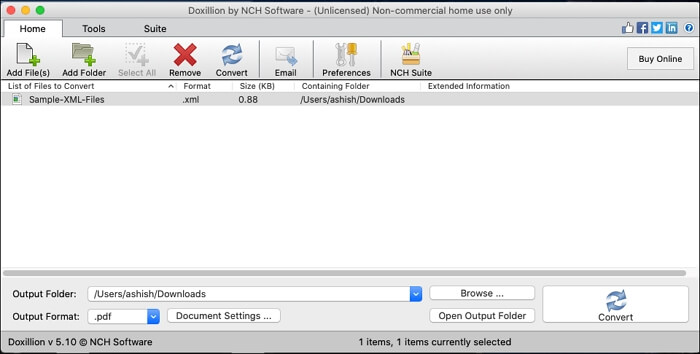 Features:
Support batch files conversion
Support a plethora of input and output documents
Offer tools to compress, merge, and express ZIP PDF files
Tutorial of Converting XML to PDF on Mac:
Step 1. Once you install the software, open it, and then click on the "Add File" or "Add Folder" button. Click on the "Ok" button to import the files after you have made the selection.
Step 2. Next, select the output folder, set the conversion type to "PDF."
Step 3. Click on the "Convert" button to start the conversion, and once done, you can open the destination folder to view the results.
Top 3 Online XML to PDF Converter
For those who are not interested in installing software to convert the XML file into PDF, you can use any of these three online tools to convert. Since these are free tools, you can use them without any major drawback. However, make sure to use a properly formatted XML file, else it will not work.
Online2PDF
This is an online converter that can convert almost any file format into a PDF file as long as the XML file opens correctly on the computer. The software also supporting editing, unlocking, merging, and exporting PDF files into Word, Excel, PowerPoint, and other image formats.
First, you have to convert the XML file to an XPS document using the print function and then upload it to convert it to PDF.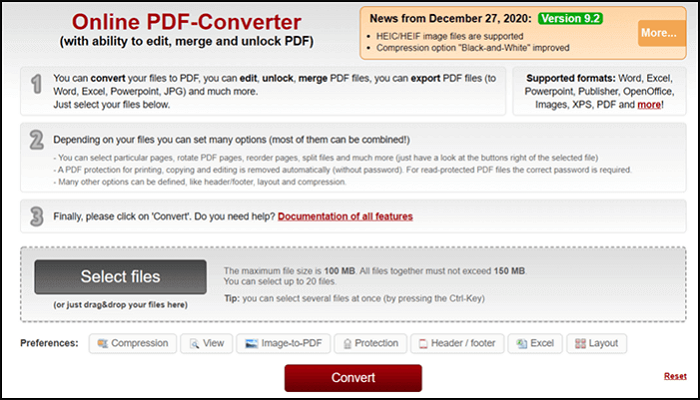 Pros:
The fast conversion process for all types of files
Support images and documents
Support maximum file size of 100 MB and multiple files for up to 20 files
Cons:
Privacy can be an issue
The conversion process for the large-size file can be a concern
Try: https://online2pdf.com/convert-xml-to-pdf
Onlineconvertfree
It's another free online service available in 15 languages and can convert over 70 document formats, 120 image formats, 15 audio formats, and 32 video formats. This tool is available for free on the cloud, without installing software.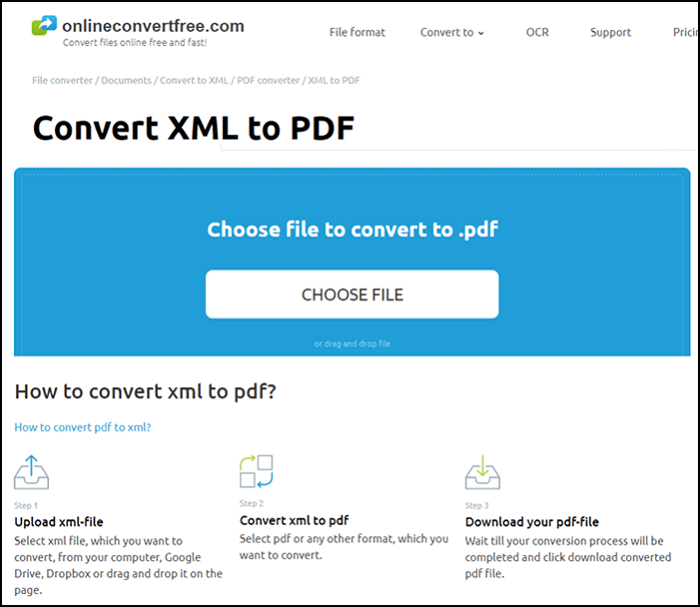 Pros:
Extensive support for file formats and inter-conversion
Document transmission is secure with SSL encryption
No watermark
Cons:
No option for minor editings
File upload is limited when it comes to size
Try: https://onlineconvertfree.com/convert-format/xml-to-pdf/
Pdfcandy
This online converter is the best one on the list and comes with the added benefit of file URL support from Google Drive and Dropbox. Conversion is quick, and all you need to do is add the XML file and then upload it for conversion. You will then get the download link which you can save on the computer.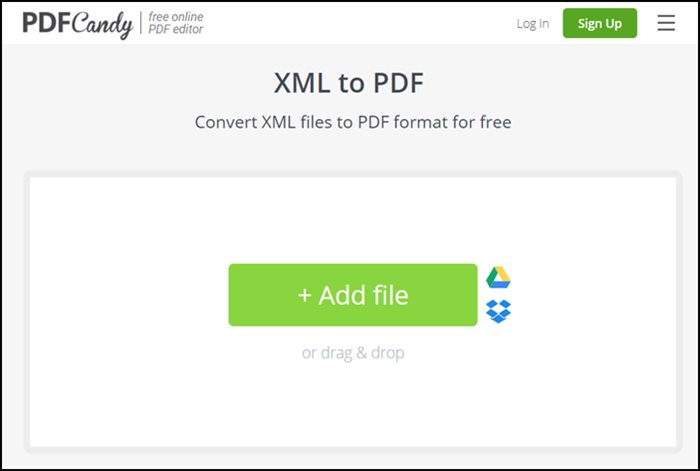 Pros:
The faster conversion rate for large files
Work across multiple platforms
Multiple file uploads are supported
Cons:
Google Drive and Dropbox integration
No information on how encryption is managed to transfer files
Try: https://pdfcandy.com/xml-to-pdf.html
Conclusion
XML, even though not a consumer standard format, is used in a lot of places. However, it is not easy to open it on a computer and phone. That's why you can use these tools to convert XML files and view them on any platform.
About the Author

Jane is an experienced editor for EaseUS focused on tech blog writing. Familiar with all kinds of video/PDF editing and screen recording software on the market, she specializes in composing posts about recording and editing videos. All the topics she chooses are aimed at providing more instructive information to users.