3 Ways | How to Combine PowerPoints into One PDF in 2022
PowerPoints are commonly used for making a presentation in business, school, and other places. However, the only annoying part of the document is that it can be modified by others easily. That could be the reason you want to convert it to PDF. When you have several PPTs, you can actually merge them into one PDF file. 

Here, this post introduces three methods on how to combine PowerPoints into one PDF with different PDF editing software. You can look at them one by one and choose the suitable one. 
How to Combine PPTs into One PDF via EaseUS PDF Editor
If you want to do something about PDF, try practical PDF editing software like EaseUS PDF Editor. It can combine PDF and images files, crop PDF pages, reduce the size of PDF files, secure the PDF, etc. This tool basically meets everything you want to do with PDFs. It's an all-in-one PDF editor and converter on Windows PC. 
When using this software to join PPT files into one PDF, you need to convert PPTs to PDFs at first. It's not a complex method as it ensures the quality of your files. Without changing formatting, the PPTs are converted to PDF in a few minutes!
Main Features:
Merge PDFs into one single file easily
Crop, compress, split, and search the PDF
Merge PDF and images files together
Now, with no registration, try this PDF editor on Windows PC!
Here is a list of steps for combining PPT into one PDF:
Step 1. Convert PPT to PDF
Download and install EaseUS PDF Editor. Then, open it and hit "Create PDFs". Select the PPT file you want to merge to PDF.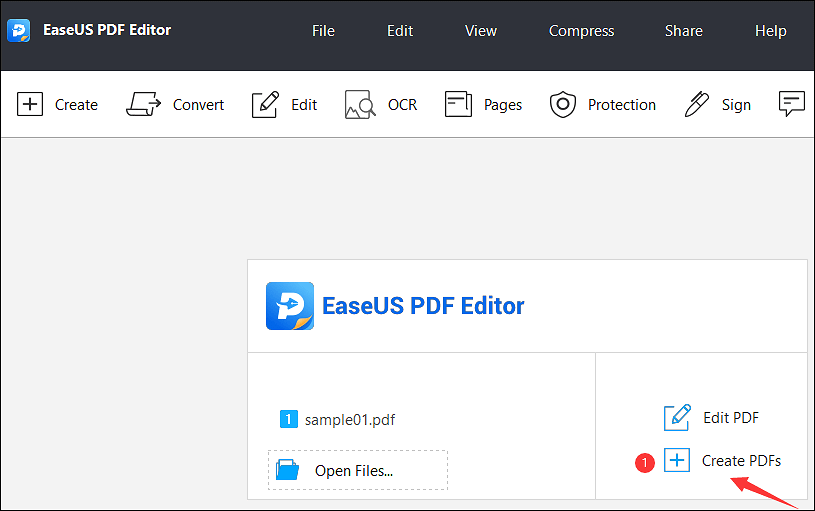 Save the file by clicking "File" > "Save As". You can convert PPT to PDF one by one, and then put them into one folder.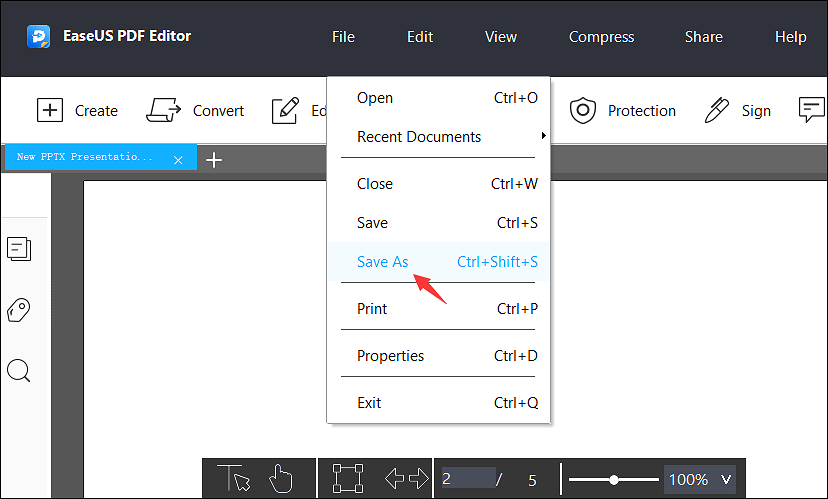 Step 2. Merge PDF from PPT to One File
After putting all converted PDFs into one folder, open this PDF software again. Then, click "Combine PDF" from the interface.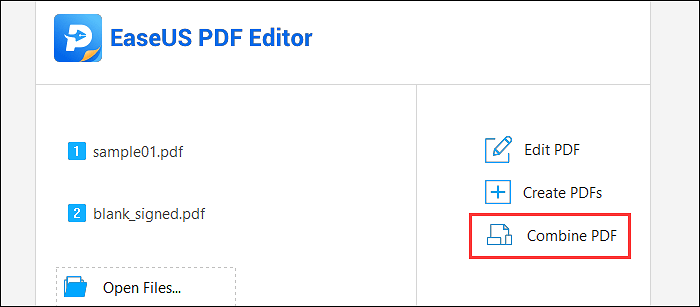 A new window will show, and you can import the converted file by clicking "Add Files..." > "Add Files" or "Add Folder". If you have finished importing the PDFs, click "OK".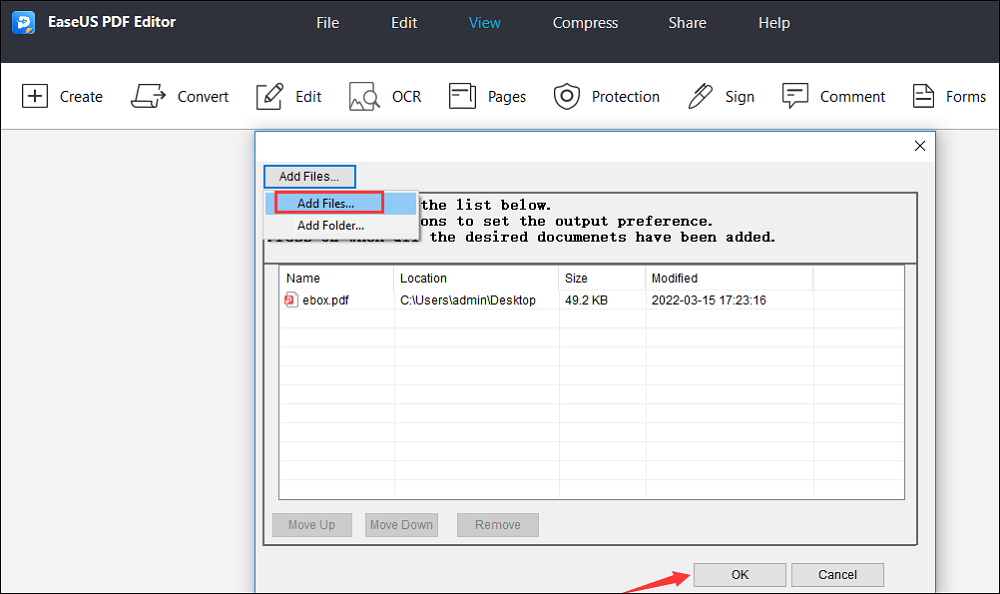 How to Combine PowerPoints into One PDF via Adobe Acrobat Pro DC
If you know where PDFs come from, you know Adobe Acrobat for sure. You can achieve almost all things about PDF modification within this functional and old PDF editing software. Merging files is one of its stunning functions. You are allowed to join PDF, Word, Excel, PowerPoint, media files, and even web pages. 
Also, Adobe allows you to preview, order, and delete the PDF pages as you like. After the combination of the files, you can apply its "Compress" function to reduce the size of the file. Overall, it's powerful. However, the price is not low.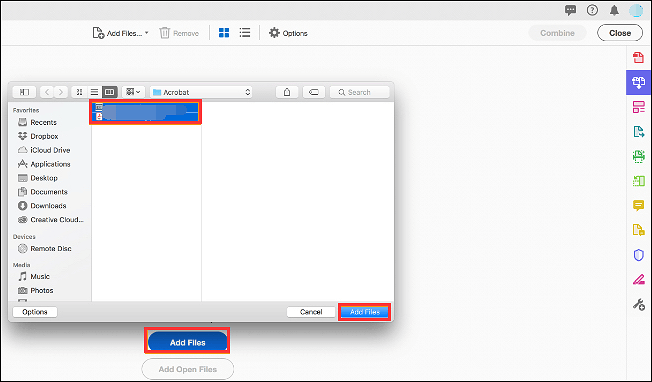 Features:
Merge Word, Excel, PPT, and PDF into one file
Combine, compress, crop, and rotate the PDF
Join PowerPoints into one PDF, using Adobe Acrobat:
Step 1. Download Adobe Acrobat on the desktop. Then, click "Tools" > "Combine Files". From the above side, there is a toolbar. You can import PPTs by clicking the "Add Files" option. 
Step 2. Once you have imported the PPTs, Adobe allows you to rearrange, preview, expand, and delete pages. Meanwhile, if you click "Options", you can choose the page size, including smaller file size, default file size, and larger file size.
Step 3. Once done, click the "OK" > "Combine" option to start merging PPTs into one PDF. 
How to Merge PowerPoints into One PDF with iLovePDF
Sometimes, you want the PPT to be away from modification by others. Here, you can use services to convert it to PDF. PDF is also the desired format to be viewed when presenting. If you want to quickly join PPTs into one PDF, iLovePDF is a recommended choice. 
Unlike other desktop software, iLovePDF is an online service that allows you to use it without installation.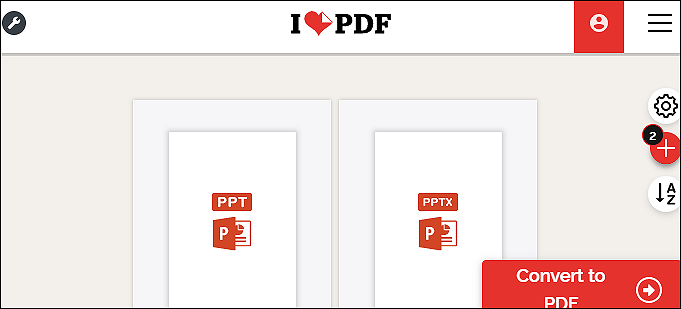 Features:
Convert JPG, Word, Excel, PPT, and HTML to PDF
Merge, split, compress, optimize, and secure the PDF
Add watermark to PDF in a simple clicks
Join PowerPoints into one PDF online, using iLovePDF:
Step 1. Open iLovePDF with your browser on Windows and Mac, and then click "Select POWERPOINT files" to import the PPTs. Or you can choose to drop and drag PPTs into the web page. 
Step 2. Once you have finished importing all PPTs, tap "Convert to PDF" from the right-bottom side. 
Step 3. Wait for a while, and you can download the combined PDF to your computer. 
Conclusion
This post introduces three methods to combine PPTs into one single PDF file. Believe that you may find one valid way. If you want to use powerful functions, Adobe is your choice. If you want to convert it quickly, online services like iLovePDF could be your choice. For common usage, EaseUS PDF Editor is a must-try!
FAQs About How to Combine PowerPoints into One PDF
Some related issues are gathered from the public. Don't skip this part if you want to know more information. 
1. How do I combine multiple PowerPoint presentations online?
First of all, make sure you have an internet connection on your devices. Then, find an online PowerPoint merge like iLovePDF. Below are three simple steps to combine different PPT files into one file. 
1. Open your browser and find an online PPT merge.
2. Import the PPT files by clicking the "Import" button, or you can drag the files into the web page.
3. Once all files are uploaded, you need to click "Convert". Then, you will get the combined PPT file online. 
2. How do you merge slides in PowerPoint 2010?
You can use the copy and paste method to merge slides in PPT 2010. The latest version of PPT allows you to apply the "Reuse Slides" method to combine slides. To join all PowerPoint slides, you need to right-click above the slides and choose the "Copy" option to copy the slides. Later, open the PPT file you want to paste your slides into.
Right click your mouse above the right side bar and select the "Use Destination Theme" option. 
About the Author

Crystal Chen is very interested in technology products. Experiencing many technological applications like video editors, screen recorders, and PDF editors, She is willing to solve users' issues through writing tech-related articles. Through her words, you can find various solutions to solve one problem.