Top 8 OCR to Excel Converters [Free Download]
PAGE CONTENT:
Image documents are widely usable files, but sometimes we need to convert them to other extensions to get the best out of them. For example, if you want to edit the tables of an image, you can convert it to an editable Excel file. To do so, you need a converter that is both advanced and easy to use. This article will introduce you to the top 8 OCR to excel converters for free download. 
Top 1. ABBYY FineReader 
ABBYY FineReader is an OCR-based tool with support for PDF file editing. The software allows the conversion of image documents into editable digital formats. It enables users to manage their paper or PDF documents by digitizing them individually or in larger sets. FineReader has a high level of accuracy in the document and instantly provides valid information. It also offers excellent pricing options to educational institutions. 
Key Features:
Quickly convert PDFs into other formats
Plenty of PDF editing options
High accuracy in digitizing paper documents
Create, edit, and organize fillable PDF forms
Serve as PDF encryption software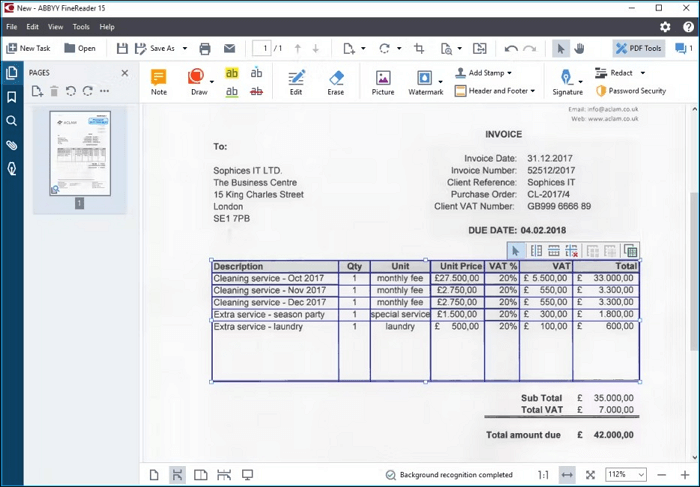 Pros:
Flexible licensing options for businesses
Keyboard-familiar OCR editor for manual edits
Remarkably transparent and user-friendly interface
Able to export multiple formats
Cons:
Lacks full-text indexing for fast searches
Doesn't provide the history of document changes
High pricing for the individual user
Unable to merge different files into one
Overwhelmed user interface
Top 2. Adobe Acrobat
Adobe Acrobat is a comprehensive PDF editor with an in-built OCR feature. It automatically detects the file's content and converts it to an excel file without losing the original font style. This tool has remarkable accuracy in converting files which helps the users to transfer all the parts in nicely formatted excel documents. No worries about data loss, as it does not change the original document. However, you have to pay a decent amount to unlock some of its valuable features. 
Key Features:
Decrease the PDF's size online
Hassle-free online conversion of PDF to Word
Convert scanned documents into editable 
Share and get feedback from others on the same file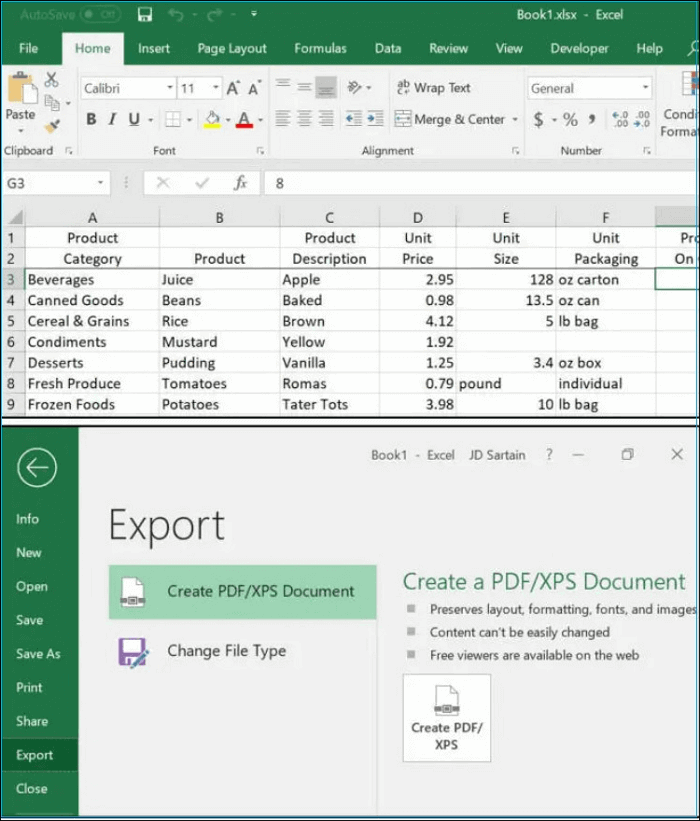 Pros:
Accurately detect all the elements in the document 
Compatible and stable to use
Add text to invisible characters
Massive support of fonts
Convert PDF to HTML, Text, Word, etc.
Cons:
Costly for general users
It is a little complicated to use
Heavy on the computer system
Needs an Adobe Creative Cloud license
Top 3. ABBYY Flexicapture
FlexiCapture is a durable, scalable data extraction OCR software for business purposes. It is a feature-packed tool that can convert documents into usable and editable business-ready files. It offers AI document scanning and supports over 200 languages. If you run any business, this software will add an impeccable workflow with automation features that easily convert complicated documents, including a variety of content like tables, graphs, photos, etc.
Key Features:
Character recognition exactness
Page layout reconstruction accuracy
Automatic detection of non-searchable PDF documents
Page layout reconstruction capacities
Remarkable stability in processing large documents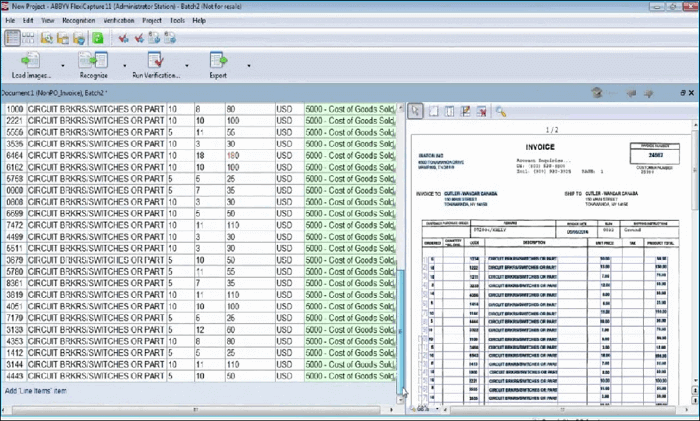 Pros:
Most suitable for business users
Offers AI, ML, and NLP for OCR technologies
Supports Automation data extraction
Support for over 200 languages
Easy to get results from paper documents 
Nicely integrated with ERP systems
Cons:
Not suitable for general users
Expensive compared to other tools
Difficult to customize
Inferior accuracy with low-resolution documents
Top 4. IBM Datacap
It facilitates users to capture, recognize, and classify documents to convert and gather details from them. IBM Datacap has a powerful OCR functionality with some additional features to customize pieces. It is compatible with a variety of channels, including scanners, mobile phones, multifunction peripherals, etc.
Key Features: 
Manual or automatic segmentation
Ensure file security to avoid ethical and legal challenges 
Multi-language support
Extendible rules-based capture
Effective text recognition in any font size and type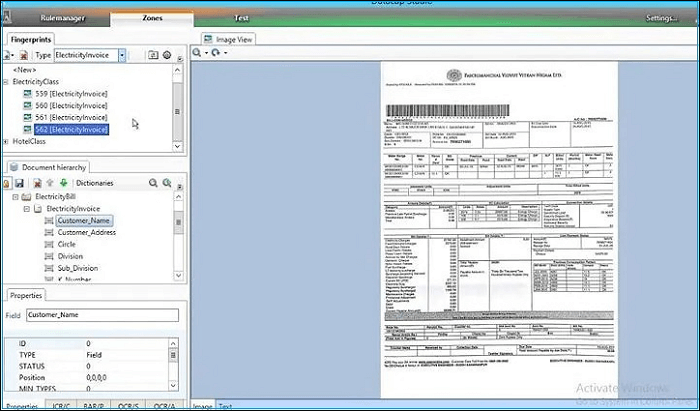 Pros:
Compatible with all operating systems
Configures complicated applications in data capture
Scanning mechanism
Ease of use and install
Cons:
Lack of online support
UI could be better
Slow while processing large files
Challenging to create and customize
Batch commits take time
Top 5. UniPDF
UniPDF is one of the best free PDF to Excel converters that provides satisfactory results in minimum time. It is appropriate if you are looking for a general conversion of your documents without using fancy features. It is also an excellent tool for those who want to convert PDF to Excel without spending a single dollar. It is designed to transform PDF to other formats with decent features. 
Key Features:
Offers both partial and complete conversion with high-quality outputs
Prompt selection for conversion to Word, Text, HTML, or image
PDF batch file conversion support
Doesn't lose the original layout and formatting
Multi-language support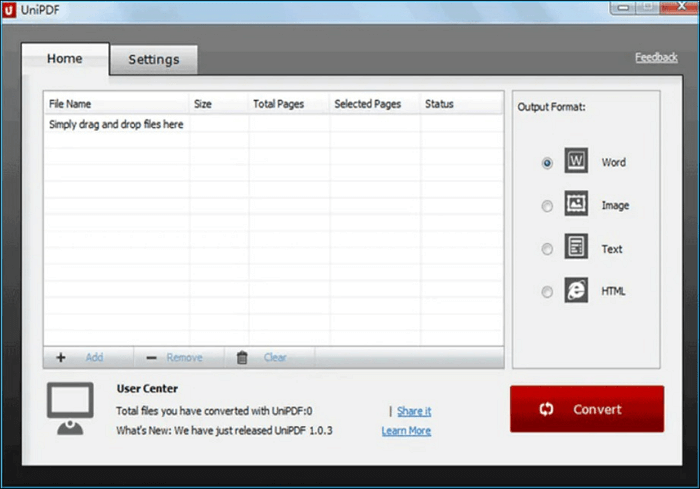 Pros:
It is free to use.
Its simple user interface makes it easy to use.
It can convert PDF to Text, Word, HTML, images, etc.
Cons:
Doesn't have editing functionality
Unable to convert multiple PDFs at the same time.
Top 6. Google Document AI
It is an AI-integrated tool that balances the requirement for automatic and manual checks by recognizing, labeling, and organizing files. Google Document AI can classify, extract, and improve data insights with a few easy steps. It also helps users to navigate appropriate information in their desired documents for future reference.
Key Features:
Minimize setup costs, streamline deployment, and reduce manual document processing
Combines Google Graph with parsed data
Document splitting, text editing, and form parsing
The use of clever analysis to enrich documents' data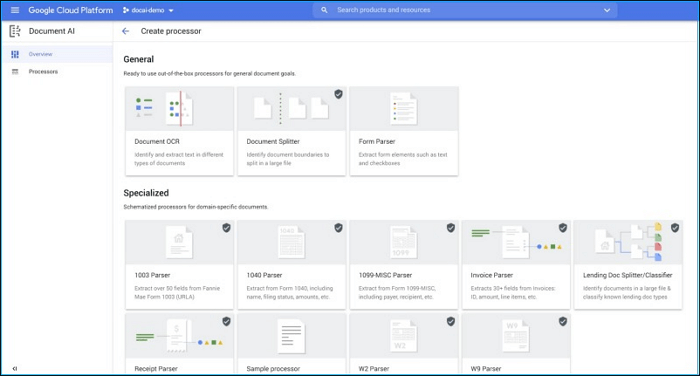 Pros:
Adequate integration with all Google services
Storage of information
Quick and easy to-set-up functionality
Better document management
Cons:
Outdated API documentation
AI modules lack proper documentation
Hard to edit existing modules and libraries
Expensive for individual users
Top 7. Tabula
If you're looking for a free and reliable OCR to Excel converter, give Tabula a try. Unlike other free alternatives, it is easy to install and operate. Its command line and simple interface make it valuable for editing and point-and-click use. Tabula is a convenient option to convert PDF files to other extensions with less complexity. In addition, this program runs on your local machine and does not upload files to the cloud, so you can store sensitive documents on it.
Key Features:
Strong PDF editing software
High rate of OCR accuracy
Advanced document capture
Adaptable OCR settings/adjustments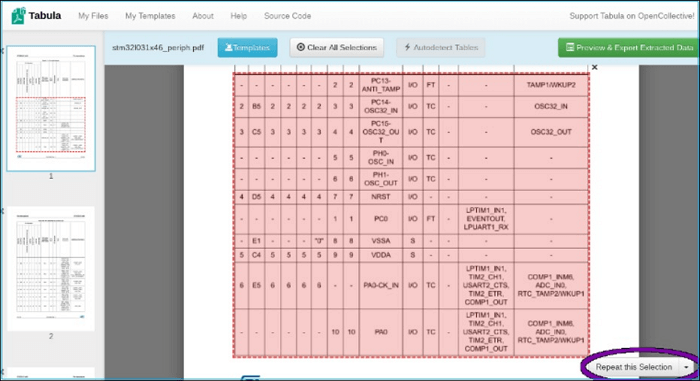 Pros:
It is free to use
Easy to install and operate
Perfect for table extraction
Enable you to make changes manually 
Cons:
Works on app-generated PDFs
Hard to operate on complex formatting
Top 8. TalkHelper PDF Converter
The list is not complete without this advanced free OCR software with intelligent capabilities. It has inbuilt OCR functionality to convert any image-based or PDF files to editable formats like Excel or Word. This software can perform single scanned PDF or batch OCR for several files at once. Furthermore, it offers a single API to scale content by editing, converting, optimizing, and securing documents.
Key Features:
Excellent workflow capabilities to streamline content
Manageable to perform any task within an easy-to-use UI. 
Fast analyze images and deliver useful insights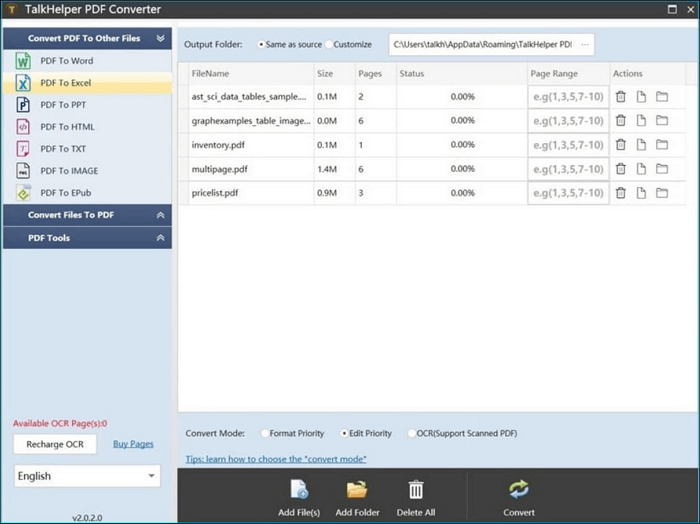 Pros:
All types of users can operate 
Plantly of options from the basic to the advanced
Useful for batch OCR scanned tasks
Multiple features to convert or edit documents
Cons:
The user interface can be improved
Does not offer a dashboard for file conversation
Bonus Tip: Best PDF Converter- EaseUS PDF Editor
EaseUS PDF Editor has an intuitive interface that makes PDF conversion seamless. It analyzes any file quickly and makes it available in a ready-to-use format. 
It can convert PDF to Word, Excel, and other popular formats or vice versa. This tool offers advanced OCR technology that never fails to scan the document and convert them in seconds. You can try its free version to test its flexibility and accuracy.
Features:
Ensures high accuracy while processing documents
Offers standard OCR for scanned files
Convert files without losing the original format and font
Handles common data constraints with ease
Support many file formats like Word, TIFF, PPT, etc.
Here are the steps to use this tool:
Step 1. Launch EaseUS PDF Editor and click on the "Open Files..." button to import the PDF file you want to convert to Excel.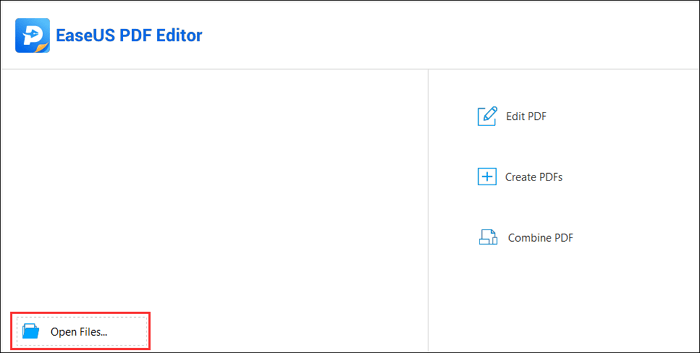 Step 2. Navigate to the "Convert" tab and many options will appear. Select "To Excel" to start the converting.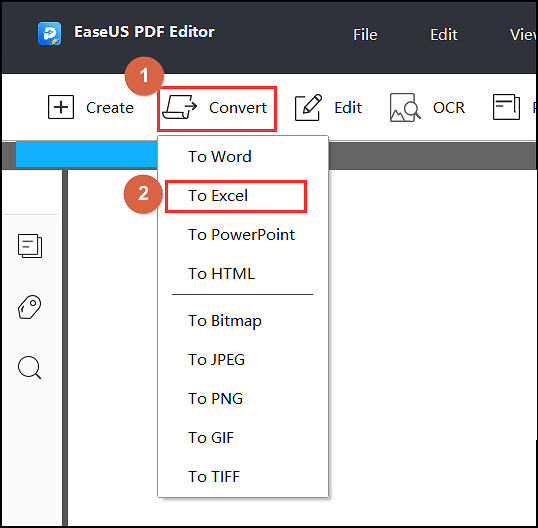 Step 3. Once done, the converted Excel document will be saved to your computer.
Conclusion 
Now, you have got the best OCR to Excel Converters to perform the conversion of any extension into an editable excel file. All the listed software has several OCR features, but EaseUS PDF Editor is more than just an OCR tool. You can keep your hands on it to boost workflow and productivity. 
FAQ
1. How do I convert handwriting to text in Excel?
You can use a free OCR to Excel converter to get the work done in minutes. There is no need to make a different excel sheet and type the handwritten content manually.
2. Can the image be converted to Excel?
Yes, you can convert any image to an editable excel file. To do so, you can use any online convertor or download an OCR converter.
3. Can we convert PDF to Excel online?
Several free online file converters are available on the internet to change your PDFs to Excel files. Simply open any link, select the file and convert your PDF file into an editable Excel spreadsheet.
4. How do I convert a PDF to Excel without email?
You can easily convert your PDF files to Excel without email using any online or offline converter. EaseUS PDF Editor is a free converter of pdf files to Excel files without email.
About the Author

I'm glad you can find my post. I hope my article can help you a lot. If you have any questions, please feel free to contact me!