How to Convert PDF to Fillable Form for Free
"My PDF is non-editable. Is there any way to convert it to a fillable form?"
Nowadays, digital formats have improved our efficiency and convenience, and we can easily enter information in fillable forms. However, most fillable forms are in PDF format, and many of them are not editable and fillable.
So if you want to fill these forms, you have to convert them into fillable PDF documents. If you don't know how to convert PDF to fillable form, don't fret. This post is gonna help you. Just scroll down to find the solutions. 
How to Convert PDF to Fillable Form on Windows using EaseUS PDF Editor
For Windows users, one of the quickest ways to convert PDF to fillable form is to use EaseUS PDF Editor. As its name indicates, it is an easy-to-use PDF program aiming to help you deal with everything about PDFs, from creating to converting PDFs.
If there are existing tables in your PDF file, you only need to open it with this PDF software, and it will automatically convert your PDF into a fillable form. If not, you can go to the "Form" tab to add a text filed, Push button, Check box, etc., to create a fillable form as you want. More than that, you are able to edit your PDF documents as you want. For instance, it allows you to insert images, hyperlinks, or other items to enrich the PDF files.
Highlights:
An excellent PDF form creator & filler
Allow adding passwords or watermarks to protect your PDF files
Convert PDF to or from other file formats, like Images, Microsoft documents, etc.
Provide OCR technology to make your scanned PDF editable
Enable to merge, split, annotate, compress, and sign PDF files
After downloading this fantastic PDF converter, you can check the below tutorial to learn how to convert PDF to fillable form on Windows:
Step 1. Launch EaseUS PDF Editor and click on the "Open Files" in the lower-left corner to import the PDF file that you want to lock.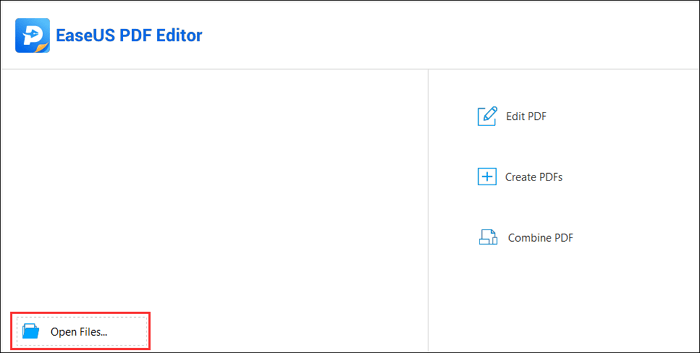 Step 2. On the top menu, click on "Form."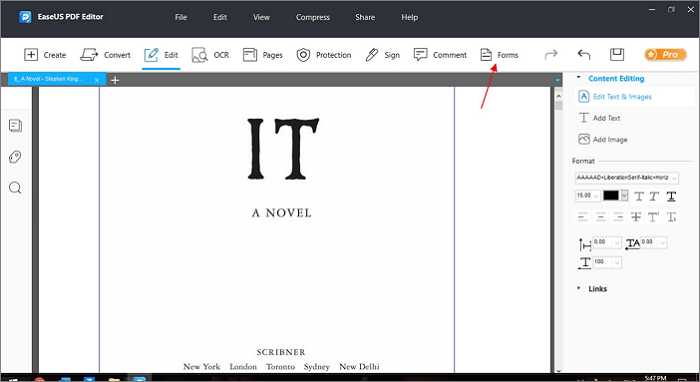 Step 3. In the right menu, click on "Text Field" to introduce a new fillable text field. Write the name of the Text Field on the Page.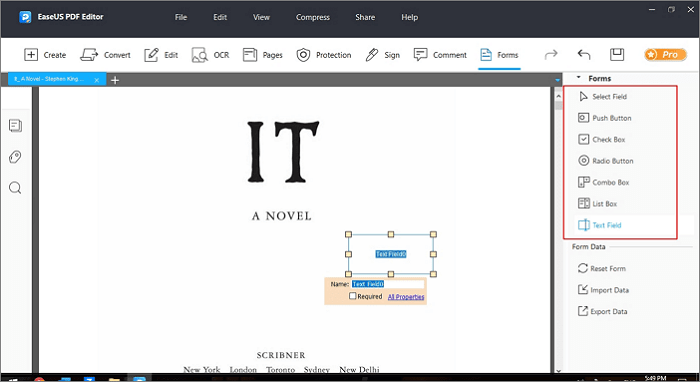 Step 4. Edit the properties of the text field by clicking on "All Properties". A new menu called "Edit Text Field Properties" will emerge. Select the options according to your needs.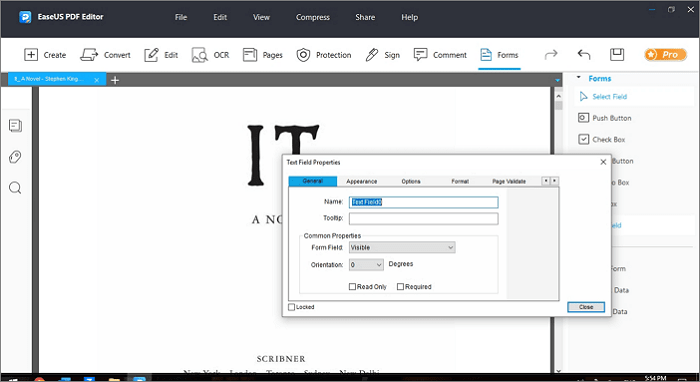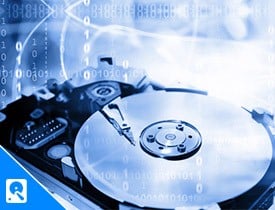 How to Turn PDF into Fillable Form using Adobe Acrobat on Mac
When it comes to PDF, everyone surely knows Adobe Acrobat. It is a famous PDF program worldwide, which helps you create, edit, and share PDF files effortlessly. And converting PDF into fillable form is a tiny part of its features, you can finish the task in a few simple steps:
Step 1. Download and launch Adobe Acrobat DC on your computer.
Step 2. Click "Tools" in the top toolbar, and next select the "Prepare Form" > "Open" option to import the PDF document that you want to convert into fillable form. And click "Start".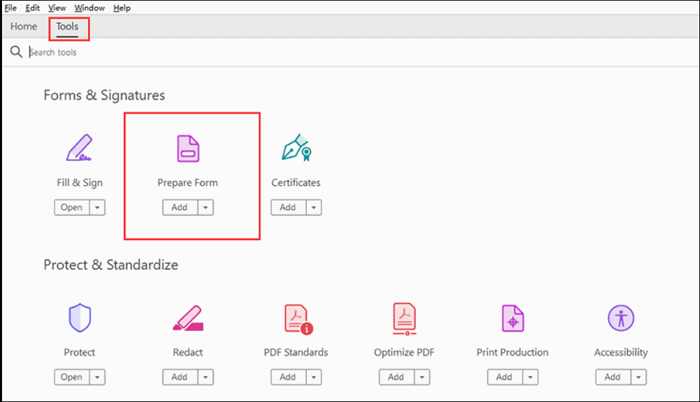 Step 3. This program will automatically detect and create the interactive fields if the PDF file contains tables. You can easily edit and fill out the PDF form as you want.
Step 4. If there is no table in your PDF file, you can add new form fields with the tools in the top toolbar. For instance, you can choose "Text Field", "Button", "Check Box", and many more to make a fillable PDF form.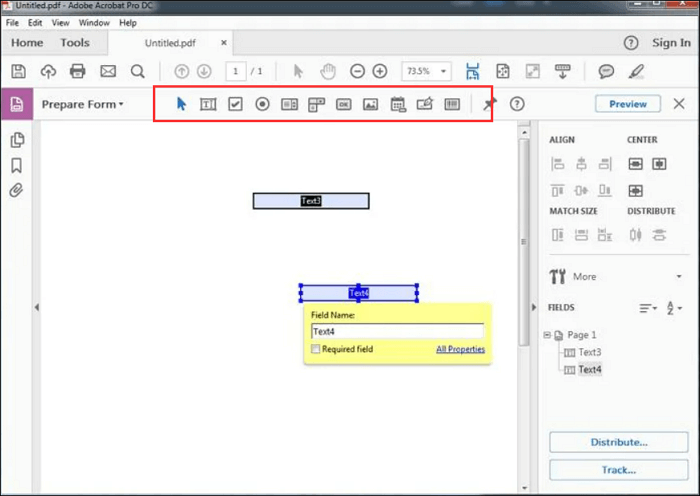 Step 5. Once done, click "File" > "Save as" to keep the converted file on your local computer.
How to Convert a PDF into Fillable Form Online for Free
If you are a one-time user who occasionally needs to convert PDF into a fillable form, you may want to find a lightweight tool to complete the task. So, in this section, we will show you some online tools for converting PDFs to fillable forms without hassle. Let's dive into it!
#1. JotForm
The first online PDF form creator is JotForm. It helps you create professional-looking forms with no coding using its online Form Builder. As for creating a fillable form from PDF, it is just a piece of cake for the online service. 
Step 1. Go to its official website, and click "Convert PDF to fillable form" on the left to open the uploading file page.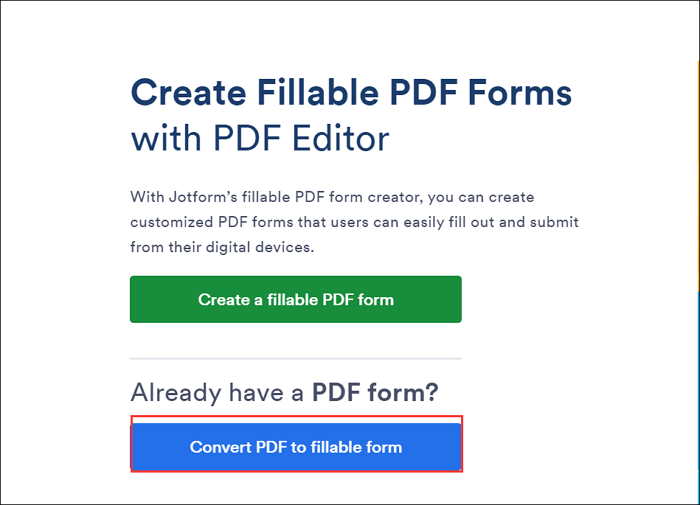 Step 2. Click "UPLOAD PDF FORM" to import the PDF file that you want to convert to a fillable form. 
Step 3. Next, it will become fillable, and you can type any information in the PDF file. Or, you can even customize the look, and add blank text areas, checkboxes, and multiple-choice questions.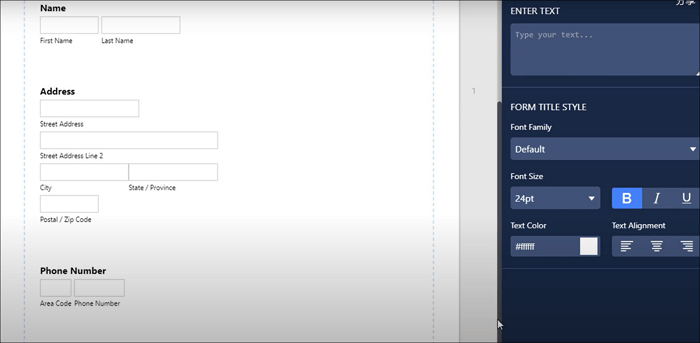 Step 4. Finally, click the "PUBLISH" button and hit "PDF" to download your file and save it on your computer.
#2. PDFfiller
Another way to convert non-fillable PDF into fillable is to use PDFfiller, which works perfectly in any browser. Once you import the PDF file, this online tool will automatically convert it into a fillable form. Besides, you can fill out these forms online and share them with teammates in a few clicks.
One of its highlights is that it provides many ways to import your target PDF file, including Google Drive, Dropbox, OneDrive, PDF Library, etc.
Step 1. Click on "Upload PDF Files" to import the PDF document from your local computer.
Step 2. Once the PDF file has been uploaded, this online service can instantly convert it to a fillable format.
Step 3. Similarly, you also can add other forms filed by clicking "ADD FILLABLE FIELDS" in the right corner. Here you can add fillable fields for numbers, images, dates, and text. At last, click "SAVE" to save the fillable form from your PDF file.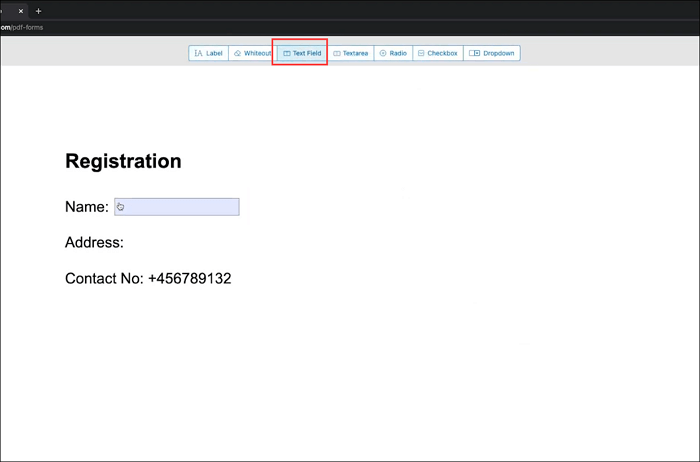 The Bottom Line
How to convert PDF into fillable form? This post lists four easy yet effective solutions for the problem, and you can pick any one to start the conversion task. If you deal with PDF files seldom, online tools like PDFfiller can be your great choice.
However, if you need to edit, fill, and convert PDF documents almost every day, EaseUS PDF Editor is your best option. This program combines PDF viewing, editing, managing, filling, and converting features and will raise your working efficiency.
About the Author

Jane is an experienced editor for EaseUS focused on tech blog writing. Familiar with all kinds of video/PDF editing and screen recording software on the market, she specializes in composing posts about recording and editing videos. All the topics she chooses are aimed at providing more instructive information to users.