4 Ways | How to Convert RAR to PDF [Free Online]
PAGE CONTENT:
Most computer users are familiar with RAR files, often used to compress large files for easy sharing via email or other media platforms. When a PDF document is compressed to a RAR file, you will need to extract the embedded files using WinRAR or an online converter.
This article focuses on how to convert RAR to PDF. Lots of online software can convert RAR to PDF for free across various Operating Systems (Linux, Windows, macOS, Android, and many more). The four methods below are recommended for safety purposes to meet your needs. You can choose one of them that you consider the best PDF converter.
Let's take a deep dive by looking into them one after the other.
Method 1. Zamzar
The Zamzar Online file conversion software is a go-to free RAR to PDF converter for developers. It offers a simple API that developers can use to convert files from their applications. Among many online converters, it has received more than 510 million files since 2006, when it was created.
In addition, it offers beyond RAR to PDF conversion, so you can convert XLS, XLSX, Doc, Docx, PPT, and PPTX to PDF. It supports file formats across categories like documents, audio, images, videos, and many more.
Lastly, it has a straightforward interface that makes it easy to use by almost anyone that can read and write. You can receive the converted file to your email by ticking the box "Email when done?". It is worth noting that Zamzar only offers up to 25 files (50MB) for free; you need to signup for a paid version to use more than that.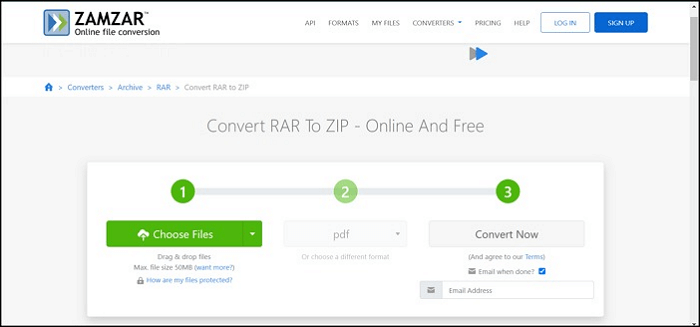 To use the Zamzar Online file conversion software, follow the steps below:
Step 1. Select the files to convert.
Step 2. Select the file format to convert to from the dropdown menu.
Step 3. Click "Convert Now" to start the conversion.
Step 4. Check the "Email when done?" box and enter your email address.
Method 2. Convertio
Like any online converter, Convertio converts files from RAR to PDF within three steps. Asides from dragging in and dropping files, it comes with the added functionality of uploading files from the cloud (Google Drive or Dropbox). Also, it is a powerful OCR software that can help you scan or OCR a PDF.
Its interface is so easy to use that a newbie will do fine without prior document conversion knowledge. In addition, it offers a fully online functionality that works fine within any browser of your choice. The conversion occurs on the cloud and permanently erases the converted and uploaded files after 24 hours. Also, it supports more than 30 file formats and works on any device. It requires three short steps to be successful.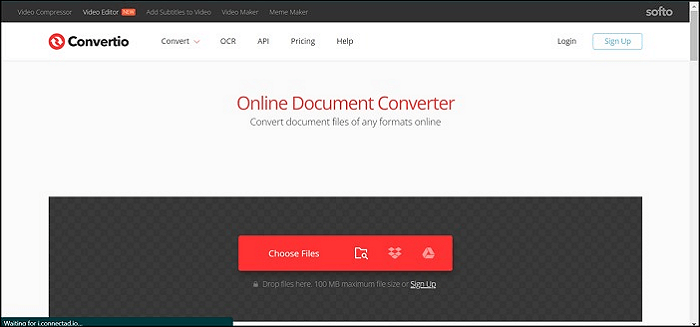 Here are the steps to use Convertio:
Step 1. Drag and drop the file or upload it from either Google Drive or Dropbox.
Step 2. Select the output format (PDF).
Step 3. Click "Convert", then save the result.
Method 3. Aspose
An outstanding feature of Aspose is that it is free, so you don't need to sign up to use this application for your RAR to PDF conversion. Irrespective of the device or browser, you enjoy a seamless online conversion. By using Aspose, you can complete many conversion processes. Additionally, you can use it to edit and add page numbers to PDF with its edit function.
It comes with an upload limit of 10 files at a time; this does not mean you cannot convert more than 10; it just means you have to upload them in batches of 10. Both uploaded and converted files are deleted after 24 hours on the server.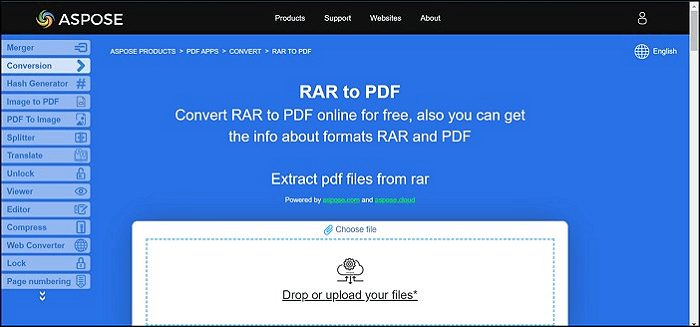 To use this online application, follow the steps below:
Step 1. Click the "Upload area" to drag or upload files.
Step 2. Then, press the "Convert" button.
Step 3. RAR files are uploaded and converted to PDF almost instantly. Download links of output files are made available after conversion.
Method 4. 2PDF
2PDF can convert RAR to PDF online, but it does beyond online conversion. It can merge, split, compress, or extract pages from PDF all at no cost. In addition, it boosts as the best quality document converter online due to its all-in-one solution.
Uploaded and converted files are protected from third-party access and work online via internet access. In addition, it can rotate files without installing additional programs. Its conversion is cloud-based so that your device resources are intact.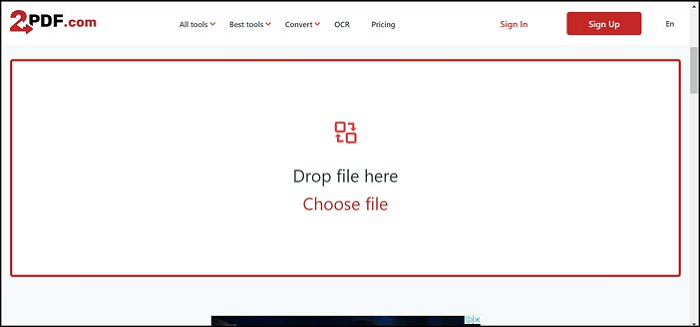 Here're the steps to use it:
Step 1. Drag the RAR file into the Upload area.
Step 2. Select the output file format (PDF).
Step 3. Select the action (split, merge, convert, and rotate) you want to perform.
Step 4. Wait for the conversion to be successful before downloading or exporting it to Google Drive/Dropbox.
Bonus Tip: Convert Other Files to PDF on Windows
Since many other document types need conversion, sometimes you need a Word/Excel/PowerPoint to PDF converter. In addition, due to the sensitivity or confidentiality of the documents, you may need to keep the document within your local computer to perform any transformation on it. This is where the EaseUS PDF Editor comes in.
EaseUS PDF Editor is an excellent PDF converter that keeps your original content intact without distorting it because of format changes. It can convert over ten formats to PDF, including TIFF, JPG, JPEG, Doc, XLSX, PPT, PPTX, Docx, XLS, PNG, and BMP. In addition, you can edit the text in scanned documents because of its OCR (Optical Character Recognition) technology. Don't wait, just try on this great tool!
Features:
Convert Doc, Docx, XLS, and XLSX to PDF
Combine multiple PDF files effortlessly
Compress file size with no quality loss
Split PDF and sign documents digitally
Set a Password for a PDF file and add watermark to PDF
Here are the steps to convert a file to PDF with EaseUS PDF Editor:
Step 1. Launch the EaseUS PDF editing software, click "Create" > "From File" to open the file that you want to convert.

Step 2. Then, go to the File Menu and choose Save As.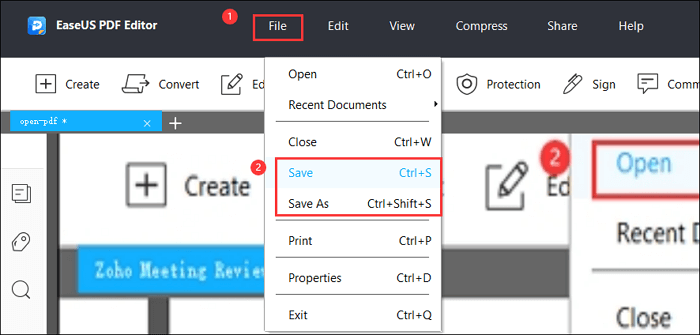 Step 3. Al last, choose the target folder where you want to save the PDF file and click on the "Save" button to convert the Word document to PDF format.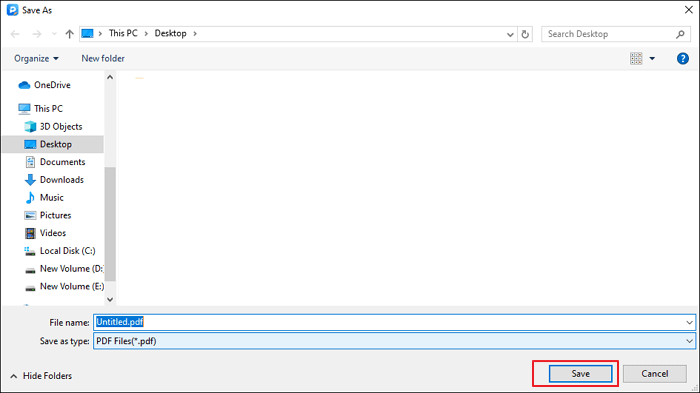 Conclusion
Having discussed how to convert RAR to PDF using free online software that can work on almost every PC, it is noteworthy that the EaseUS PDF Editor remains the all-in-one solution for performing all kinds of operations on any PDF document. In addition, it helps convert, compress, split, secure, manage, edit and combine PDF files effortlessly.
FAQ on Convert RAR to PDF
Do you still have more questions about how to convert RAR to PDF online, check out these FAQs.
1. How do I open Zip files in PDF?
Right-click the ZIP file in Windows Explorer and click "Instant PDF", the application automatically extracts the ZIP file content and converts them to PDF.
2. How do I read a RAR file?
You need to download the WinRAR application, after which you can open RAR files using the downloaded application.
3. How do I convert to PDF for free?
Converting to PDF can be done by clicking "Save as", then selecting PDF as file format if it's a Word or Excel Document. Other types of documents can be converted using the Acrobat online PDF tool.
About the Author

I'm glad you can find my post. I hope my article can help you a lot. If you have any questions, please feel free to contact me!