How to Convert DWF to PDF [Best Tools for You]
 Update:

Recently, Microsoft is making a change to its Microsoft Office branding. Microsoft Office is being renamed by Microsoft 365. After the official renaming, our article content will be updated accordingly.
DWF, also known as Design Web Format contains graphics, design data, text, and 3D models in a Zip-compressed format. It reduces the size of the file. DWF files are accessible and standardized without the help of any special software. Through DWF, designers and engineers share their CAD files. Converting DWF files to PDF files enhances user-friendly sharing capability while retaining quality. 
This guide will help you with different tools to convert your DWF to PDF files in seconds. You can follow the given steps to get the work done.
How to Convert DWF to PDF
This section will introduce you to quick and simple tools to convert all your DWF files without compromising the quality. All the applications and online tools are efficient in managing file conversions. As you will soon realize, they will help you avoid spending numerous hours figuring out how to convert multiple DWF to PDF files at once. You can select any of the following tools according to your needs.
Tool 1. Adobe Acrobat
Adobe Acrobat is one of the best PDF Editors, which has powerful editing and converting functions. Besides, it is also the most efficient and free OCR software. So, download the Adobe Acrobat application on your computer to convert a DWF into an easy-to-use PDF file. Here are the steps: 
Step 1. Open the app and select "Tools".
Step 2. Choose the "Create PDF" > "Single File" options.
Step 3. Select a DWF file from File Explorer and click "Upload".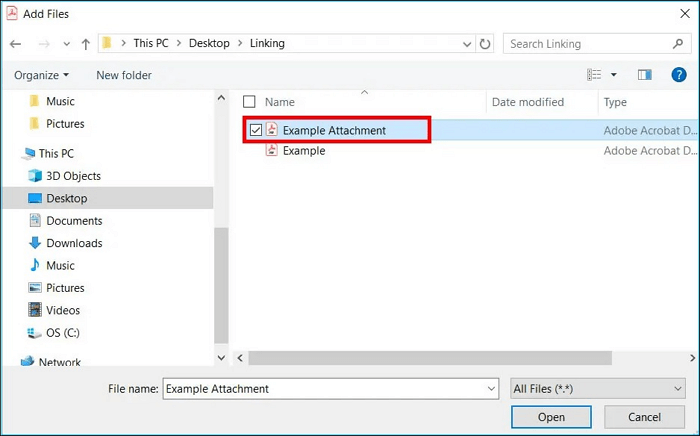 Step 4. Click on "Create". The process will start and may take some time, depending on the file size.  
Step 5. Once the process is over, you can save the PDF to your preferred location.
In addition, AdobeAcrobat has different versions. So, Adobe Acrobat Professional VS. Standard, which one you will choose?
Toot 2. dwgConvert
dwgConvert is a good PDF converter, which is easy to run and allows you to convert your DWF file to PDF or other file formats in quick steps without compromising the quality. In the following content, you will see how to use it.
Step 1. Click the given link, download the dwgConvert software and install it on your Windows PC. 
Step 2. Open the software and select the "three dots", next to the Input.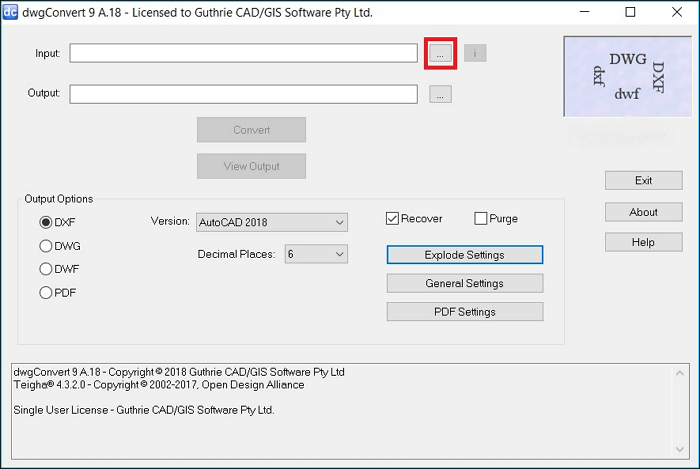 Step 3. Then the File Explorer opens, and choose a DWF file you want to convert. Click the "Open" button.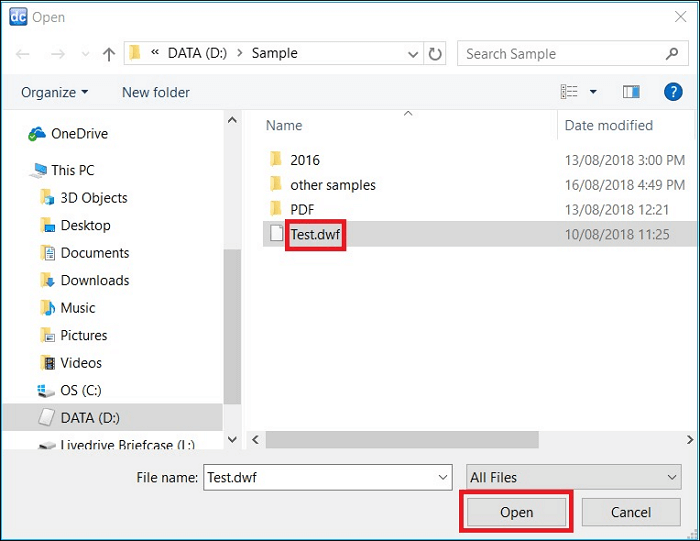 Step 4. Choose PDF as an Output Format, and click the "Convert" button. Then the process will start to convert your DWF file to PDF.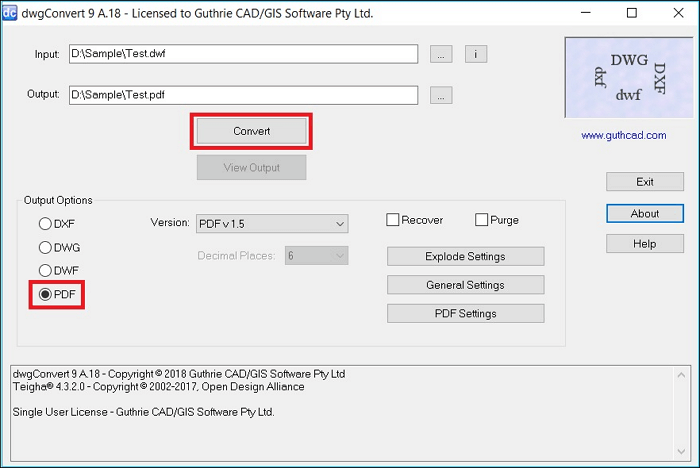 When the conversion is complete, you will see the notice "End Translation".
Tool 3. Aspose CAD
It is a free online solution to export DWF to any format, such as PDF, PSD, WMF, SVG, PNG, JPG, or PSD. At the same time, it can also convert PDF to PPT or other files. Additionally, as an online program, it won't take up many resources on your computer, and it is very quick to convert files with this tool. Here are the steps to follow:
Step 1. Go to the official website of Aspose CAD and select the DWF Conversion application, or click the link to open it directly.
Step 2. Move the cursor inside the file drop section to choose and upload DWF files or drag & drop DWF files. You can also copy and paste the file link you want to convert.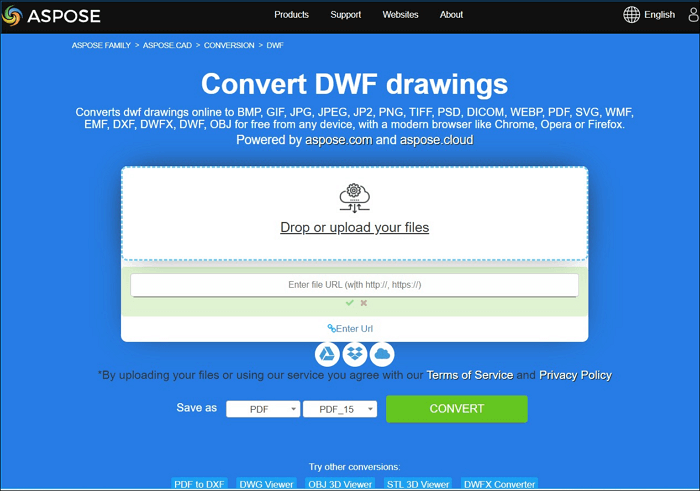 Step 3. After selecting your desired DWF files, click the "Convert" button. Exporting selected files will start quickly, but you'll have to wait until the process is over.
Step 4. Click the download links of converted DWF files and save them to your local drive or you can directly share the link of exported DWF files.
 Note:

The DWF Input will not be saved on the website, and the converted PDF file will be deleted within 24 hours.
Tool 4. redConverter
redConverter is another sound PDF converter that attracts many users. This software enables you to convert multiple files at the same time, and it supports many formats, including Word, PPT, PDF, etc. Apart from conversion, users can use it to edit their files. Let's have a look at how to do that:
Step 1. Download and Install the reaConverter and run it on your Windows computer.
Step 2. Once the program opens, you can load your intended folder or DWF files and convert them into PDF. This way, it saves your valuable time and potential, which prevents you from uploading and downloading files again and again. You can also use the drag-and-drop option.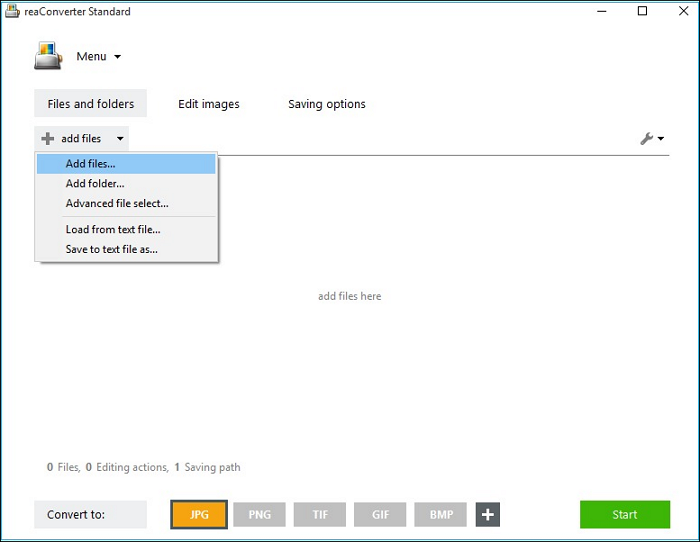 Step 3. Select the "Save" tab and choose the desired location you want to hold your PDF files or folder.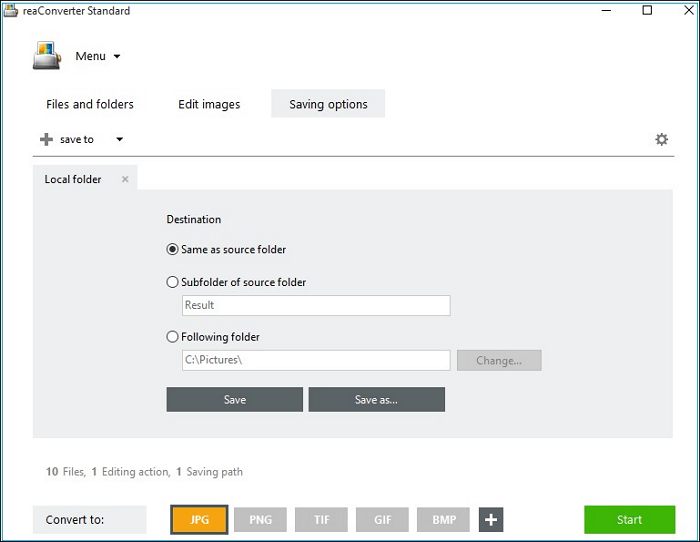 Step 4. At the bottom, click the "+ Plus" button and select PDF as the output format from the list.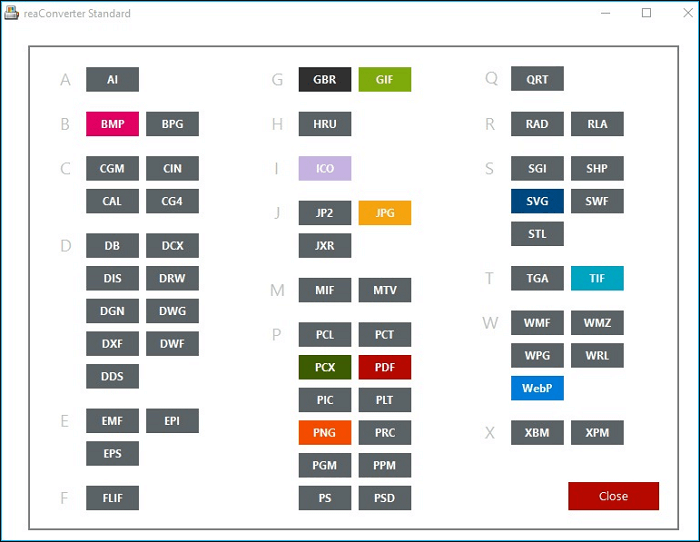 Step 5. Now, click the "Start" button and begin the process.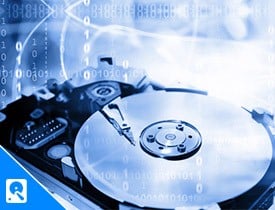 Bonus Tip: Convert PDF to Other Formats
PDF is a widely used file extension in our daily work. It is an excellent method to share records with others and is also web-friendly. You can attach a PDF file anywhere, such as through emails. PDF files require specialized programs to edit text, images, or other content. However, there is a convenient option to convert PDF to Word or other file formats that enable you to edit the file as per your needs and resources.
Thus, it is recommended to utilize EaseUS PDF Editor. This program is a free and best PDF converter, and significantly more manageable and convenient compared to other PDF converters in the market. Click here and download this perfect program.
If you want to convert PDF to Word, here are the steps for you to use this great tool.
Step 1. Download and launch EaseUS PDF converter, then click "Open" followed by "File" to import the file that you want to turn into Word.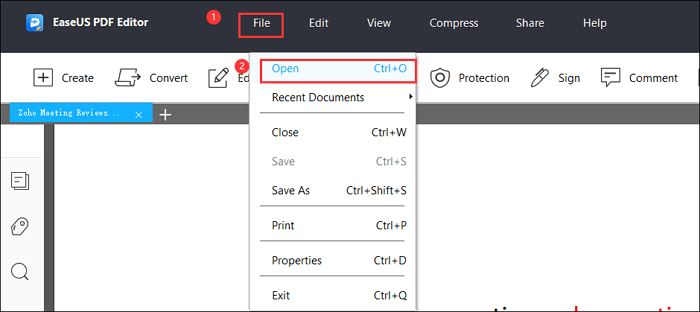 Step 2. Next, click on "Convert" in the top left toolbar, and choose "To Word" in the drop-down menu.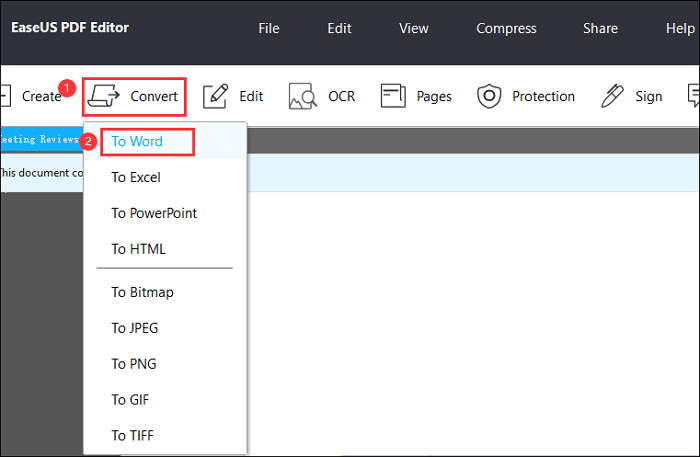 Step 3. Wait for the end of the process. Once done, the converted file will be saved automatically on your computer.
With this tool, you can quickly convert files. Also, to ensure the security of files, you can password protect PDF by using this software.
Conclusion
Now, DWF files get converted to a more practical format which is PDF. The article helped you find out more accessible and effective tools recommended by professionals. PDF file enhances the sharing capacity without affecting the quality. The above tools will save you time and provide great results after converting DWF files to PDF files.
FAQs
This section is dedicated to providing you with quick answers to some frequently asked questions about converting DWF to PDF files.
1. Can I convert DWF to PDF on Linux, Mac OS, or Android?
Yes, you can use a free DWF to PDF converter on any operating system that has an internet connection and a web browser. There are many applications available both online and offline. You can also use an online converter in your web browser without downloading a specific program.
2. Is it safe to use a free DWF to PDF conversion service?
The market has different DWF to PDF conversion services and is safe to utilize. They cannot save the imported file, and the download link will automatically expire after 24 hours. No one has access to your files. 
3. How long does it take to convert DWF to PDF?
Usually, the conversion process of DWF to PDF is pretty fast and can be over in a few seconds. However, the time depends on the file size and internet connection speed. It may take minutes if the file size is big or the internet is slow.
About the Author

I'm glad you can find my post. I hope my article can help you a lot. If you have any questions, please feel free to contact me!