Never Miss: Top 5 PDF Password Remover Online
 Update:

Recently, Microsoft is making a change to its Microsoft Office branding. Microsoft Office is being renamed by Microsoft 365. After the official renaming, our article content will be updated accordingly.
PAGE CONTENT:
With a few easy steps, you can remove single and multiple PDF passwords with the help of a PDF password remover. A PDF password remover will allow you to edit, annotate or copy any of your protected PDF documents.
You can also reset the PDF password when you forget. Here in this article, you will get a detailed guide on unlocking PDF documents with five top PDF password removers.
Top 1. Smallpdf
Smallpdf has been one of the most visited online platforms for unlocking PDF files easily. It's an easy-to-use online and offline desktop app. All you need to unlock the PDF file is to drop and drag it on the tool.
The function of Smallpdf is not limited to extracting passwords from PDFs alone but also has many amazing features. Smallpdf also functions as a PDF reader and tool with 20 other PDF tools to compress PDF files, convert PDF to Word, combine, edit, unlock PDF, compress PDF documents, and more. Smallpdf is an easy-to-use platform to remove passwords from PDFs.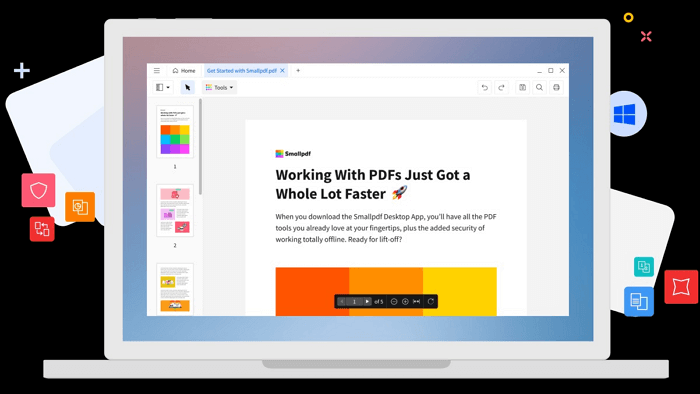 Advantages:
Easy to compress or combine PDF and other files like Excel and Doc
Simple to use free software to merge, edit or perform any action on PDF documents
It can solve several problems with documents
PDFs are compressed to about 80% of their initial size
Provides an affordable solution for your PDF conversion
Disadvantages:
The software does not always identify all forms in the PDF
The software is costly and does not include features like a digital signature
The daily limit for users is strict, and it can be easily used up
Compatibility: Windows, Mac, Android
Top 2. iLovePDF
iLovePDF is one of the easiest document management software to remove password from PDF. This tool removes PDF password security, allowing you to access your PDF documents as you wish.
The steps involved in uploading and removing passwords from any PDF file are simple. iLovePDF also has features to split, merge, convert and compress PDFs.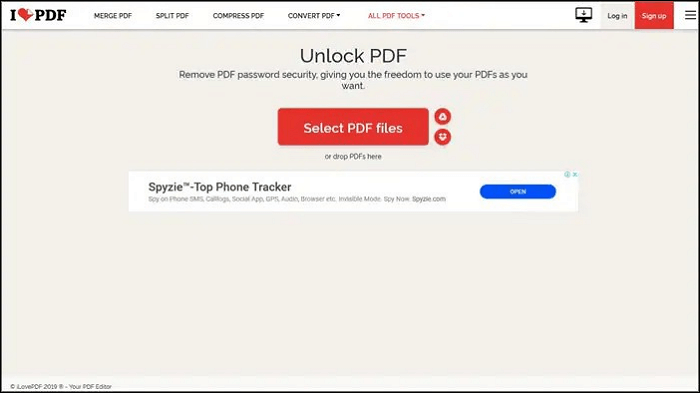 Advantages:
The online version has cloud services (Google Drive and Dropbox)
It can compress and merge multiple PDF files
Some top features include Office to PDF conversions and adding a watermark
iLovePDF combines your business and software with the accessible PDF library API
Increases productivity by handling multiple files at the same time
Disadvantages:
Many ads on the website
Processing is limited to free versions
The quality of the compressed file might be reduced
Compatibility: Works with Mac or Windows PC
Top 3. PDFCandy
PDFCandy has proven to be an effective tool that unlocks password-protected PDF files with a single click. The interface is simple for users to remove PDF passwords without stress.
You can share the file through a link after removing the PDF password. PDFCandy also allows you to open and view a PDF file smoothly before editing.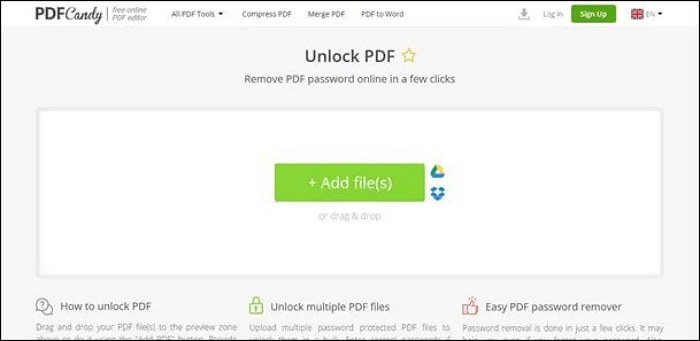 Advantages:
You make your PDF look distinct when you add watermark to PDF
PDF pages can be rearranged easily based on your preference
It's add-free, and all features are provided at no cost
You can upload files from Google Drive and  Dropbox
You can extract image from PDF to separate the file
Disadvantages:
It's not compatible with Mac
It is expensive
The free version only allows one document per hour
Compatibility: Works online with Windows
Top 4. LostMyPass
LostMyPass is an online PDF password recovery software that helps users to recover the password of a PDF file that has been forgotten. This online password recovery tool has a good track record, unlocking millions of PDF files.
LostMyPass software also provides cloud-based password management solutions to generate and retrieve lost passwords. You'll be able to access the PDF's user or owner password for free (through its weekly password recovery feature).

Advantages:
It is easy to use online
You can access weak password recovery freely
Within a few minutes, the overall process of password recovery is completed
Remove passwords for MS Office and PDF documents, Zip, RAR, and 7z archives
You can remove the passwords from your documents for free
Disadvantages:
It can't unlock files that are bigger than 100 MB
It can't recover owner passwords 
100 MB is the maximum upload file size
Compatibility: Compatible with Windows and Mac users
Top 5. FormatPDF
FormatPDF is a good tool for users who want to manage their PDF files quickly. It works online, and it's free. FormatPDF is also a great PDF unlocker as it allows you to remove a PDF password and unlock the PDF function. You can easily free a protected PDF with this tool.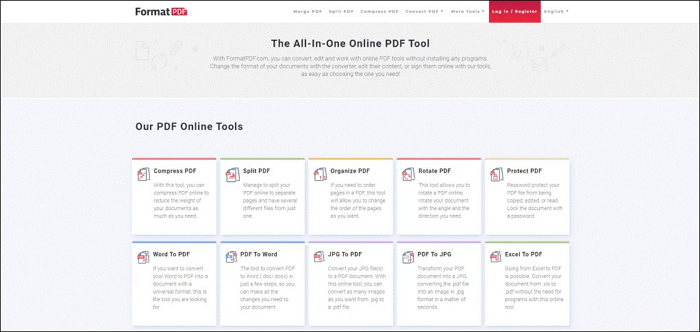 Advantages:
Easy to access and use
You can conveniently access it from any device 
Totally secured
The premium version gives access to more features
Password protection can be removed from PDF files for free
Disadvantages:
The free version has a daily document limit
The free version has ads
Compatibility: Works On Windows, Mac, Android, and iPhone
Bonus Tip: A Good PDF Password Remover for Windows
One of the best tools for removing passwords from PDF files on your Windows PC is EaseUS PDF Editor. This tool is highly recommended as it allows you to edit, create, view, convert, and manage your PDF documents.
Most importantly, this Windows PDF editor is simple to use and helps you to remove restrictions with a click. EaseUs PDF Editor has proven to be an amazing tool when you want to remove or add passwords on your Windows PC. Why not download and use it now?
Key Features:
Remove password protection from PDF files
Best free PDF editor, creator, and converter
Annotate your PDF with various features
Encrypt and remove watermark from PDF
Effectively edit PDF contents
Compatibility: Windows
Here are the steps to remove passwords from PDF with EaseUS PDF Editor:
Step 1. Download and install EaseUS PDF Editor on your computer.
Step 2. Open the software and hit "Open Files" to upload the PDF document you want to remove the password. To open the PDF successfully, you need to enter the password.

Step 3. Next, click the "Protection" option at the top toolbar and choose "Remove Security" from the right side of the interface. Then a window will pop up and click the "OK" option.

Step 4. Once done, you have removed the password from your PDF successfully, and you can export your PDF by clicking "File" > "Save".
Conclusion
The process of removing a password from a PDF file is simple. In this guide, we've highlighted the top five PDF password removers that you can use to unlock, copy and edit these protected PDFs easily.
We highly recommend EaseUS PDF Editor as it allows you to manage, convert, create and edit your PDF documents effectively.
FAQ on PDF Password Remover Online
Unlocking password-protected PDFs can be done in a few easy steps. If you have further questions on removing passwords from PDFs, you will find answers in the following FAQ.
1. Can you bypass the password on PDF?
Yes, through an easy process. If you don't need the password anymore, quickly remove the PDF password from your created PDF document. Type in the owner's password, then remove the password. The PDF will be unlocked.
2. Where are all the passwords saved?
The "Permissions" application feature in Adobe Acrobat allows you to password-protect new and existing PDF documents. Locate and save your PDF password in Acrobat with the following steps:
Step 1. Select "File > Protect File Using Password".
Step 2. Select "Tools > Protect > Protect With Password".
3. How can you remove passwords from PDF files on Mobile?
Step 1. Open the PDF file, then enter the password when you see the prompt on your Android device.
Step 2. On the top corner to the right, click on the "three-dots" icon.
Step 3. Choose "Change Password" and select "Remove Password".
Step 4. Click "done". The password will be removed from the file.
About the Author

I'm glad you can find my post. I hope my article can help you a lot. If you have any questions, please feel free to contact me!