How to Add Stamp to PDF with Simple Clicks
PDF is a basic but important format for digital work, and you may need to convert the documents into this format to manage them more conveniently. Sometimes, you might want a specific page to contain your brand's watermark or want to secure some content from copyright infringement. In addition to that, there can be more situations where you need to edit a PDF stamp and add it to your files.
No matter what situation you are in, you can follow the guide in this post to do that. Below is a detailed tutorial about how you can add stamps to PDF. Whether you are a Windows user, a Mac user, or someone who likes to manage PDFs online, this post is for you. In addition, there is a bonus recommendation at the end of this page about desktop PDF software that provides you with many advanced editing tools.
Related Article: >> How to Add Date to PDF
How to Add Stamp to PDF on Windows
Adobe Acrobat is the PDF editor you can trust. It has a vast range of tools so that you can process a PDF file freely. One of its features is adding a stamp to PDF. Though this is a complex function, applying a stamp to PDF documents with Adobe is as easy as using a rubber stamp on paper documents. You can either design your stamp or choose from their predefined ones.
Moreover, there are many others elements you can add to the PDF files. For instance, if your student submits a PDF thesis full of mistakes, you can add a "Failed" stamp to his paper and leave some comments to give your suggestions on revision. Adobe Acrobat even enables your student to reply to your comments, and you can see the conversion in the comment list.
Let's explore how to add a stamp to PDF on Windows with Adobe Acrobat step by step.
Step 1. Open stamp tool from the secondary toolbar of the comment tool. Click "Tools" > "Comment" > "Stamp" > "Show Stamp Palette".
Step 2. Click the "Stamp Tool" if you want to apply the most recently used stamp. Or select a category from the menu and choose a stamp from the stamp's palette.
Step 3. Select the document page where you intend to place the stamp. Or define the size and placement of the stamp by dragging a rectangle.
Step 4. The previous step will lead you to the "Identity Setup Dialog Box" to fill your identity preferences. 
Step 5. Adjust stamp's appearance and location. You can also delete a stamp. You can perform these functions in these ways: 
Drag the stamp to the point you want to place it.
Click the "Stamp" and drag the corner handle to adjust its size.
Click the "Stamp" > move the handle at the stamp's top > drag the rotate icon to rotate the stamp.
Right-click "Stamp" > click "Properties" > choose your required opacity/color of the stamp and adjust its appearance. 
Right-click the "Stamp" > press "Delete" to delete the stamp.
How to Imprint Stamp on PDF on Mac
PDF Expert is the advanced and efficient software that can help you imprint a stamp on PDFs on Mac. With this robust software, you can view, read, edit, and annotate PDF documents. Filling forms and digitally signing PDF documents are all available on PDF Expert. 
If you want to imprint a stamp on a PDF file, this should be your go-to software. The process of adding a stamp to a PDF using this software is pretty straightforward. Moreover, it has a good collection of standard stamps you can select from. In addition to the existing stamps, this software also enables you to create a custom stamp and delete those you don't need.

Let's discover the way to add the stamp to the PDF in detail.
Step 1. Open the PDF you want to add a stamp to in the software.
Step 2. Click the "Stamp" in the menu. This will lead you to the predefined stamps collection.
Step 3. Choose the stamp you would like to add and tap at the point you want to imprint it.
To create a customized stamp:
Click the "Stamp" icon on the sidebar > "Custom." Then, use "Type a Text" to create a text stamp with the date and time. The date and time will keep updating automatically as time passes by. Or use "Import Image" to create an image stamp. 
To delete and copy a stamp:
Right-click the stamp, press "Delete" or "Copy" for the respective functions.
How to Insert Stamp in PDF Document Online?
Are you planning to insert stamps into your PDF files online? Rasteredge will help you. You can perform various editing operations on PDFs using this online tool. For example, it allows you to edit text, resize PDF image, combine multiple files, and add comments to a document online.
If you want to split PDF files or merge them, it can do that for you efficiently. Moreover, Rasteredge enables you to protect PDF files with a password or edit password-protected files online. With this versatile tool, you can add, remove, and edit stamps to a PDF document online. Its interface is simple and easy to use for performing this function.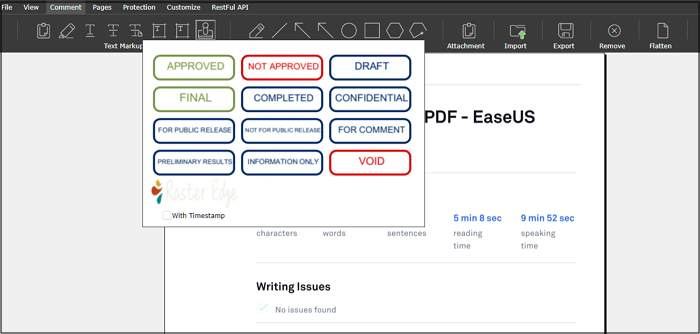 Here is a guide on how you can imprint stamps in a PDF file online using Rasteredge.
Step 1. Click "Comment" > "Text Markup" > "Stamp". This will lead you to a stamp palette. Select the stamp you want to add to your PDF.
Step 2. Click the file page where you want to add it.
Step 3. Drag a rectangle to adjust the size and placement of the stamp. Next, click the stamp; a handle will appear. Drag that corner handle to resize it.
Step 4. Drag the stamp to change its location on the document. Right-click the stamp. Then, click "Properties" and set its opacity.
Step 5. Right-click the stamp and press "Delete" to delete it.
Recommendation: A Lightweight and Simple PDF Editor on Windows
Despite adding a stamp to PDF, there are numerous other functions that one needs to perform for PDF management and redaction. For this, we recommend you install EaseUS PDF Editor on Windows PC. Though adding a stamp to a file is not one of its functions, the tools it offers are worth having. 
With this software, you can read, edit, and convert your PDF documents. It also allows you to create PDF forms from scratch and fill them in. In addition, it provides you the feature of adding comments to enables you to share your ideas with others effortlessly.
If you want to add markups or create bookmarks in PDF, it helps you to do that. Signing documents digitally, editing graphics, tables, shapes, and images of a PDF are also functions of EaseUS PDF Editor. You can even protect a PDF file with a password and prevent people without permission from opening it.
 Notice:

EaseUS PDF Editor doesn't support adding stamps to PDF for the moment. Please look forward to the updates.
Key Features:
Convert scanned text into editable text with OCR technology
Convert PDF files to other formats, such as convert Word document to PDF
Insert notes and annotations into a PDF file
Conceal credential information from unwanted access
Moreover, the concise interface makes it easy for beginners to use it without effort. You can click on this button to download it now, don't miss it.
Steps to Edit PDF with EaseUS PDF Editor:
Step 1. Launch EaseUS PDF Editor and import the PDF file you want to edit. You can click on the "Open Files..." button to do that.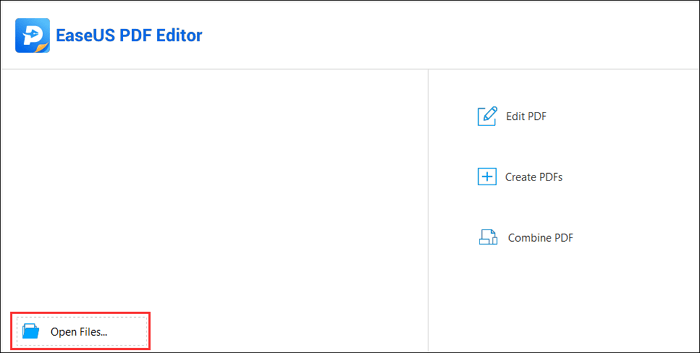 Step 2. If you want to edit the text and images in the PDF, click on the "Edit" button, and there are many options for you. It allows you to insert or remove the words and pictures freely, and you can also adjust the font, size, color of the PDF text.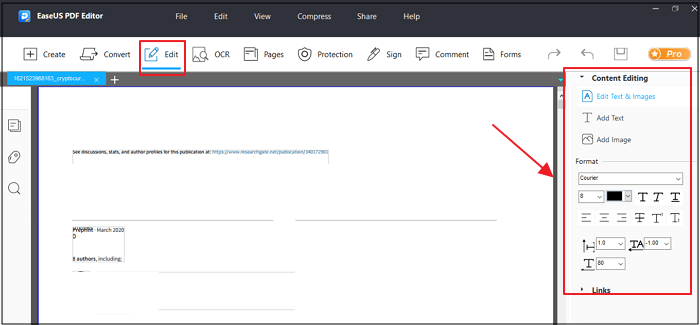 Step 3. More tools are available under the "Pages" option. This versatile software supports deleting, extracting, cropping, rotating the pages with ease. You can add many elements to the PDF, including header & footer, background, watermark, etc.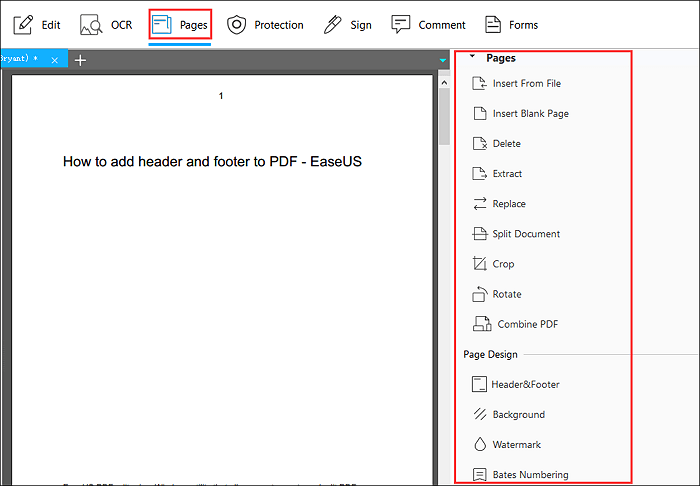 Step 4. After editing, you can choose to encrypt the PDF with a password, sign the PDF with an e-signature, or add comments to it. Then, click on the "File" button and select "Save" or "Save As" to preserve the changes you made to the PDF.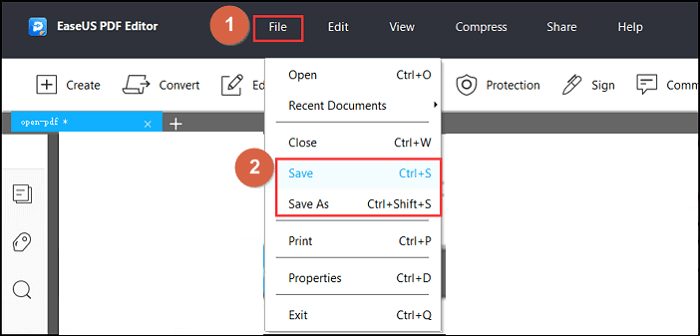 The Bottom Line
Adding a stamp to PDF files is a day-to-day need of working people. The software mentioned above is efficient and helpful. You can download the one that suits your device and follow the guide to add a stamp to your PDF files.
If you tend to edit and operate PDFs regularly, EaseUS PDF Editor is a great tool that helps you do that. It does not support adding a stamp now, but it has a wide variety of tools for PDFs. There is much more which you can explore after downloading this software.
About the Author
Melissa is a sophisticated editor for EaseUS in tech blog writing. She is proficient in writing articles related to screen recording, video editing, and PDF file converting.