How to Convert Google Doc to Word [Quick Ways]
 Update:

Recently, Microsoft is making a change to its Microsoft Office branding. Microsoft Office is being renamed by Microsoft 365. After the official renaming, our article content will be updated accordingly.
Google Docs is one of the most prevalent software solutions. It is, in fact, a popular choice for tech-savvy individuals. With Google Docs, you can easily access, work, and share documents. Though Google Docs offers various features, you might need to use Docx sometimes.
Are you wondering how to convert Google Docs to Word? No need to worry! All you have to do is follow the steps mentioned below. The steps are easy, and you can achieve the result quickly!
Convert Google Docs to Word with Google Docs
Google Docs is a web-based processor which enables users to create, edit and store documents online.  At the same time, you can open a Word document in Google Docs. You can do so in the web browser without needing additional software. It is free to use and only needs a Google Workspace account.
Users can also take advantage of the collaborative features and high-level security. Sometimes, users also need to deal with PDFs or other files. In such conditions, they need to edit PDF in Google Doc or with other PDF editors.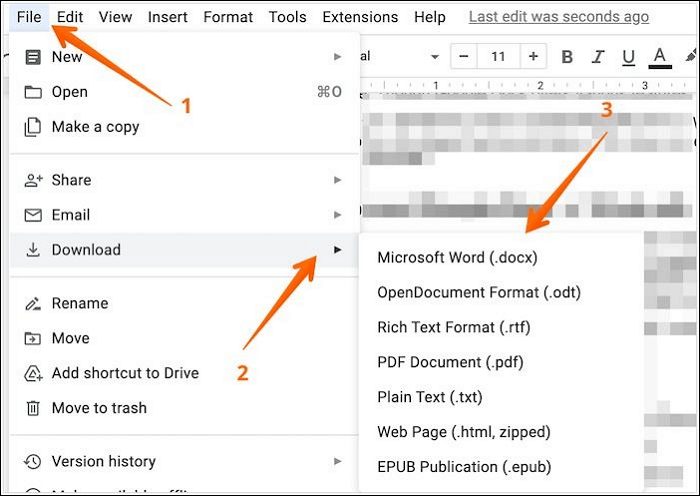 Do you want to convert Google Docs to Word? In that case, take a look at these steps:
Step 1. Go to Google Docs.
Step 2. Click on "File" from the menu bar.
Step 3. From the drop-down menu, press the "Download" option.
Step 4. You will come across a list of formats.
Step 5. From there, select "Microsoft Word (.docx)".
Step 6. Go to the "Downloads folder". Here, you will find the Google Doc file converted into Word.

How to Save/Convert Google Docs to PDF
Most word processing tools save their documents in their format. Microsoft Word saves it in Docx, OpenOffice Writer saves it in ODT, Text editors save it in TXT, and so on.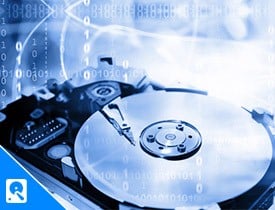 Convert Google Docs to Word with Google Drive
Google Drive is the proprietary cloud-based storage solution of Google. It is free and allows users to access and store files online. You can sync the stored photos, documents, and sheets with Google Drive with multiple devices.
Additionally, if you want to combine PDF in Google Drive, it won't take you much time. It also integrates with other services seamlessly, including Google Docs, Google+, YouTube, etc.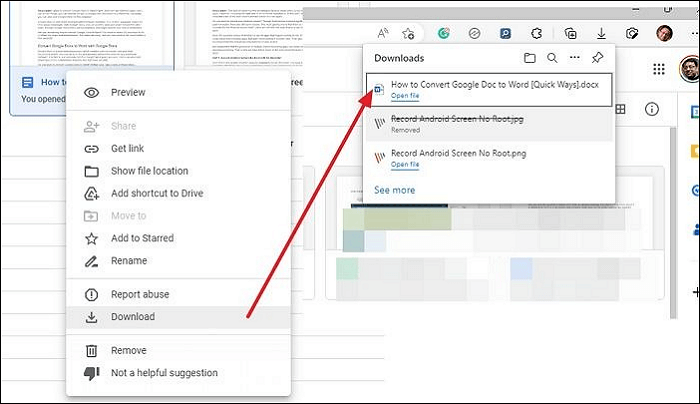 You can also use Google Drive to convert Google Docs to Word. Here are the steps you need to follow:
Step 1. Open Google Drive.
Step 2. Go to the document folder.
Step 3. Right-click on the "Google Docs file", and choose "Download".
Step 4. Google Drive will automatically convert it into a Word document.
Bonus Tip: A Helpful PDF Converter
One of the most efficient PDF tools you can use is the EaseUS PDF Editor. It is a professional PDF reader, editor, and converter software solution. The tool is easy to use and offers a wide array of features. Businesses from different niches opt for this PDF editor tool. Besides, you get 24/7 support.
Why not start using this helpful tool, click here and download it!
Key Features:
Convert PDF to Excel, Word, PowerPoint, images, or vice versa
The original format and content remain unchanged
Integration with the OCR technology
Availability of different editing tools to modify PDF
Sign, encrypt, remove password and add watermark to PDF
If you want to know how to convert PDF to Word, the following steps will be helpful to you:
Step 1. Download and launch EaseUS PDF converter, then click "Open" followed by "File" to import the file that you want to turn into Word.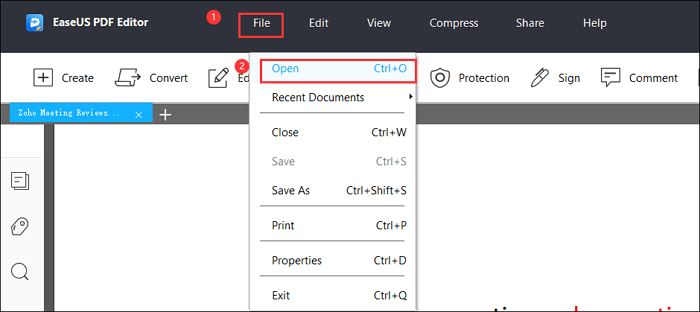 Step 2. Next, click on "Convert" in the top left toolbar, and choose "To Word" in the drop-down menu.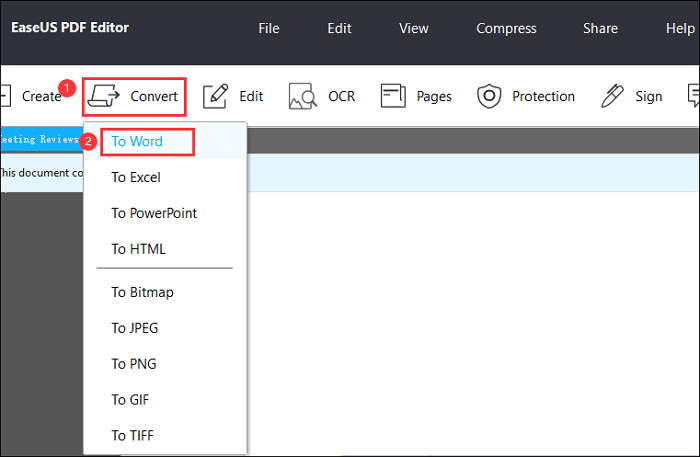 Step 3. Wait for the end of the process. Once done, the converted file will be saved automatically on your computer.
Conclusion
There are two distinct ways to convert Google Docs to Word. For instance, you can go to Google Docs and make the file conversion. Alternatively, you can also use Google Drive to convert Google Docs to Word.
One of the best PDF editor tools you can use is the EaseUS PDF Editor. The software has a simple user interface and a vast array of features! You can easily convert any PDF file to various other formats.
What are you waiting for? Start using EaseUS PDF Editor now!
FAQs on How to Convert Google Doc to Word
These are the different ways to convert a Google Doc to a Word document. However, it is vital to know more to gather knowledge. For that, scroll through the questions and answers listed below:
1. How do I copy and paste from Google Docs to Word?
To copy and paste from Google Docs to Word, highlight the text you want to copy in Google Docs. Then, press "CTRL + C" on your keyboard to copy the text. Next, open Microsoft Word and press "CTRL + V" on your keyboard to paste the text. However, there might be a formatting issue, so you must fix them. Instead, you should download Google Docs as Word, as Google drive will do a lot better job converting it.
2. Why is Google Docs better than Word?
There are various benefits of using Google Docs over Word. For instance, you get access to collaboration features, track changes, obtain better security, take advantage of the auto-saving mode, and much more! Another advantage of using Google Docs is that it's free to use, while Microsoft Word requires a subscription.
3. What is the difference between Doc and Docx?
The primary difference between Doc and Docx is that Doc is a document file format used by Microsoft Word before 2007, while Docx is its successor introduced in 2007. Both are file formats used to store word-processing documents, but Docx is based on the XML standard and offers several improvements over the Doc format. For example, Docx files are more compact and easier to open and edit than Doc files.
About the Author

I'm glad you can find my post. I hope my article can help you a lot. If you have any questions, please feel free to contact me!