Adobe Reader for Mac and Its Alternatives [Free Download]
Mac users look for powerful applications when it comes to the main utilities like document reading. What else to trust than Adobe reader for Mac which is the perfect tool for performing different functions on PDFs? It is easy to download and install the Adobe Acrobat reader from the App store.
Adobe Acrobat Reader can be termed as the dedicated software used to manage, create, print, and view portable document format or PDF files. Let us help you find all details about Adobe reader for Mac. We'll go through the detailed steps to download and use it. In case of issues, we'll cover the top alternatives for PDF readers based on our research.

Top 10 Best PDF Reader for Windows/Mac/iOS/Android
The PDF file format is more than 30 years old, but its use is still ubiquitous and growing. Thanks to the proliferation of mobile devices and cloud computing, the days of printing documents are almost over.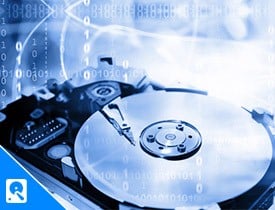 How to Download and Use Adobe Reader for Mac?
After having a brief about Adobe Acrobat Reader, you may think of downloading it for your Mac. It is essential to go for the latest version, which ensures the optimized benefits of this free-to-use tool. Adobe reader for Mac update offers an improved user experience. It is the 2018.011.20040 version which comes with improved OCR, hyphenation fix, tag and tool names, reading order tool in tag tree, multiple tags editing, etc. It also has enhanced print production, notes, reference tags, etc.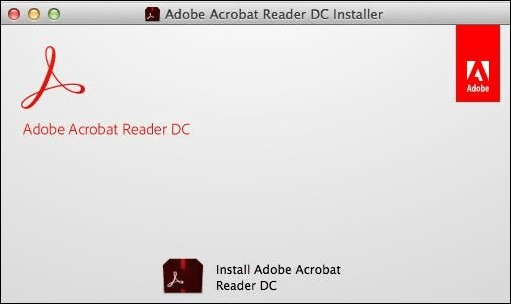 Steps to download Adobe Reader for Mac:
Adobe reader for Mac versions like Big Sur gets downloaded and installed quickly. The detailed steps for the same are: 
Step 1. Go to the Adobe Acrobat Reader download page and start the download for your Mac.
Step 2. Click on the downloaded file at the bottom of the browser.
Step 3. Double-click on the "Install Adobe Acrobat Reader" to start the installation process.
Step 4. Click on "Open" when the pop-up appears.
Step 5. Enter the Mac username and password when asked to complete the changes.
Step 6. Click on "Finish" once the installation process is complete.
Steps to use Adobe Reader for Mac:
Adobe reader for Mac once installed can be used by beginners and professionals easily. The detailed steps for the same are: 
Step 1. Go to the PDF file on Mac and click the "File" option.
Step 2. Go to "Get Info" and select "Adobe Acrobat Reader" to view the PDF.
Step 3. Click "Open." Then, you can edit your file and save it.
Alternative PDF Readers
Adobe reader for Mac can be the best choice when it comes to PDF readers for seamless document management. However, situations may arise when users may need to look for a powerful and affordable alternative to Adobe. You don't have to worry, as we've created a well-researched list of the top four alternative PDF readers. The first one is the EaseUS PDF Editor which is used for Windows while the other three are for Mac devices. 
Hence, all our Mac users can go for alternative PDF readers like Preview, and PDF Expert. We'll start here.
1. EaseUS PDF Editor
It is an all-in-one PDF maker used to read, edit, and convert different PDF files. It can quickly edit, OCR, merge, split, compress, and create different PDFs. Users can add watermarks, remove passwords, sign, and encrypt PDF files using EaseUS PDF Editor on Windows.
Features:
Here are the easy steps for you:
Step 1. Download EaseUS PDF Editor and open it. Then, click "File" and choose "Open" to import your PDF.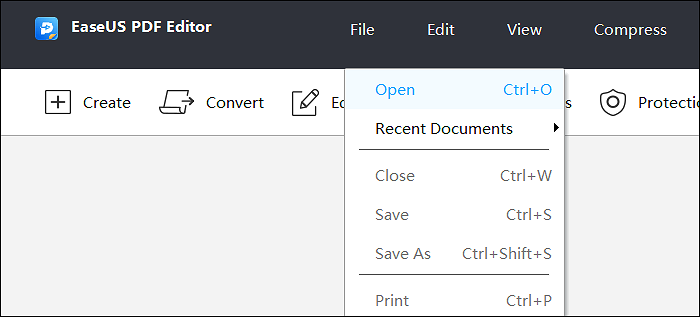 Step 2. From the top toolbar, choose "View". Then, select "Two Page view".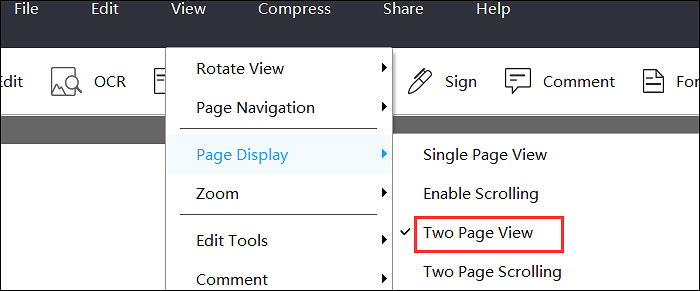 Step 3. Now, you can see two pages are in the split view reading mode after applying this function.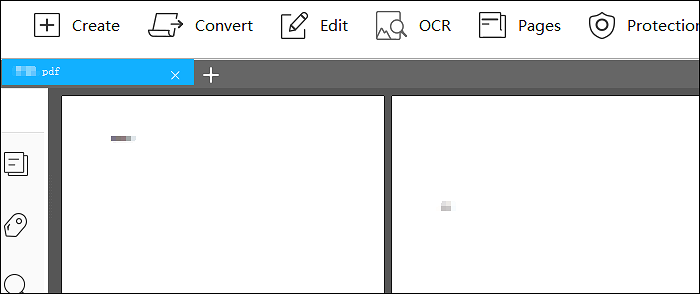 2. Preview
It is the default application in the Mac OS, which is perfect not only for PDFs but for different image files like PNG, JPG, etc. Any PDF file is opened in Preview only, which can then be used to edit, modify, or save it. It has all the necessary markup tools like Color Adjust, Sketch, Selection, etc.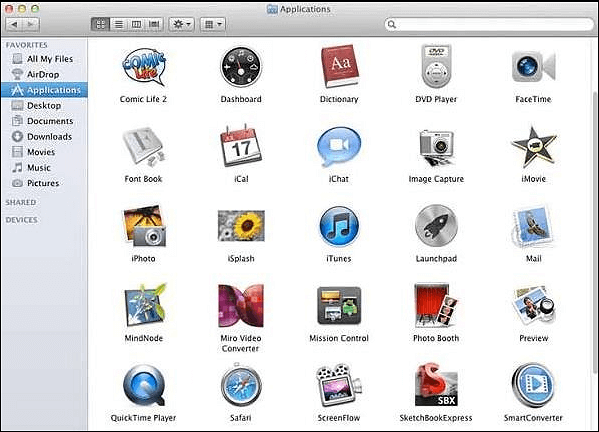 Features:
3. Google Chrome PDF Reader
One of the perfect but neglected tools for managing PDFs easily and optimizing different functions quickly on Mac devices is Google's in-built PDF reader. It allows easy viewing, editing, and sharing of PDF files. All you need to do is enable it in the Google Chrome settings. Users can disable the Google Chrome PDF reader if needed.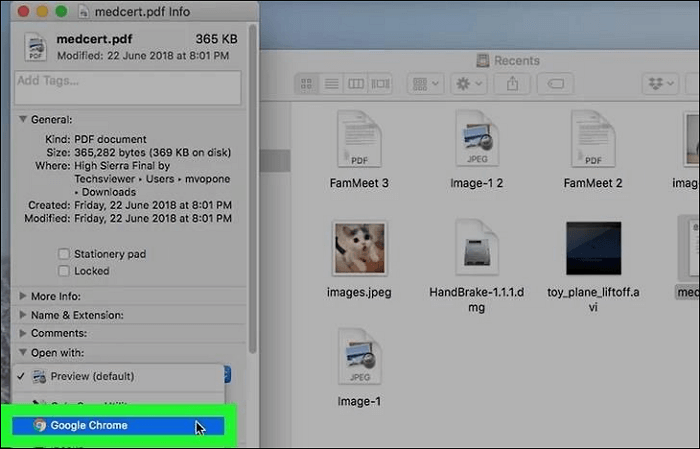 Features:
4. PDF Expert
PDF Expert is another top-rated alternative to Adobe reader for Mac. It is a user-friendly tool that comes with amazing functions. It is widely used by retail store owners for creating digital invoices, developers for creating user guides, etc. It is a cross-compatible tool used for multiple platforms.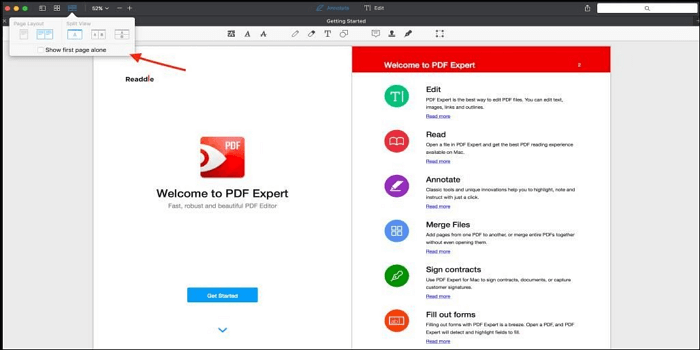 Features:
Conclusion
Hence, it is easy to understand Adobe Reader for Mac, which is the best PDF viewer for viewing, signing, and collaborating different PDF files. It offers a free global standard for reliably viewing, printing, and sharing multiple PDFs. It allows quick sharing and commenting on different PDFs. The working of Adobe Reader is simple, with detailed steps.
It is easy to go through the other PDF readers, including EaseUS PDF Editor, Preview, PDFelement for Mac, PDF expert, etc. Users, if looking for highly effective alternatives to the Adobe reader for the Mac Big Sur system, can go for these options after having a quick look at their features.
FAQs
After going through all the details about Adobe Reader for Mac and its top alternatives, you may have some queries related to PDF readers. The following are some of the frequently asked questions with detailed answers:
1. Is PDF Reader Free for Mac?
Mac offers a free version of Adobe Reader, which can be used to read and modify different PDFs. The fully features suite can be accessed with the paid version of this highly efficient PDF reader.
2. Why is Adobe not working on my Mac?
Adobe not working on your Mac can be quickly fixed by running simple troubleshooting steps. These are:
Step 1. Restart your Mac.
Step 2. Check the latest version of Mac OS.
Step 3. Go to "System Preferences."
Step 4. Click on "Software Update."
Step 5. Check for updates and update Adobe Acrobat Reader.
Step 6. Recheck if Adobe is working now.
3. What is the default PDF reader for Mac?
The default PDF reader for Mac is "Preview.' However, many Mac users prefer to use an alternative PDF reader- Adobe Acrobat Reader, which can be made the default PDF viewer on Mac by accessing the "Get Info" pop-up.
About the Author

I'm glad you can find my post. I hope my article can help you a lot. If you have any questions, please feel free to contact me!