Best 5 PDF to DXF Converter for Windows/Mac/Online
DXF is also known as Drawing Exchange Format or Drawing Interchange Format, and this open-source vector file has grown more and more popular since it was published in 1982. This format is widely used for 2D and 3D drawing in product design or architectural design, as everyone can get free access to DXF files. Besides that, this format also has many other advantages, such as its precision and the convenience of sharing files. That is why more and more people want to convert documents in other formats, such as PDF, into DXF.
If you want the PDF to DXF conversion, it's necessary to find a converter suitable for your device. This post list some of the best PDF to DXF converters that can help you get the file you need with simple clicks. Keep reading this post to find the best PDF to DXF converter on Windows, Mac, and online.
1. Adobe Illustrator [Windows/Mac]
Adobe Illustrator is one of the most famous draft drawing programs among designers, architects, and artists. This software supports both Windows and macOS so that you can freely create your drawings and illustrations without worrying about if the software is compatible with your device.
This software offers you plenty of tools that can be used in designing your artwork. More importantly, the output files of Adobe Illustrator are vector files, which means you can enlarge or reduce the drawings without losing the image quality. DXF, a popular vector format, is also one of the optional output formats of this software, and this is why you can convert PDF to DXF using Adobe Illustrator.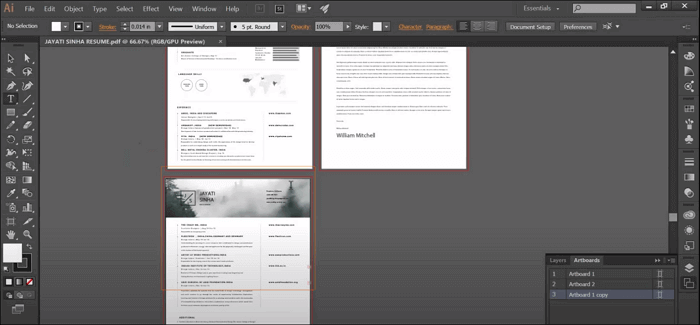 Pros:
Export files in many formats: DXF, DWG, SWF, etc.
Support viewing documents like PDF
Apply 3D effects to your drawings
Cons:
The learning curve is steep
2. Scan2CAD [Windows/Mac]
Scan2CAD is a converter designed to convert your designs for CAD or CNC. This rich-featured software can both work on Windows PC and Mac, and it helps you draw, edit, and transform your works. One of the notable features of this software is its OCR feature, which can recognize the text in an inactive file to make it editable.
This converter is highly suitable for those worrying about the mistakes that appear in the conversion as it ensures 100% accuracy to your original design.

Pros:
Offer preset to convert files quickly
Support OCR and object recognition function
Support batch conversion
Cons:
Provide users with fewer tools than other CAD apps
The supported formats are limited
3. pCon.planner
pCon.planner is a specialized software created for room and interior space design. Perhaps the PDF file you want to convert is not a room design draft, but this software is also able to help you turn it into DXF format. This software is for interior design, and it provides users with some effects that make your drawings look more stereoscopic.
When exporting the drawings, you will have many options for the output formats. This software allows you to save the design as vector images, ordinary images, articles, etc. You can freely choose the most appropriate one.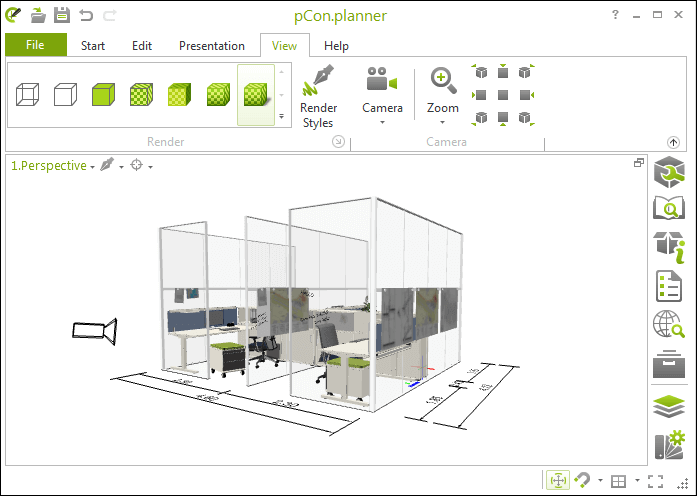 Pros:
View many kinds of files like DWG documents
Support multi-window viewing
The quality of output files is excellent
Cons:
Only available for Windows
4. CloudConvert
CloudConvert is an all-in-one online converting tool that helps you transform your PDFs into vector formats, including DXF. In addition to document formats, it also allows you to convert some multimedia files, including video, audio, etc. This online converter is easy to use as all you need to do is go to its website, set the input and output formats accordingly, upload the PDF, and press the "Convert" button. 
When choosing the PDF, you need to convert, and there are many optional sources so that you can upload the PDF from your device, Google Drive, Dropbox, OneDrive, etc. This feature saves you a lot of time downloading your documents from the cloud to the hard drive.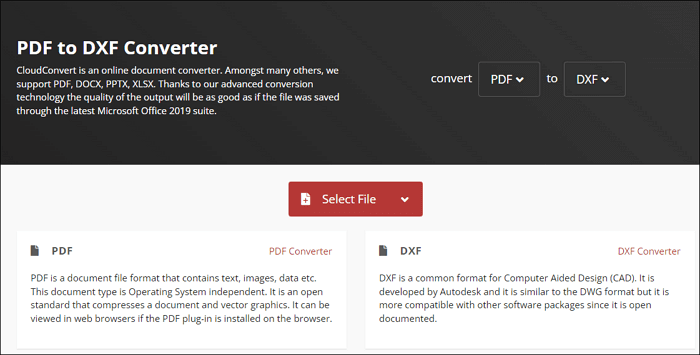 Pros:
Support more than 200 formats
Upload source files in many ways
Keep high-quality during the conversion process
Cons:
Lack of settings for the output documents
5. Zamzar
Zamzar is another online converter that can help you turn a PDF into the DXF format. This converting tool also supports adding source PDFs from both hard drive and the cloud, but the limitation for the file size is only 50 MB, and that may cause some problems when there is a batch of PDFs to process. 
If you don't want to wait until the end of the conversion, it's optional to utilize the email notification function. You only need to check the box behind "Email when done?" and put in your email address, and then you will receive an email that gives you the URL to download the converted DXF file.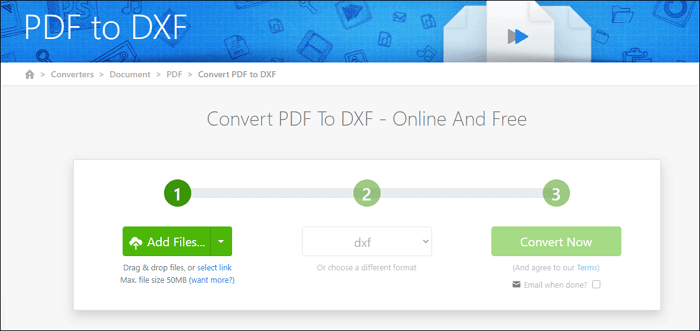 Pros:
Support CAD, ebook, and image formats
The conversion speed is fast
Allow you to download the converted file via email
Cons:
It doesn't offer you settings to customize the DXF file
Recommendation: A Lightweight PDF Converter on Windows
This post introduced PDFs to DXF converters that you can use on different devices. Although all those converters are robust, some are not suitable for processing ordinary documents, like Excel, Word, and PowerPoint files. Is there any excellent PDF converter that is able to turn your documents into those common formats? Yes, EaseUS PDF Editor is a perfect choice for Windows users.
EaseUS PDF Editor is a user-friendly PDF editor and converter for everyone, whether a beginner or a professional user. This software supports various output formats, ranging from .docx to .xlsx.jpg, to .HTML. Besides the conversion functions, as its name suggests, EaseUS PDF Editor is also practical for editing PDF files. This program integrates with tools to edit the PDF contents, pages, and even PDF forms. If you need to protect your PDF, it also enables you to encrypt the PDF with a password so that others have to get permission to access the file.
EaseUS PDF Editor
Best PDF converter for beginners
Add or delete PDF pages, background, and watermark to PDFs
Merge, split, rotate, crop PDF without losing quality
Protect PDFs with a password or an e-signature
About the Author
Melissa is a sophisticated editor for EaseUS in tech blog writing. She is proficient in writing articles related to screen recording, video editing, and PDF file converting.