How to Convert PDF to Word Easily in 2022
 Update:

Recently, Microsoft is making a change to its Microsoft Office branding. Microsoft Office is being renamed by Microsoft 365. After the official renaming, our article content will be updated accordingly.
PDF files are difficult to edit. And many people are keen to find a way that can edit a PDF file. Although copying and pasting from your PDF to a Microsoft Word document is possible, when you have many PDF files to be converted, it is not that feasible. Then, is there any other way that can convert PDF to Word? The answer is yes. With Adobe and Adobe alternatives, converting PDF to other formats is just a piece of cake. Read along and find a solution.
Can Adobe Convert PDF to Word?
Yes, Adobe Acrobat converts even the most complicated scanned files into fully formatted Word documents thanks to the OCR technology. The Acrobat PDF converter makes PDF conversion quick and easy. You can mostly convert a PDF file to other formats by simply importing and exporting it with Adobe Acrobat.
How to Convert PDF to Word with Adobe Acrobat
Converting PDF files into Microsoft Word documents with Acrobat is simple and fast. But note that when you convert PDF files with Acrobat, the document formatting transfers too. If you have no objections to this, just follow the steps below to convert a PDF file to Word now.
Step 1. Open the PDF in Acrobat and click on the "Export PDF" tool in the right pane.
Step 2. Choose Microsoft Word as your export format, and then choose Word Document.
Step 3. Click on "Export". Then the "Save As" dialog box will display.
Step 4. Select a location where you want to save the file, and then click "Save".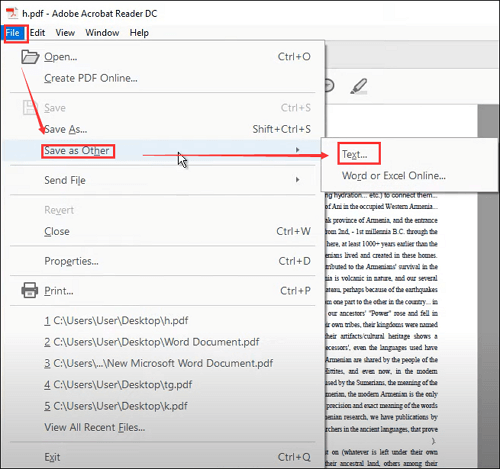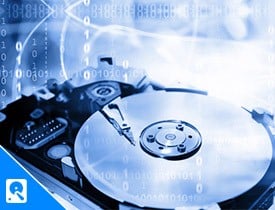 Convert PDF to Word with Adobe Online Service
If you don't want to download any software, Adobe online service is what you are looking for. Just drag and drop your PDF into the webpage and then download the converted Word file to your computer. Acrobat will do the rest for you. Adobe is known for its commitment to security and privacy, so your converted Word files will be secure.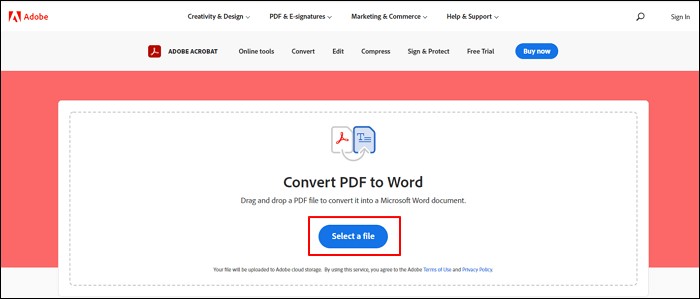 Step 1. Click the "Select a file" button, or drag and drop a PDF into the drop zone.
Step 2. Select the PDF you want to convert to the Word file format from your computer.
Step 3. Wait for Acrobat automatically convert the file from PDF to Word document.
Step 4. Download the converted Word document or sign in to share it with others.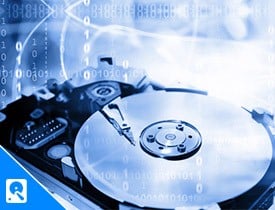 Convert PDF to Word with Adobe Alternatives
In this part, we will show you how to convert PDF files to Word with two of the Adobe alternatives. They are EaseUS PDF Editor and EaseUS PDF Online. The former is designed for Windows users. You need to download it to your computer to use it; the latter is an online tool that can convert a PDF file to Word without downloading anything. Let's look at how to convert PDF to Word with these two PDF converters.
1. EaseUS PDF Editor
Adobe Acrobat may change the formatting in the conversion process. To avoid this problem, we will share with you one of the best PDF converters for Windows users – EaseUS PDF Editor.
This program supports importing and exporting multiple formats. It has become one of the best alternatives all over the world. With its help, you can change PDF to other file formats like Excel, Word, PowerPoint, HTML, etc. It is worth mentioning that all the converted files won't lose quality or formatting after the conversion.
Main features:
Support a clear and user-friendly interface
Manage your PDF pages and files easily
Convert your PDF files to different formats
Edit the content of a PDF file quickly
Password protect PDF files or add a watermark
Download EaseUS PDF Editor and follow the steps below to convert PDF to Word.
Step 1. Download and launch EaseUS PDF converter, then click "Open" followed by "File" to import the file that you want to turn into Word.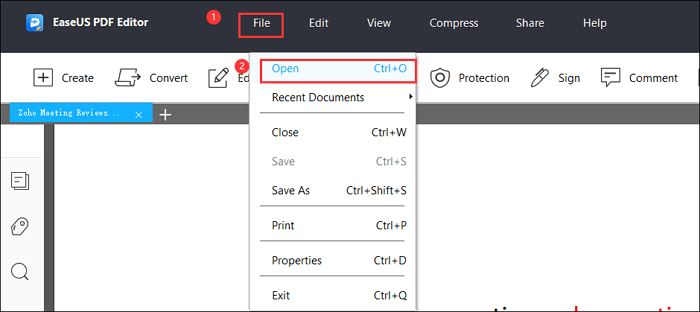 Step 2. Next, click on "Convert" in the top left toolbar, and choose "To Word" in the drop-down menu.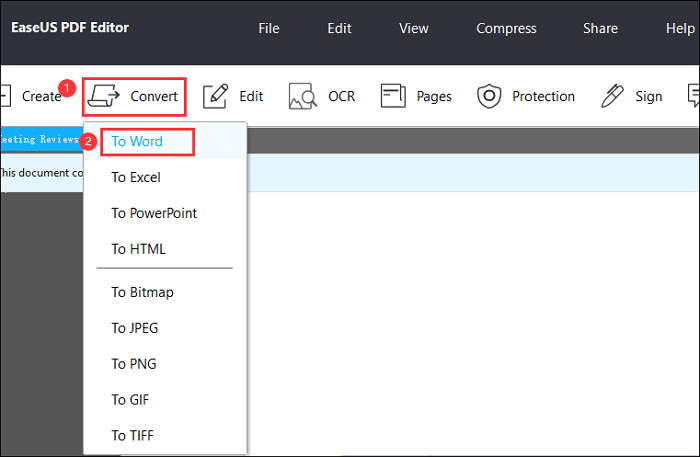 Step 3. Wait for the end of the process. Once done, the converted file will be saved automatically on your computer.
2. EaseUS PDF Online
EaseUS PDF Online is the PDFconverter EaseUS launched. This tool is designed for those who need to convert PDF to Word in several seconds without downloading any software on their computers. The online PDF editor can convert a PDF file to more formats like Excel, PPT, and JPG. Also, it supports to convert in a reverse way. What you should be aware of is that an online tool relies heavily on the internet. If you have a steady connection to the internet, you may follow the steps below to convert a PDF to Word online with EaseUS PDF Online.
Step 1. Go to EaseUS PDF Online, click on "Convert" and choose "PDF to Word".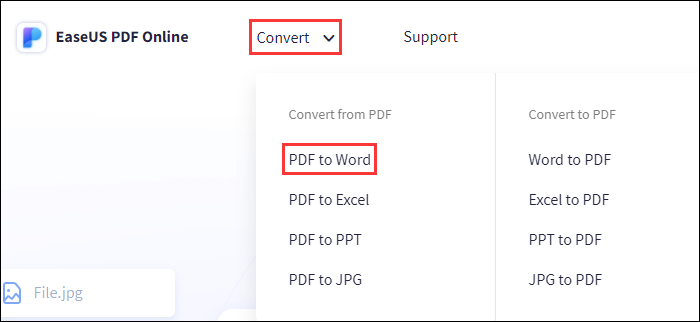 Step 2. Drag and drop your PDF file to the online tool or click on "Choose File" to import a PDF you want to convert from your computer.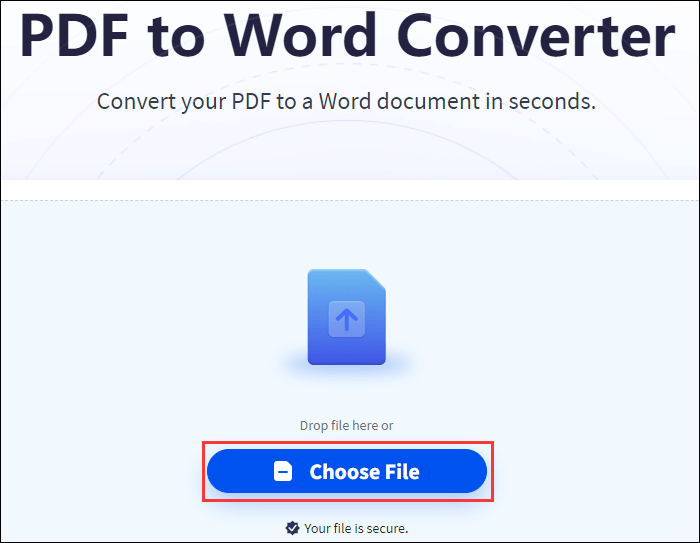 Step 3. Wait for the tool to convert your PDF file for you. When it's done, you can save or share the files you converted.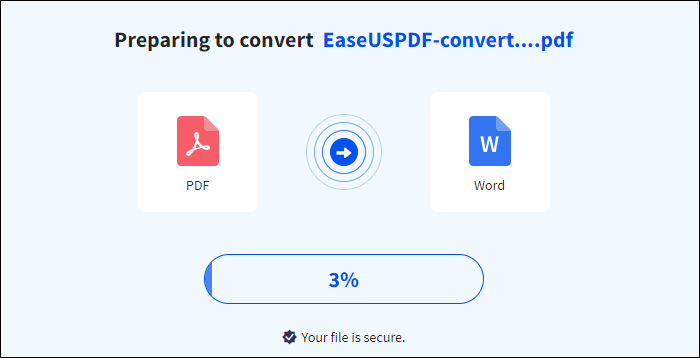 Conclusion
All in all, Adobe or its alternatives can convert a PDF file to Word. You only need to find an appropriate solution. If you are using a Windows computer and you are not a professional in PDF editing, you may download and use EaseUS PDF Editor.
About the Author
Melissa is a sophisticated editor for EaseUS in tech blog writing. She is proficient in writing articles related to screen recording, video editing, and PDF file converting.