2022 | How to Make, Edit, and Print a PDF on Chromebook
Managing documents like PDFs is crucial for all devices, including Chromebooks. Viewing and saving PDFs is fine for personal usage, but the professionals also require making, editing, and printing PDF. So facing difficulty in looking for a comprehensive PDF editor/manager is usual, but not anymore because you find this post. Although Chromebook users are limited to chrome, some browser-based tools could be of great help. Here are the top ways to efficiently make, edit, and print PDFs on Chromebook. Besides all, there is a bonus tip for Windows users in the end. Keep reading!
How to Make a PDF on Chromebook
Adobe Acrobat is a universal program that also offers its online application. It allows you to use all the features available in the offline version. You can easily create PDF by either using the simple uploading document or conversion function. It is easy to add text, images, and other elements to PDF. Also, you can add signatures and use fill & sign options.
Moreover, it assists you in converting PDFs to/from other popular formats. Organizing pages and splitting PDFs have also become more manageable tasks to do. Even you can do protection before sending them to others.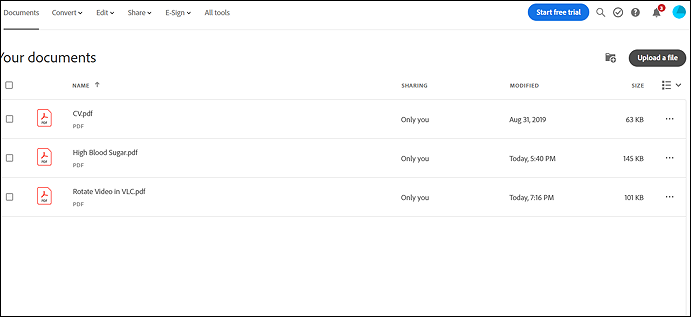 How to make a PDF on Chromebook through Adobe Online:
Step 1. Firstly, open the Adobe website for online tools, but you have to create an account before proceeding.
Step 2. Click "Documents". Upload a PDF file that you want to edit.
Step 3. After getting it uploaded, click the document to open it. Now, hit the "Download" button, and you are all done!
How to Edit a PDF on Chromebook
If you are looking for an excellent online tool to edit a PDF on Chromebook, Soda PDF Online must be your way to go. It comes with a list of unique features to alter the PDF appropriately to get you the desired product. Though the basic editing features include adding the image and text, you can also insert/remove links, add watermarks, page numbers, etc.
Moreover, it is all at your fingertips to insert headers and footers. You can also use the function of PDF cropping, OCR, etc. It is even quick to go for conversion as it supports many popular formats.

Follow on how to edit a PDF on Chromebook using Soda PDF Online:
Step 1. Firstly, you have to open the website of Soda PDF Online and then click "Open File" to import your PDF for editing purposes. After processing, you will see a new interface.
Step 2. Choose "Edit" from the three available options in the center.
Step 3. You can make all the changes required and then hit the "Download" icon.
How to Print a PDF on Chromebook
Besides Adobe and Soda, Sejda PDF is another online tool to assist you in not even creating and editing but also printing a PDF on Chromebook. It allows you to change all the settings of the PDF while printing. You can select the options that suit your needs. Also, it is possible to crop and delete PDF pages during the process.
Also, you can enjoy various editing features such as adding links, text, images, and more. Even you can annotate and add signatures/shapes to the document if necessary. Also, it lets you merge or compress PDFs before sharing them with others.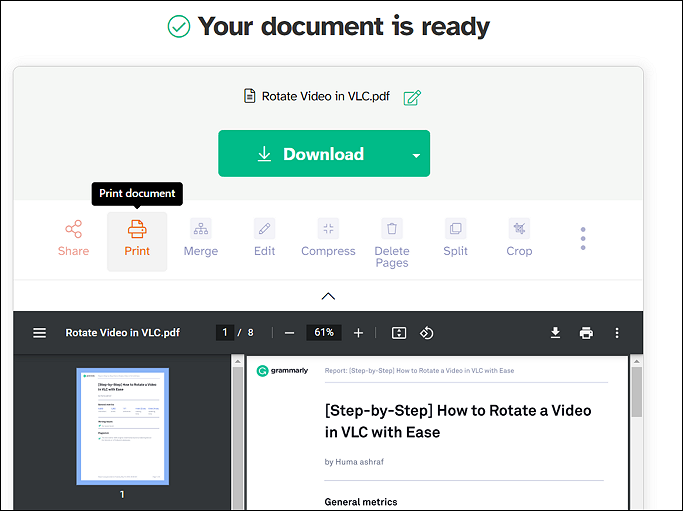 Follow the guide on printing a PDF on Chromebook via Sejda PDF:
Step 1. After opening the website of Sejda PDF, click "Upload PDF File" to import. You will get several options to edit.
Step 2. Secondly, you can do all the editing if required using different tools. Press the "Apply Changes" button.
Step 3. Finally, hit the "Print" button and follow the steps to get the printed PDF. You're done!
Bonus Tips: Best PDF Editor, Creator, and Printer on Windows
EaseUS PDF Editor is a coherent, credible, and proficient software for Windows. Creating PDFs is a matter of a few clicks with it because you only require the PDF files, or even it is possible to create one from a blank document. Also, it offers a wide variety of features with which you can alter PDF to get the desired product. You can use multiple editing tools related to content editing, pages, and PDF protection.
Moreover, it is possible to change the text format, including font type and size. You can insert rectangle links, headers & footers, bates numbering, and much more. Last but not least, it lets you print the document easily using all the available settings. You can set the page sizes, margins, etc.
EaseUS PDF Editor
Encrypt with a password or remove security
Add, remove, and extract pages
Combine multiple PDFs into one
About the Author

Crystal Chen is very interested in technology products. Experiencing many technological applications like video editors, screen recorders, and PDF editors, She is willing to solve users' issues through writing tech-related articles. Through her words, you can find various solutions to solve one problem.