Best 6 Ways to Convert PDF to CAD
Whether you are a planner or a designer, you will surely have PDFs containing illustrations, and you might need to edit those designs. For saving various similar designs at a place, they often use PDFs but are not suitable for editing. Since it is challenging to edit them in PDFs, you have to convert PDF to Computer-Aided Design (CAD), DWG format.
CAD makes it easier for you to edit the objects and lines per your demands. However, completing this conversion requires a proficient PDF to CAD converter and if you have no clue about these, dive deep into this article. Because alongside, you will find a comprehensive PDF Editor.
Convert PDF to CAD Easily
For Windows and Mac users, the below recommended three tools will prove as magical ones. Let's have a look on them and see how it can convert PDF to CAD for you.
Tool 1. Investintech Able2Extract
Investintech is an open-source PDF solution that not only assists you in PDF to CAD/DWG conversion but also supports Word and Excel. The software also works as a PDF reader and editor along with a converter. Moreover, it is good to go for creating, editing, and signing PDFs. Also, it supports converting hundreds of PDFs simultaneously using the batch conversion feature. Even you can convert the scanned PDFs through its efficient R2V engine.
Features:
Offer an online conversion tool
Support multiple conversion options
Sign and secure the PDFs if required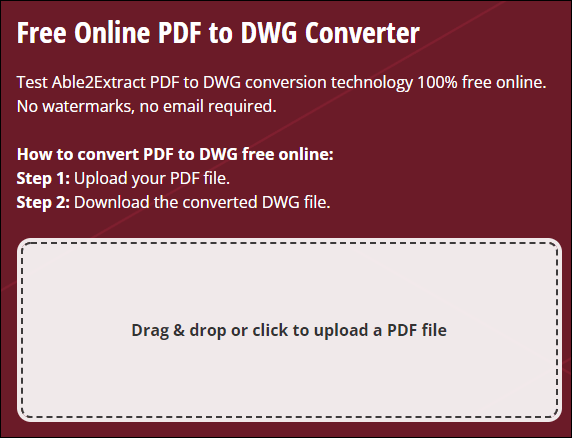 Let's know how to convert PDF to CAD using Investintech Able2Extract:
Step 1. Firstly, download and launch the software on your system. Click Open > File and then upload the PDF. 
Step 2. After uploading, click the "AutoCAD" under the "Convert" section. It will open up a new window. 
Step 3. Adjust the settings and then press the "Convert" tab again. Now, choose the destination folder and click "Save." You are done!
Tool 2. Aide CAD
Aide CAD is a coherent and easy-to-use PDF to CAD converter. This Windows software can quickly and easily convert your PDF documents into editable and usable CAD files. Converting even thousands of PDFs to CAD is possible in a few clicks. Moreover, you can use its batch conversion feature if there is a requirement to convert multiple files in the minimum possible time. Even it is all in your control to extract the embedded images from PDFs.
Features:
Offer the high-performance in comparison
It does not compromise on output quality
Convert PDFs in batches (5 files at once in the free version)

Here is a step-by-step tutorial for converting PDF to CAD with Aide CAD:
Step 1. After downloading and launching the Aide CAD on your Windows, click File > Add PDF Files, browse, and upload the specific file.
Step 2. Choose the "DXF" format as it is compatible with CAD software. Now, browse and select the output folder and hit the "Convert" button. That's all!
Tool 3. Print2CAD
Besides other desktop software, Print2CAD helps convert PDF to CAD files. It supports many formats for converting PDF to DWG, JPEG, TIFF, and more. Though the conversion is a bit complex to perform, it gets easier with the tutorial. Besides conversion, you can carry out different functions such as vectorization, optimization, and PDF analysis. Last but not least, it is possible to view the input file easily.
Features:
Safe, secure, and fast conversion
Offer OCR expert functions
Save settings for the next time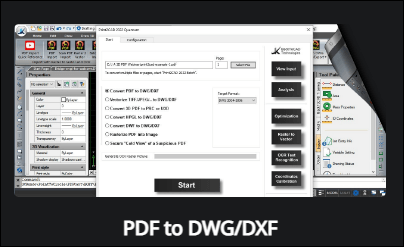 Let's convert PDF to DWG through Print2CAD:
Step 1. First of all, download, install, and launch the software on your Windows. Now, click "Choose Files" to open the PDF file.
Step 2. Now, checkmark the option "Convert PDF to DWG/DXF," select the output folder, and then hit the "Start" button. All done!
Convert PDF to CAD Online (3 Tools)
Looking for the online PDF to CAD converters? It's either because of less storage space or being one-time users. Whatever is the reason, try these three credible online tools:
Tool 1. CONVERT PDF TO AUTOCAD
Convert PDF to AutoCAD is considered a fantastic online tool that offers you the desktop version. Processing the conversion and getting the drawings are just two steps away. The tool can also assist you in quickly converting the scanned PDFs using OCR technology. Moreover, you can trust this converter with your data because it deletes the files from the server shortly after conversion.
Features:
Convert PDFs without any watermarks
No upload file size limit
No sign up required for conversion

Here is how to convert PDF to CAD via ConvertPDFtoAutoCAD:
Step 1. Open the converter website using the given link and drag the PDF into the specific section. 
Step 2. After uploading, the PDF will automatically get converted into CAD instantly. Click the download link, and it will be downloaded as a zip file. That's all!
Tool 2. CAD Soft Tools
CAD Soft Tools offer an online PDF to DWG converter. It converts the PDF documents into editable CAD DWG files, including arcs, images, hatches, polylines, and ellipses. Though working with this tool is easier than ever, there are certain limitations. You can only upload a 3MB PDF file, and it is possible to convert only two times per day. Moreover, it converts only the first two pages of a PDF.
Features:
Very simple to use for beginners
Also, offer the desktop software
Send the converted files via email directly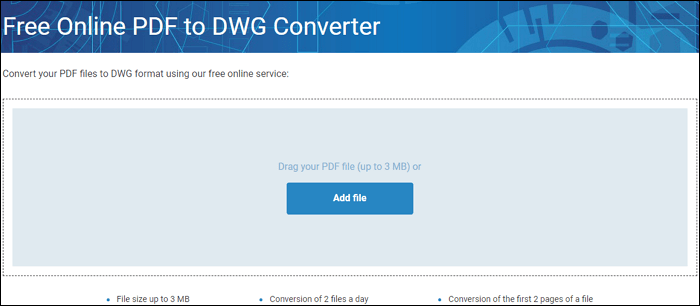 Let's know the steps for converting PDF to DWG using the above converter:
Step 1. After opening the online tool in your browser, click "Add File" to upload in the section. It will automatically start converting.
Step 2. After the conversion gets completed, hit the "Download File," and you are all done!
Tool 3. PDF Converter
PDF Converter is an all-in-one online tool that aids in converting PDF to PNG, Excel, DWG, TXT, and more. The tool works free of cost and without any limitations. You can upload PDFs and carry out the conversion at a faster pace. Even a naive user can perform the function smoothly. Moreover, it provides you with its desktop version if you prefer offline software, and it also comes with multiple features to use.
Features:
Safe and reliable to use
Works faster than other online tools
Not an email or sign up required for conversion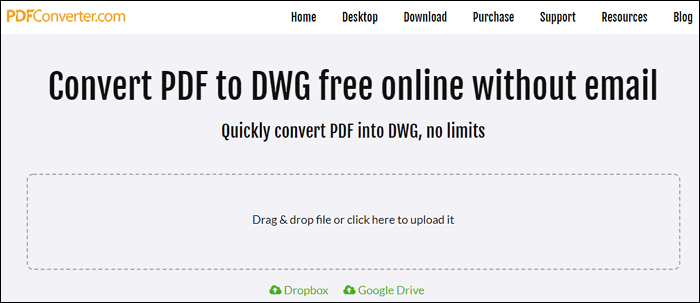 Here are the instructions to convert PDF to CAD with PDF Converter:
Step 1. First of all, open the PDF Converter website and click on the specific section to import PDF. It will start uploading.
Step 2. After the conversion gets completed, press the "Download File" tab. That's all!
Bonus Tips: The PDF Converter You Want
If you are looking for a complete solution to PDF-related tasks, you must not go for any other than EaseUS PDF Editor. Besides working as an editor, you can also use it as a PDF reader and converter. It supports PDF conversion to different formats, including convert PDF to JPG, PNG, GIF, TIFF, and more. Even the process is done faster without affecting the target file quality.
Furthermore, it assists you in creating and OCR PDF documents without any hassle. Even it allows you to encrypt or remove their security with a password. As far as the editing is concerned, you can add links, add/edit text & images, and change font & color. Even it is possible to add, update, or remove the watermarks and, headers & footers.
Features:
Straightforward to use even for naive users
High-quality conversion at a fast speed
Add e-signs, comments, and also forms
Compress PDF with optimization
Show/hide navigation panels
Conclusion
No matter what is the reason behind converting PDF to CAD, the recommended six converters will prove to be the best. The tutorials have made the process even easier. But what if you need a comprehensive converter that works both as a converter and an editor? EaseUS PDF Editor is the best choice in this scenario because of its wide range of features, fast functioning, and promising results. Also, it helps you carry out all the PDF editing functions and encrypt them easily before sharing.
About the Author
Melissa is a sophisticated editor for EaseUS in tech blog writing. She is proficient in writing articles related to screen recording, video editing, and PDF file converting.