How to Convert Microsoft Publisher File to PDF
 Update:

Recently, Microsoft is making a change to its Microsoft Office branding. Microsoft Office is being renamed by Microsoft 365. After the official renaming, our article content will be updated accordingly.
What should you do when you are going to share a file which is in a not commonly used format? Most communication tools only support sending and receiving documents in some popular file formats, including DOC, XLS, and PPT. Even you tried your best to send the file to your colleagues, they may also fail to open it if they didn't install Microsoft Publisher on their devices.
Converting the Microsoft Publisher files into other formats is the best method that you can use. And among all the universal formats, PDF is the most recommendable one as it can keep the original layout of your file. If you want to know how to do that conversion step by step, this post will guide you to convert Publisher to PDF both offline and online.
What is Microsoft Publisher? 
Microsoft Publisher is also vendor-supplied software that you can utilize easily, like using Microsoft Word or Excel. What differentiates Word from Publisher is the key purpose they are designed for. It's well known that Microsoft Word is produced to create documents that contain voluminous text and transcripts. However, Publisher is a desktop publishing application used to design the page layout rather than store text information.
The specialized file format for Publisher is PUB. As Publisher only takes a small share of the market nominated by InDesign and other applications, PUB is not as compatible as DOC and XLS. Moreover, since Publisher can only run on Windows PC, Mac users can hardly ever view the file in PUB format. Although this software is easy to use, it becomes troublesome to send PUB files to others to check and print them out.
As mentioned above, it would be better if you convert PUB into some other formats that can be sent and viewed effortlessly. Given that this software is used to design the page layout, the main requirement for the conversion is to keep its overall arrangement and quality. That is why PDF turns out to be the most appropriate target format. 
How to Convert Publisher to PDF Offline 
The same as other programs produced by Microsoft, Publisher also comes along with an integrated converting tool. If you have ever converted a DOC file to PDF using Microsoft Word, you definitely know which function will be used.
There are mainly two options you can choose to convert PUB to PDF, and when you click on the "File" button, you can find them. One of them is "Print", and the other is "Export", both of which can do that for you although the steps are different. The following tutorial will guide you to convert a Publisher file into a PDF by printing it. 
Steps to Convert Publisher File to PDF by Printing:
Step 1. Launch Microsoft Publisher and create a file. You can also click on the "File" > "Open" to import an existing PUB file into it.
Step 2. When the document that needs to be converted is opened in Publisher, click on the "File" button and select the "Print" option.
Step 3. Choose a suitable printer. On some versions, the suitable printer is "Microsoft Print to PDF", and on other versions, you need to choose "Adobe PDF" from the drop-down menu of the printer.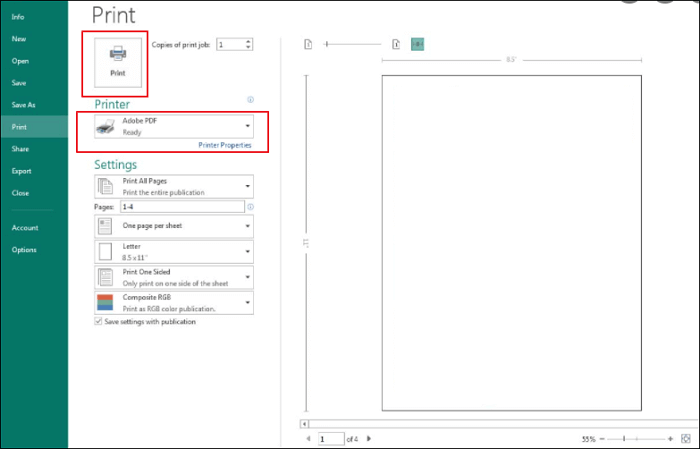 Step 4. After confirming that everything is correct, click on the "Print" icon to start the converting. Then, you will get a converted PDF stored on your computer.
How to Convert Publisher to PDF Online 
Many all-in-one PDF online tools can help you turn a PUB file into a PDF easily, and publishertopdf.com is one of the tools you can use to convert your files. It's convenient to use. You don't even need to download the file if you stored it on cloud storage, which saves you a lot of time. If the PUB file is stored on your PC, just drag and drop it to upload it to the server.
While many online tools will ask you for your email address to send you the converted document, this online tool never requires you to offer your address, and you can download the converted PDF directly from the internet. In addition to that, the file you upload to the server will be deleted after 6 hours. Thus you don't need to worry about the privacy issue.

How to Convert a Publisher File to PDF Online:
Step 1. Open the website of the online converter.
Step 2. Click on the "UPLOAD" button to import the PUB file that to be converted. Be aware that this tool doesn't support batch conversion.
Step 3. After the conversion, there is a "Free Download" button that you can click to save the converted PDF to your computer.
Bonus Tip: How to Edit Converted PDF with EaseUS PDF Editor 
As mentioned above, it would be better to check the PUB file carefully and ensure there is no mistake in the file. The main reason for doing this is that editing a PDF is not so easy. Although you can view the PDF directly with an Internet browser, the browser may not allow you to edit the PDF. If it's necessary to edit the PDF, you need to install the PDF editor first. 
EaseUS PDF Editor is a recommendable PDF editor for Windows, and you can edit the converted PDF with PDF editing tools ranging from elementary ones to advanced ones. For basic use, it supports adding text and images to PDF. When you need to leave some comments to the PDF to share your ideas with your colleagues, it offers you the tool to do that. You can also annotate the PDF and add lines or shapes to tell others how you want to change the page layout designed on the PDF.
What's more, sometimes the designs are of great importance, and you should protect them from being disclosed. After converting them into PDFs, the PDF editors will enable you to encrypt them with a password. Thus people without permission will never open, edit, or print it out. 
Key Features:
Add your own watermark to PDF as well as remove it
OCR PDF and make the converted PDF editable
Add hyperlink and forms to PDF to make it interactive
This is a versatile editor for modifying the PDFs after converting the PUB file into PDF format. If those features are helpful for you, don't hesitate to download this software and try it now.
Steps to Edit the Converted PDF Easily:
Step 1. Launch EaseUS PDF Editor and import the PDF file you want to edit. You can click on the "Open Files..." button to do that.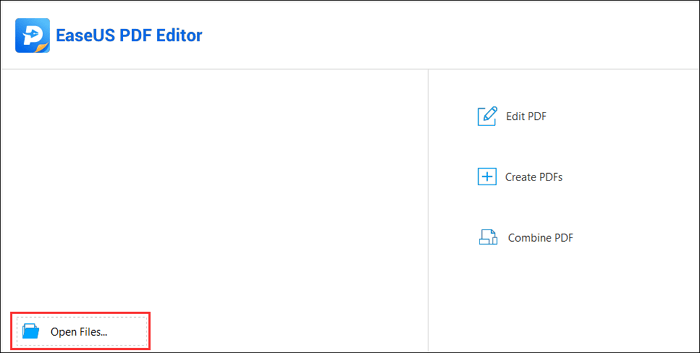 Step 2. If you want to edit the text and images in the PDF, click on the "Edit" button, and there are many options for you. It allows you to insert or remove the words and pictures freely, and you can also adjust the font, size, color of the PDF text.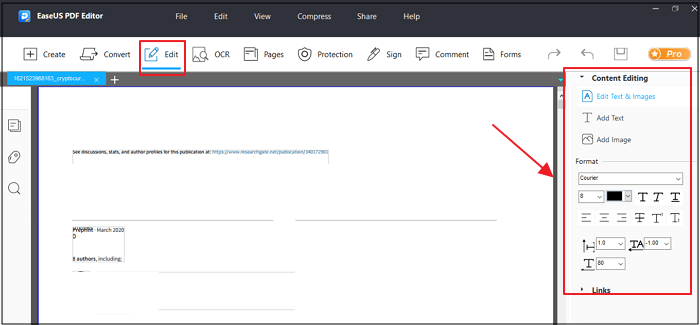 Step 3. More tools are available under the "Pages" option. This versatile software supports deleting, extracting, cropping, rotating the pages with ease. You can add many elements to the PDF, including header & footer, background, watermark, etc.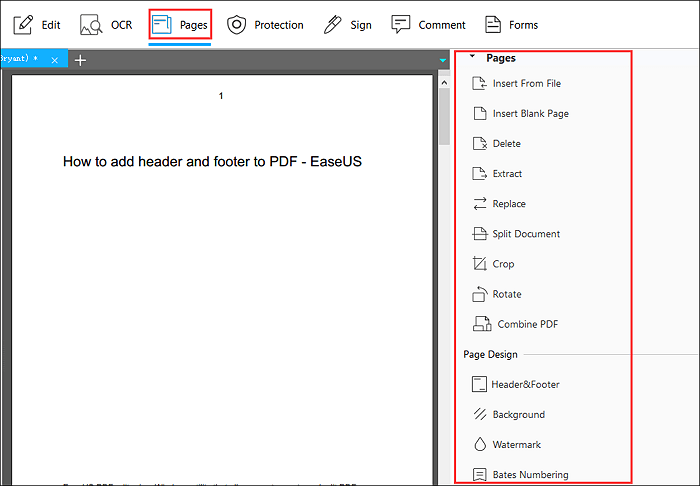 Step 4. After editing, you can choose to encrypt the PDF with a password, sign the PDF with an e-signature, or add comments to it. Then, click on the "File" button and select "Save" or "Save As" to preserve the changes you made to the PDF.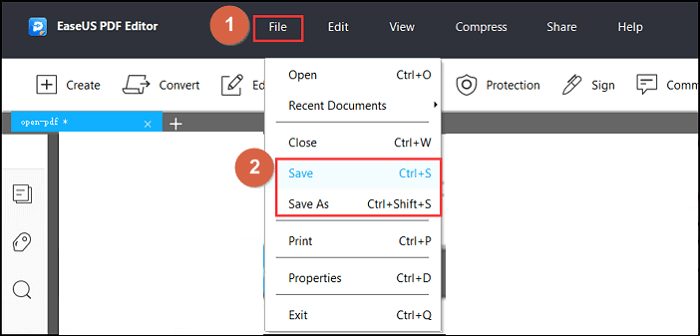 Conclusion
Converting the PUB files into PDF is necessary when sharing them with people who don't have Microsoft Publisher on their devices, especially those using Mac. There are mainly two ways to do that, the first method is printing the PUB file as a PDF, and the second method is converting it to PDF using an online tool.
What if you find the converted PDF needs to be modified to correct the mistakes? A powerful PDF editor is what can be useful. This post gives you some information about EaseUS PDF Editor and guides you to edit the PDF with it. Don't miss this ease-to-use tool.
About the Author
Melissa is a sophisticated editor for EaseUS in tech blog writing. She is proficient in writing articles related to screen recording, video editing, and PDF file converting.