How to Write on PDF for Free
There are times when you need to write on PDF files. It can be some vital information to add, or you forgot to mention some points. Also, you might need to add content for yourself to use later on.
In reality, PDFs are not editable files, but PDF editors help you out. Most PDF editors are paid, but not anyone can afford them. However, you have to go through a challenging process to find an editor that helps you write on PDF for free.
That's why here is a comprehensive guide to provide you with the three PDF editors for Windows, Mac, and Online users. For more information, let's take a plunge into the details!
How to Write on PDF with EaseUS PDF Editor
EaseUS PDF Editor is an all-in-one software to help you carry out all the PDF-related tasks. Depending on your needs, you can use it as a PDF viewer, converter, and editor. Not only does it help you write text on PDF but also in editing the already existing text. You can add images and the rectangle links if required. Even changing the text format and styling is at your fingertips.
While dealing with PDF files, you can insert, organize, replace, extract, or delete page from PDF. Along with that, it is possible to add headers, footers, and Bates numbering. You can add e-sign or watermarks to make the documents secure. Even it is all in your control when adding comments and annotations.
Besides editing, the lossless conversion is what it offers, from PDFs to Word, PPT, TIFF, BMP, PNG, and others. Though the conversion is quick, the quality of the file is retained. Last but not least, it allows you to view the PDFs according to your choices.
Features:
Best for even the naive users
Create, combine, and split PDF files
Support adding watermarks and changing the background
Import and export data using the Form feature
Encrypt PDFs with a password before sharing
Here's how to write on PDF for free:
Step 1. Download and launch the software on your Windows PC and then tap on "File" > "Open". Here, upload your target PDF file on which you want to write or type.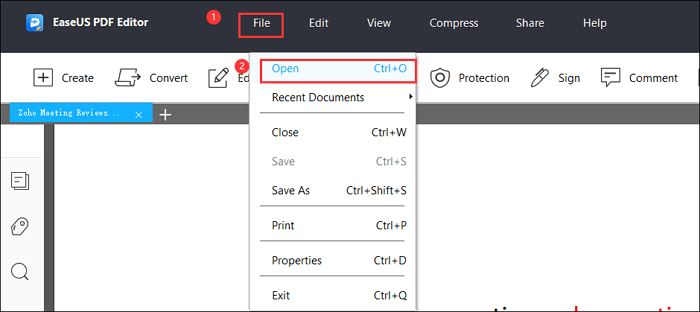 Step 2. Now, tap the "Edit" button from the top menu and then tap on "Add Text" from the drop-down list. You can even select the "Edit Text & Images" option to edit the existing text.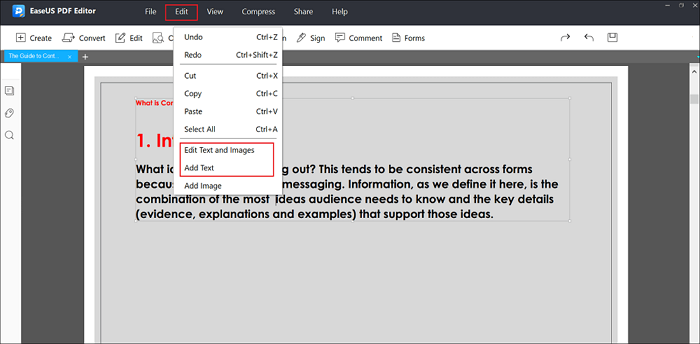 Step 3. You can now make the necessary changes and additions to the PDF file. Once the changes get completed, click "File" > "Save" button to save the PDF file.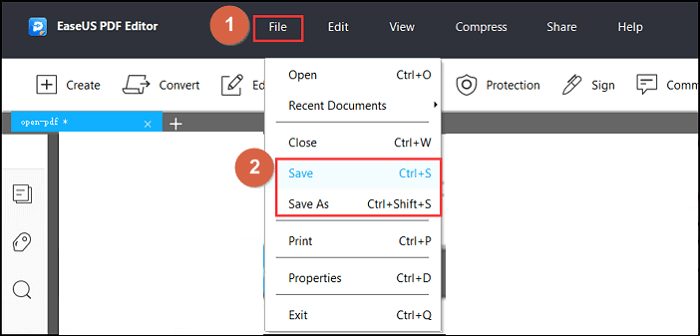 How to Write on PDF using Adobe Acrobat Reader
Working equally on both Windows and Mac, Adobe Acrobat is a standardized program designed primarily to deal with PDFs. It lets you write new text on PDF using Fill & Sign; however, editing the already existing text can be done using the Edit PDF function. You can add the text, shape, checkmark, cross, and much more, along with changing the color. It is also possible to either sign yourself or request an e-sign from someone else.
Adobe Acrobat is a versatile software for its wide variety of tools, i.e., Edit PDF, Fill & Sign, Rich Media, Index, Redact, etc. Organizing pages, combining files, preparing forms, creating PDFs, and adding comments are some other tools to utilize. Furthermore, you can find the text easily by using the search function.
Scroll down for the procedure to write on PDF using Adobe Acrobat Reader:
Step 1. Firstly, you need to download, install, and launch the software on your system. Now, click Tools > Fill & Sign to proceed further. Here you will see a new interface.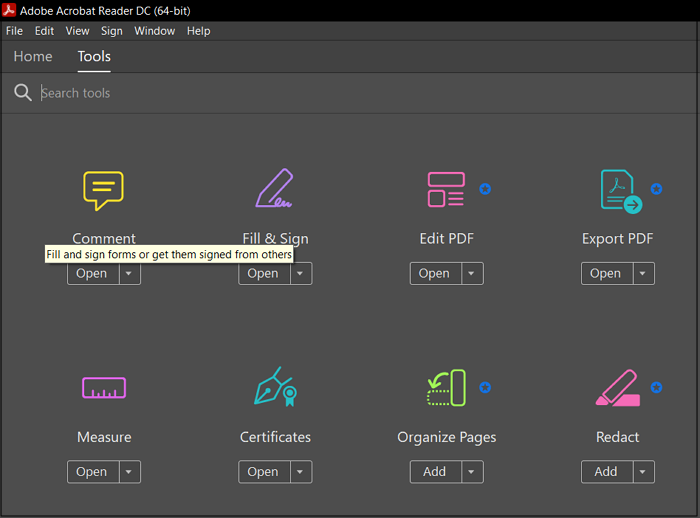 Step 2. Next, click "Open a File" and upload the required PDF. Now select the "Ab" tool to write. Move the cursor and place it where the text is required. Enter the text and click outside the rectangle.
Step 3. Finally, hit the "Close" button present on the "Fill & Sign" menu bar. Click File > Save As, and then the folder where you want to save the PDF. You are all done!
How to Write on PDF Online for Free
People often prefer using online programs over offline because of their limited system storage space. An online PDF editor like Smallpdf can help you out if you are a one-time user. It's not a usual one-task performing tool but a complete solution. Not only does it offer editing and conversion tools but also protection and compression. As far as the editing is concerned, you can select, draw, and erase the text.
Moreover, it is possible to add shapes, images, text, and highlight PDF as per your demands. You can also have a preview of the overall document, thumbnail, or pages. The online program lets you print, share, or export the document feasibly. You can save the file to the device, Dropbox, or Google Drive. Even searching the text in the PDF is at your fingertips.
Here is the instructional tutorial for how to write on PDF via Smallpdf:
Step 1. Firstly open the Smallpdf website on your browser and then its PDF editor. Now, drag and drop your PDF in the upload section that will open up the new interface.
Step 2. Next, you must select the "Text" tool, present at the top main menu. After selection, place the box where you want to add text. Type and then click off the text box.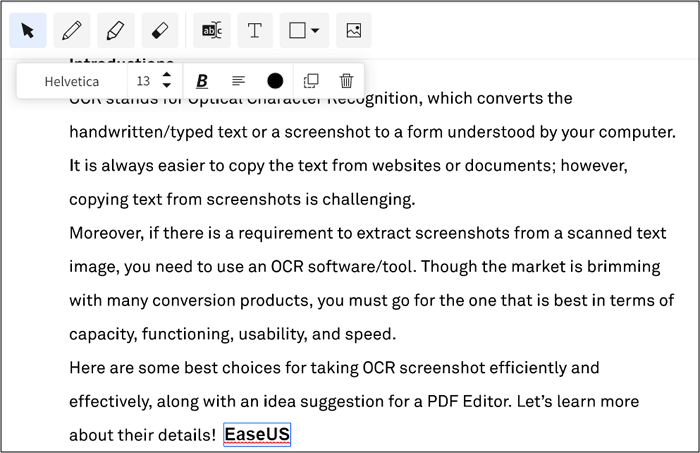 Step 3. In the last step, hit the large blue "Download" button. The written PDF will get downloaded, and that's all!
The Bottom Line
The above write-up is all about how to write on PDF for free. There are three ways for PDF editing: EaseUS PDF Editor, Adobe Acrobat, and Smallpdf on Windows, Mac, and Online, respectively.
Being a Windows user, you can quickly access EaseUS PDF Editor, which offers various editing features. It lets you perform any task without affecting the file quality. Also, its fast, easy, and simple functionality makes it a superb choice. However, you can opt for any method depending upon your preferences and the device system.
About the Author

Jane is an experienced editor for EaseUS focused on tech blog writing. Familiar with all kinds of video/PDF editing and screen recording software on the market, she specializes in composing posts about recording and editing videos. All the topics she chooses are aimed at providing more instructive information to users.