[PDF vs PDF/A] What's the Difference and How to Convert
Adobe's PDF has become one of the world's most used formats for ensuring that a document appears as it was originally regardless of what computer is used to create or view it. Due to this feature, one major use of PDF files is in digital book publication, where all document readers support this format.
However, not all people know that there is also a different type of PDF named PDF/A. Simply put, PDF/A is a subset of PDF that is meant for archiving information, which PDF doesn't support. And in order to preserve the information in the file and to ensure that the contents will still appear as it should even after a very long time of storage, PDF/A has a stricter standard than those used by PDF.
PAGE CONTENT:
Part 1. What is PDF?
PDF stands for Portable Document Format, which is a mode to save a file or pages into this format. One of the most important uses of PDF is that it's used in digital book publication, which allows readers to go through the content from anywhere around the world with any device. Therefore, it's the world's most widely accessed and used file format, which ensures no loss of content and style no matter what system is used to open the PDF.
PDF can contain many kinds of content. For instance, it can have flat text, graphics, and interactive elements like annotations, form fields, layers, media content, and some other kinds of data formats. Also, PDF allows users to encrypt, digitally sign, and attach files, and metadata into PDF files, in order to enable workflow.
A PDF is a combination of text, vector graphics, and Bitmap graphics. Also, it allows many other types of things to be contained in the files. It is easy to operate by even novices and is also an open-source file format. Right now, people who want to keep the original status of a file will most probably use this format.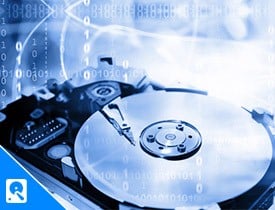 Part 2. What is PDF/A?
PDF/A is basically a subset of PDF that is used to archive important documents and files. This special type of document ensures that the content which resides in this mode remains the same even if it's retrieved after a long time by setting several restrictions and rules on the document. In this mean, we can see it is the upgrade of PDF. Therefore, if you want to keep important files for a long time, it is safer to use PDF/A instead of PDF.
When you need to perform special tasks like embedding or archiving, PDF/A is probably the best choice since it's the subset and a special type of PDF. In case the data is meant to be retrieved after a long time, this mode ensures zero loss of file content and also maintains the same format as it was saved.
Several other functions, like picture insertion, are also allowed in PDF/A. In general cases, this method doesn't allow the file to refer to any other external source because nobody knows whether the recourse would exist or not.
PDF/A doesn't allow any subsequent changes or modifications, which robustly ensures the originality of the content. Also, PDF/A doesn't allow encrypting of the data usually. Only the permitted person or the employees can access encrypted files. Therefore, encryption is one of the main functions that a company wants to secure its confidential data and various documents. 
Part 3. Main Differences Between PDF and PDF/A
1. PDF/A is a special kind of PDF that allows users to archive the files and documents, while a normal PDF does not allow archiving.
2. PDF/A needs embedding of graphical contents like audio, video, and references externally, while a normal PDF does not need to.
3. PDF/A can only be encrypted by a specific person, while normal PDFs can be encrypted by anyone.
4. PDF/A is a subset of PDF, while PDF is not a subset.
5. The data in PDF/A remains the same even after a long period, while a normal PDF does not assure people this.
Part 4. How to Convert PDF to PDF/A
In this part, we give you some methods to convert a PDF to PDF/A with serveral ways. You can choose the tool you like to convert a PDF file to PDF/A format. After this part, we also give you a comprehensive PDF editor that can convert between PDF and many other formats. You can also use it to edit your PDF files.
With PDF.online
PDF.online offers an online service, so all the processes are done on your device. No files uploaded will be stored on the server. You don't need to worry about privacy issues. Also, no registration is needed to use this server. The tool works well on all devices - Mac, Windows, Linux, iOS, and Android. Just convert and download your files within seconds.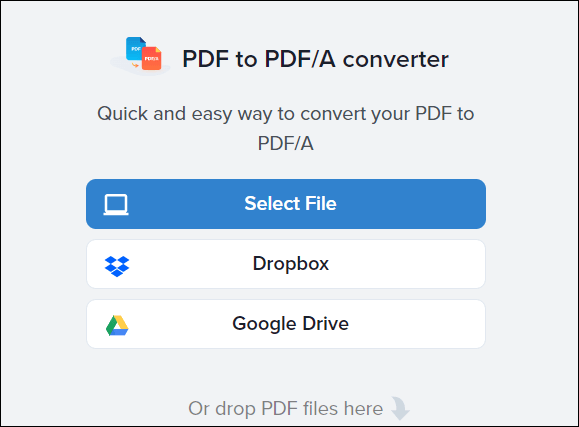 Step 1. Click on "Select File" from the official website to import your file from a computer.
Step 2. Choose PDF/A as the output format, and click on "Convert" to start converting.
Step 3. Wait for the tool to convert files for you. When it's done, you can save the converted file to your computer.
With PDFTron
PDFTron is a software development kit (SDK) that can be used to embed PDF functionality into any application or workflow. It supports 100+ features, such as viewing, annotation, and more. And 20+ file formats are supported, including PDF, PDF/A, DWG, DXF, DGN, JPG, BMP, TIF, PNG, WMF, EMF, GIF, DOC, DOCX, XLS, XLSX, PPT, PPTX, HTML, RTF, ODT, ODS, ODP, TXT, CSV.

Step 1. Go to the official website, and scroll down to find the online converting entry.
Step 2. Click on "Upload files" to import a PDF file that you want to convert to PDF/A.
Step 3. Choose PDF/A as the output format and click on "Convert" to start. After that, you can download the PDF/A file to your computer.
With AvePDF
AvePDF is also an online PDF converter that uses the best encryption methods to protect PDF data. All documents will be automatically deleted from its servers 30 minutes after conversion. If you prefer, you can delete your file manually right after processing by clicking the bin icon.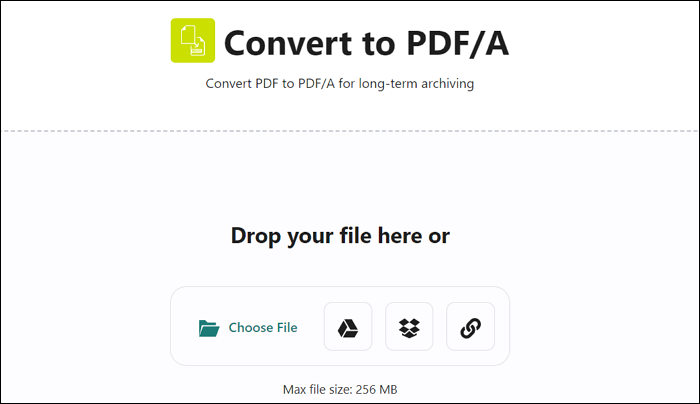 Step 1. To start, drop your PDF file or upload it from your device or your cloud storage service.
Step 2. The tool automatically starts to convert the file. Just wait for a while.
Step 3. Download the converted PDF/A file to your computer or save it directly to your cloud.
With PDF2GO
PDF2GO converts your PDF documents into ISO-compliant PDF/A files ready for storing and archiving. It allows you to upload your PDF and convert it into a PDF/A format suitable for archiving and long-term preservation of electronic documents. It is an online service that doesn't ask you to download anything. And the operation is quite simple. Let's see the detailed tutorial below.
Step 1. Go to its official website, and click on "Choose File" to import a PDF file.
Step 2. Choose PDF/A as the output format and click on "Start".
Step 3. The tool will start converting for you. Wait for a while and download the converted PDF/A document to your computer later.
Bonus Tip. A PDF Converter You May Need
If you need a PDF converter that can convert PDF to not only PDF/A but also Word, Excel, PPT, HTML, etc., then EaseUS PDF Editor is definitely a good choice. With this software, you can convert PDF to Office files with one click, including .doc, .docx, .xls, .xlsx, and .ppt. If you want to save the PDF as an image, this tool can also help you. Common picture formats like JPG, JPEG, PNG are all supported.
Moreover, this program can help you edit your PDF files with simple steps. For instance, you can use it to add elements to a PDF. You can add text to PDF, add image to PDF, or add a PDF page to the original file. Also, you can change text font, add protection or remove password from PDF, sign a PDF, etc. In a word, this PDF editor and converter meets all your requirements. Now, let's have a look at it's main features and download it from the button below.
Features:
Conclusion
PDF has become one of the most accessed types of format that allows businesses and individuals to work on the document. And the comprising of various other attributes makes it more demanding among the people.
This invention by Adobe is a needful and important one. Also, the things residing in the document are safe and secure since PDF allows encryption of files and documents. If you want to do more changes to your PDF file, you may download and use EaseUS PDF Editor.
About the Author
Melissa is a sophisticated editor for EaseUS in tech blog writing. She is proficient in writing articles related to screen recording, video editing, and PDF file converting.