Best Guide to Convert PRN File to PDF of 2022
What makes PRN unique is its language. PRN is a type of file that's only understandable for a certain printer only. Because of that, the file cannot be recognized by other printers. This might sound silly, but this feature is perfect for those who want to print important documents that cannot be leaked, thus using one printer only. 
However, there are times when we need to open it on a computer, right? This can be an issue because PRN cannot be opened on a computer. Thankfully, you can still convert PRN to PDF using some best PDF converter and make them readable on the screen. Check out the list below if you want to know some great PRN to PDF converters!
How to Convert PRN File to PDF with Adobe Offline
Adobe Acrobat is a PDF editor with a wide range of capabilities. It can convert the file to other formats, such as doc or jpeg, with ease. There's no need to worry about the files not working because Adobe supports a broad variety of formats.
Users can also open documents and make changes as needed. One of their privileges is changing the format, such as adding strikethrough. Adobe Acrobat users can add strikethrough to PDF with only a few clicks. With this program, converting and editing are as simple as breathing.
Here are the steps to convert PRN to PDF using Adobe Offline:
Step 1. Launch Adobe, then open the file. Or, you can just drag it to Adobe. Then, wait until the file finishes loading.
Step 2. Once it loads, go to the toolbar, then click File > Save As. 
Step 3. Change the file type to PDF, and find the file location you want to use.
Step 4. Once everything is done, click Save. If you want, check the location to see if the file is there and works perfectly.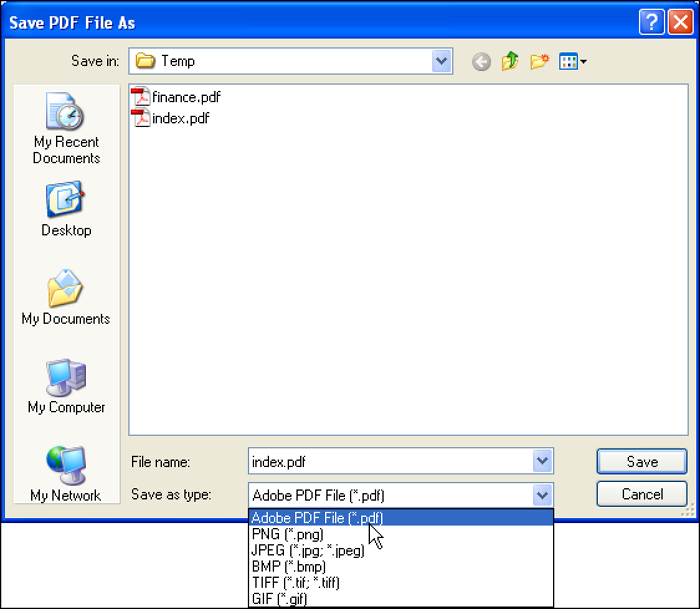 How to Convert PRN to PDF Online for Free 
Don't you have your own device to install Adobe offline? Don't worry, you can still convert PRN to PDF online! There are plenty of websites that offer PRN to PDF converter service, all free of charge. This article uses three websites as examples of the online conversion discussed here:
1. CoolUtils
As stated in its name, CoolUtils is a cool converter that allows many conversions, and conversion from PRN to PDf is one of them. CoolUtils has a simple look, but its simplicity is what makes the website superior. Thanks to its simplicity, users can convert PRN to PDF in less than 5 clicks. Hence, this website is perfect for those who are in a rush.
Besides PRN, CoolUtils can convert other file extensions to PDF, such as PS, EPS, PCL, PXL, and many more. You can also change the page size and modify the image DPI, giving a small tweaking feature to beautify your soon-to-be PDF.
Step 1. Open or drag the PRN file to the website. Ensure the PRN file has content, or a warning will appear.
Step 2. Wait until the "the file is ready to be converted" sign appears. If needed, you can make changes here.
Step 3. Once all is good, click "Download Converted File" to have the file downloaded to your device.
2. Online2PDF
Online2PDF is another website that can convert PRN to PDF, but it requires a process before doing the PDF conversion. The process is no other than converting the PRN to OXPS first then to PDF. 
It is pretty complex, but it is a decent idea considering how Online2PDF's conversion is always fast, quick, and has a small margin of conversion error (where the files cannot be opened sometimes). If you don't know how to convert to OXPS, don't worry! Online2PDF provides that on the website.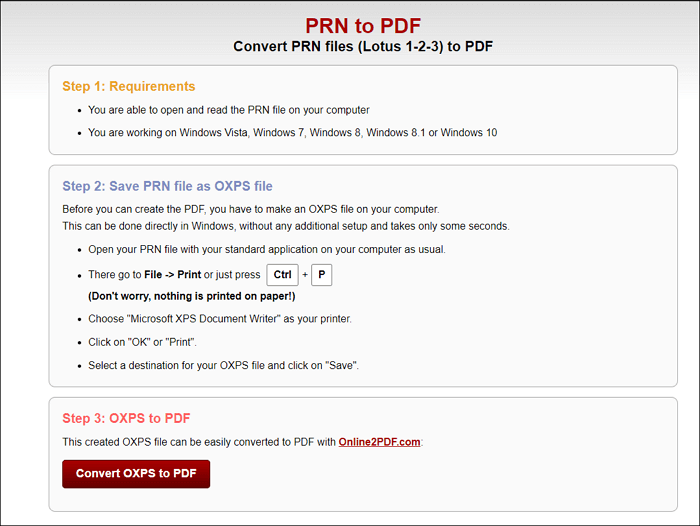 3. PRN-to-PDF
If you want to be more private about your conversion, you should try PRN-to-PDF. Behind the cliche name, the website offers a secure conversion that's protected and encrypted by 256 bit. So, you don't need to worry about your files being stolen by an anonymous or a hacker. 
The website is as good as its protection. It's simple, and straightforward, and you can work your way to the conversion section easily. The ads can be bothersome, but if you don't mind the ads, everything would be a breeze. The website also offers instructions if some kind of error happens. Overall, PRN-to-PDF is a good converter if you're doing it online.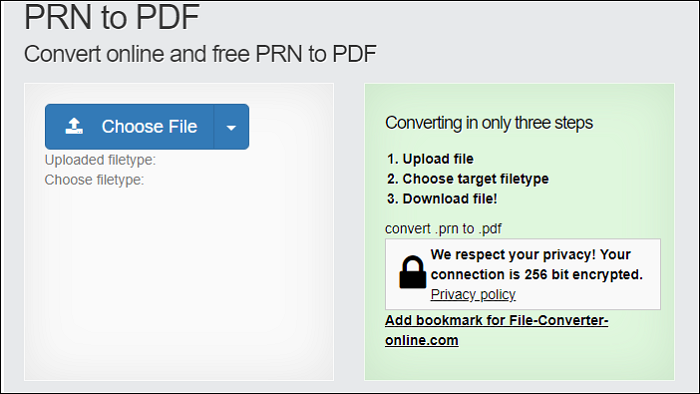 Best PDF Converter for Windows
Even though we've already discussed how to convert PRN to PDF, there are instances when we need to convert other file types to and from PDF. EaseUS PDF Editor is the best PDF converter for this job, which can convert DOC, EXE, PPT, HTML, and a variety of other formats to PDF. Images in JPEG and GIF format can also be transformed.
The conversion quality of EaseUS PDF Editor is what sets it different. When we convert the file, the application will maintain all of the original elements, including content and quality. We will get a high-quality PDF file that is identical to the original as a result of the conversion (except for its format).
In addition to converting, we can create a new PDF from the start or add new components to an existing PDF. You may use this software to edit PDF files and add new words and pictures. 
EaseUS PDF Editor
Convert from PDF to other files and vice versa easily
Simple interface for easy usage of the software
Make forms on an old PDF file
Add signatures using various means
OCR that recognizes different languages
The Bottom Line
Although PRN is unreadable, there are plenty of PRN to PDF converters that can aid you in opening the file easily. But what if you want to convert the PDF to another type of file? If that's the case, don't worry because EaseUS PDF Editor is here to save the day. You can convert the PDF from or to other files easily without hassle. Ready to convert your files now?
Convert PRN to PDF FAQs
1. How do I convert a PRN file to PDF?
First of all, you need to find a PRN to PDF converter. Then, you can import the PRN file and export a PDF file effortlessly. Here are some easy-to-use PRN to PDF converters:
Adobe Acrobat
CoolUtils
Online2PDF
PRN-to-PDF
2. How can I open a PRN file?
You can open and view PRN files with a text editor, including but not limited to Microsoft Notpad, Apple TextEdit, and GitHub Atom. 
3. What is a PRN file format?
The PRN file is a printer-specific output file, which contains printer codes nad instructions to print the content.
About the Author

Jane is an experienced editor for EaseUS focused on tech blog writing. Familiar with all kinds of video/PDF editing and screen recording software on the market, she specializes in composing posts about recording and editing videos. All the topics she chooses are aimed at providing more instructive information to users.