How to Sign PDF Online for Free
Thanks to modern technology, paper can be saved as we have the e-signature to replace the physical one. We used to print paper, manually write on it and then scan it to others. Now, a growing number of organizations and institutions are integrating e-signatures into their daily routines.
If you want the same result, you need to edit it with the help of PDF editors. Having online tools helps you edit PDFs with a wanted symbol and increases your work efficiency. Besides, they have the ability to secure your private information. Keep reading this article, and you're able to learn how to add symbols in PDF with several online tools and a free PDF writer.
eSign PDF With Three Online Tools for Free
Online editors have many advantages. No need for installation, and you can easily edit your PDFs in your browser. Followed are three famous online tools for editing PDFs. All of them provide complete and effective features and functions.
Tool 1. Smallpdf
Smallpdf is a popular online tool for editing PDFs. Once you have accessed it, all you need is the PDF file that you select. Its advanced technology helps you create your symbol easily by drawing it with your mouse or trackpad. Also, you can use your device's camera to snap a photo or upload an image on it. Use it to edit with ease!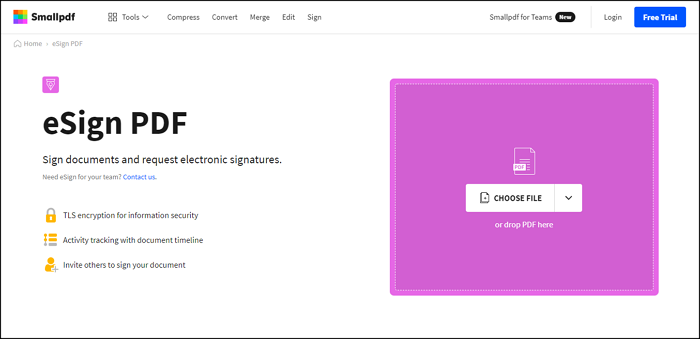 How to make an electronic signature in PDF with Smallpdf :
Step 1. Open this online editor, and prepare your targeted PDF to be operated.
Step 2. Click on "Choose File" and select the PDF that you want to edit.
Step 3. Once the PDF is opened, click on "Your Signature" on the right menu.
Step 4. Select the area whether you want to draw or type in. Then, click on "Create" to add the e-signature to the PDF.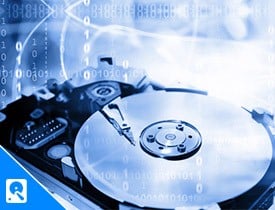 Tool 2. Sejda
Sejda is famous for its user-friendly editing functions like electronically signing. Suppose you are a beginner at creating a symbol. In that case, it has templates that you can easily modify to make your private mark. Additionally, once you have completed it, you can do a lot of other functions on this editor.
Apart from adding a symbol, this editing software has one of the best cloud storage tool integrations as it works with Google Drive and so on. Also, you may also build fillable PDF forms and alter the text or layout of your pages.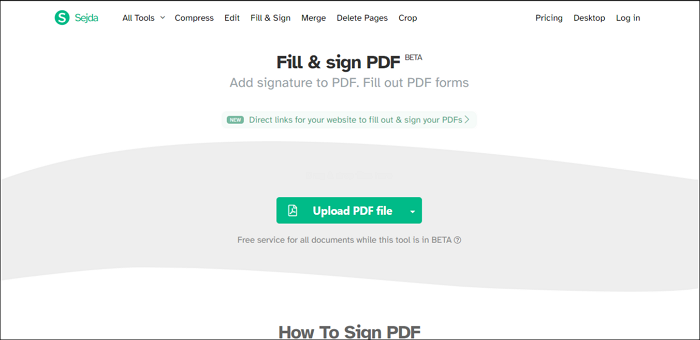 Steps to add an e-signature in PDF using Sejda:
Step 1. Open the online tool to create your electronic symbol.
Step 2. Click on "Upload PDF File." Then, choose the PDF file you want to edit.
Step 3. Once the PDF is opened, click on "Sign" to edit your PDF.
Step 4. Afterward, click on "New Signature." Select it if you want to draw or type your mark. Then, click on "Save" once you have finished it. 
Tool 3. DigiSigner
This online tool provides an easy method of adding your symbol into a PDF. In its signing function, you are able to choose the way you want. For example, you are allowed to create a special symbol by using your mouse to draw or typing your name. Meanwhile, this editor provides a way to invite your friends to sign together. No need for installation, this online editor guarantees your privacy and security. 
How to eSign a PDF with DigiSigner:
Step 1. Open the online tool to edit your PDF with the target task.
Step 2. Click on "Choose File" and find the PDF file you want to make a change to.
Step 3. Once the PDF is opened, click on "My Signature"  to draw the symbol. Also, you have the choice to choose "My Initials" to type your mark. Based on your choice, choose one of the methods. You have a choice to change the color before clicking on "Sign."
Step 4. Afterward, you can click on the "Text" to add some words. Finally, choose "Done," and the file will be successfully completed.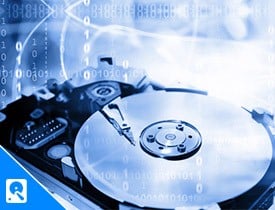 Bonus Tips: How to Sign PDF on Windows for Free
You may find that the online tool is easy and fast. However, there are some limitations to editing your PDFs you have to know. Firstly, you need the Internet to use any of them. Also, since these online sites want to guarantee fast speed, they may sometimes lack advanced editing functions that are also fundamental when working with PDF files. 
Instead, using an offline program can help you tackle these issues. An excellent way for Windows users is using EaseUS PDF Editor. With this PDF editing software, you can easily add your e-signature. Once you have created the symbol on it, you are allowed to add a password for the document for safety. 
Rather than printing out your documents, you can send your PDF document with e-signature to others quickly. It is more convenient and secure to handle affairs. If you think the offline tool is more suitable, then try it to edit a PDF now.
Main Features:
Create a fillable form
Make PDF searchable
Use password to protect the document safely
Now, followed is a step-to-step guide for you to add an e-signature. Before that, make sure you have downloaded it for free!
How to sign PDF on Windows for free:
Step 1. Make sure you have launched EaseUS PDF Editor. Open the PDF you want to edit. Then, click on "Sign" and select "Sign Document."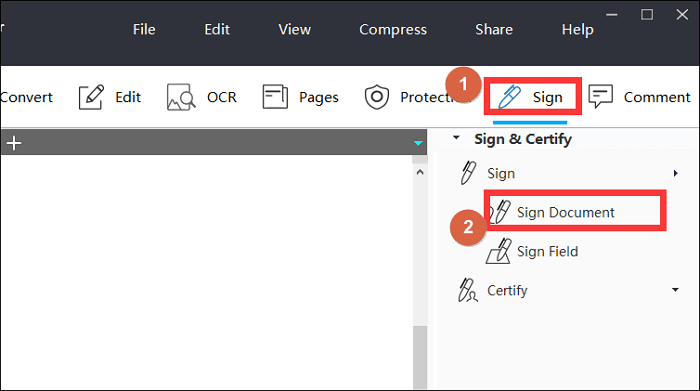 Step 2. In the diagram window that appears, if you are ready to add the mark, click on "Drag New Signature Rectangle" to operate the task.

Step 3. With your mouse, drag out the area where you want the mark to be shown. Then, a diagram window appears, based on your needs, and you can set the information like password, reason, and so on. Finally, click on the "Sign" to edit your PDF.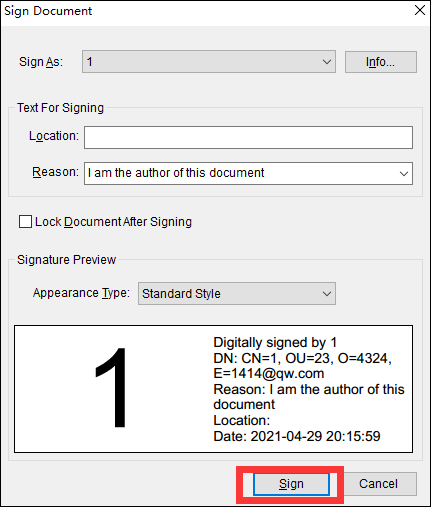 Step 4. Choose the location where you want to save. After that, you can do another editing.
About the Author

Crystal Chen is very interested in technology products. Experiencing many technological applications like video editors, screen recorders, and PDF editors, She is willing to solve users' issues through writing tech-related articles. Through her words, you can find various solutions to solve one problem.