How to Redact in Preview on Your Mac
Redacting is to remove some information from the PDFs or documents while retaining the remaining part. Mostly, the redaction is done to hide sensitive or confidential information that could not be shared with a third party.
The content to redact can be text, images, numbers, and graphics. Also, it can be contact details, addresses, names, and other private data. Whatever is the reason, it is challenging to keep the formatting of a PDF intact while hiding the particular information.
However, good software, along with a tutorial, is beneficial. Here you will learn how to redact in Preview on Mac, but you can go for Adobe Acrobat and Smallpdf. Also, a PDF Editor might be helpful provided in the end.
How to Redact in Preview
Preview is the default application of Mac which aids people in carrying out various functions. Not only redaction but the reading is also easier than ever. Now, Apple has added the redaction tool to the Preview, so you will see the redaction icon to proceed further whenever you open the Markup Toolbar. However, the markup icon is also present on the top right-side menu.
Using Preview, you can even add the lines, text, etc. It is easier to finish the task than one can think with the specific redaction tool. Even the people asking about how to redact in Preview, the following tutorial proves beneficial. However, you must save a document copy before making permanent changes.
Here is a detailed procedure for how to redact in Preview on Mac:
Step 1. First of all, you need to open the specific PDF that you need to redact via Preview. Now, click the "Markup" icon on the top right and then the "Redact" icon on the top-left side.
Step 2. You will see a pop-up to notify you that the content you apply redact on will get removed permanently. Now, you can save a copy of the file for later use if it's necessary.
Step 3. Lastly, drag the cursor onto the content or text you want to redact. It will go black so that you can edit the redaction as per your requirements. However, it will be permanent after saving the PDF. That's all!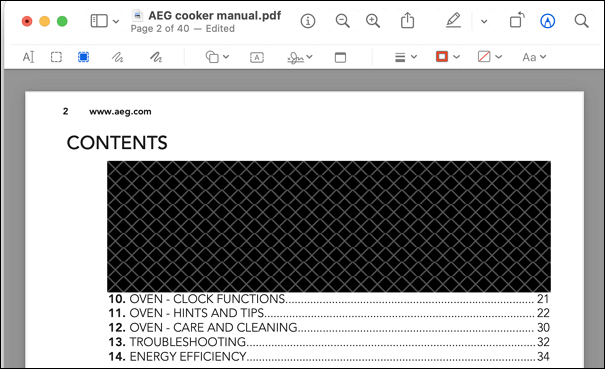 How to Redact PDF Files with Adobe Acrobat
Considering Adobe Acrobat it's a complete package to perform all the functions required for PDFs. It offers a wide variety of features, including the redaction tool. Even you can do it with a highlighter by choosing the black color. Simply, you have to pick the right tool for every task, and its intuitive interface will be enough to complete the process.
Furthermore, the feature of comparing the two documents to spot their differences is what makes it unique compared to others. The fundamental functions of Adobe Acrobat include conversion, editing, signing, and sharing. Along with these, you can also compress the PDF files to reduce the file size before sharing.
Let's look at the steps for how to redact text in PDF using Adobe Acrobat:
Step 1. After installing the application on your system, click Tools > Redact to activate the redact mode.
Step 2. Next, open the PDF, which must be redacted but save a copy before proceeding. Choose the redaction type from the drop-down menu of "Redaction."
Step 3. In the final step, hit the "Apply" button after you are done with all redaction changes. You are all done!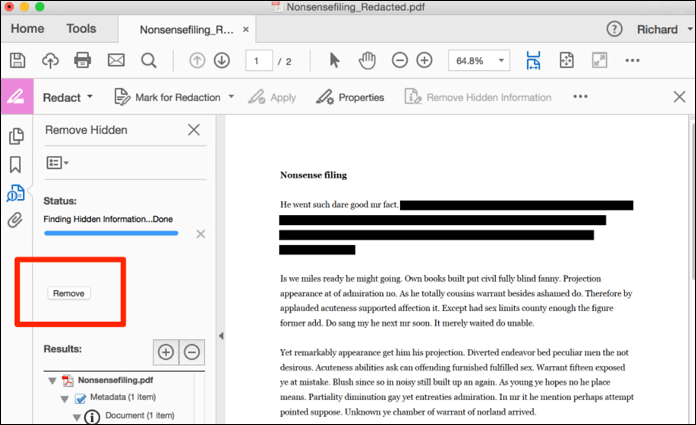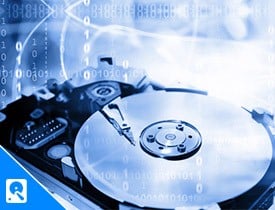 How to Redact PDF Files with Smallpdf
Smallpdf is a great online tool that lets you edit the documents, including PDFs. It's an ideal tool offering diverse features without going through the installation process. If you only need to do basic editing, this is an amazing choice; however, you can get the benefits of many advanced tools like the PDF Scanner, Split PDF, and others.
The conversion function is also present along with the editing. Even the redaction process gets done using the editing tool. Furthermore, you can delete PDF pages or merge multiple files to make a single one. Also, it allows you to password-protect your complete documents if required.
Below is the procedure for how to redact in Smallpdf:
Step 1. Firstly, open the website of Smallpdf on your browser and then choose "Edit PDF" from its tools by scrolling down. It will open up a new interface. Now, click "Choose Files" to upload the PDF you need to redact. This will lead to an editing interface.
Step 2. Next, press the "Shapes" icon and select the suitable shape for redacting your content. Select the content that is needed to redact.
Step 3. After selection, choose the black color from filling and keep the transparency tool to 50px. It will automatically black out the text. Now, click "Download" from the upper-right bar, and that's all!

Bonus Tip. A PDF Editor You May Need
If you have received the redacted PDFs or you need to read a PDF for whatever reason, EaseUS PDF Editor is a fantastic software to use. It brings several features to the board for making your tasks easier to accomplish. Let's dive deep into the details!
EaseUS PDF Editor
EaseUS PDF Editor is really an excellent editor that assists you in many PDF-related tasks. Not only does it work as a PDF editor but also as a converter. It supports PDF conversion to popular formats such as BMP, PNG, PPT, etc. Also, it is easier than ever to edit the PDF content, including images, graphs, tables, text, and others.
Moreover, you can quickly add various annotations and use the drawing markups present in a total of six shapes. Signing and certifying are also at your fingertips. You can even insert links and add different kinds of forms, i.e., combo box, check box, etc. Last but not least, EaseUS PDF Editor allows you to change the background before sharing.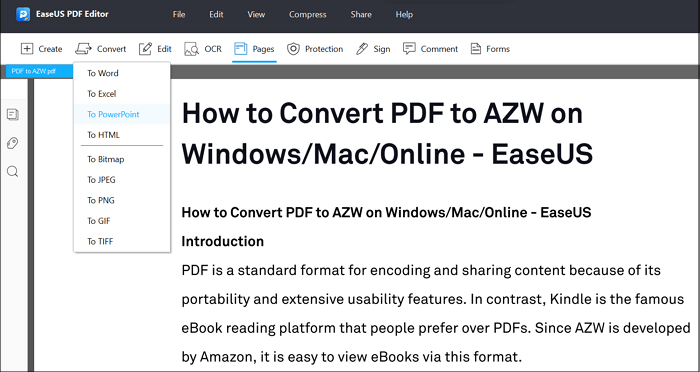 Features:
Support OCR function in different languages
Offer printing features and display PDF properties
Optimize the document before sharing
Support Single view and Two-page view
Support reading and full-screen mode
Conclusion
Redaction is becoming a usual task with every passing day. Not only the official or confidential documents but also the personal information is required to be redacted sometimes. The purpose is to hide the information from a specific audience. Moreover, your question about how to redact in Preview has been solved now. You may also need to edit PDFs along with redaction, so EaseUS PDF Editor is the best option. Using this software, you can enjoy all the features to get the desired results easily, quickly, and efficiently.
About the Author
Melissa is a sophisticated editor for EaseUS in tech blog writing. She is proficient in writing articles related to screen recording, video editing, and PDF file converting.