Top 6 Keynote for Windows Alternative in 2022
You see a fantastic presentation, and you are in awe of it. Later on, you asked the presentation owner to send the presentation to you as a reference. The owner complies happily and sends it to you. However, when you try to open it using your Windows product, you are in dismay: it's a Keynote file, and you can't open it!
The case above is an unfortunate case where Keynote file extension becomes a problem for us. Thankfully, there are Windows alternatives for Keynote that allow us to open or convert them to the file format that is most suitable for us. For this reason, we will be presenting alternatives to Keynote for Windows here.
Top 6 Keynote Alternative for Windows
Plenty of software can be an alternative to Keynote for Windows that can convert files and give results as impressive as Keynote. Check them out below!
1. LibreOffice Impress
LibreOffice is an open-source Keynote alternative that users can use to open Keynote files and convert them to files compatible with Windows. It offers compatibility with files such as PPT, PPTX, DOCX, and many more. All you need is to find the type of file that suits you the most.
Besides conversion, you can also edit the files using the Edit, View, and Insert feature seen at the most top part of the main toolbar.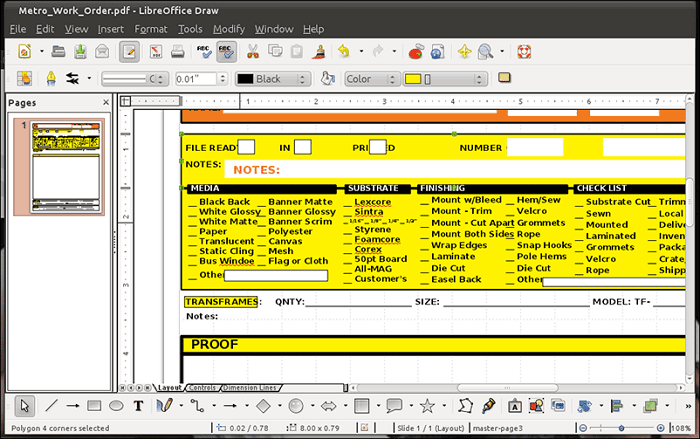 Features
Offer different styles of editing layout for the user's comfort
Has lots of drawing and diagramming tools
Has a unique Slide
Show mode for presentation
Compatibility: Windows, Mac, Linux
2. Prezi
Prezi is an online alternative to Keynote. What makes Prezi unique is how you edit your presentation. Instead of editing them slide-by-slide, you can edit the presentation on one colossal page and import the content on the section given by Prezi. Then, when you do your presentation, Prezi will zoom in to the said section and show your content. Pretty unique, isn't it?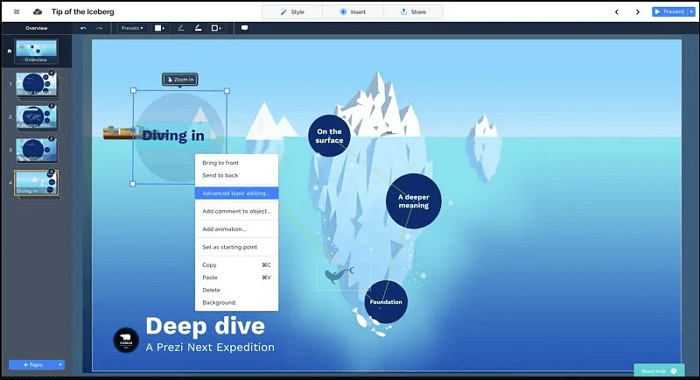 Features
Prezi gives an aesthetic template
Drag-and-drop system
Online presentation mode
Compatibility: Online
3. Canva
Suppose you are inexperienced with editing presentations and depend on Keynote's easy interface, in that case, Canva is the perfect replacement for it. It is an online graphic tool that allows you to create presentations easily and quickly by using its built-in templates. Once the editing is done, you can download the files and share them easily with others. Do you want to make your layout? No problem, since you can do so too in Canva!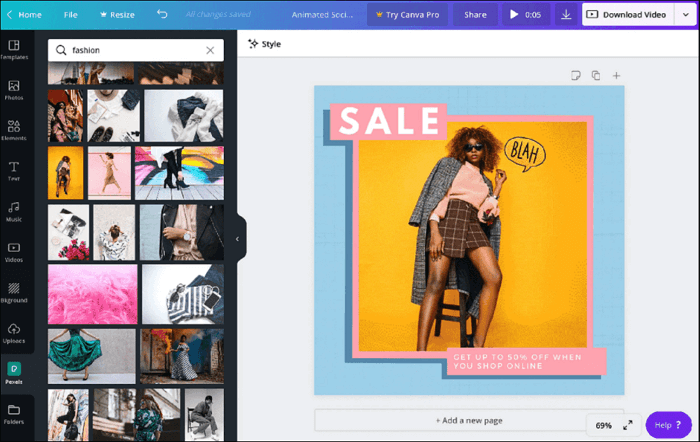 Features
Offer templates that you can use for various occasions
Offer collaboration options
It has lots of features for all types of files
Compatibility: Online
4. Google Slides
You can opt for Google Slides for your alternative to Keynote for those who are constantly on different devices. By using Google Slides, all you need to do is open a blank slide and start importing your content. In addition, Google Slides loads easily, so there is no need for you to wait for a long time every time you upload new content. It does, however, depend on your internet connection.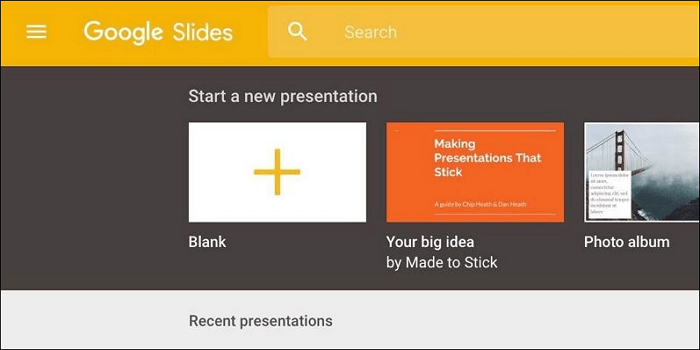 Features
Users can access it anywhere as long as we have our Google accounts
Friendly interface
More than one user can edit the presentation at the same time
Compatibility: Online
5. Powtoon
Powtoon is another online presentation website that can be a great alternative to Keynote for Windows users. Like the other websites mentioned above, Powtoon offers beautiful templates that can be used as material for your presentation. There is no need to worry about running out of templates because Powtoon makes sure they cover each one of your needs. If you are interested in it, check out their category section!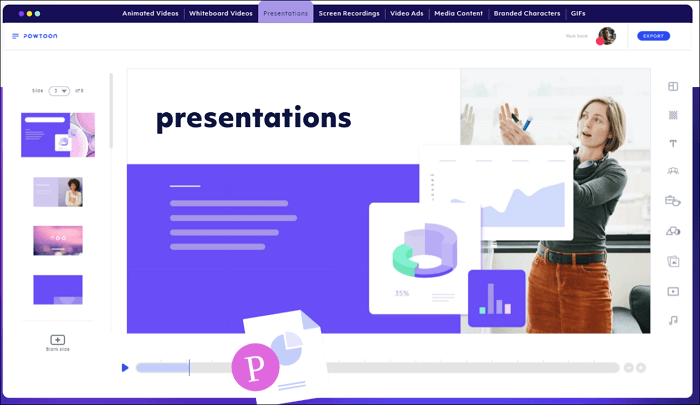 Features
Offer video template gallery with lots of categories
Has cloud sharing for collaboration
Allow users to save the presentation in any format
Compatibility: Online
6. Piktochart
Do you need software that can replace Keynote for your heavy-data content? Look no more because Piktochart is here to the rescue. This software has a template and other features that are related to presentation-making. However, Its template aims to make your data look appealing and understandable when presented to the public. So don't be surprised if you see colorful flyers and report templates when you open the website!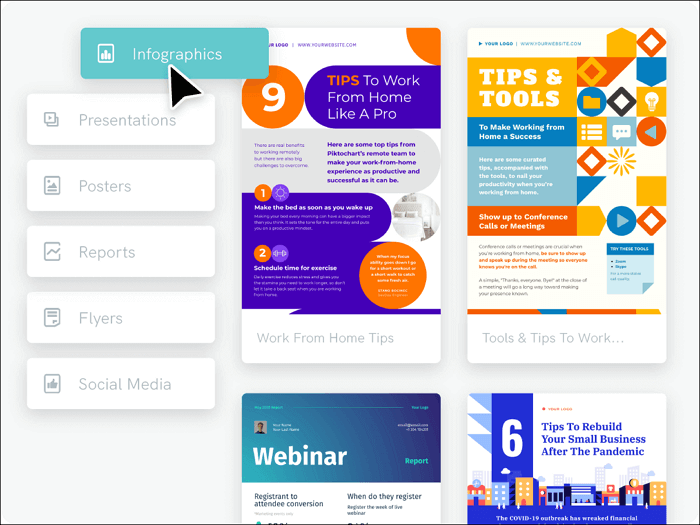 Features
Has templates that make data look easy to understand
You can access it on any device
Offer video tutorials for beginners
Compatibility: Online
How to View Keynote File on Windows PC
If you still insist on viewing Keynote on Windows, then you can use EaseUS PDF Editor. Although it's a PDF editor, it offers more than that. The software provides its users with different ways to view files even though it's not PDF. We can see an image, a document, a presentation - all by using this Windows PDF editor. What if the file is a Keynote file? Don't worry, because you can open it using this program once it's converted to PPT! Here are the steps to do it:
Step 1. Open your Keynote file on Mac.
Step 2. Choose "File", then "Export To". Next, pick a PowerPoint file extension (you can add a password if you want).
That's it, and you're done! Then, you can view the converted file via this program on your Windows PC.
Besides opening different files, this software also allows its users to convert the file to PDF and edit them to make the file look appealing. So, using this program, you will have a file viewer, converter, and PDF editor, all in one software! Here are some of the amazing features:
EaseUS PDF Editor
Offer protection by giving a password to your files
Split, merge, and rearrange PDF pages
Convert files from PDF to other formats (and vice versa)
It has a scanner for reading the non-document files
Allow users to add elements for PDF forms
Conclusion
Keynote is excellent software, but not all devices can easily open all of its files on other devices. There are, however, alternatives to Keynote for Windows you can try, and in this post, we have listed the top 6 Keynote alternatives for you to choose.
About the Author

Crystal Chen is very interested in technology products. Experiencing many technological applications like video editors, screen recorders, and PDF editors, She is willing to solve users' issues through writing tech-related articles. Through her words, you can find various solutions to solve one problem.