How to Create a Fillable Form in Microsoft Word
 Update:

Recently, Microsoft is making a change to its Microsoft Office branding. Microsoft Office is being renamed by Microsoft 365. After the official renaming, our article content will be updated accordingly.
A fillable form is created for the sake of digital users who can fill it and then send it back. People have to deal with forms during their lives in one form or another. However, creating forms is to collect information, offer communication paths, and save time in workflows.
In an organization, it is used to edit these fillable forms to gather data from customers or employers, thus boosting efficiency and accuracy. However, it all depends upon the complexity of your form; it can either be simple or complex.
Creating a fillable form becomes easier when you know how to create a fillable form in Word and other software. Along with Microsoft Word, EaseUS PDF Editor can be the best choice!
How to Make a Fillable Form in Microsoft Word
Microsoft Word is a popular name in the industry of managing documents, especially Word; however, you can export them as PDF here. It's really fantastic when it comes to creating fillable forms. The reason is that it takes too much time to create anytime manually. However, the resulted fillable form will do wonders.
Moreover, you can either upload a form template and edit it or go for a manual process. Only one thing is to consider that you must know about the properties and various developer mode options. When you ask how to create a fillable form in Word, the four main things include Tables, Content Controls, Tables, and Protection.
Let's know the steps for how to create a fillable form in Word:
Step 1. First of all, launch Microsoft Word on your system. Now click the "Word" in the main menu to open "Preferences," "Ribbon & Toolbar," and then checkmark the "Developer" from the right column. Hit the "Save" button.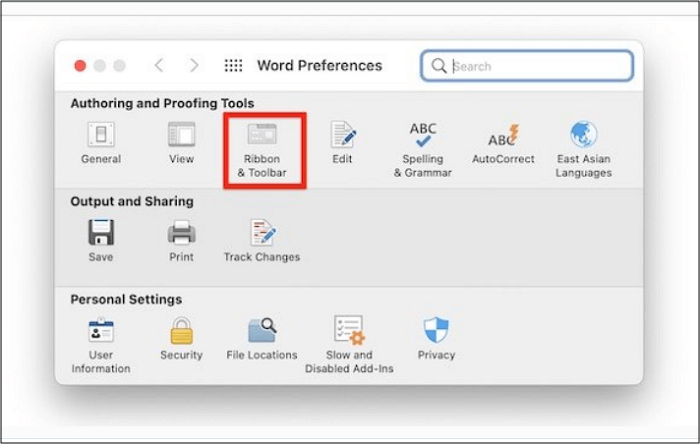 Step 2. In the second step, you will see a "Developer" tab in the upper menu. Here you have the offer to add multiple elements, including a check box, combo box, building block gallery, rich text, plain text, date picker, and drop-down list.

Step 3. Look at the "Controls" section, and you will see the various options by moving the cursor. Each control button also offers some properties that are easy to be chosen. You can add or remove the particular controls as per your choice.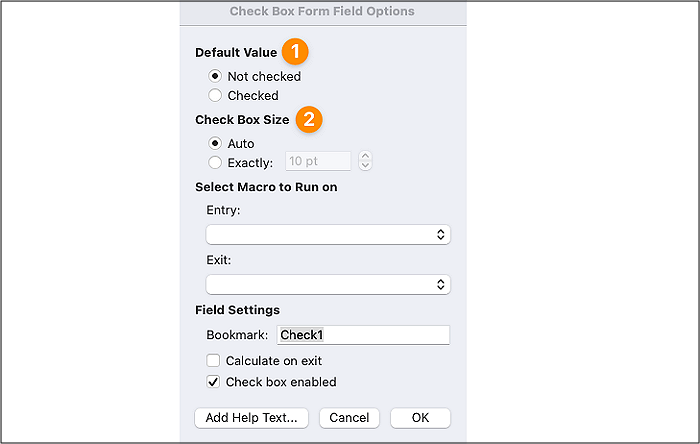 Step 4. In this step, you can edit the filler text by customizing it, pressing the "Design Mode" feature in the "Controls" section. You can edit the style and text. Now, when you are done with editing, you can exit the design mode. You can also add a drop-down list for all control systems.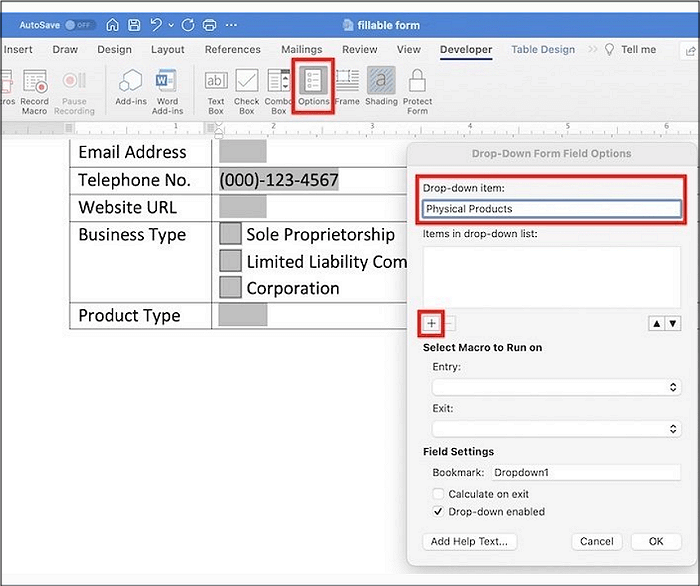 Step 5. If you need to protect the form, the application offers the command of "Restrict Editing." After giving the command, a popup will appear where you need to press the "Yes, Start Enforcing Protection." All done!
Keep in mind that the formatting of your forms must be the best!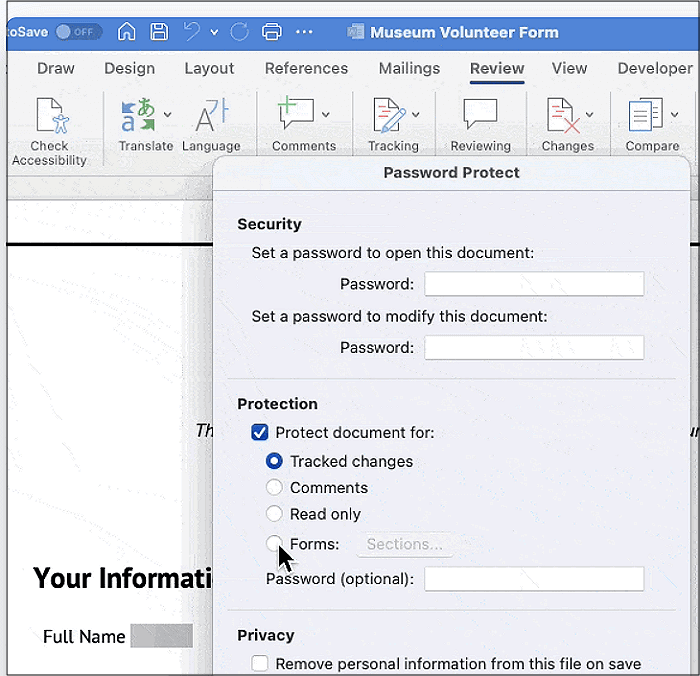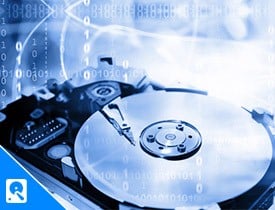 How to Create a Fillable Form in PDF Files Easily
As Word is a time-taking application for how to create fillable forms in Word, you can also try the form in PDF format. The below-recommended software helps you create a fillable form in PDF in a more effortless manner. Let's dive deep into its details!
EaseUS PDF Editor is a secure, stable, and proficient software that helps you carry out all the PDF-related tasks, including creating the fillable form. When it concerns how to create fillable PDF forms easily, this software provides you with an easy option via a three-step process. You need to select the "Forms" category from the upper menu.
Now, you will see many options to use, including combo box, check box, select field, text field, push-button, and many more. That's why you can design the form as per your requirements. Not only does it help in creating forms, but it also works as the best PDF converter and editor. Last but not least, you can add a protection and signs feature to encrypt the document if required.
Here's how to make a fillable form in a PDF document:
Step 1. Launch EaseUS PDF Editor and click on the "Open Files" in the lower-left corner to import the PDF file that you want to lock.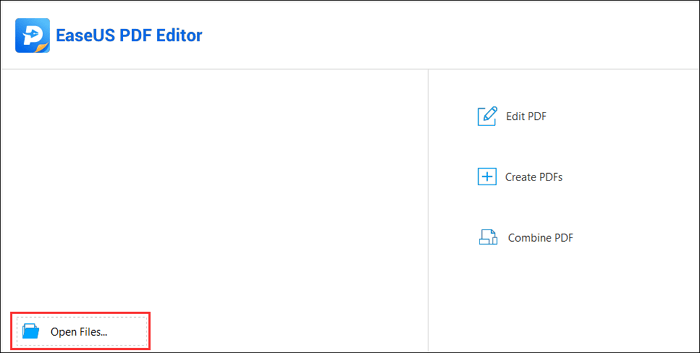 Step 2. On the top menu, click on "Form."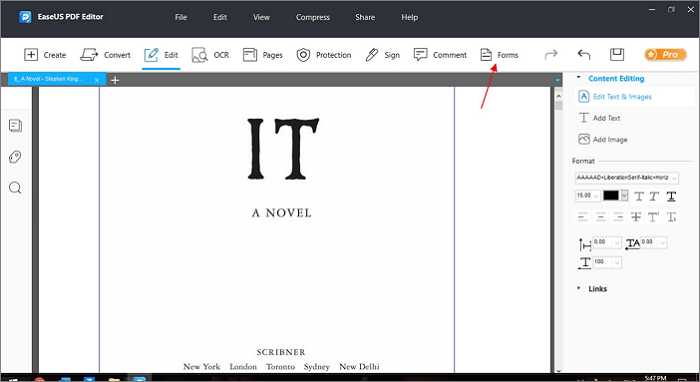 Step 3. In the right menu, click on "Text Field" to introduce a new fillable text field. Write the name of the Text Field on the Page.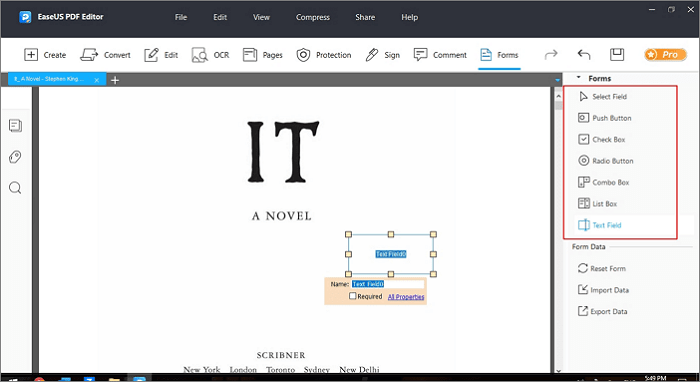 Step 4. Edit the properties of the text field by clicking on "All Properties". A new menu called "Edit Text Field Properties" will emerge. Select the options according to your needs.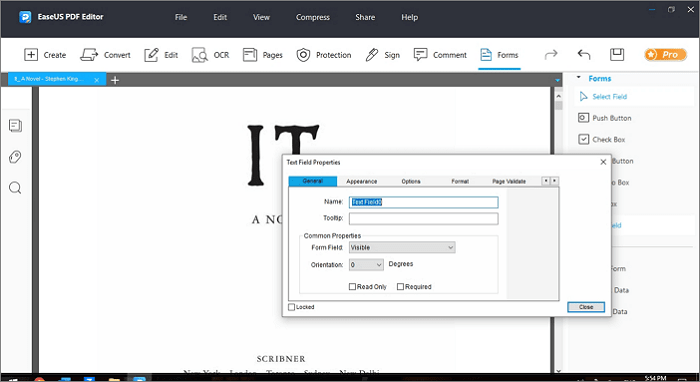 The Bottom Line
In many scenarios, you have to create fillable forms. However, the top of these situations is to gather data about anything. For this purpose, people mostly go for Microsoft Word because of its extra popularity. However, EaseUS PDF Editor is remarkable software to assist you in straightforwardly making the best fillable PDF forms. You can export them in the format of your choice without any hassle. Also, it lets you enjoy several unique features where you have the opportunity to tweak your forms and customize them in your way.
About the Author

Jane is an experienced editor for EaseUS focused on tech blog writing. Familiar with all kinds of video/PDF editing and screen recording software on the market, she specializes in composing posts about recording and editing videos. All the topics she chooses are aimed at providing more instructive information to users.