How to Crop PDF Online for Free
The PDF format is a great file type to preserve documents' formats and text without suffering any unwanted change. Nevertheless, there are times when you do need to edit several parts of your PDF file. When you have the right set of tools, learning to crop pages in PDF comes in handy. 
Cutting pages is especially important when you need to save a portion of the document, or you only need to share one specific area with others rather than the entire PDF. By using online tools, you can crop your pages easily. This article will show you the effective ways to crop PDF online using several effective editors.
Crop PDF with Online Tools
Cutting pages online helps you save time as well as your computer storage space. Here, we provide you with several useful web-based tools to guide you to do so. Without any installation, you can freely edit your PDF like cropping pages.
Tool 1. AvePDF
AvePDF is a web-based PDF editor that can be used on your browser. Thanks to its user-friendly interface, you can get your cropping done in a few minutes. When using this tool, you can choose to crop a PDF for the selected pages or crop all pages. This can be helpful when you want to erase a header or footer from all PDF pages.
In addition, you can use this tool to carry out other tasks, including converting PDF to different file formats. Additionally, you can add page numbers and use a password to protect the document.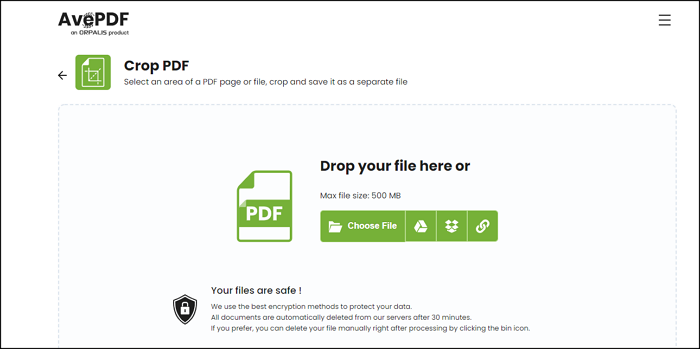 Here, we guide you on how to crop PDF with AvePDF.
Step 1. Go to this tool. Then, click on "Choose File" to upload the selected file. 
Step 2. After uploading, draw a cut area on your PDF page with your mouse. Then, click on "Crop" to get your wanted area.
Step 3. To finish, click on "Save" to download the cropped file.
Tool 2. PDF Candy
PDF Candy is a free online tool for editing PDF files. Currently, it is available to users all around the world. You can use this incredible tool to cut your pages simply. Use its cropping function to cut a single page or the entire PDF at once. It has an accurate mouse sensibility that can help you draw your selected area without problems. Furthermore, this editor allows you to manage your PDF effectively and enables you to delete or rearrange PDF pages.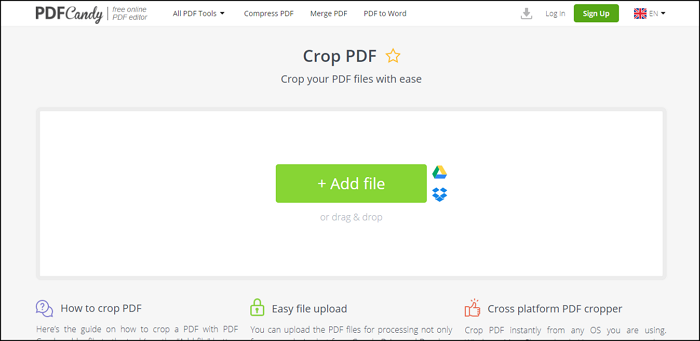 Let's look at the three simple steps to crop PDF online with this online editor.
Step 1. Once you opened this tool, you can click on "Add File" to upload the file.
Step 2. Now, a cutting rectangle appears on your page. Then, select the area with your mouse and click on "Crop PDF".
Step 3. When the process is done, click on "Download file" to save the file.
Too 3. PDF Resizer
PDF Resizer makes it simple to clip your pages. This tool can cut a single page or multiple pages at the same time, which includes a primary user interface to assist you in completing this task quickly. Also, this editing tool allows you to split, rotate, and merge PDFs.
It's also helpful when you need to make changes to text and photos. It contains several handy annotation tools, such as highlighting and notes. You may also use it to convert PDFs to Word, HTML, and other formats. It is entirely free to use, but it also has some advanced functions that require payment.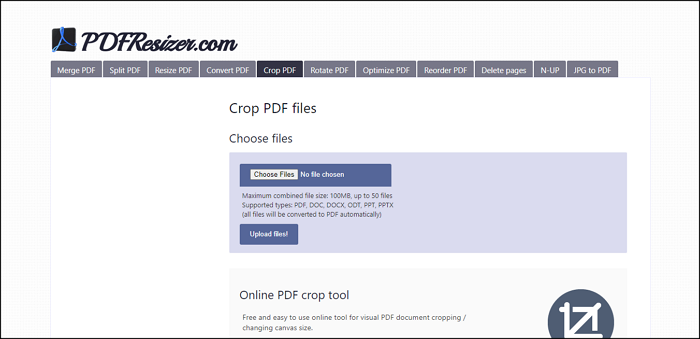 Here is a guide for you to clip pages with this free PDF online cropper.
Step 1. Open it on your browser and select "Choose Files" to upload your targeted file. After that, click on "Upload Files".
Step 2. Now, you should choose one action from "Crop to selection", "Extend margins", and "Autocrop".
Step 3. After you get the cropped area from this operation, click on "Download" to save the edited file.
Bonus Tips: How to Crop PDF on Windows
Despite the above tools to help you crop PDF online fastly, you still need an Internet connection to do any work on your PDF. You have to admit that most online tools are never as advanced as offline programs and lack some essential editing features. In offline tools, there will be more custom settings on images, text, and so on. 
As a result, you need to have an offline editor with complete functions that help you edit a PDF like cutting pages without Internet access. Fortunately, a famous PDF editor named EaseUS PDF Editor allows you to cut pages for free. With this PDF editing software, you can use your mouse to draw a selected area to cut pages. Meanwhile, you will be provided with more editing options on your pages using this editor.
What this editor can also help on your PDF pages:
Insert blank pages
Delete, extract, replace, and split PDF
Add header and footer for page design
Create a watermark effect on your page
 To make changes to your PDF pages, try this Windows PDF editor for free!
About the Author

Jane is an experienced editor for EaseUS focused on tech blog writing. Familiar with all kinds of video/PDF editing and screen recording software on the market, she specializes in composing posts about recording and editing videos. All the topics she chooses are aimed at providing more instructive information to users.