2022 | Top 3 PDF Accessibility Checker with How-to Guide
Portable Document Format is a widely used format worldwide since people, especially professionals, find it suitable to view and share their documents. The reason is to share files without losing any information through the distribution process. And the lost information brings a question to the value and accuracy of the document.
Moreover, many documents available online or shared by colleagues aren't accessible. An accessible PDF is readable by everyone, including the disabled ones. For this reason, you must use a PDF accessibility checker before sharing files.
This will make everyone read it successfully and get the information correctly. In this article, you will get the top 3 ways to check PDF accessibility along with a bonus tip at the end.
Top 3 PDF Accessibility Checker
Top 3 PDF Accessibility Checker
Let's dive deep into the details of PDF's top 3 accessibility checkers!
Tool 1. Adobe Acrobat
Compatibility: Windows and macOS
Adobe Acrobat is considered a fantastic PDF accessibility checking tool, which not only assists you in creating accessible documents but also helps spell check a PDF. It finds the essential elements that need to be fixed, like graphs, images, fields, and scanned text.
Furthermore, you will get the specific instructions, thus leading you to find and fix the repair issues. Also, Adobe Acrobat offers helpful documentation & links. You can make PDF documents that follow the standards of WCA guidelines this way. Also, it provides you with other features like organizing pages and compressing PDFs to decrease the size.
Features:
Offer Action Wizard to make PDF accessible
Add rich media like images, videos, and more
Insert stamp, e-sign, certificate, etc.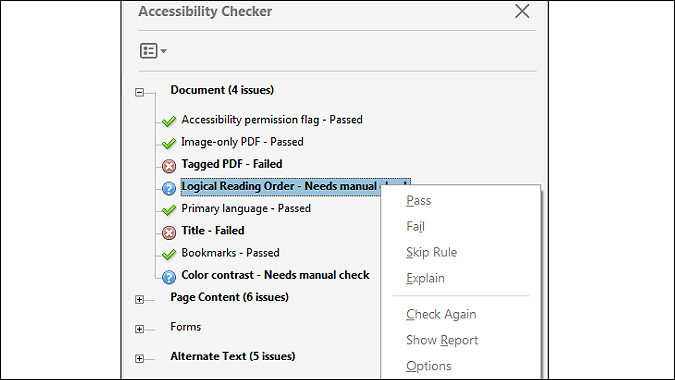 How to make PDF accessible via Adobe Acrobat:
Step 1. Firstly, open Adobe Acrobat and click "Tools". Here you will see the "Accessibility" tool in the second last bar. Now, choose either "Full Check" or "Accessibility Check" to proceed.
Step 2. Here is a requirement to select how to view the report results. It can either be in HTML form or a document attachment. You can even go for a page range by selecting the checking option if you require to check page accessibility.
Step 3. Finally, you will get the results in the PDF accessibility checking tool panel by clicking "Start Checking". The helpful links will make you repair accessibility issues.
Tool 2. Foxit PDF Reader
Compatibility: Windows and Mac
The PDF Reader by Foxit also works as a PDF accessibility checker with its high-performing Full Accessibility Check tool. It provides you with a detailed report where you can see whether your PDF is as per the WCAG accessibility standards or not. Along with it, you will get an in-depth report to analyze all the issues. So, it would be easier for you to make the PDF accessible properly after analyzing.
Moreover, the famous enterprise CMS feature, along with the Cloud storage services of Foxit software, is one of its kind. Also, adding and verifying e-signature on your documents comes under its other features.
Features:
Straightforward and easy to function
Support document protection feature
Easy workflows with standard PDF form filling
Offer tutorials to make the beginners learn accurately
Let's know how to make PDF accessible by using Foxit PDF Reader:
Step 1. The first step involves downloading and launching the software on your system. Now, click "Tools" > "Accessibility" > "Full Check" to proceed with accessibility checking.

Step 2. Secondly, you need to checkmark the required options in the Accessibility Checker Options. Also, select your report form from the options of "Create Accessibility Report" or "Attach Accessibility Report to Document".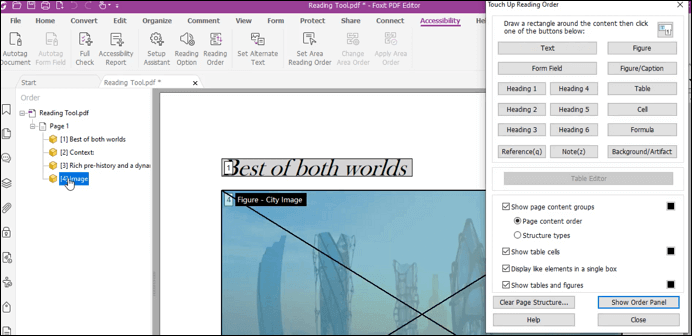 Step 3. Lastly, choose the individual page or full document checking option and click "Start Checking".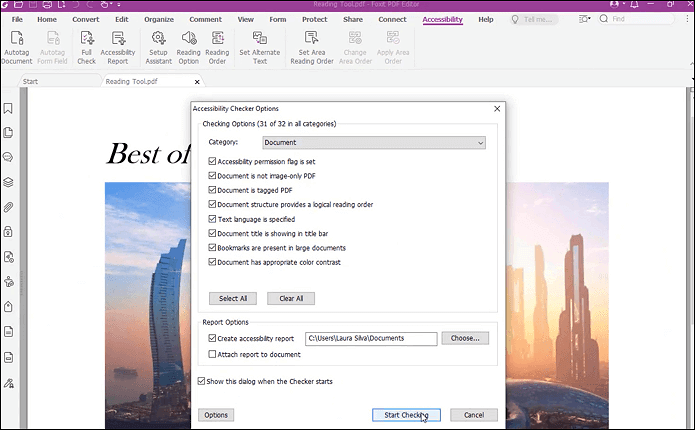 Tool 3. Tingtun Checker
Compatibility: Online
If you are looking for an online PDF accessibility checker, you must not go for one other than Tingtun Checker. Not only does it aids in checking the accessibility of a PDF document but also any web page. Moreover, you have two options to upload your file, either from the device or by entering the URL if it is present online. However, the file size limit is under 10MB.
Moreover, this tool works quickly and provides the applied tests and results. You can click on any test and get a detailed report if required. The online tool is excellent for personal use because it cannot be used professionally.
Features:
Simple and intuitive interface
Support quick document checking
Offer web page accessibility check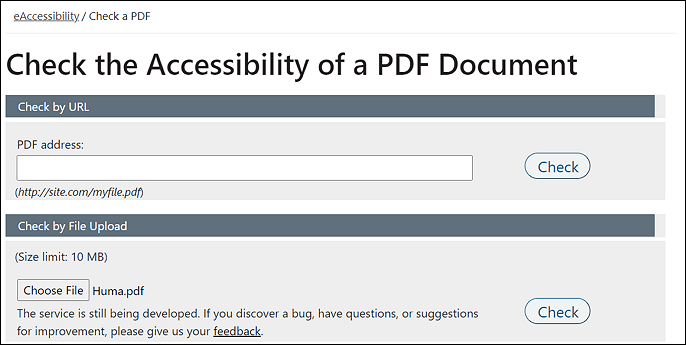 Here are the steps for how to make PDF accessible through Tingtun Checker:
Step 1. First of all, open the website of Tingtun Checker via the provided link. Then you have to select "Accessibility Checker" from the left-hand side column.
Step 2. In the second step, click "I Accept" to move forward. Now, you can either upload your PDF by URL or file upload. Press the "Choose File" button if the PDF is available on the device.
Step 3. Finally, hit the "Check" button to get the final report of your PDF accessibility.
Why You Need to Check PDF Accessibility?
You must make it accessible while creating any document. However, you must go for checking and fixing its accessibility if required whenever you receive a file. The reason is that the inaccessible PDFs aren't fruitful, especially for disabled persons.
The PDF Accessibility Checker compares your documents against the standards, thus identifying the accessibility issues. This way, you will get some tips or suggestions which you can fix to make the PDF accessible.
Checking PDF accessibility will aid you in increasing the value and effectiveness of your document for everyone. Sharing information is the primary purpose of PDF distribution, and it should be accessible by all. 
Bonus Tips: Best PDF Editor on Windows
No matter which task you have performed using which software, the end goal is to view the document. Moreover, you might also have to perform some editing functions other than PDF accessibility checking. In this case, EaseUS PDF Editor would be of much value to you. Let's have a look at them!
EaseUS PDF Editor
Though Portable Document Format is beneficial for everyone dealing with documents, efficient and stable software should be used to view and edit the PDFs. However, such software could be none other than EaseUS PDF Editor because of its high-quality document managing features. It lets you convert PDF into other formats such as Word, JPG, PNG, BMP, etc. Also, the conversion task is straightforward enough that even a naive person won't face any issues.
Moreover, you can edit your documents without compromising the file quality. The main editing categories include content editing, pages, and protection; however, many options come under these categories. Having the software, you can create PDFs from files or blank documents. Also, you can add the images or text as per your requirement.
Along with creation, combining/splitting PDF documents or compressing them to optimize their size is at your fingertips. Also, it allows you to add, update, or remove headers & footers if required. Furthermore, zooming in/out, fit width, and fit visible are other features to enjoy while doing PDF editing. Last but not least, you can use rotate, single page and double-page views to make the navigation process easier.
Features:
Offer to select font type, size, and color
Add boxes like a check, combo, and list box
Edit the text, images, and forms 
Now, download it and start editing your PDFs! No registration is required. 
FAQ About PDF Accessibility Checker
Some related issues are gathered from the public. 
1. How do I check PDF accessibility?
Checking PDF accessibility is not an issue when you have chosen the right software. Using Adobe Acrobat, you only need to select the accessibility tool and do a follow-up accessibility check. Other software also offers accessibility features to check the accessibility issues for disabled persons.
2. How do I enable accessibility on a PDF?
If you check the PDF and it's not accessible, you must turn it accessible so everyone can get what you are sharing. For this purpose, you need to look at the problems and suggestions to fix the document in the PDF accessibility check panel of Adobe Acrobat. Repair it, and you are all done!
About the Author

Crystal Chen is very interested in technology products. Experiencing many technological applications like video editors, screen recorders, and PDF editors, She is willing to solve users' issues through writing tech-related articles. Through her words, you can find various solutions to solve one problem.