How to Convert IPYNB to PDF
IPYNB stands for the Interactive Python Notebook, created by the Jupyter Notebook. Such files contain editable data with the help of text editors. While editing this notebook, sometimes people need to share the processed data with the markdown explanation and create a plot in a readable form.
Since the Jupyter notebooks have complex data, it's stored in the form of big JSON files. That's why it's wise to convert the IPNYB to PDF, which is not only easy to share but also maintains the data quality. However, there will be a requirement to choose efficient software. The below guide has compiled a list of the top three converters with which it's straightforward to make the conversion happen.
 Disclaimer:

This article uses a public lecture as a sample, not a personal intellectual creation.
Method 1. Convert IPYNB to PDF with Vertopal
If you are wondering about getting a credible and efficient converter, Vertopal must be your way to go. Since it supports formats like camera raw image files, structured data files, raster graphic files, fonts, and documents, you can easily convert IPYNB to PDF. Also, it is possible to protect your PDF via password if sensitive/confidential information exists in the document.
Furthermore, you can upload the files at ease with Google Drive, Dropbox, and OneDrive; however, account creation is required for this feature. Even the file preview option is available before conversion but for some formats. Last but not least, you can get more privacy, faster conversion, and high productivity with its Pro version.
Features:
Support conversion between an unlimited number of formats
Delete data automatically after 12 hrs of conversion
Offer the shareable link to the output file
Let's move toward the procedural steps to convert IPYNB to PDF using Vertopal: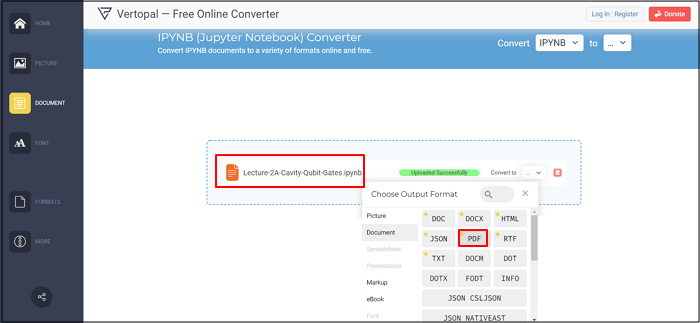 Step 1. First of all, click on the given link to open the website of this online tool on your browser. Here, you have to choose "Document" from the left column and press the "Choose File" button if you have the IPYNB on your system or use any other option to proceed further.
Step 2. After it displays the status of "Uploaded Successfully," expand the "Convert to" drop-down menu and select "PDF" as the target file format from the "Document" category.
Step 3. Next, click Continue and adjust the settings if required. Press Convert to start conversion, and once it's done, hit the "Download" button to save the PDF file. That's all!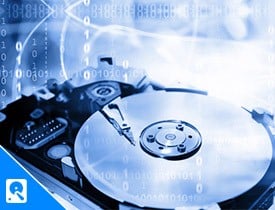 Method 2. Convert IPYNB to PDF with Sejda PDF
Sejda is a full-fledged online program that assists you in multiple tasks, including conversion, compression, and editing. It lets you efficiently convert PDF to/from other formats, including HTML, IPYNB, and more. While for these formats, you can either upload via URL, files, and code. Even it is feasible to perform batch conversion by entering multiple URLs simultaneously.
Along with that, you are allowed to change the output PDF file parameters such as page size, orientation, and margins. Even you can save the PDF in the Cloud. Remember that each line contains a single URL, and up to 20 links can be processed simultaneously. However, the limit can be increased to 100 links with the PRO version.
Features:
Provide the Print stylesheet to use
Offer the Save as a PDF browser extension
Adjust the viewport width and initial display
Let you preview the PDF file before downloading
Here is the detailed tutorial on how to convert IPYNB to PDF through Sejda PDF: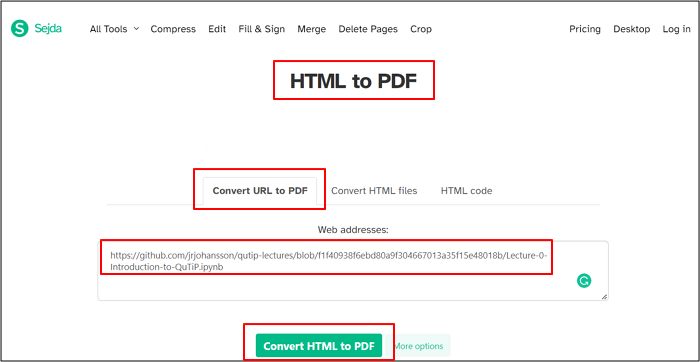 Step 1. After opening the Sejda website on your browse, open the "Tools " drop-down menu to select the "HTML to PDF" tool from the "Convert to PDF" section. This will open up a new interface.
Step 2. Next, you are supposed to choose the "Convert URL to PDF" category and then enter the URL of your IPYNB file. Plus, you can change settings from the "Options" tab.
Step 3. Finally, press the "Convert HTML to PDF" tab, and after processing, you can download the PDF by hitting the "Download" button. You are all done!
Method 3. Convert IPYNB to PDF with AllDocs
Besides Vertopal and Sejda PDF, AllDocs is another credible and free online tool that helps you with basic but efficient conversion. You can't only convert IPYNB to a PDF file but also choose any two formats from the available formats to carry out the conversion. This converter ensures that the conversion speed will be faster without compromising the file quality. You don't need to worry about its security because all the imported and exported data gets deleted after 12 hours.
Features:
Offer the cool, clean, and intuitive interface with no ads
Perfect online tool for non-technical users or beginners
The smooth and quick conversion process in two steps
Let's follow the step-by-step guide to converting IPYNB to PDF via AllDocs: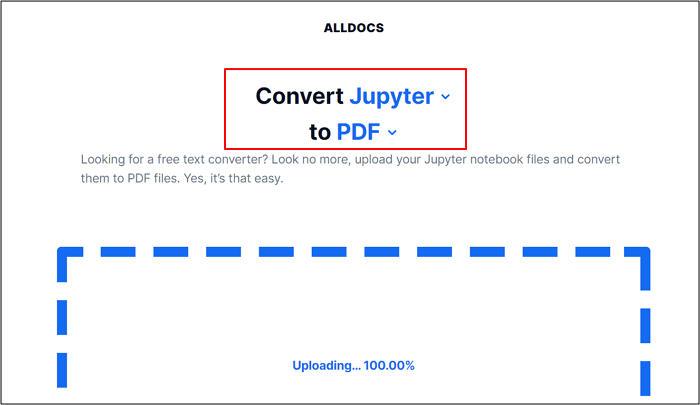 Step 1. The first step involves opening the website using the above link. After that, expand the "Select Format" drop-down menu and select "Jupyter" and "PDF" in the same order. Once chosen, it will automatically take you to the next destination.
Step 2. In the second step, click "Drop or Browse Files" to import the IPYNB file in the required section. It will automatically start converting, and the "Download" button appears once done. Press hit to get the desired PDF file.
Bonus Tips. Convert Your Files to PDF with a PDF Editor
Once you are done with the conversion of IPYNB to PDF, it's time to consider the situation where you will need to check if the PDF is according to your requirements or not. Plus, what to do if you want to edit the PDF? For this purpose, it's important to have an efficient method like using the EaseUS PDF Editor.
This software covers you efficiently, from viewing and editing the PDF files to changing their format. It helps you in converting PDF to/from other formats like JPG, BMP, TIFF, and more. Not only does the conversion process is quick, but also it retains the file quality over conversion. Along with that, the fonts, images, and formatting is preserved as it is. Plus, it's a matter of a few clicks to get your PDF file in the desired format.
After getting the PDF file after conversion, you can also add text to PDF. Also, you can add images, pages, background, and more. Even the interface serves as an intuitive guide for beginners. Most importantly, the compression and protection functions can be performed before sharing.
Features:
One of the reliable Windows converting software
Offer an easy and intuitive conversion process
Convert to/from PDF files in a snap
Support conversion to 10+ file formats
OCR image-based PDFs to editable format
Conclusion
The above content offers you the top 3 amazing IPYNB to PDF converters that are safe, secure, and superb. Now, it's up to you to pick the one compatible with your system, and you will surely get good output results. However, you might need to view or edit the PDF files after conversion. Here the EaseUS PDF Editor comes in handy that assists you in fulfilling all your conversion needs. Plus, you can protect the PDFs with a password if you have any confidential data to be shared.
About the Author
Melissa is a sophisticated editor for EaseUS in tech blog writing. She is proficient in writing articles related to screen recording, video editing, and PDF file converting.