[Online] Convert AZW3 to PDF with Converters
AZW3 is the new version of the AZW format used for Kindle eBooks. Amazon is offering all the latest ebooks in this format. Undoubtedly, it is suitable for reading digital books but not compatible with all devices. For non-Kindle users, reading the books in the AZW3 format is challenging.
However, you can make it easier by converting AZW3 to a device-friendly format that can be shared without any quality loss. And it can be none other than the Portable Document Format (PDF).
Are you looking for the easiest and the most efficient methods to convert AZW3 to PDF? Let's check the article to know the details of various online tools!
Convert AZW3 to PDF with Online-Convert
Online-Convert is a fantastic tool that helps you convert many file types. It supports several file formats like AZW3, PDF, ePUB, AZW, PDB, TCR, and more. With its device integration, you can easily import files from Dropbox, Google Drive, and URLs. So the process of conversion gets more manageable and smoother. Moreover, converting the PDF pages with OCR requires some assistance.
Simply, it is a great way to handle your PDFs. It offers many file aspects to alter according to your demands, such as changing title, author, and input encoding. Even it is possible to make conversions in batches to save time and energy. Last but not least, you can save the converted PDF file in Cloud.
Features:
Convert audio, video, images, documents, eBooks, etc.
Let you download the converted file in a zip folder
Support an easy and fast converting procedure
Offer a QR code to download phones on mobile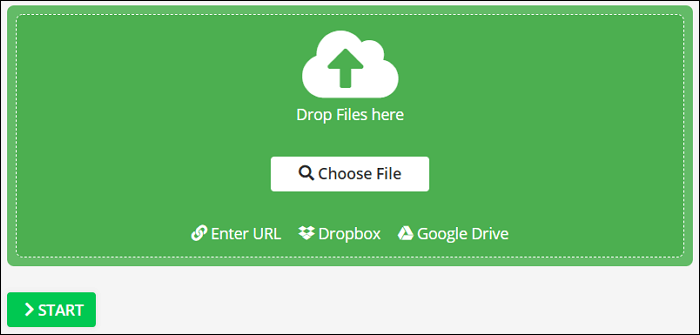 Here is the instructional guide to converting AZW3 to PDF using Online-Convert:
Step 1. Firstly, go to the website of Online-Convert using the provided URL. Click on the "Choose File" tab to open the AZW3 for conversion.
Step 2. Next, you have to adjust all the required settings and press the "Start" button once you are done.
Step 3. In the last step, the PDF will be automatically downloaded; if not, you need to hit the "Download" tab when the conversion is completed. All done!
Convert AZW3 to PDF with FreeConvert
FreeConvert is remarkable and secure if you search for an efficient online converting program. Also, it does offer not only a wide variety of converters but also relevant conversion tools. Using this program, you can convert files between many formats, including AW3 and PDF. Even its AZW3 to PDF converter supports a good quality conversion in a reasonable time.
Your data is safe with this tool because of its 256-bit SSL encryption method. Furthermore, adjusting the eBook settings is only a few clicks away, like doing optimization and adding margins. Though this tool is free to use, the maximum upload file size limit is up to 1GB. However, you can sign up to increase the limit.
Features:
Let you alter the advanced eBook options
Support the batch conversion feature
The device, URL, Dropbox, and Google Drive integration
Offer the video trimming and cropping tools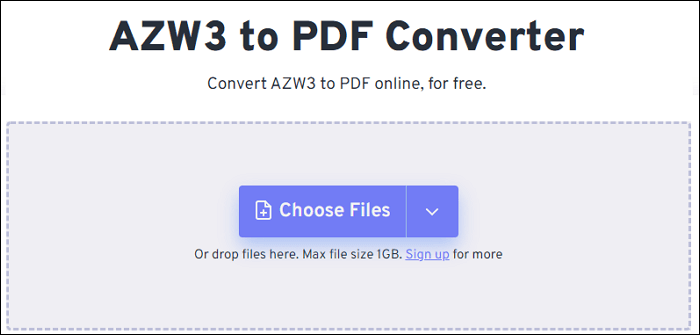 Let's follow the steps to convert AZW3 to PDF via FreeConvert:
Step 1. First of all, open the FreeConvert website on your browser. Drag and drop the AZW3 file in the "Choose Files" section.
Step 2. In the second step, choose Documents > PDF from the output menu. Do the necessary settings and hit the "Convert to PDF" button.
Step 3. Finally, you need to press the "Download PDF" tab, and that's all you need to get done!
Convert AZW3 to PDF with FreeFileConvert
Besides Online-Convert and FreeConvert, FreeFileConvert is an efficient browser-based tool to assist you in carrying out the AZW3 to PDF conversion. Also, it supports several file types to convert, including eBooks, documents, and archive formats. While using this converter, you can achieve a high-quality conversion at a faster pace in comparison to other online tools.
Moreover, you will get an email notification once the conversion gets completed. Though the maximum uploading limit is 300MB, you can convert atleast five files at once. Due to its advanced integration with files, URLs, and Cloud, it is accessible to import or straightforwardly export the files. Last but not least, you are allowed to download a converted file at least five times before it disappears.
Features:
Easy to use and credible online tool to use
Encrypt or decrypt the PDF files easily
Compress or split PDFs efficiently
Support OCR technology to convert PDF into editable one

Here is a tutorial for the AZW3 to PDF conversion through FreeFileConvert:
Step 1. In the first step, you need to open the website using the given URL. Now, click on "Choose File" to upload the AZW3 file.
Step 2. Secondly, open the "Convert File to" drop-down menu, select Document Formats > PDF, and then click "Convert."
Step 3. Lastly, hit the "Download" button to get your converted PDF. You are all done!
Bonus Tips. A Capable PDF Converter to Convert Files to PDF
Besides converting AZW3 files, people usually have to convert PDF to/from Word, PPT, Excel, or JPG. In that scenario, EaseUS PDF Editor must be your ultimate solution: a credible, coherent, and proficient PDF editor for Windows users. Not only does it work as a converter but also as a PDF viewer and editor. Adding text, images, and rectangular links is only a few clicks away.
Moreover, you can insert, delete, extract, crop, replace, or rotate PDF pages. Even it is possible to add signs, comments, and watermarks. Along with that, you can change the PDF background as per your requirements. Lastly, encrypting PDFs has never been as easy as with this software.
Features:
Create PDFs from a blank document or files
Split or combine PDF files quickly
Easy page display and navigation
Reduce file size while optimizing PDF
Add/update/delete the headers and footers
Conclusion
After going through this write-up, you will be aware of knowing about the ideal AZW3 to PDF converters along with their tutorials. Therefore, depending upon their features and processing, you can select any of the above-suggested tools. However, EaseUS PDF Editor must be your way to go if you are working on a Windows system. The reason is its easy, fast, and smooth functionality. You can use it as a PDF reader along with enjoying a complete set of editing features for performing day-to-day PDF tasks.
About the Author
Melissa is a sophisticated editor for EaseUS in tech blog writing. She is proficient in writing articles related to screen recording, video editing, and PDF file converting.