3 Methods | How to Sharpen PDF on Windows/Mac/Online
If your PDF file is blurry, fuzzy, and unclear, it will be quite challenging for your eyes to focus and read the content. It might leave your eyes strained and stressed due to extra struggle with reading vague text. However, a good PDF editing software can help sharpen PDFs into easily readable and viewable documents. PDF sharpening effect darkens the text, images, and all elements in the file, bringing quality to the file.
Since PDF is just a container format and can be opened with PDF readers, you need a PDF editor to enhance the file quality. This article explains how to make PDF clearer using Windows and Online tools. Moreover, read the article till the end to get a fantastic bonus tip.
How to Sharpen PDF on Windows
Adobe Acrobat has a tool called PDF Optimizer. It can sharpen a PDF for better quality results. Let's find out more about it.
Adobe Acrobat Pro
Adobe Acrobat Pro has many valuable tools and features to help sharpen the PDF page. PDF Optimizer is one of them. This specific tool comes with several options from compression to pixels, transparency settings, and downsampling. Applying these effects will ultimately aid in your sharpening task.
Moreover, the dialogue box of PDF Optimizer has many features. You can adjust the color and greyscale of the image. Also, the options to compress and downsample are available. Even the interface is so simple that a naive doesn't require a tutorial about how to make PDF clearer quickly.
The Lightness Decrease feature will sharpen the content in the file. And if you want to upgrade the font quality, use Font Smoothing Preferences. Changing the resolution ratio will smoothen the blurry text, and the Transparency Panel can take care of the artworks present in the file, making PDFs easy to read. With Adobe Acrobat Pro, you can even tag a PDF, if needed.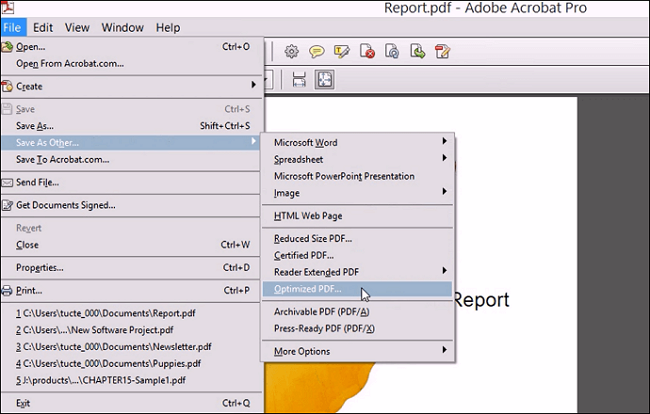 Features:
Compress images and change resolution
Remove embedded fonts with ease
Optimize images, text, and all elements in a PDF document
How to Sharpen PDF on Mac
For Mac users looking for the perfect software to sharpen a PDF, Preview proves to be a good choice.
Preview
Adjusting the contract of PDFs is an easy-to-do task by using the default media application, Preview. Even the low-quality or scanned PDFs become easier to read after making the text darker and sharper. Generally, this tool works faster for small-sized documents but takes more time for large ones. It's best for sharpening, contrasting, and making text viewable.
Considering how to sharpen a PDF on Preview, it's effortless. You only have to upload PDF on Preview and then click Export from the file menu. Then, you can open the drop-down menu of Quartz Filter. Choose Lightness Decrease and save the file.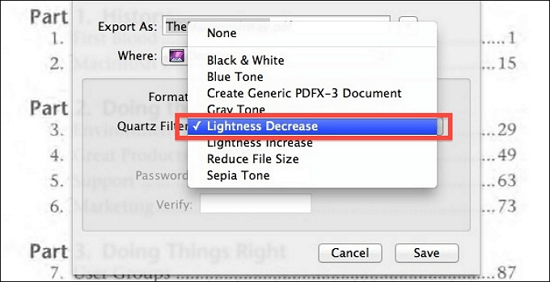 Key Features:
Offer reading PDF functions
Clear and easy-to-understand menu features
How to Sharpen a PDF Online
There are two options for enhancing the quality of a PDF file for better viewing. Let us learn about each one now!
Tool 1. AvePDF
There can be many reasons why a PDF file quality is low, including the creation and saving process. As an end-user, it is not possible for you to control the file creation, but with AvePDF, you can control the process to sharpen a PDF online for free.
Having this online tool, you can use four options, i.e., Erase black borders, Auto deskew, Punch hole removal, and Despeckle. Even it is possible to apply one or all four filters at a time to get the desired results. Moreover, AvePDF is an easy, extra fast, and secure PDF editor offering all the necessary features to sharpen a PDF file in a unique way. It works online and depends on no long installment processes before you are able to use it.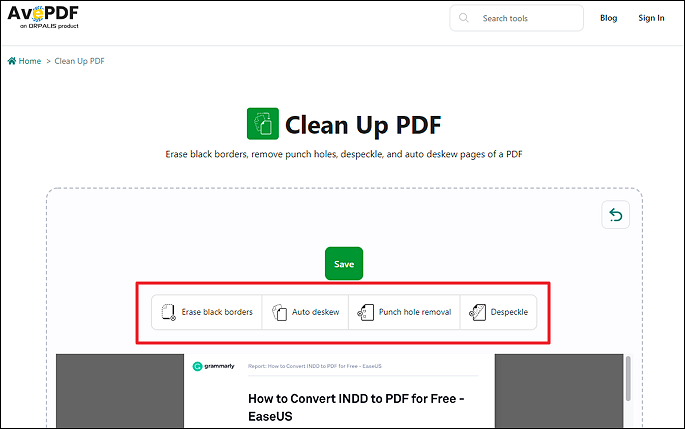 Key Features:
Attractive and intuitive interface
Offer embed code
Support manual file deleting
Tool 2. PDF 2 Go
It does not matter if your documents have images, text placed in columns, tables, or other elements. This software lets you edit the file entirely. PDF 2 Go has a lot of versatilities to offer, so you don't need to worry about how to sharpen a PDF. After you have imported the file into the software, it displays thumbnails of all pages on the left. Click the thumbnails of the page you want to edit. The bar brimming with editing options helps edit the text, images, and other elements of the file.
It's obvious to get the best experience to sharpen a PDF online when you can redo, undo, and zoom in to check out the result of the applied effects. The Options menu has many features to adjust the stroke size, font, and other file details.
The best thing about this tool is that it needs no downloading process. You can open the tool online on any device, from laptop to tab, smartphone, etc., and get the job done. Your files stay safe with it, protected from any malware or viruses.
Key Features:
Use many editing tools
Draw and write on the PDF page
Import files from the cloud or enter the URL
Bonus Tip: Best PDF Editing Software on Windows
Though the market overflows with PDF editors, the best one fits your needs. It allows you to view PDFs and you can annotate and edit them. EaseUS PDF Editor is one such software.
EaseUS PDF Editor has covered all your PDF editing needs. The software is changing the standard narrative of PDF to only a read-only format by editing all elements of a PDF file with a few clicks. It lets add images, text, signatures, and other elements to PDF. This feature to include elements is quite helpful, especially if your work involves receiving PDF files.
You can also get the benefit from the features under the "View" tab. It includes enabling single and two-page view. Even it allows you to Zoom in and out if required. Furthermore, if the files are too heavy due to the large images, you can compress images to optimize the file size.
EaseUS PDF Editor
Add annotations and drawing markups
Provide amazing OCR technology
Combine multiple PDFs into one
Offer conversion to various formats
About the Author

Crystal Chen is very interested in technology products. Experiencing many technological applications like video editors, screen recorders, and PDF editors, She is willing to solve users' issues through writing tech-related articles. Through her words, you can find various solutions to solve one problem.