Easy! How to Electronically Sign a Word Document [2022 Guide]
 Update:

Recently, Microsoft is making a change to its Microsoft Office branding. Microsoft Office is being renamed by Microsoft 365. After the official renaming, our article content will be updated accordingly.
Although signing documents directly is a common method many people use, it can be unconventional sometimes, especially when the person whose signature we need is not in the same area as us. Thus, an electronic signature is gaining more and more attention because of it
An electronic signature is more convenient for a number of reasons. First, the signature allows the documents to be signed anywhere, anytime. Second, other people can represent the person signing by having the signature.
Overall, electronically signing a Word document gives more benefits. For those who are still looking for the best way to sign a document electronically, we have a list below you can use.
Method 1. Electronically Sign a Word Document using Microsoft Word
Microsoft Word is a well-known document software that is mostly used by many people, be it professionally or casually. Being a software that is used by many people, its developer has slipped in plenty of features that can enhance your writing experience, and adding images is one of those features.
Unfortunately, adding a signature in Microsoft can be a bit of a hassle since you don't directly place the signature on the document. It is pretty quick and easy for those who just want to put the signature on the document and nothing else. However, it can be a bit troublesome if the signature image has a different background color from your document.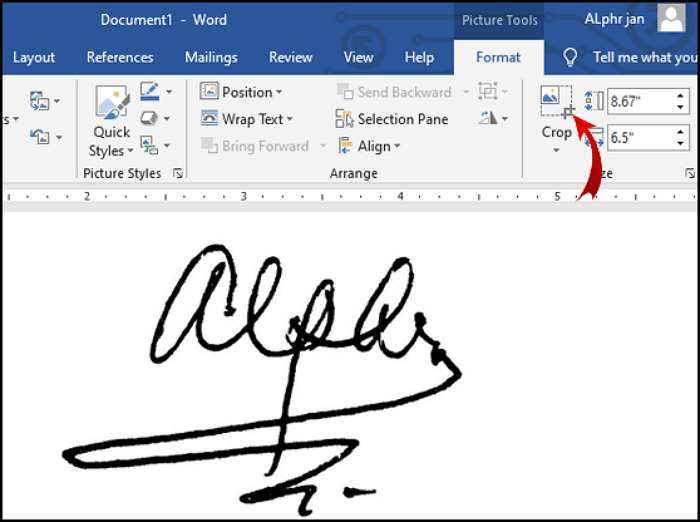 Steps to add electronic signature using Microsoft Word:
Step 1. Write your signature on a piece of paper and scan it.
Step 2. Save the image using common file formats such as PNG or JPG.
Step 3. Go to "Insert" > "Picture" on the toolbar to upload the scanned signature.
Step 4. To crop it, go to "Format" > "Crop" and crop the image as needed.
Method 2. Electronically Sign a Word Document using DocuSign eSignature
What makes the award-winning software special is the fact that it has a vast amount of network. It's so vast that you can integrate it with more than 400 other software such as Slack and Workday. You can also use it on any type of device too, making it great for those who need to sign documents using different devices.
To get the most basic personal features, you will need to subscribe for $10/month, while the business subscription costs $40. However, the features are worth it for those who are in serious need of great digital signature software.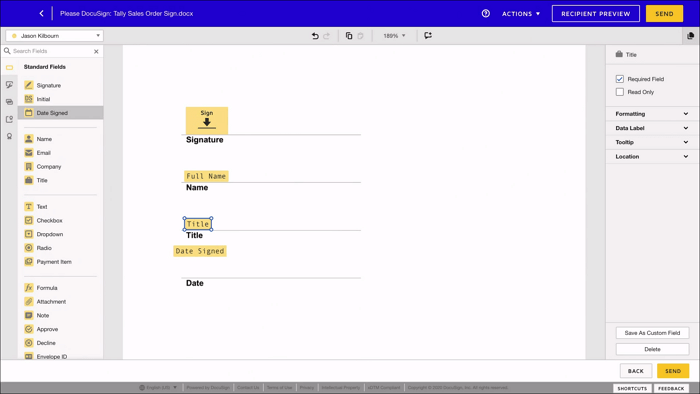 Steps to add electronic signature using DocuSign eSignature:
Step 1. Open the software and go to "New" > "Send an Envelope" or any type of document you want.
Step 2. Upload the document and add the recipient of the person who needs to sign it.
Step 3. Add signature tags as necessary, then click "Send" to send the document.
Step 4. The recipient will get a notification. He can use a previous signature or create a new one.
Step 5. Once the document has been signed, everyone involved will get a notification regarding the signature.
Method 3. How to Electronically Sign a Word Document using Eversign
Eversign is an signature generator for PDF that is perfect for those who also want to sign a Word file. To get all the features, you will need to take out a certain amount of money for a subscription.
Thankfully, you can always upgrade and downgrade anytime you want. The process to upgrade/downgrade is a bit long, but it gives you the flexibility to customize your own digital signature software according to your needs.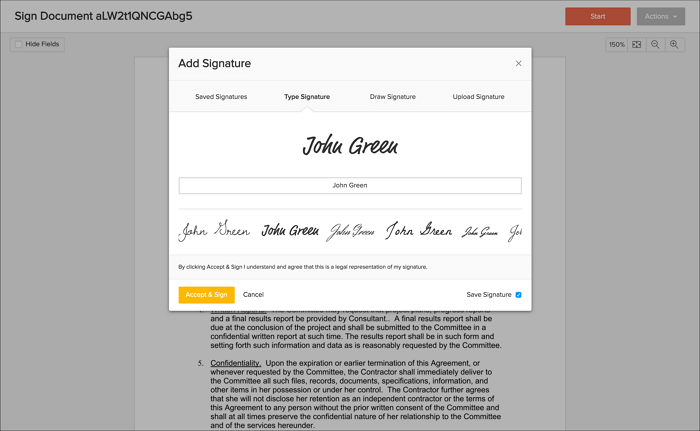 Steps to add electronic signature using Eversign:
Step 1. Open the software and upload your document.
Step 2. Make changes to the documents as needed using Eversign features.
Step 3. Once the document is ready, send the document to the recipient.
Step 4. The recipient will get a secure link to the document to sign it.
Step 5. Once the document has been signed, Eversign will update the document and store it securely in your account.
Method 4. How to Electronically Sign a Word Document using HelloSign
Are editing features too overwhelming for you to electronically sign a Word document? If you want a straightforward document for a digital signature, then you ought to try HelloSign, which is also a subsidiary of Dropbox.
Thanks to the templates featured in HelloSign, you don't need to make new tags for the signature area. The software has also built an audit that keeps track of who signed what, so you won't need to make guesses on who signed the document. This is perfect for those who want to add multiple signatures to PDF ot to Word documents.
Since HelloSign emphasizes digital signatures, there are not many editing features compared to other software. However, this itself is also a perk of HelloSign since it allows people to focus on digital signatures and nothing else.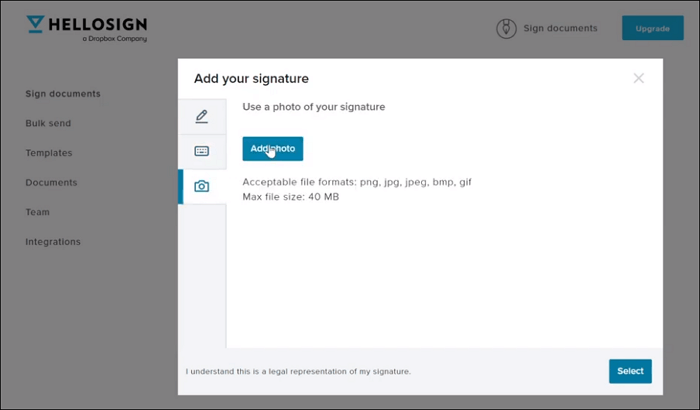 Steps to add electronic signature using HelloSign:
Step 1. Go to "Sign documents" on the software.
Step 2. Add your signature either by drawing it in, typing it, or uploading your own image.
Step 3. The signature will appear on your profile, and you can use it now every time someone sends a document for you through HelloSign.

How to Edit Signed PDF with Easy Steps [2022 Updated]
In today's heavily digitalized world, organizations keep most of their documents in digital formats like PDFs. For authorizing specific papers, those in charge of companies must add their signatures to the forms.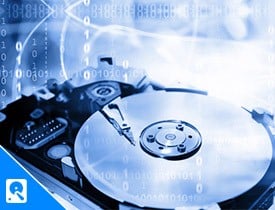 Bonus tips. A PDF Editor to Sign PDF as You Wish
If you want a balance of digital signature and other editing features, then EaseUS PDF Editor is the right choice for you. EaseUS PDF Editor gives features to utilize your PDF, such as converting it to another image or document or vice versa. You can also add other elements such as form elements and new texts/images.
And of course, let's not forget the signature feature. EaseUS PDF Editor allows you to add a digital signature and certify the document easily, thanks to the software's simple interface. So, you won't need to worry about losing your way when you use EaseUS PDF Editor to add signature to PDF document.
Download it to your computer and check its main features below.
Other features of EaseUS PDF Editor:
Edit or remove blank pages from PDF easily
More than ten formats for conversion
OCR that supports a variety of languages
Allow commenting and highlights from other users
Protect documents using passwords
Conclusion
There are different software you can use on how to electronically sign a Word document, and this removes the possibility of document negligence since everybody can sign documents no matter where they are. But if you want a simple digital signature software with plenty of editing features, you can use EaseUS PDF Editor. The number of features it has, and its simplicity makes it perfect for everybody. So, everybody can use it to add their signature no matter who they are.
About the Author
Melissa is a sophisticated editor for EaseUS in tech blog writing. She is proficient in writing articles related to screen recording, video editing, and PDF file converting.