How to Compress PDF Below 100KB Without Losing Quality
Have you ever tried to send the PDF file via email but couldn't? Or did you share it through social media or another platform but fail? Mainly, it's because the size of the PDF is more than the offered limit, like some email systems only support 2MB. Moreover, your system storage might not store hundreds of PDFs at a time.
In this scenario, you need to reduce the file size by compressing the PDF to 100KB without losing quality. The purpose behind it is to overcome all the portability and storage issues. So, a credible software or online tool is required to carry out this process. This guide covers a total of five PDF compressors to assist you efficiently. Let us know their details one by one!
How to Compress PDF Below 100KB Offline Using Adobe
Adobe Acrobat is a universal software to help you out in all PDF-related tasks, no matter the nature of the task. Where it supports converting your documents to popular formats, you can also compress PDF to below 100KB. It is possible to save the PDF files using its optimization tool, so the quality of the output file must not be affected.
Adobe Acrobat allows you to apply compression to multiple PDFs at a time. Even you can get the Audit Space Usage by using its advanced optimization feature. It is a detailed report offered in percentages and bytes of the file size. Along with compression, you can also perform other editing functions at ease.
Let's move forward toward the steps to compress PDF to 100KB without quality loss:
Step 1. After downloading and launching Adobe Acrobat on your system, click Tools > Optimize PDF to proceed.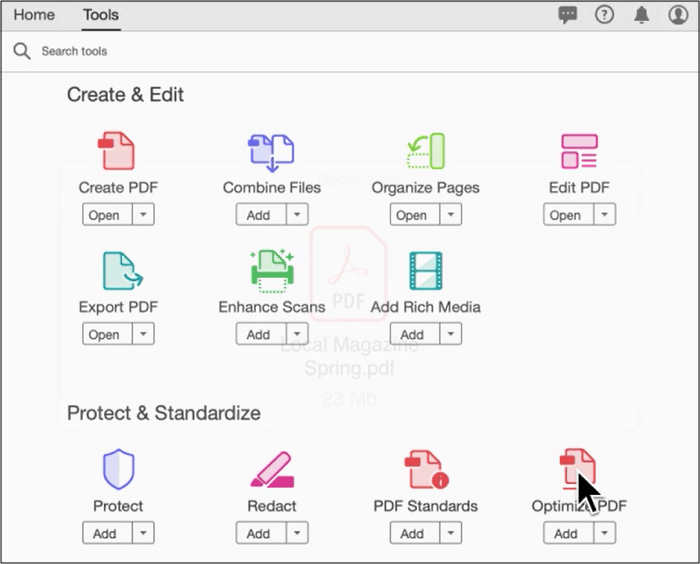 Step 2. Next, you need to add the files that need to be optimized. And finally, press the "Reduce File Size" button. Now, hit the "OK" and the "Save" tab. 

How to Reduce PDF Size Below 100KB Online
Though the market is brimming with multiple offline and online options, here are the three ways if you prefer online conversion.
Tool 1. Smallpdf
Smallpdf is a popular and comprehensive online tool that assists you in all PDF tasks by offering multiple tools such as a PDF scanner, converter, editor, reader, and many more. So the tool also comes in handy when you need to easily compress PDF to 100KB. Even you can reduce the size of scanned PDF to 144dpi, ideal for sending via email and uploading to websites. You can use the drag and drop feature to import the document easily with a maximum limit of 5GB.
Here are the steps to compress PDF to 100KB using Smallpdf:
Step 1. Firstly open the "Compress PDF" tool and click "Choose Files" to import your PDF.
Step 2. Now, checkmark the "Basic Compression" option and hit the "Compress" button. Download your file, and that's all!

Tool 2. PDFfiller
PDFfiller is another complete solution for carrying out various document-related functions. It supports almost all famous formats besides PDF, such as PPT, Excel, JPG, PNG, Word, etc. So it is evident that you can't only compress PDF to 100KB but also the other file formats. Besides compression, it also offers help in reducing the file size. You can even upload the PDF from Google Drive, Dropbox, and Onedrive for compression.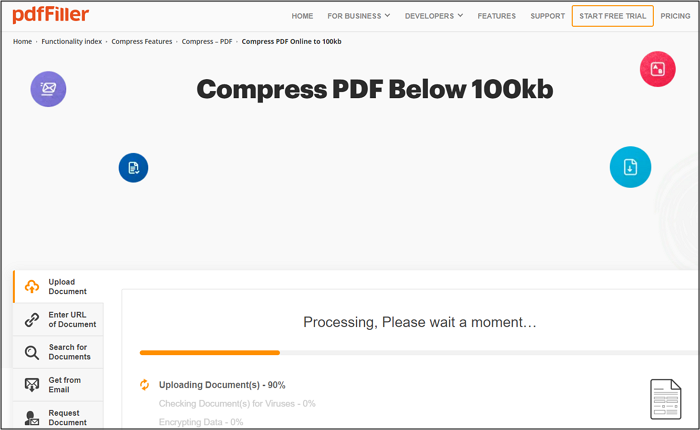 Tool 3. Sejda
Besides Smallpdf and PDFfiller, Sejda PDF is a fantastic, reliable online tool that can reduce your PDF file size quickly. Its compression algorithm assists you in reducing the images and removing the extra fonts. Moreover, you can adjust the compression speed along with the image quality and resolution if your PDF contains images or is scanned. The uploaded files are encrypted, so you don't need to worry about the data security because it deleted files after only 2 hours. Also, it provides you with offline desktop software if required.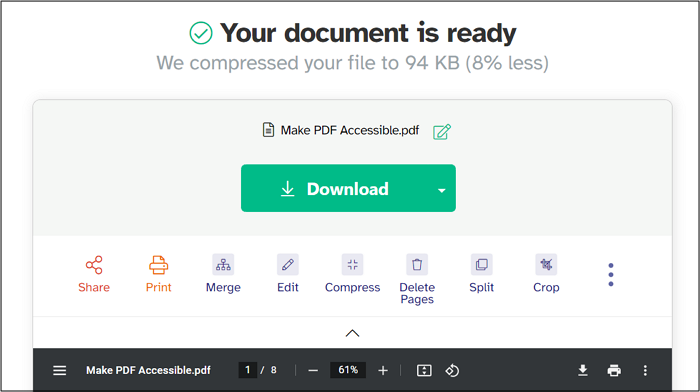 Best PDF Compressor for Windows
If you are looking for top-quality, stable, and all-in-one software for Windows, EaseUS PDF Editor must be your ultimate solution.
It does not only work as a PDF editor, converter, and viewer but also assists you in compressing your PDF files. Also, you can compress PDF to 100KB without quality loss. Yes, don't worry about the outcome quality because it never compromises that aspect. Even the naive users are good to go for it because it does not demand any technical knowledge to carry out your tasks.
Furthermore, you can benefit from compressing even the scanned PDFs through OCR technology. Converting the file format and editing it on content, page, and the protection level is not a difficult task to do. Last but not least, you can directly share the PDF via email quickly.
EaseUS PDF Editor
Offer PDF creation from even blank document
Make PDFs smaller by optimizing the document
Insert sign, watermarks, comments, and more
Support automatic scrolling for better reading
Add image, text, and other elements easily
The Bottom Line
After reading the article, you got the solution for PDF compression to 100KB by using the recommended tools. You can opt for any of the five methods because they are efficient and secure; however, EaseUS PDF Editor is the best of all. It provides you with various features, thus turning your PDF into the desired product. Not only does it help you in quality compression but also at a quick rate. Now, why not try it once?
About the Author

Jane is an experienced editor for EaseUS focused on tech blog writing. Familiar with all kinds of video/PDF editing and screen recording software on the market, she specializes in composing posts about recording and editing videos. All the topics she chooses are aimed at providing more instructive information to users.