(Fast & Easy) How to Convert PDF to HTML5
PDF files are the common format of files used by many people nowadays for personal and business purposes. They are easy to store, and you can use them for various documents and invoices. But whatever the reasons are, there are limitations of using PDF files that we can overcome by converting them to HTML5 format. When you convert PDF to HTML5, readers can gain full control of the document because of its smoother functionality and integration with the web. You can use additional options throughout the document for your readers by using HTML5 format.
So, just continue reading to learn some easy methods to convert PDF to HTML5 with best PDF converter on this page.
What is HTML5 Format?
HTML5 is the latest version of programming language that we know by the name of "Hyper Text Markup Language". It's a kind of code that can explain the structure and how a web page is presented in front of readers. The HTML5 format is basically created with 3 different codes that include HTML, CSS, and Javascript.
To make it simple, HTML5 is a language that tells your web browser how your document or data can be displayed in the web browser and HTML5 is the 5th updated version of this language. HTML5 basically improves your PDF file's capabilities by allowing you to display it on the internet, and it can help you make documents more interactive and dynamic. This allows you to get maximum viewership and full control over your PDF.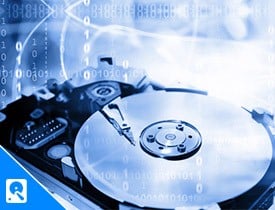 How to Convert PDF to HTML5 Online
Converting a PDF document to HTML5 online is seamless. You only need a working Internet connection and a good enough laptop. The rest is, what you can call, "software magic". 2 famous online tools that are reliable here. Learn more about the tools below, and follow the steps on how to convert a PDF to HTML5 easily.
Tool 1. Zamzar
Zamzar is an online software for file conversion, helping you convert your songs, videos, and documents in every format possible. You're free to use it online - but it also has pricing plans to help you unlock more exclusive features.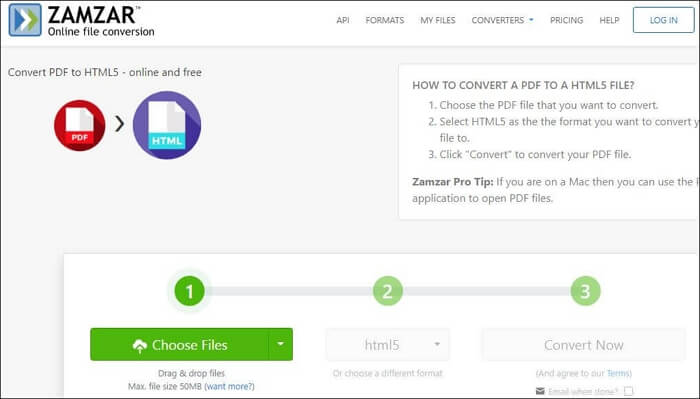 Follow the below steps to convert PDF to HTML5 using Zamzar:
Step 1. Choose your PDF file from your computer. On the dashboard, you'll be asked to choose the desired PDF file (It should be no more than 50MB - if you want to unlock more sizes, you'll have to pay).
Step 2. Choose the desired conversion format. We're converting from PDF to HTML5. So, choose HTML5 in the second box.
Step 3. Click "Convert". The best part is you also have the option to receive it on your email automatically.
Tool 2. IDR Solutions
IDR Solutions is a small but mighty software company working since 1999. IDR did not start as a file converter, but as an integrated software to help news publications. But now, they've evolved so much that they offer a range of products. And from them, one is their file converter which will allow you to convert PDF to HTML5.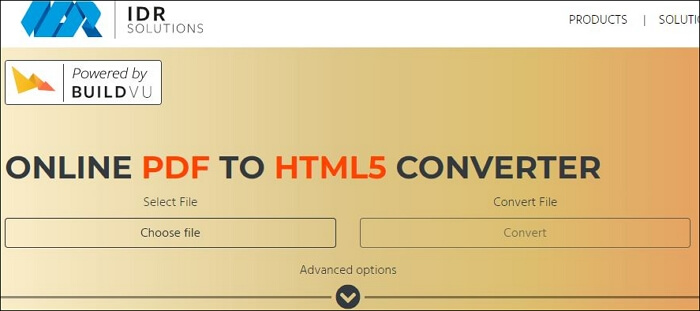 Here is a list of steps to convert PDF to an HTML5 file with IDR Solutions:
Step 1. Choose the File from Your Device. Simply select the PDF file from your computer or laptop.
Step 2. Configure Settings. From the advanced section, you can configure different settings to your liking. You can set the scale or even protect it with a password.
Step 3. Hit "Convert". After clicking convert, it will take a while. When successful, view or save the new HTML5 file.
How to Convert PDF to HTML5 Offline
If you want to convert your PDF files using offline software, then the obvious choice should be Adobe Acrobat. With a user-friendly design, multiple useful features, and online support, it's the go-to choice of many. Read the steps below to learn how you can use Adobe Acrobat to convert PDF to HTML5.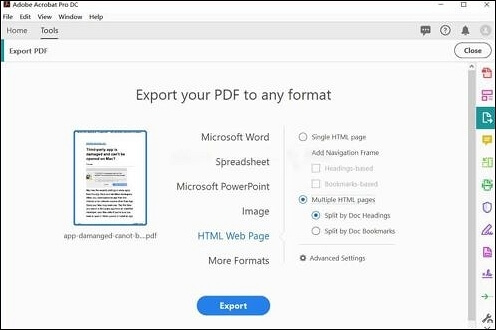 Steps to convert PDF to an HTML5 file via Adobe Acrobat:
Step 1. From the top bar menu, click on "Tools". In the "Create and Edit" section, find "Export PDF". You get a screen saying "Export your PDF into any format".
Step 2. From your desktop, choose PDFs you want to convert. Ensure to choose "HTML Web Page" in the output section. 
Step 3. Now click "Export" and choose the location you want your HTML5 files to be saved. And you're finished converting.
Bonus Tips: Best PDF Converter on Windows PC
After knowing the online and offline ways to convert PDF to HTML5, this part gives you a bonus as a token of appreciation for reading this article. This is the most important part of this article as we will introduce you to the best PDF to HTML5 converter named EaseUS PDF Editor here. Not only for converting PDF to HTML5 files, but it's also the best PDF solution for taking full control over any of your PDF files easily.
It's an all-in-one tool where you can create, edit, read and convert PDF to HTML within a few clicks! There are tons of options to take your PDF editing to the next level, and you can also add an extra layer of security to your PDF without any problem. Various file formats are supported for creating, converting, or editing documents on your own.
Features:
Scan, convert, or edit PDF easily with various supported formats, including jpg, jpeg, png, ppt, doc, docx, xls, xlsx, etc. 
It never loses the file quality of a file after conversion or edits it with the OCR PDF technology
Edit and customize PDF files whenever you want
You can merge, split, compress, sign and protect PDF files
Use text or image in your PDF file as a watermark
Read PDF or change the background of your PDF
Conclusion
PDF can share any document with your readers but there are many limitations that you can overcome with HTML5 format. So when you convert PDF to HTML5, it allows you to share more and let your readers do much more with your shared document file. This article has shown you multiple easy ways to convert PDF to HTML5 format and also introduced one of the best PDF to HTML5 converters available on the internet.
Follow the guidelines from this article and choose your PDF tool wisely.
About the Author

Crystal Chen is very interested in technology products. Experiencing many technological applications like video editors, screen recorders, and PDF editors, She is willing to solve users' issues through writing tech-related articles. Through her words, you can find various solutions to solve one problem.