2022 | Top 3 PDF Booklet Creator Online & Offline
PDF booklets are actually marketing tools in the form of tiny PDF files. They can assist in bringing a large number of leads on board in a minimum time if created ideally. You can use them both for personal or professional purposes. However, people prefer using them to introduce their new business/service. It's because the booklet circulation is always profitable.
Whatever the reason, a professional booklet creator is required to get you the best results. Otherwise, using Adobe Illustrator and InDesign is complex to learn from scratch. Let's take a plunge into the details of the easy-to-use PDF booklet creator!
What is a PDF Booklet?
As the name implies, a PDF booklet is a booklet creation using a PDF file. A booklet is a small book-like document used for marketing the products or services you are offering. And these digital booklets contain multiple pages organized in a proper way to generate the perfect leads. They are mainly created by expert developers. However, creating PDF booklets doesn't require any coding knowledge to make them work.
It's because the outstanding booklet creators can aid you. They are easy to create but also time-saving. For this very purpose, the trend of PDF booklets is becoming a digital trend of this century.
Top 3 PDF Booklet Creator Online & Offline
Though the market is brimming with many booklet creators, it's wise to go for these online/offline recommendations. It's because they are already being tested, and you will get the tutorials alongside.
Tool 1. BookletCreator
BookletCreator is a remarkable software for assisting in booklet creation without any background in coding. It serves you with multiple options that turn your PDF into an attractive output booklet, thus satisfying your ultimate need. You can adjust the result sheet booklet size along with almost 100 pages per booklet. However, only 16 pages are allowed per booklet during the trial.
Moreover, the option to use Duplex printers can also be checked if you want double-sided printing automatically. Even you can choose the right to left or left to right language.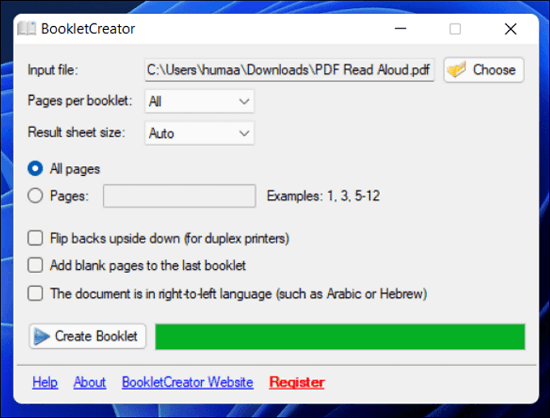 Compatibility: Windows & Mac
Features:
Complete tutorials to function easily
Offer to add blank pages to booklet
Support specific PDF pages turn into a booklet
Here is how to create a PDF booklet using the BookletCreator:
Step 1. Firstly, download and launch the BookletCreator on your system to start working on your PDF to booklet conversion.
Step 2. Secondly, click "Choose" to open up the PDF you want to convert. Also, you can do all the settings in this step.
Step 3. In the last step, press the "Create Booklet" button. Now, choose the output folder and click "Save". 
Tool 2. Axpertsoft PDF Booklet Creator
Besides BookletCreator, Axpertsoft offers another free PDF Booklet Creator. It helps you convert your PDFs into booklets without any hassle. You can create the booklets by combining multiple documents into a single booklet which would also be suitable for printing purposes. Also, the best feature you can enjoy is creating a booklet for single and double-sided printing.
Moreover, it supports almost all the page sizes to choose any as per your needs. Simply, you will get a mobile-friendly and responsive booklet in the end. However, the trial version has certain limitations, so you can go to buy a license.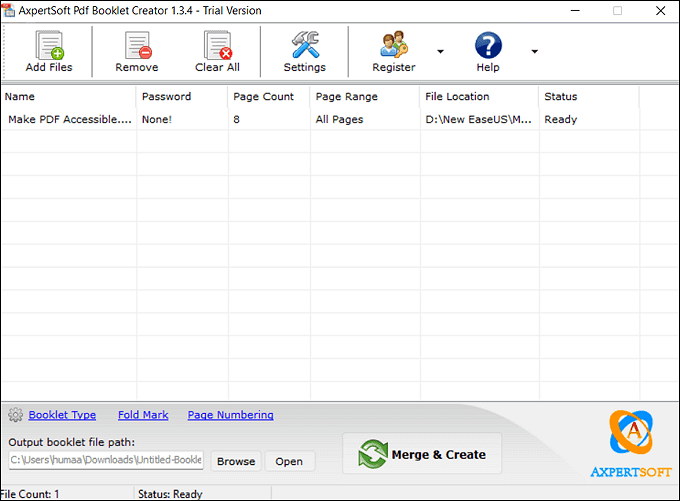 Compatibility: Windows
Features:
Add fold marks, including its style and placement
Enable page numbering easily
Offer text properties and margins adjustment
Let's know the steps for how to create PDF booklets via Axpertsoft PDF Booklet Creator:
Step 1. Open the Axpertsoft website on your system's browser. Now, click "Add Files" to import PDF into the required section.
Step 2. Here, click "Settings" and adjust it according to your requirements. Also, you can change the output file folder.
Step 3. In the last step, click the "Merge & Create" button. Your file will get downloaded in a snap.
Tool 3. Flipsnack
Filpsnack is a fantastic browser-based tool that aids in creating excellent booklets from PDF files. The creation process can be done in seconds without affecting the output quality. Also, your output booklets are attractive, digital, and printable. Even sharing these PDF booklets on social media or via email is easier than ever.
Moreover, its comprehensive editor allows you to create a booklet from scratch. You can add rich media, including  photos, videos, and more, to design these booklets to your demands. However, you have to publish the file in the free version as downloading requires purchasing a license.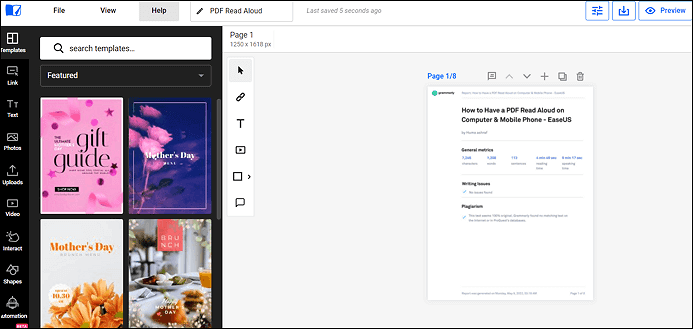 Compatibility: Online
Features:
Offer sizes such as Tabloid, Booklet, Flyer, A4, etc.
Support Cloud such as Google Drive
Availability of stock images
Here is a tutorial on how to create PDF booklets through Flipsnack:
Step 1. First of all, open the website of Flipsnack on your browser. Create an account and then click "Upload your PDF". After getting onto a new interface, click the "Upload" file to open another new interface.
Step 2. After complete loading, press "Next" to proceed. Here, you can adjust all the settings in accordance with your needs.
Step 3. Finally, fill in all the details, write your email address, and press "Save & Share". Hit the "Publish" button. That's all. 
Bonus Tips: Best PDF Editor on Windows
People often need to edit a PDF, whether it's their creation or they have downloaded it over online sources. You might also get it from a friend and need editing in various areas. Here comes a PDF editor to save you. Let's know its details!
Whatever PDF-related function you need to perform, EaseUS PDF Editor must be your way to go. It is a coherent, credible, and comprehensive software to help you view, edit, and convert tasks. For editing, it is possible to add content to your PDF either in text or image form. Along with that, you can add links quickly.
Moreover, it is easier to add blank pages to PDFs. Likewise, you can extract or remove pages if required. Last but not least, signing and certifying is in your control, along with adding forms. No matter what you are doing, the quality of the output document won't be affected.
EaseUS PDF Editor
Edit the text, images, and forms in PDF
Support OCR with multiple languages
Offer compression along with optimization
Print PDF without margins effectively
About the Author

Crystal Chen is very interested in technology products. Experiencing many technological applications like video editors, screen recorders, and PDF editors, She is willing to solve users' issues through writing tech-related articles. Through her words, you can find various solutions to solve one problem.