How to Convert DXF to PDF Online & Offline
DXF is a vector or a drawing file format that is popular for not losing quality so considered the best for the design and architecture field. Besides its benefits, people often face difficulty opening such files because they don't have an already installed CAD program. So you can create a DXF file, but when it comes to shareability, there is a requirement to consider another format.
And it can be none other than the Portable Document Format (PDF) since it comes up with the properties you were looking for, the lossless quality and portability. Hence you must know about the efficient software and its tutorial for how to convert DXF to PDF. Let's explore the top ways to perform this task!
What is a DXF file?
DXF stands for Drawing Exchange/Interchange Format; however, usually famous as an AutoCAD file. Introduced by Autodesk, it offers the kind of vector files used by designers, engineers, and architects. These 2D or 3D files can be shared over various CAD apps. Two main properties of a DXF file are its collaboration and precision. You will never find a compromise on these two qualities, which make them superior to other formats for drawings.
How to Convert DXF to PDF with Adobe Offline
Adobe Illustrator is an outstanding platform that provides excellent assistance while DXF to PDF conversion. It does not only let you create professional designs and vectors like DXF files but also export them as PDFs. You can do the necessary editing of your file before exporting. Plus, it enables you to adjust the design size and make it printable without damaging the PDF quality. Even you can finish all the desired processing quickly and efficiently.
Moreover, you are allowed to share the DXF projects with other Cloud members. But these advanced features, such as a learning panel, enhanced 3D effects, and auto font activation, require a subscription. Last but not least, you can get the trial version before making a purchase.
Let's move toward the detailed tutorial for how to convert DXF to PDF with Adobe Illustrator:
Step 1. After downloading and launching this application on your system, the next step is to click File > Open, browse the files, and open the required DXF file.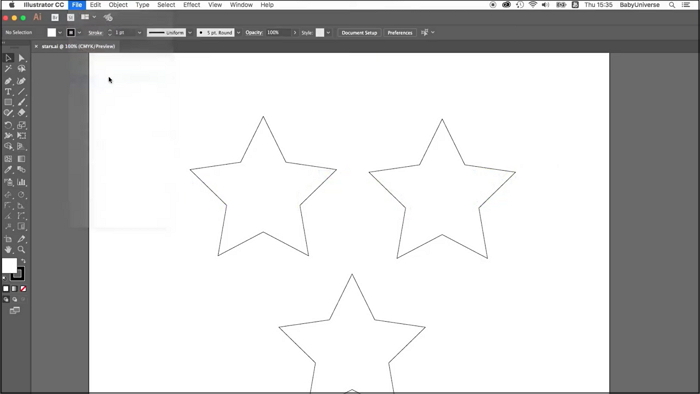 Step 2. Secondly, you need to press File > Save As to open the pop-up window. Open the "Format" drop-down menu, select "PDF" as the output file format, and click "OK."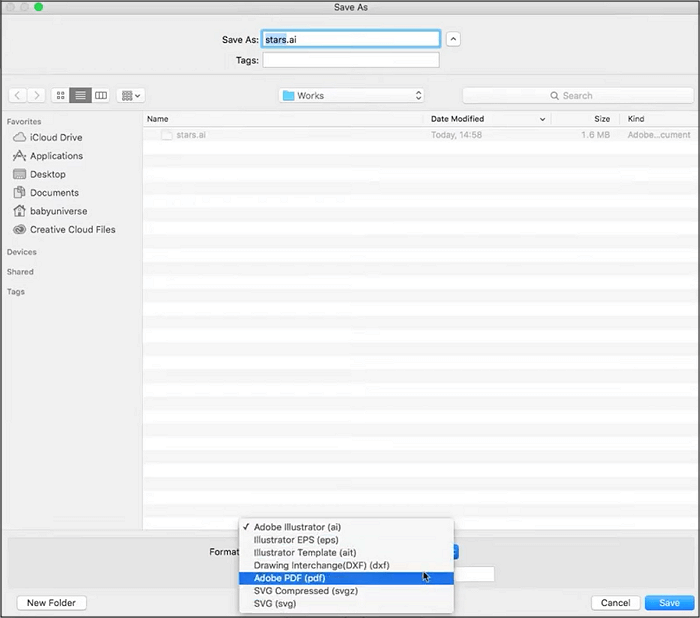 Step 3. In the final step, you have to adjust the various export settings if required and then hit the "Save" button. 

DXF is a document format that is widely used in design. As this format is flexible in viewing files, more and more want to turn documents into this format. Is there any converter that supports this conversion? Yes, many available converters on Windows, Mac, and online, and this post will introduce some of them to you.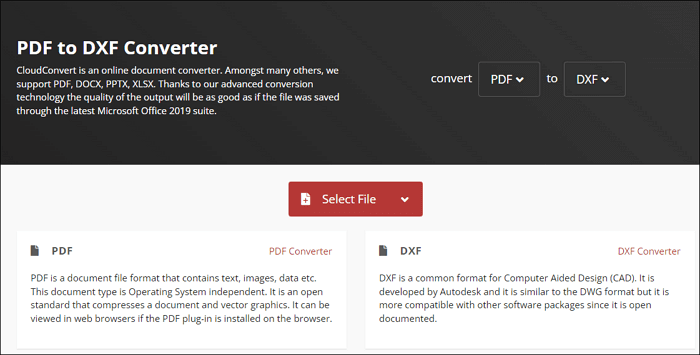 How to Convert DXF to PDF Online Free
After exploring several web-based DXF to PDF converters, below are the three recommendations to try!
Tool 1. Convertio
Besides FreeFileConvert and ConvertFiles, Convertio is a remarkable online tool to help you convert DXF to PDF. Besides working as a document converter, you can use it to convert audio, video, image, Ebook, font, and many others. It allows you to upload the files via Google Drive and Dropbox.
Plus, you can go for batch conversion if you want to put in a little time and effort for conversion. More importantly, this tool offers the Google Chrome extension for easy accessibility.
Here is a step-by-step procedure for how to convert DXF to PDF using Convertio:
Step 1. Open the Convertio website on your browser via the provided link. Now, click "Choose Files" to import the required DXF file.
Step 2. After that, expand the "to" drop-down menu and choose Document > PDF to proceed further.
Step 3. Press the "Convert" button and then "Download" to get your PDF saved on the system.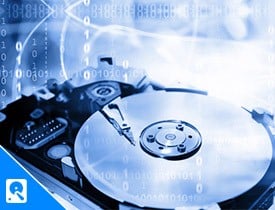 Tool 2. OnlineConvertFree
If you are looking for a full-fledged tool that supports multiple file types conversion along with offering valuable features, OnlineConvertFree must be your way to go. You can compress, split, and encrypt PDF files if required with the DXF to PDF conversion. Even this tool integrates with the device, URL, and Cloud if required.
Plus, it is possible to perform batch conversion to increase productivity. But keep in mind that you can only batch convert five files at a time, and the maximum file size limit is 300MB, however, more than other online tools.

Tool 3. ConvertFiles
ConvertFiles is a safe and secure converter to assist you in conversion at ease. Supporting various file types and formats, it lets you convert DXF to PDF efficiently. You can browse the system files and pick the required one for processing. However, the upload file limit size is a maximum of 250MB.
Moreover, it is possible to checkmark the option of getting an email link once the file gets downloaded. The proof of your data credibility is that the uploaded files get deleted within an hour.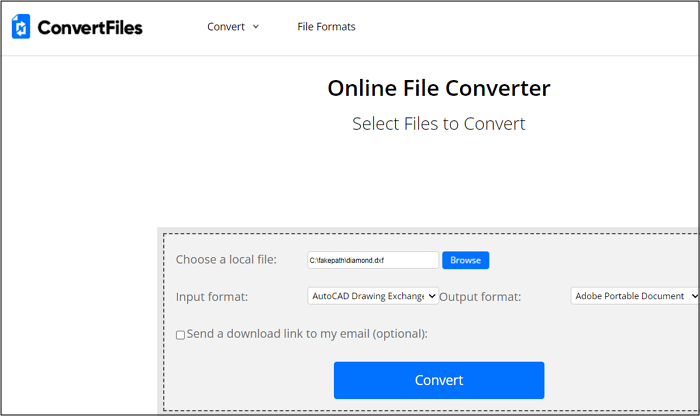 Best PDF Converter for Windows (Free Download)
Indeed, you can use Adobe offline or online tools to fulfill this conversion function. However, an efficient PDF editor is here for Windows users, providing converting features and editing. Even if you want to combine or split multiple PDF files, EaseUS PDF Editor will assist you. Let's know the details!
This PDF conversion software proves to be the number one choice that fulfills all your PDF-related editing and conversion tasks. Besides converting PDF files, you can edit them at the content, pages, and protection level. Whether you need to add text, images, or rectangle links, all are just a few clicks away. Also, it is feasible to get all the processing done at a faster rate and without affecting the PDF quality.
Furthermore, you can view such files using easy page display, navigation, and other relevant features. It is worth knowing that inserting, extracting, deleting, and replacing pages is easier than you think. Also, the software allows you to protect confidential PDFs by using a password. Even the addition of signs, watermarks, headers, footers, bates numbering, and tags is possible.
EaseUS PDF Editor
Support formats such as PPT, BMP, TIFF, HTML, etc.
Let you find any text in PDF using the search function
Reduce the PDF size via optimized compression
Offer the OCR technology assistance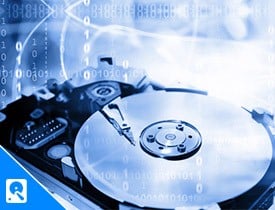 The Bottom Line
The above recommended four ways are the best whenever you need to convert DXF to PDF. So it's good to practice what best suits you and your device, i.e., Windows, Mac, and Online. But what to do if you need to edit the output PDF files in a situation? EaseUS PDF Editor comes into play that aids you in not only changing the file format but also a wide variety of unique editing features. Even it won't affect the file quality and complete the tasks at a quick rate.
FAQs About Converting DXF to PDF
1. How do I convert a DXF file?
It's not difficult to convert a DXF file if you have a suitable converter. Many online converters are available in the market, including ConvertFiles, FreeFileConvert, Convertio, and more. In the case of any online converter, you need to upload the DXF file, choose the PDF as an output format, and then convert. After conversion, you will either get the file downloaded or do it manually.
2. What programs can open a DXF file?
Various free file viewers can be used to open the DXF files, but you must ensure that it's safe and secure. You can view the formats like DXF in an Autodesk Viewer, especially for Windows. However, the applications like AutoCAD, Adobe Illustrator and drawings also prove valuable for Windows and Mac users.
3. Can Adobe open DXF files?
Yes, Adobe Illustrator can open DXF files. The process is straightforward, where you have to drag and drop the file into the required section. After that, you can also process it through the editing process before saving it.
4. How do I open a DXF file on Mac?
For Mac users, Adobe Illustrator CC comes out to be an efficient software. Also, AutoCAD offers a web app to view and edit the DXF and other relevant drawing files. However, the requirement is to get the AutoCAD or AutoCAD LT subscription.
About the Author

Jane is an experienced editor for EaseUS focused on tech blog writing. Familiar with all kinds of video/PDF editing and screen recording software on the market, she specializes in composing posts about recording and editing videos. All the topics she chooses are aimed at providing more instructive information to users.