[2022] Top 4 RPMSG to PDF Converter Online & Offline
 Update:

Recently, Microsoft is making a change to its Microsoft Office branding. Microsoft Office is being renamed by Microsoft 365. After the official renaming, our article content will be updated accordingly.
Discover the top 4 RPMSG to PDF converters. Each converter is simple to use, free, and generates high-quality results. Below is an introduction to a top-quality program or software that supports the conversion of RPMSG files to PDF without compromising the output quality? Look no further! RPMSG, also known as Restricted Permission Message, is a well-known email messaging file format designed by Microsoft Outlook. Just as the name implies, an RPMSG file can only be accessed by individuals who have been granted permission.
This feature is one major downside of the format which has made users turn away from using it. With this downside in mind, software developers decided to create RPMSG to PDF converters since PDF is universal and easily accessible. This article introduces some RPMSG to PDF converting programs that offer excellent services. Keep reading to check them out!
Top 2 RPMSG to PDF Converter Online
Online RPMSG to PDF converters are cloud-based programs, and they do not require installation for usage. Here are the best 2 you will find on the internet.
1. pdfFiller
pdfFiller is one of the best online RPMSG to PDF converters that supports the smooth conversion of RPMSG files to PDF with high quality. With just a few clicks on this program, you can convert between several document formats such as RPMSG, PDF, JPG, and more. This converter offers its services at a zero-cost fee.
Since pdfFiller is cloud-based, it works perfectly on both Windows and Mac OS.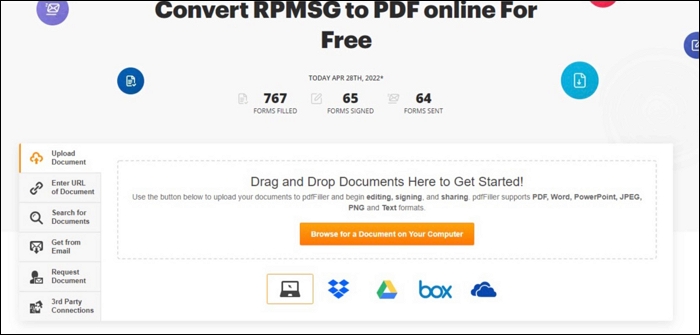 Features:
Simple user interface
Support several document formats such as JPG, Word, Excel, RPMSG, and PPT
Files could be uploaded directly from cloud services such as Dropbox, Gmail, and many others
2. JeDok
This is another RPMSG to PDF converter with mind-blowing features. This program is well-designed with a simple user interface that allows both amateurs and professionals to easily operate it. JeDok, unlike other online programs, prints results quickly due to the high processing power which allows it to read and process commands at high speed.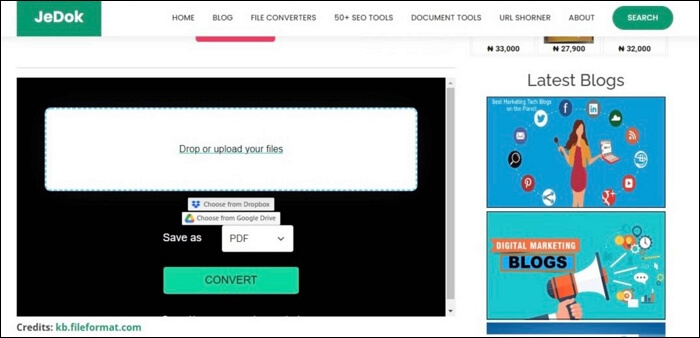 Features:
Intuitive user interface
Completely free to use
Can be accessed from both all mobile and PC operating system
Top 2 RPMSG to PDF Converter Offline
Besides cloud-based programs, some offline programs or tools support RPMSG to PDF conversion. By offline, we mean they are installable programs. They are easy to operate and highly secured, unlike the web-based versions that are sometimes liable to file theft. Find the below top 2 offline RPMSG to PDF converters. 
1. Xtraxtor
Compatibility: Windows
OS Xtraxtor is an all-in-one software designed for you to extract data or information from an email easily and quickly. It also supports the conversion of files from one format to another. Thus, extracted data or information could be easily converted using this software, Xtraxtor. Supported document formats including PST, EML, EMLX, and others. Besides data extraction and file conversion, end-users can also use Xtractor to export and backup emails from several sources with high precision.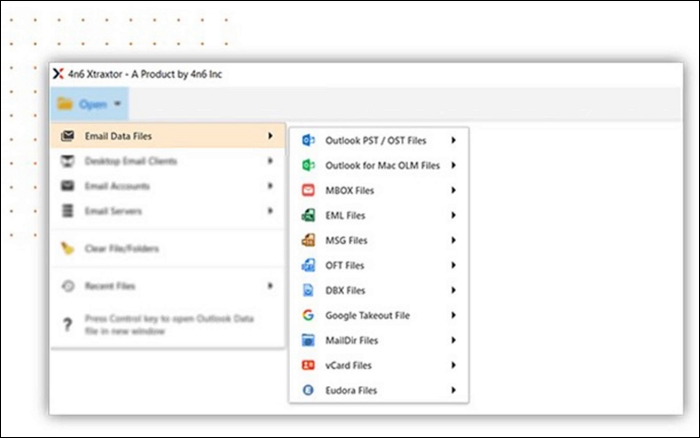 Features:
Easily save, and print emails from any platform
Convert RPMSG files into PDFs and several other formats such as PST, etc. 
Support both free and paid versions
2. RecoveryTools MSG Migrator
Compatibility: Windows
RecoveryTools MSG Migrator is another amazing software you can rely on to provide you with excellent results when converting from RPMSG format to PDF. The software comes in handy for both amateurs and professionals in the tech industry because of the simplicity of the user interface.

Features:
Support several formats like MBOX, PDF, PST, vCard, EMLX, and more
Designed with a friendly user interface
Available on all Windows OS
Bonus Tips: Best PDF Converter on Windows
EaseUS PDF Editor is a simple, but yet powerful software designed with rich features for Windows users to make adjustments to PDF. The software allows you to convert, edit, merge, and split PDFs easily and quickly with no quality loss. You can use it to convert between several document formats such as PPT, Excel, images, and Word, to mention a few.
End-users of this editor find it easy to operate, thanks to the developers who made the interface clean and straightforward.
Key Features: 
Interactive user interface
Support customizable features like the addition of bate numbers, background color, images, and more
Allow to convert, compress, split, merge, edit and also add signatures to PDFs
Support over 5 formats like PDF, PPT, PNG, Excel, Word, and more
Print PDF without margins on Windows PC
Download it now!
FAQs About RPMSG to PDF Converter
Here are some extended knowledge questions and answers to help you understand the topic more. 
1. What is RPMSG format?
RPMSG format is a restricted permission messaging format peculiar to Microsoft Outlook.
2. How do I Open an RPMSG File?
Opening an RPMSG file is quite simple and here quick technique to use:
Install Microsoft Outlook on your Windows OS via the official website and then launch it. 
Next, click on the File tab at the top left corner of your screen then select Open from the drop-down menu.
Now select the RPMSG file you want to view and then click "Open". 
About the Author

Crystal Chen is very interested in technology products. Experiencing many technological applications like video editors, screen recorders, and PDF editors, She is willing to solve users' issues through writing tech-related articles. Through her words, you can find various solutions to solve one problem.