Best 3 Methods | How to Convert HWP to PDF Easily
 Update:

Recently, Microsoft is making a change to its Microsoft Office branding. Microsoft Office is being renamed by Microsoft 365. After the official renaming, our article content will be updated accordingly.
Although HWP is the standard file format in Korea, it's not universal in other countries. This disadvantage makes it hard to find software that can open HWP with the exceptions of OpenOffice and LibreOffice. And when you open the file with the two software, you can only save the file as DOC. The case mentioned just now is a nightmare for many people, especially those who get HWP files regularly at work.
Fortunately, there is software that allows you to convert HWP to PDF, a format compatible with many internet browsers. This post will give you detailed tutorials to do that conversion, so keep reading.
How to Convert HWP to PDF on Windows
Many people may feel difficult to find a program to convert an HWP document to PDF on Windows. Thankfully, Microsoft released additional software that allows you to convert HWP to a PDF file indirectly. 
As its name stated, the Hanword HWP Document Converter for Microsoft Word's purpose is to convert HWP to DOC. The software is pretty simple, as the mentioned function is the only function it has. 
Although the software converts HWP to DOC, this can be the stepping stone to get a PDF document. First, you can convert the document as DOC, and then use Microsoft Word to convert the DOC to PDF.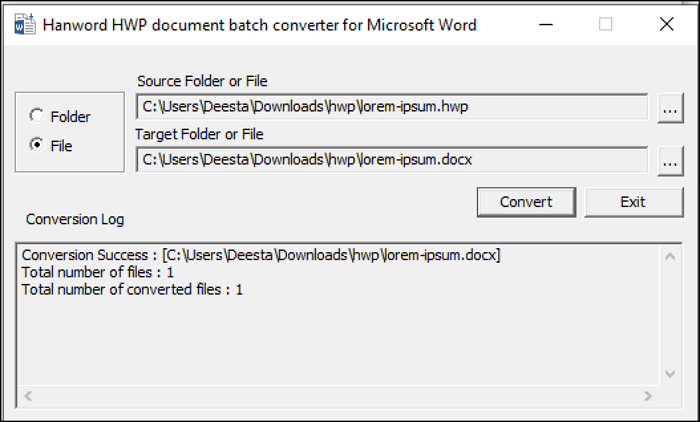 If you want to know the steps of the conversion, here is how to do it:
Step 1. Install the software and go to Microsoft Office's folder. The path is usually this: C:\Program Files\Microsoft Office\Office15. 
Step 2. Open BATCHHWPCONV.EXE, and change the option from "Folder" to "File."
Step 3. Click the three dots at the right and find your file. The target folder will be automatic.
Step 4. Convert, then go to the original location of the file. The DOC file will be there.
Step 5. Open the DOC file using Microsoft Word.
Step 6. Go to "File," then click "Save As."
Step 7. Change the printer to "Microsoft Print to PDF," and click "Print" at the top.
An Easy Method of Converting HWP Document to PDF on Mac
Mac is the standard device in Korea, so the Mac App Store offers tons of HWP to PDF converters. This article will take Hancom Office Hanword Viewer as an example, and this is one of the most common converters used in Mac. 
Hancom Office Hanword Viewer is a conversion software that supports converting HWP into PDF format in Mac. The conversion works smoothly, and you can view and check your HWP document first before converting. If you need to send an HWP file to someone unfamiliar with this format, don't forget to convert it to PDF to make it easy for the recipient to open the file.
To convert an HWP document to PDF using Hancom, the steps are:
Step 1. Open your file using Hancom.
Step 2. In the viewer, click "File" then "Print." 
Step 3. Pick "Hancom PDF" as the printer, then click "Print."
Step 4. Wait for a while, and Hancom will show a window to save your file as a PDF.
Best Way to Convert HWP File to PDF Online
For users who don't want to install programs on a computer or a MacBook, the best way to convert an HWP file to PDF format is by converting it online. You can use various conversion sites, and AnyConv is one of the most easy-to-use online converters you can find on the internet.
You can access this online tool from both Windows PC and MacBook. And HWP is only one of the many files that AnyConv can convert to and from PDF, and you can also convert Excel to PDF with it. Besides documents, users can also convert MP3 and video files.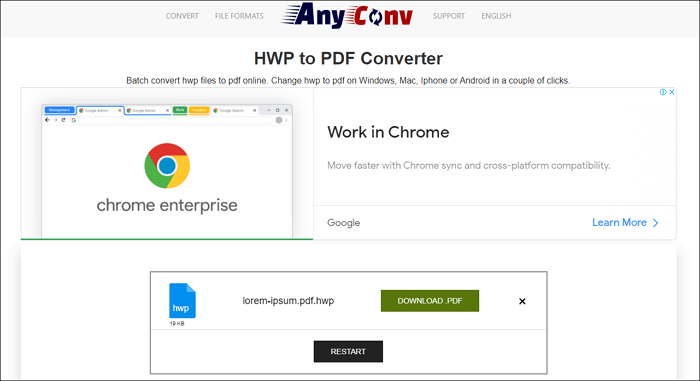 The conversion using Anyconv is pretty straightforward. Here are the steps to do it:
Step 1. Open the website.
Step 2. Upload the HWP that needs modification.
Step 3. Click "Convert" and wait for the conversion.
Step 4. After the conversion is done, click "Download PDF" to save the converted file.
Recommendation: A Lightweight PDF Converter/Editor on Windows
Although this post discussed methods for HWP to PDf conversion, there are occasions where you need to convert other file formats to and from PDF. For this demand, EaseUS PDF Editor is the perfect conversion tool you need. With its help, you can convert documents, images, and even HTML to PDF. What makes EaseUS PDF Editor stand out is the quality of its output files. The software will retain its original elements when you convert the file, from its content to layout. 
Besides conversion, you can make a new PDF from scratch or add new elements to an already-established PDF. Adding new texts and images is also possible using this software. Additionally, it supports encrypting a PDF to ensure the security of its content.
Key Features:
Edit PDF content without effort
Add or remove PDF pages
Sign a PDF document with an e-signature
Add page numbers to PDF
Click on this button to download the great converter. Although it does not support converting the HWP files to PDF, you can look forward to the updates in the future.
About the Author

Jane is an experienced editor for EaseUS focused on tech blog writing. Familiar with all kinds of video/PDF editing and screen recording software on the market, she specializes in composing posts about recording and editing videos. All the topics she chooses are aimed at providing more instructive information to users.