Top 6 Apps | App to Convert Handwriting to Text on Mobile/Desktop
 Update:

Recently, Microsoft is making a change to its Microsoft Office branding. Microsoft Office is being renamed by Microsoft 365. After the official renaming, our article content will be updated accordingly.
PAGE CONTENT:
Since the world has digitized and introduced digital models in every course of life, documents are also preferred on digital forums. This trend has made people share paper documents digitally with other users.
However, when you wish to share your handwritten documents with other people, there is a professional barrier you have to maintain. When it comes to maintaining it, you require a proper system to convert your handwriting into text. For this article, we will be providing you with the perfect app to convert handwriting to text with a complete list.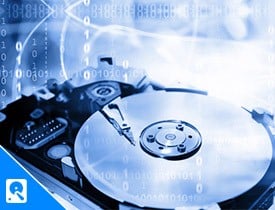 Top 1. Microsoft OneNote
Compatibility: Windows, Mac, Android, iOS, Web
Developed by Microsoft, OneNote is one of the most exquisite tools known for taking notes. While it features a competitive use in the market, it allows users to put in their ideas and thoughts on a platform they can use later.
As piling up thoughts is difficult in other software, this tool will enable you to write them down in handwriting, which can then be converted into text easily. With vast compatibility, it is one of the best apps to convert handwriting to text.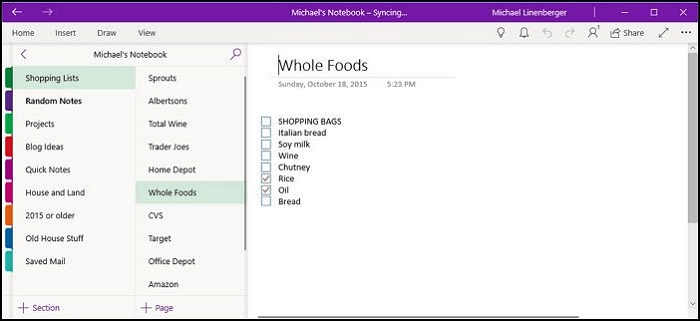 Functions:
Convert the text written from a stylus or fingertip into typed text whenever required
Use different colors and shapes to enhance the idea that is being written across the tool
Allow you to collaborate with any user and synchronize the complete development of the idea
Benefits:
Provide the option of extracting text from the images, which makes it a cognitive tool
Solve mathematical equations that are written down by hand
Offer its users plenty of storage, making it an ideal option for idea and work management
Top 2. Adobe Scan
Compatibility: Android, iOS
Belonging to one of the best developers in the market, Adobe Scan is a great tool featuring the option of scanning handwriting and converting it to text. Known as an exceptional and free OCR software, Adobe Scan offers a quick mobile-app solution that is quite simple to use.
Although there are some in-app purchases that can be a problem for many users, it still makes a good rating to become a great app for converting handwriting to text.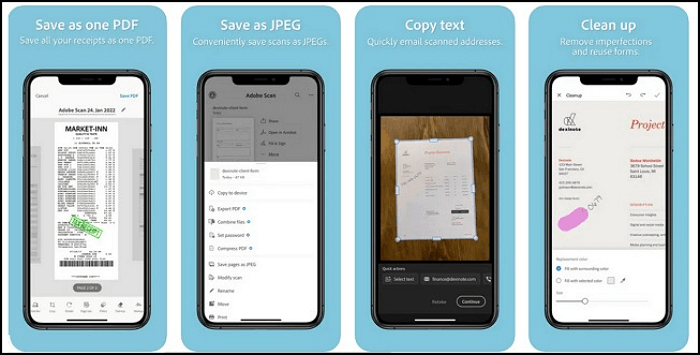 Functions:
Save your scanned images and documents into Adobe Document Cloud, the dedicated cloud storage system
Apply different effects and functions on the scanned images that are converted into text to enhance their outlook
Multiple modes are available for taking photos which include Auto Color, Grayscale, and Whiteboard
Benefits:
Allow you to erase text in PDF or the handwritten interface
Create a PDF document out of the scanned content for easy data management
Extract contact information from business cards and save it as your contact in the device
Top 3. Google Drive
Compatibility: Windows, Mac, Linux, iOS, Android, Web
Known as one of the most competitive tools in the market, Google Drive provides much more than cloud storage to its users. As it gives a specific option for scanning documents within the tool, you can easily convert your handwritten content into text.
While this helps you in creating documents quickly, the scanning function proves to be a great addition to a cloud storage tool. There are not many applications providing this feature, which has been achieved by Google Drive.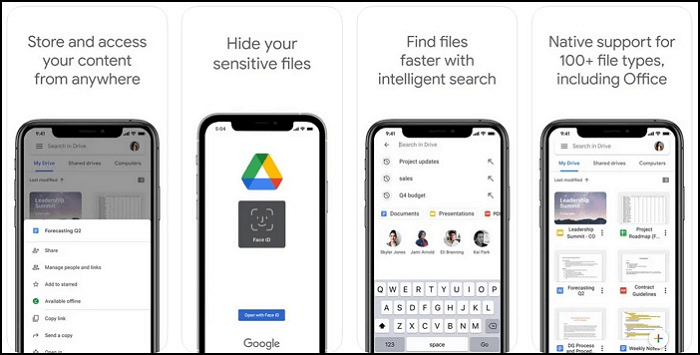 Functions:
Include third-party integrations, which enhance the experience and increase the dynamics of scanning documents
After scanning documents, you can collaborate with other users and share the created file easily
Utilize artificial intelligence to extract text from a PDF image and display it within the information panel of the application
Benefits:
Offer a better space to users for free, making it an excellent option for free cloud storage in the market
Provide a better system of scanning the required content without limitation
Crop the scanned images with custom settings to easily manage the captured content
Top 4. Office Lens
Compatibility: Android, iOS, Windows
This is a free app to convert handwriting to text that provides competitive services for mobile users, in specific. Take pictures of your handwritten notes and convert them to editable text with the help of the OCR tool.
While this tool is easy to use, it is a low-end platform that does not take up much space on the device where it is installed. The mode shifting and options available on the platform are pretty basic; however, the results are quite exquisite.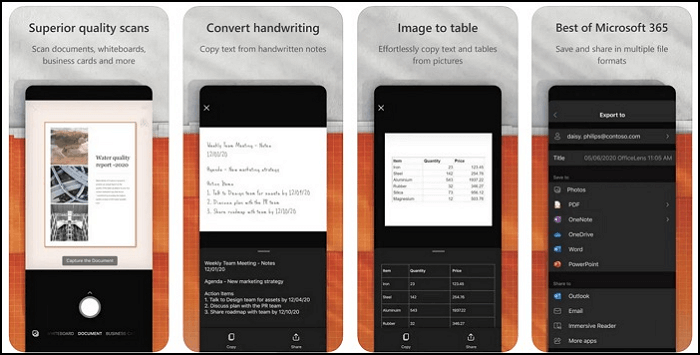 Functions:
Save the images in OneNote, OneDrive, Word, PowerPoint, and PDF through the tool
Three different modes are available while scanning a document using Office Lens
You are not bound to sign into any other application to connect with the device
Benefits:
It is a free application providing the option of scanning images for free
If you have an angled picture, the tool straightens the result for better management of the content
The handwriting can be scanned and OCR to text with ease
Top 5. Pen to Print
Compatibility: Android, iOS, Web
Pen to Print is another impressive app to convert handwriting to text, providing services for converting handwriting to editable text with OCR. While it allows converting everything to paperless, you can send documents to other users present far away with the ability to edit them.
While you enjoy the benefits of adopting the paperless system, you can feel the exceptional handwriting experience alongside it, making it a great option.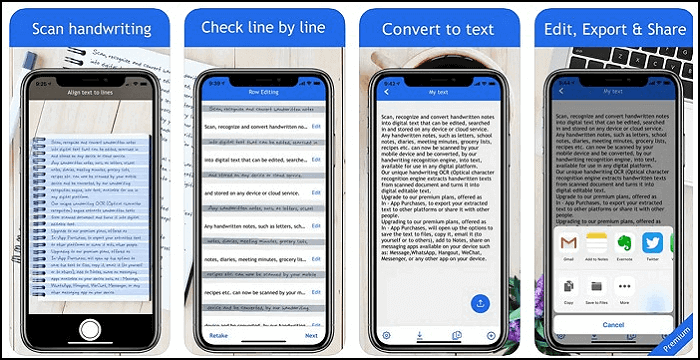 Functions:
Integrate the tools as an API to provide businesses and individuals with a go-to experience
The text converted through the tool can be used in Microsoft Word, Google Docs, or other word-processing software
Email the converted handwriting to other users easily
Benefits:
Highly accurate in scanning and converting text, leaving behind minor details only
Convert different handwriting forms to text, including cursive, block, and regular scripts
Share the details of the images in messaging applications, thus providing great integration
Top 6. Notability
Compatibility: iOS, Mac
This is one of the best apps to convert handwriting to text, providing advanced functions that make conversion easy. While you can convert your handwritten text, this tool can empower the converted text and make it presentable.
Use different markings to enhance the outlook of the scanned image, and even make notes by recording audio. With such advanced functions, Notability is far more than just a conversion tool.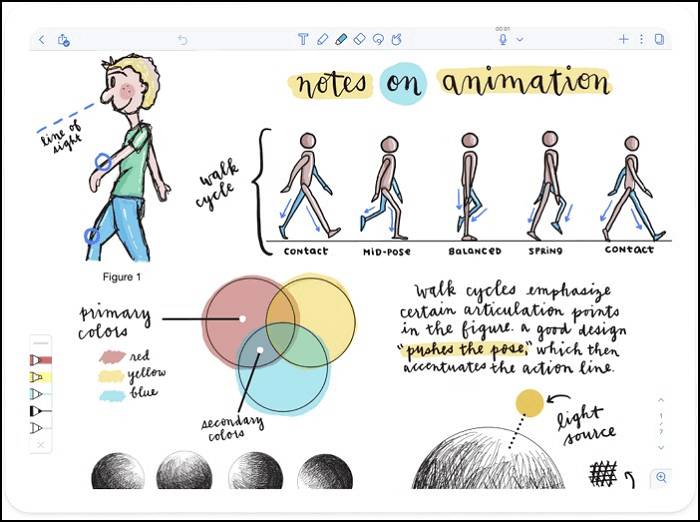 Functions:
Present and share the created notes in Notability Gallery
Allow you to annotate the scanned content to highlight important things for keeping track of data
Allow the option of converting handwritten equations to high-resolution images and solving them easily
Benefits:
You can enhance the quality of your notes with the help of stickers
It provides perfect colors to make handwriting look perfect in the tool
The recorded audio automatically synchronizes with the notes
Bonus Tip: A Beneficial PDF Converter
Apart from converting handwriting to text, we also need to convert PDF to other files or vice versa. Among most PDF converters,  EaseUS PDF Editor is a nice tool that you can never miss. It can manage your PDFs to perfection while providing a dedicated OCR tool that converts scanned documents to editable and searchable text.
The conversion feature offered by EaseUS PDF Editor provides the ability to convert PDF into more than 10 file formats, which makes it a diverse conversion tool. Unlike other apps, EaseUS PDF Editor does not restrict itself to limited conversion. 
Now download EaseUS PDF Editor and use it, you will find it really helpful.
Key Features of Using EaseUS PDF Editor:
Convert PDF to DOCX, DOC XLS, XLSX, PNG, TIFF, and JPEG without losing the original file's quality
Utilize the annotation tools to highlight content with comments and notes
Customize fillable forms and make them interactive for the users by adding checkboxes, buttons, etc.
Organize your PDF documents perfectly
Password protect PDF document and prevent other users to access the file
To help you know its function, we provide the steps to convert Word to PDF with EaseUS PDF Editor. Look at them in the following:
Step 1. First of all, launch EaseUS PDF Editor. There are three options on the right side of the main interface, and you need to select the second option, "Create PDFs".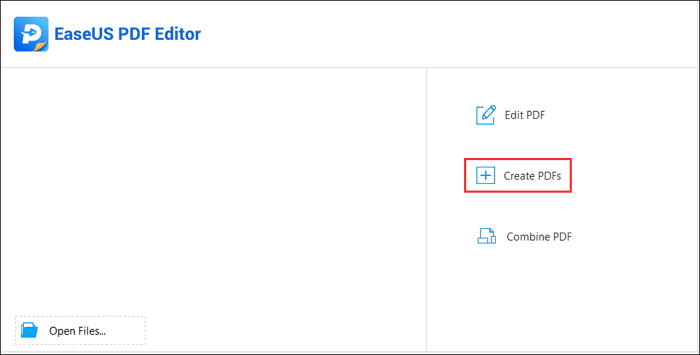 You can also click on the "Create" button at the top left and select "From File..." to import the Word document.

Step 2. Select the Word document you want to convert from the folder, and click on the "Open" button to move on to the next screen.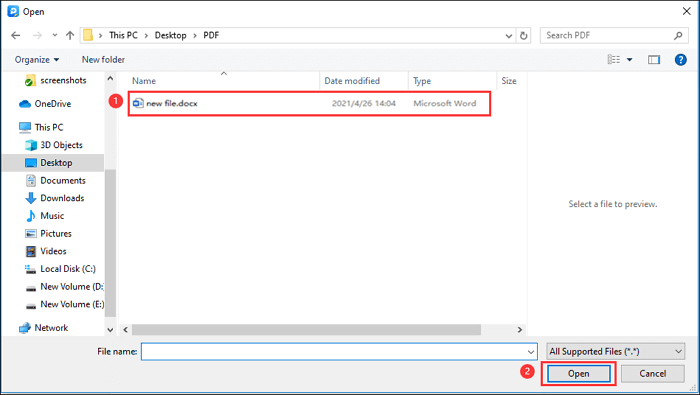 Step 3. Now, you only need to click on the "File" button and select "Save" or "Save As" from the drop-down menu.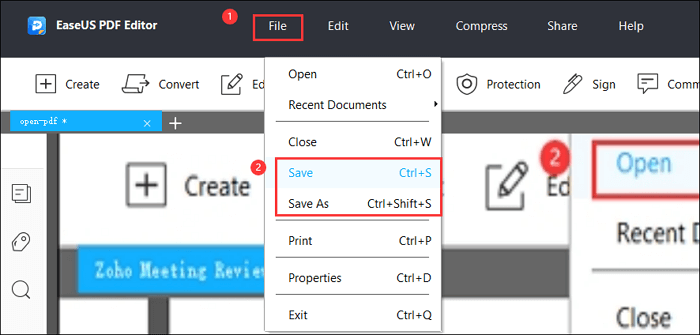 Step 4. Choose the target folder where you want to save the PDF file, and click on the "Save" button to convert the Word document to PDF format.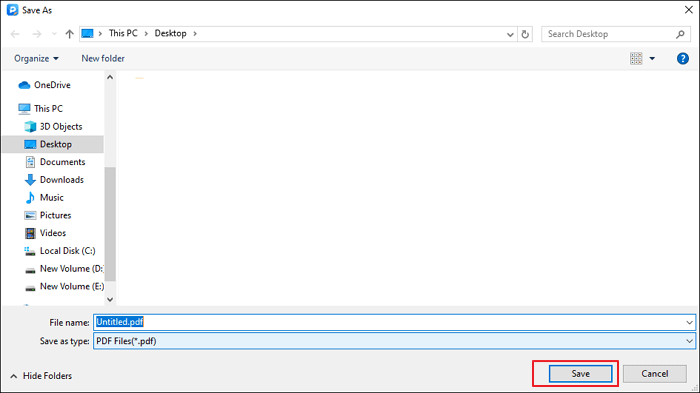 Conclusion
This article has focused on providing an overview of the best app to convert handwriting to text that can be used to convert handwriting to text quickly. With the composite list of applications provided with enhanced compatibility, you might still need something better.
EaseUS PDF Editor is a perfect PDF editing tool that converts scanned documents to editable text while featuring impressive editing, annotating, and management tools to enhance the PDF experience.
FAQs on App to Convert Handwriting to Text
There might be some questions that you still might have while selecting the app to convert handwriting to text. Let's look into some questions that can help you assess the situation in a better way:
1. Can you scan a handwritten document into Word?
With the option of converting scanned documents with EaseUS PDF Editor, you can quickly scan the document and convert it into Word format with the help of the conversion feature provided by this PDF editor.
2. How do I digitize handwritten text?
If you are looking forward to digitizing your handwritten text and sending it to someone else, you can consider using EaseUS PDF Editor as a handy solution for converting handwriting to editable text.
3. Can I take a picture of the writing and convert it to text?
You can easily capture a picture or scan the writing and share it with the EaseUS PDF Editor, which will easily convert it to text with its exclusive conversion feature.
About the Author

I'm glad you can find my post. I hope my article can help you a lot. If you have any questions, please feel free to contact me!