Best 3 Ways to Convert URL to PDF Online/Offline
"I was trying to find a URL to PDF converter. But I am confused about which converter will be the best for me and how to use it? Can anyone suggest it to me, please?"
Every day we browse tons of web pages. For work purposes, we need to convert those web pages or URLs to PDF files. Now, there are many benefits of converting URLs to PDF. You can save the files to view offline, digitalize documents, make a slide for office or university presentations, customize the paper, etc. After converting the URL to PDF, you can edit the PDF content freely.
This post will offer you the best three ways to convert URLs to PDF. Of course, if you follow the guidelines step by step, it would be easier. So keep reading and have a try.
Related Article: >> How to Convert HTML to PDF with Easy Steps
Best 2 Ways to Convert URL to PDF Online
These two online-based URL to PDF converters are easy to use with many unique features. What are those features, and how to use them? Let's dig into the details.
Tool 1. ToPDF
ToPDF is an online-based converter tool that is 100% free. It has many features and other converting options such as converting HTML to PDF, converting files to PDF, etc. You can get a whole package of converting tools on its website. Now, follow the steps to use this converter.
Step 1. First, search for ToPDF and go to its home page.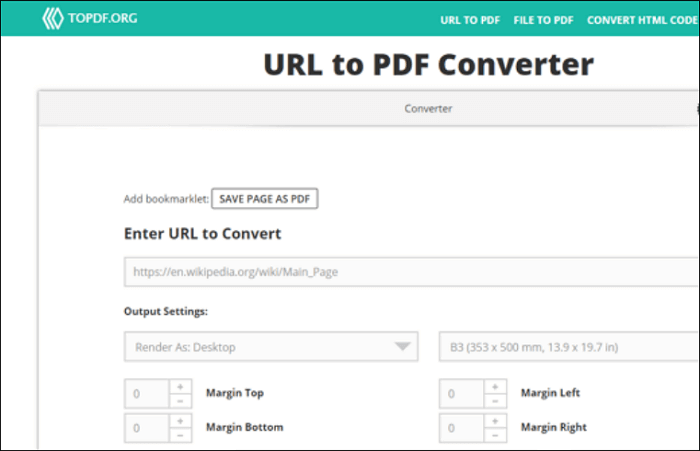 Step 2. Next, enter the URL of the web page you want to convert into PDF on the URL input box. Now choose the output settings according to your needs.
Step 3. Now, click the "convert" button to convert the URL to PDF files. After converting to a PDF file, you can download it to your device.
Tool 2. PDFmyURL
The second converter is PDFmyURL, an online-based 100% free tool. With PDFmy URL, you can convert URL and HTML to PDF with high-quality.
In this tool, you will find many features like converting raw HTML to PDF files, supporting JAVAscript,  different PDF layouts, full encryption for PDF files, etc. Moreover, you don't need to install it to use it, and you can use it everywhere as long as you have an Internet browser.
Follow the steps below to use this tool:
Step 1. First, search for this tool and go to its home page. Next, you will see the interface.

Step 2. After that, enter your URL or web page link in the input section. Now, choose the conversion output.
Step 3. Lastly, click the convert button to turn the URL you entered into a PDF file. Finally, you can save the output PDF by clicking the save button.
Best Way to Convert URL to PDF Offline
Next, this post will talk about an offline converter that you can use on your Android phone, and this app is named Web to PDF Nice Converter.
It is an amazing URL converting app that you can use free and offline. With this application, you can convert web pages to PDF, save the file to your Android devices, and easily edit the content and page. This app also provides you with some other amazing functions like offline reading, traffic and battery saver, light and simple interface, convenient file manager, PDF renaming tool, etc.
Now, it's time to learn how to use this application for converting URLs to PDF on Android.
Step 1. First, download the app on your device, and you can find it on Google Play Store.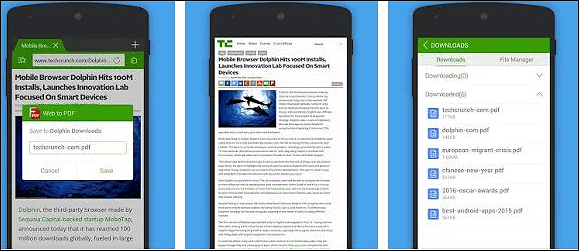 Step 2. Type the URL to the entering bar to convert it to PDF format.
Step 3. Next, open the sidebar of the interface and click on "Web to PDF".
Step 4. Now, rename the file and click the save button to download it to your phone. The file will be saved in PDF format, and you can open it with a PDF viewer.
After converting the URL to PDF, you can edit the output file using the same app. But if you want to edit the PDFs with a more powerful editor, then maybe this is not the right choice for editing.
How to Edit the Converted PDF File
After the conversion, you might find there is something wrong with the PDF, or you may want to annotate the PDF. That is where the PDF editors come in handy. Although you can find PDF editors on nearly all operating systems, tools on mobile phones usually only offer some basic features. If you want to find a full set of PDF editing tools, desktop PDF editors can be the best option. 
Among all the PDF editing tools, EaseUS PDF Editor is a notable one. This is a versatile PDF editor for Windows, and you can download it for free. It makes PDF editing easier than before, and you can edit PDF content, rotate PDF pages, merge PDF files into a whole, compress PDF documents to reduce their sizes.
Besides that, some advanced tools that can help you manage the PDFs are also available. For instance, if you want to turn a scanned PDF editable, the OCR technology can do that for you. Likewise, when you want to lock a PDF and prevent others from opening it, a password can be added to encrypt your files.
EaseUS PDF Editor
Support removing text from PDF or adding text to PDF
Support inserting images, footer & header, and page numbers into PDF
Take notes on PDF by adding annotations and comments
Add your personal watermark to claim your ownership
Conclusion
This post has shown you the best three ways to convert URLs to PDF online and offline, and you can convert any URL to PDF by using these three methods. Every tool has its unique features, and you can choose any of them per your needs. To edit the converted PDF, EaseUS PDF Editor is the best choice. Although you can't use it to convert URL to PDF, it is amazing for editing and full control of PDF files.
About the Author

Jane is an experienced editor for EaseUS focused on tech blog writing. Familiar with all kinds of video/PDF editing and screen recording software on the market, she specializes in composing posts about recording and editing videos. All the topics she chooses are aimed at providing more instructive information to users.