Top 4 PS to PDF Converter Online & Offline
Several reasons may lead you to convert PS to PDF. PostScript (PS) is one type of vector graphic file that is used to make digital graphics and text readily printable. By that, the PS file extension language lets you print a PS file with a PostScript printer without opening it directly with any application. PS enables computers to efficiently convert text and graphics into the required page layouts. These layouts are more attractive to users than text. However, PS files are much older than some currently used file types. In the meanwhile, other page layout formats have cropped in such as PDF.
A Portable Document Format is a type of file that has already been translated hence a user can easily view all the visual elements. It's easier to work with PDF formats for compatibility issues. It works on any software, hardware, and operating system. Likewise, PDF is perfect for presenting and exchanging documents on any platform.
But how do you get PDF from PS? Find one reliable PS to PDF converter in the next section.
Bonus Tips: Best PDF Converter on Windows
Top 4 PS to PDF Converter Online & Offline
Since PDFs are compressed, compatible and easily exchanged on any platform and device, converting PS to PDF is the way to go. All you need is a professional converter. Since several converters are available in the market, it's prudent to have some considerations in place. These include supported data types, usability, compatibility, and whether it allows batch conversion.
1. PStill
This is a desktop application that can convert PS to PDF as well as other file formats like TIFF, JPEG, BMP, EPS, etc. It has an easy-to-use import interface that works with all supported file formats, extracts text, and AI data, among others. PStill supports both Windows and Unix operating system devices.  
The speed is super, enabling batch conversion of your PS files to PDF format. Moreover, it can place and rescale pages in the output and reduce larger pages into a single sheet. Likewise, you can easily add static and dynamic page elements to your PDF content such as barcodes, visual page numbers, logos, etc.
Features:
Encrypt PDF files and apply for PDF permissions
Convert PS files to PDF in batch
Compress PDF files with ease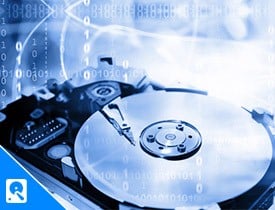 2. pdfFiller
This is a great tool that will convert PS to PDF online. Being web-based, users can easily collaborate on edits and other functions. pdfFiller comes with tight security that facilitates password protection and locks PDFs in encrypted folders.
It's also well equipped to merge and paginate the converted PDFs. Likewise, you can remove, add, or rearrange pages. Also, this converter lets you create fillable forms in PDF that your staff or clients can use to fill in the required information.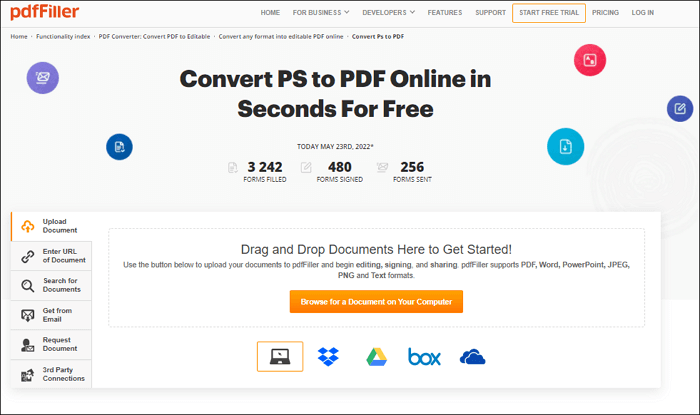 Features:
Convert several formats such as PS to PDF
Easily add or remove text in PDF documents
Enhanced encryption and security over your PDF files
3. Online2PDF
Online2PDF comes free for use online. It will convert several file formats to PDF such as PS, PPT, Excel, etc. Likewise, this tool will convert images from JPG, TIFF, and GIF, among other formats to PDF. 
The Optical Character Recognition (OCR) feature is a plus for scanned documents. You can run an optical character recognition of the scanned images by simply choosing the language of your document for OCR option.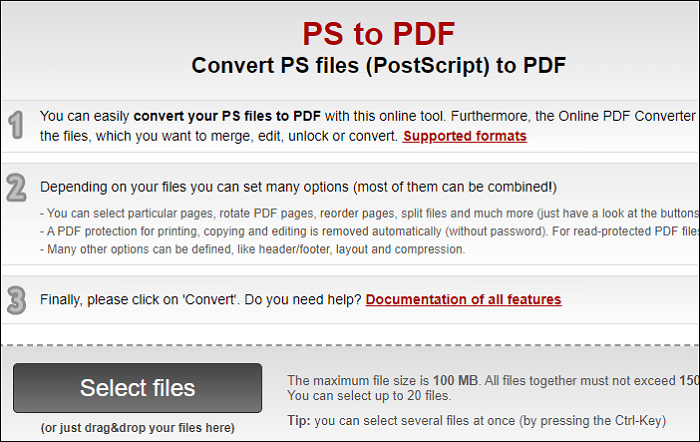 Features:
Convert several formats to PDF
Make scanned documents searchable
Edit PDF like arrange, split, merge, etc. 
4. ZamZar
ZamZar is another qualified online PS to PDF converter. It has an intuitive interface, letting you convert files online without the need to download the tool. It supports several operating systems like Linux, Mac, and Windows.
This app converts several data types like videos, audios, CAD formats, images, etc. Directly upload the file for conversion from your computer. Likewise, you can enter the file's URL to ZamZar's interface or drag and drop files for conversion.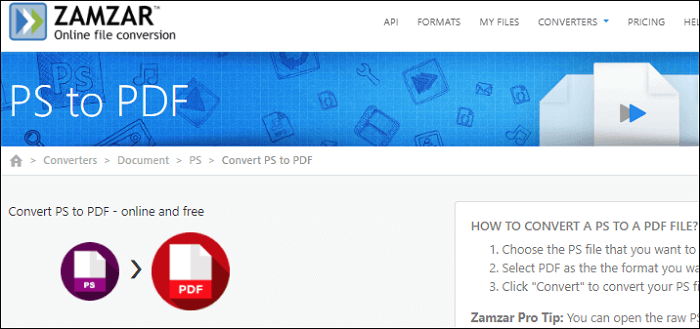 Features:
Convert numerous types of files, including PS to PDF
Create and add an electronic signature to your converted PDF files
Convert between many documents like videos, images, audio, and archive formats
Bonus Tips: Best PDF Converter on Windows
A reliable tool that can convert PDFs to common formats is EaseUS PDF Editor. It's an all-in-one PDF converting and editing tool that converts several file formats such as Excel, PTT, Word, and images to PDF or vice versa. Once your conversion exercise is successful, you can employ other functionalities like cropping, splitting, or rotating your PDF pages as desired. Also, it takes into account the security of your files, so adding password protection to PDF files protection is easy.
EaseUS PDF Editor
Convert Word, PowerPoint, and Excel, to PDF or vice versa
Print PDF without margins in a few simple clicks
Add a password for security and protection of PDF
OCR PDF to make the scanned PDF editable
E-Sign your converted PDF files
About the Author

Crystal Chen is very interested in technology products. Experiencing many technological applications like video editors, screen recorders, and PDF editors, She is willing to solve users' issues through writing tech-related articles. Through her words, you can find various solutions to solve one problem.