Best 6 HTML to PDF Converter | Online and Offline
HTML is powerful, not without reason. With mere lines, it can save plenty of files (and different formats too). Unfortunately, there are times where HTML is not suitable for our situation. An example of such a situation is when we present the HTML file to someone else or send it to someone else who's using a different device. It will be a hassle if the original content and layout are modified just because we see it on another device.
Thankfully, we can retain the content's original layout by converting it to PDF. Converting the PDF allows the document to have its layout unchanged since nobody can edit it except by adding new elements. So, the originality of the HTML is maintained well if the file is converted to PDF.
Top 6 Best HTML to PDF Converter - Online and Offline
We have listed several HTML to PDF converters for those searching for ways to convert HTML files to PDF. Check it out!
1. Adobe Acrobat Pro DC
When it comes to HTML to PDF converter, you cannot miss Adobe Acrobat Pro DC, which is a versatile PDF program. It allows you to change different file formats into PDF, like .png, .doc, and many more. 
In addition, it provides lots of editing features that allow you to compare, rotate, split PDF files with simple clicks. Due to the seemingly unlimited options Adobe Acrobat Pro DC offers, it's not a surprise that the software is used among professionals. So don't be surprised if the software is already installed on your office's computer.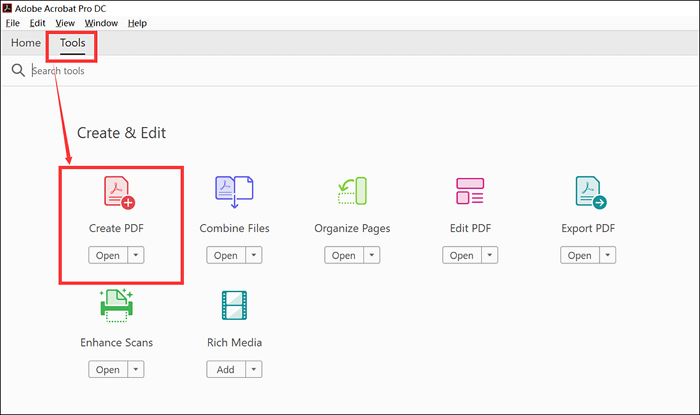 Pros
Editing and conversion are done in one application
It has lots of features for editing and conversion
Allow users to scan documents
Cons
Compatibility: Windows, Mac
2. Sedja
Sedja is an online HTML to PDF converter that gives plenty of choices when it comes to conversion. It allows conversion from HTML, JPG, and Word to PDF easily. Besides converting, users can also do plenty of things to give some touch-up on their newly converted PDF file. From editing the PDF form (if it is a form), extracting and merging pages, resizing the file - almost anything is possible with Sedja.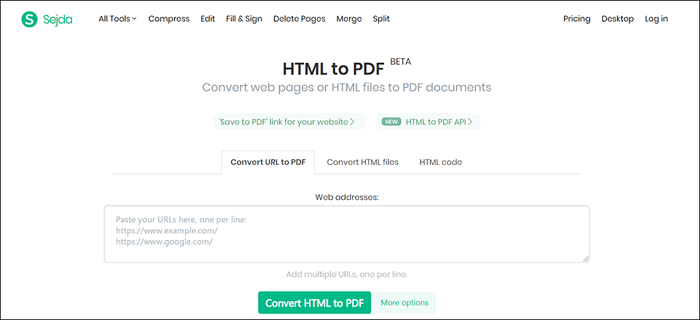 Pros
Delete files automatically after two hours
Extract images from the PDF file
Compress the file
Cons
It might need to refresh if the file isn't uploading
Only the most expensive paid subscription gives full features for the desktop version
Compatibility: Windows, Mac, Online
3. PDFCROWD
Just like any other HTML to PDF converter, PDFCROWD allows you to convert HTML files to PDF in a matter of minutes. However, what makes it stand out is the fact that you can directly extract HTML from a website and convert it. Also, you can manually enter the HTML code and have them convert it to PDF. The features make PDFCROWD perfect for those who need to convert HTML directly from a website.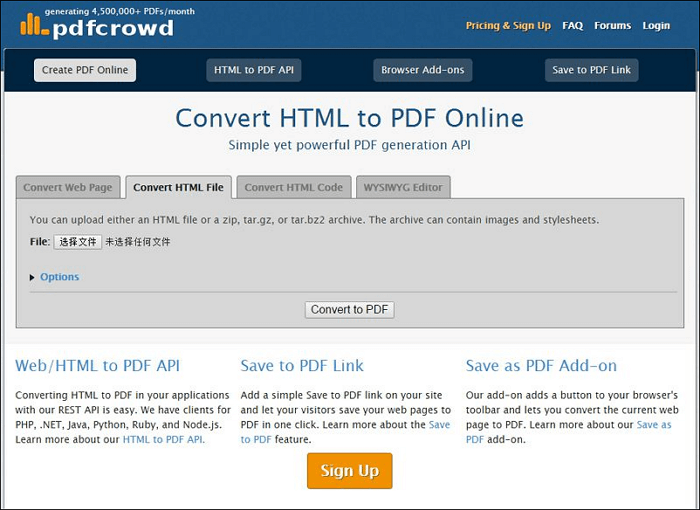 Pros
Easy and straightforward interface
Allow HTML code editing
Offer conversion to other formats
Cons
No free PDF editor
Adjust page orientation costs money
Compatibility: Windows, Mac (online)
4. Convertio
As one of the HTML to PDF converters, Convertio has more than 300 formats available. The amount makes it possible for the website to have 25,600 conversions between files. To make it even better, the conversion does not take a lot of time. It claims that the conversion can take place as fast as two minutes. It is the conversion for those who need other formats besides PDF.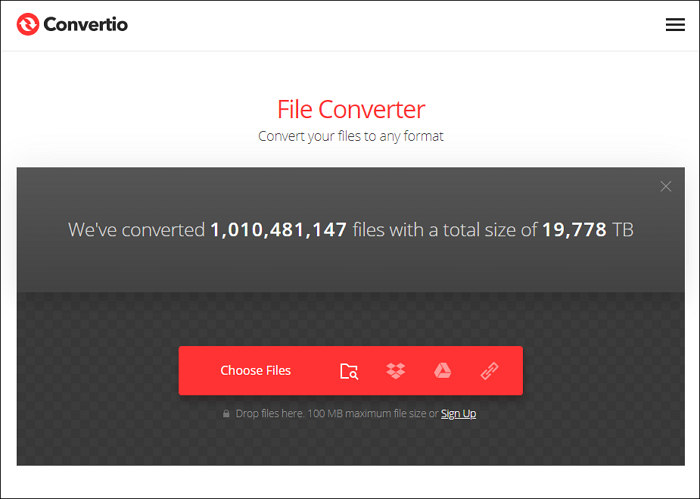 Pros
Allow cloud storage
Offer custom settings for the conversion
Support all devices
Cons
Conversion using transparent PNG background can fail at times
Compatibility: Windows, Mac
5. PDFreactor
PDFreactor is an application that is genuinely meant for HTML to PDF conversion. The HTML to PDF converter allows converting even the most complex HTML file out there. As a converter, PDFreactor allows its users to enhance the documents with complexity, such as SVG, MathML, QR codes, and many more. They might sound complex, yes, but this makes the software perfect for intermediate users who are in dire need to tweak the files in a more advanced manner for their needs.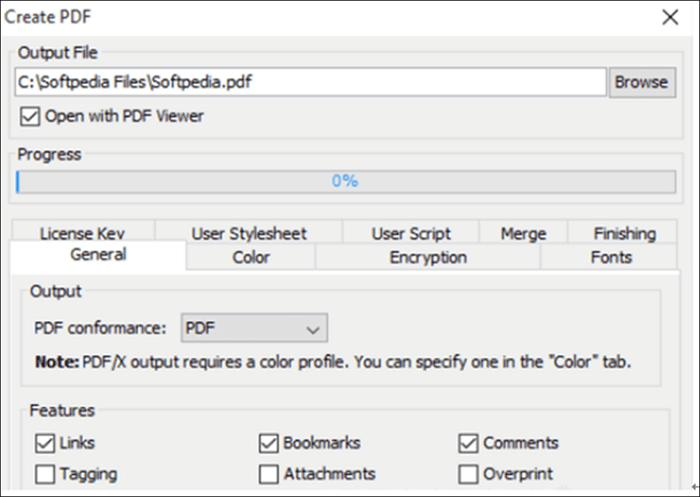 Pros
Constant updates
It offers lots of features
Give case studies and guide
Cons
Extremely expensive
Purchasing the software is complicated
Compatibility: Windows, Mac
6. Win2pdf
Want to keep the software along with the files? Then it would help if you opted for Win2pdf. As its name stated, Win2pdf is a converter that allows converting many files to PDF, and HTML is one of those files.
The HTML to PDF converter's main highlight is its automation feature that allows users to set up the commands to the software; the command will do everything when triggered.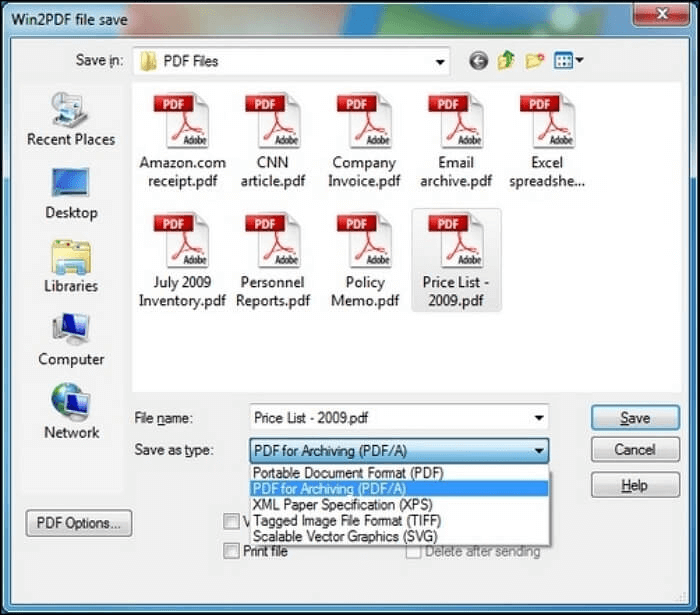 Pros
Offer extensions
Allow users to create custom plug-ins
Available for all version of Windows
Cons
It only offers a free trial as its free product.
The trial version is only available for 30 days
Compatibility: Windows
Free Windows PDF to HTML Converter - EaseUS PDF Editor
For those who are into Windows software, we suggest EaseUS PDF Editor for you. Yes, it does PDF editing, but its conversion feature is another highlighted feature of the software.
By using this software, users can convert lots of files from and to PDF. Whether the file is an image or another document, this Windows PDF editor can do the conversion thanks to its easy interface seamlessly. So, there is no need to worry if the file you want to convert is an image. By using this program, you can convert even the tiniest image into a PDF.
Key Features:
Adding new elements on PDF forms 
Splitting, merging, and changing the order of PDF pages
Protecting files by password
Allowing you to add a digital signature
 Giving accurate OCR features
 Notice:

The current version of EaseUS PDF Editor does not support converting HTML to PDF.
About the Author

Crystal Chen is very interested in technology products. Experiencing many technological applications like video editors, screen recorders, and PDF editors, She is willing to solve users' issues through writing tech-related articles. Through her words, you can find various solutions to solve one problem.