[Solved] How to Create a Profit and Loss Statement Template
If you are running a business, a profit and loss statement is a must for you to check out whether you are making a profit or you are losing your money. You can get the net profit number from this sheet, which is an essential indicator of your business's financial conditions. Also, you can use it to make a prediction for the ongoing business performance. 
Below is a demonstration to provide you with a profit and loss statement template. You can use the sample template to create your income statement. Finally, we will guide you on creating this template quickly, with a PDF form creator.
Profit and Loss Statement Template in PDF
A profit and loss statement or income statement is an effective tool to review the cash flow of a business. It is widely used by a small business or a sole trader. Generally, you can have this sheet in monthly, quarterly, or yearly periods. Below are two kinds of templates on a time basis. You can refer to them and help create your own sheet.
Monthly P&L Statement Template
It can be used to monthly analyze the financial performance of a business. Meanwhile, you can use it to compare business performance horizontally in the month. Below is an image of a monthly P&L template.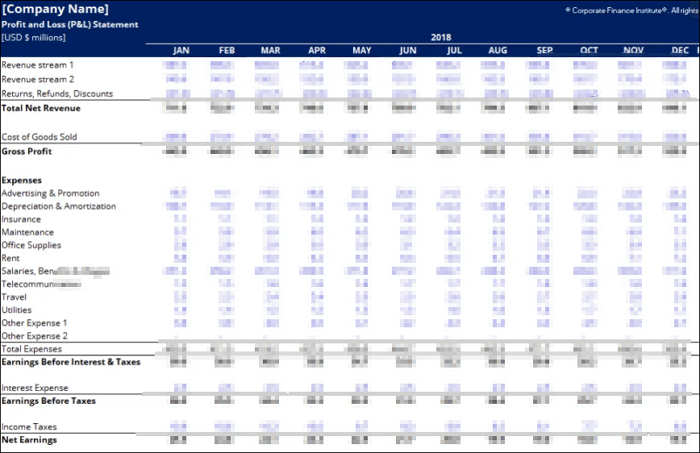 (Credit from: https://corporatefinanceinstitute.com)
Annual P&L Statement Template
Similarly, the annual template provides business performance in a long time. You can make vertical comparisons from different years. For example, you can see whether you make better sales than the previous years. Here is a sample.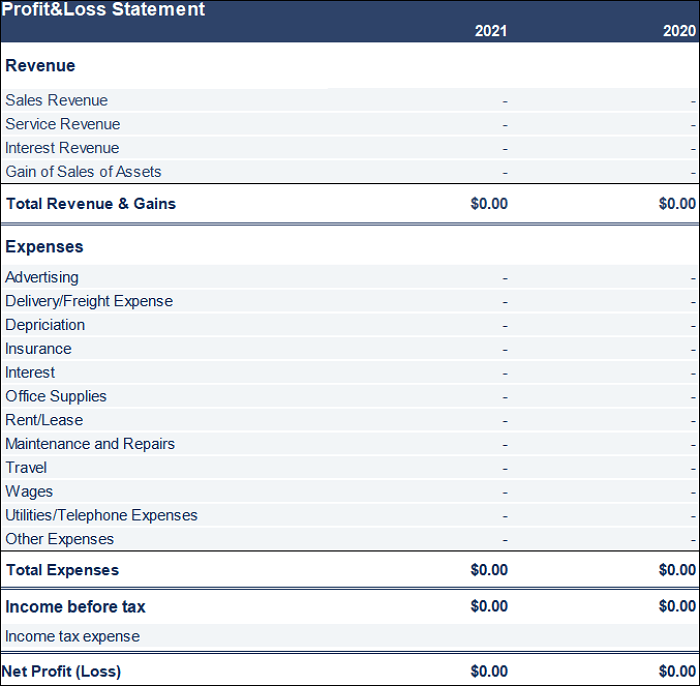 How to Create a Profit and Loss Statement Template
Use the above template to create your own income statement. Since you have already known what the templates look like, they can be created easily. Create a fillable PDF form directly using a helpful PDF editor like EaseUS PDF Editor.
Although this tool cannot provide the calculation features as Excel does, it provides a better visual effect with its simple interface. You can use it to create a template to evaluate your business performance. Before that, download it for free.
Get your business information. Then, follow this guide, and you can make this sheet yourself. 
Step 1. Open this tool on your PC. And click "Create" to open a blank document. Then, select "Forms" from the right toolbar to choose "Text Field". Meanwhile, you can see options such as "Import Data". Choose it as you want.
Step 2. To create a PDF template, you can directly add your contents. Calculate the revenue, cost of goods sold, expense. Then you get gross profit from the difference between revenue and cost of goods sold.
Step 3. Finally, Gross profit minus expenses, and you can get the net profit figure (before tax). 
Step 4. Once you are satisfied with your sheet, you can save it to your PC directly. 
Let's look at what else this tool can do. You can use these features to enrich your PDF.
Main features to deal with PDF form:
Import data into PDF with ease
Sign a PDF with edited form
Extract the selected data from PDF form
Simply add text into the form
Meanwhile, if you are using this income statement for business usage, it's necessary for you to password protect PDF. Luckily, this editor also supports this feature. Therefore, you can ensure its information safely under the protection. 
FAQs About P&L Statement
If you have some questions about this P&L statement, here, the below content will be helpful for you.
1.What does a P&L statement show?
This sheet elaborates the deducting number between revenue and expense in an organization. Generally, the profit number tells you whether this company is making a profit or loss. Stakeholders like creditors, investors, and the government will regard this business sheet as an important financial source.
2. What are the components of the P&L?
A complete P&L will include components like revenue, cost of goods sold, expenses, and net profit. The figure of the net profit tells you whether you are making money or losing money. These components will be concluded together in a sheet.
About the Author

Crystal Chen is very interested in technology products. Experiencing many technological applications like video editors, screen recorders, and PDF editors, She is willing to solve users' issues through writing tech-related articles. Through her words, you can find various solutions to solve one problem.