How to Convert RTF to PDF Online and Offline
What makes RTF files great are their flexibility. No software can break down their flexible nature of being able to be opened using different software. From A to Z, all software can open RTF files. RTF file's nature makes it perfect for those who collaborate using different software.
Of course, that does not mean that the file should stay as RTF files forever. There are times where we want to "lock" our content in the RTF file so that it cannot be edited. Or perhaps you would like to make the file appear presentable?
Don't worry, because the solution for such trouble is by converting RTF to PDF. We can do the conversion by using various software and devices. Would you like to know how? Check out the tutorial below!
How to Convert RTF File to PDF Online for Free
If you are the type of person who is always in a rush and cannot be bothered with sticking with one device, you can convert RTF to PDF online. Here are our recommendations for online RTF to PDF conversion.
Online 2 PDF
When it comes to being straightforward, Online 2 PDF pulls no punches. Their website has a simple layout (outdated for some people) where the conversion tools are placed right in the middle of the website.
Users don't need to worry about being confused, as the steps are clearly written in the middle. All we need to do is to read the instructions and do as we are told. In a short time, we will be able to convert RTF to PDF easily.
For those who are still unsure of the instructions, here are the steps to use Online 2 PDF:
Step 1. Upload your RTF file.

Step 2. Choose PDF as the final output for the conversion. You can convert two files at once.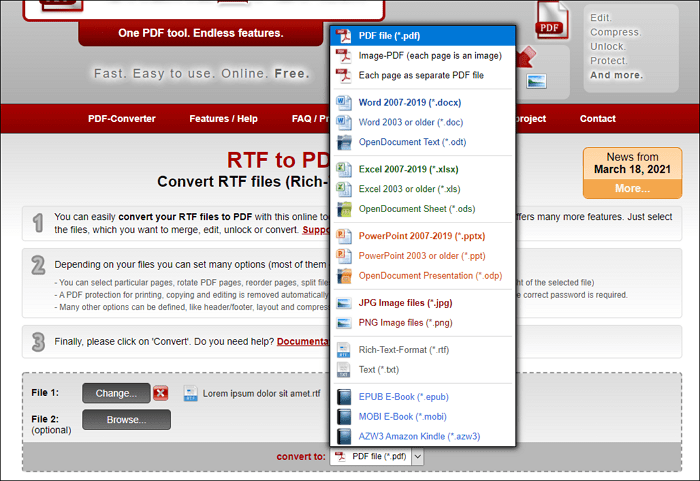 Step 3. Start the conversion. Once done, the computer will automatically download the PDF file when the conversion is complete.

Zamzar Online File Conversion
Is Online 2 PDF's website too dull for you to convert RTF to PDF? If that's the case, you might want to check out Zamzar Online File Conversion. The online-based conversion has converted around 510 million files since 2006, making it pro when it comes to converting files.
Although the website has operated since 2006, it keeps its updated with the latest trend. We can see it thanks to its simple but fancy website layout. There are instructions too, so goodbye getting lost! Hello RTF to PDF conversion!
For those who want to know how to use Zamzar, here is how you do it:
Step 1. Upload the RTF file. The uploading process is complete when the website shows a 1-2-3 like the image below.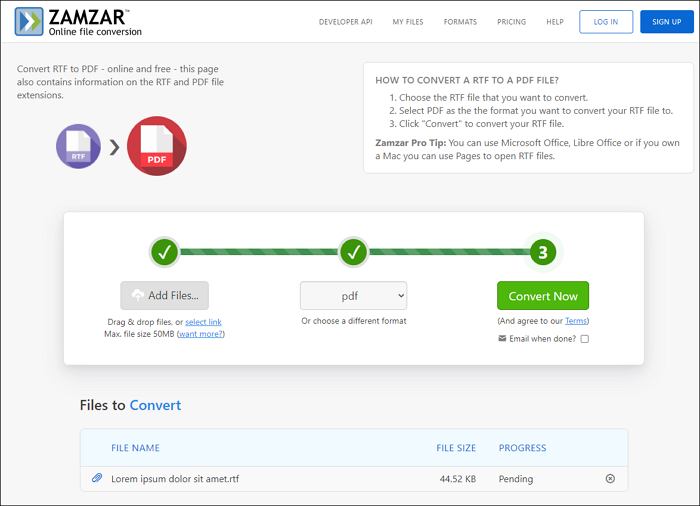 Step 2. After uploading the file, press "Convert" and wait for a couple of seconds.
Step 3. Download the converted file. Save the file to any location you want.
How to Convert RTF to PDF Offline
If you prefer to convert RTF to PDF offline, you can opt for Adobe Acrobat. Most know it as a PDF reader and editor, but it can actually be used as an RTF to PDF converter. And thanks to its editing features, you will get a powerful PDF editor too. It's definitely killing two birds with one stone.
Some people might not be familiar with the conversion from RTF to PDF using Adobe Acrobat. Here is how you do it:
Step 1. Open Adobe Acrobat and "Create PDF."
Step 2. Upload the RTF file once the window to import your file is open.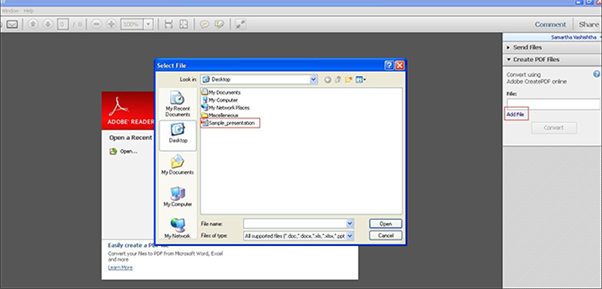 Step 3. Choose "Create PDF Files," and click "Convert."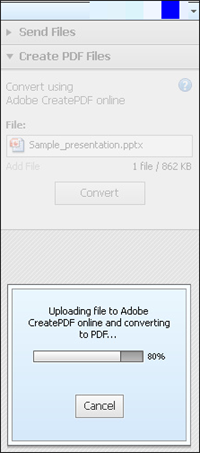 Step 4. Save the file on your computer by clicking "Retrieve PDF File." And you're done!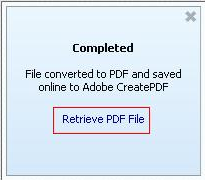 Best Free PDF Converting Software for Windows
If you are looking for a versatile PDF converter for Windows, then we recommend the EaseUS PDF Editor. It is a powerful editor that allows users to convert files from or to PDF files, no matter their original input/output. Furthermore, the conversion is done in a short time, giving us quick access to our desired output.
What makes its conversion stand out is the amount of output it supports. You can convert PDF to Word, Excel, PowerPoint, and HTML. You can also convert PDF to images such as JPEG, Bitmap, PNG, and many more. To make it even better, all these conversions won't make the document/image lose the original quality and layout.
Besides being a converter, it is also an excellent Windows PDF editor that also has features that can help us add some touch to our PDF. 
EaseUS PDF Editor
Allowing us to add comments and bookmarks
Protecting our files by using the password feature
Giving users features to add elements related to digital form
Splitting and merging PDF - users can edit their file however they want
Notice: Please note - the current version of EaseUS PDF Editor does not support RTF format.
About the Author
Melissa is a sophisticated editor for EaseUS in tech blog writing. She is proficient in writing articles related to screen recording, video editing, and PDF file converting.