Personal Financial Statement - A Beginner's Guide 2022
A personal financial statement is a valuable tool to assess your individual finances and determine the ability to the payment on the loan. This spreadsheet details the personal economic elements like asses and liabilities. If you want to make a bank loan, the lender will use this sheet to know your net worth and calculate the repayment risk.
When submitting such sheets, you should fill them out first. The way to get a fillable PDF  form is using the right tool. In this post, we will show you a sample template as well as related elements. Meanwhile, we will guide you on how to fill out PDF forms using an effective tool in detail.
Cannot fill out a PDF form? Here, the below tutorial helps you find an efficient method to fill out your form easily.
Related Article: >> How to fill out a not fillable pdf form
What is Personal Financial Statement
This worksheet is a document that summarizes an individual's economic position during a specific time period. It lists what you own, what you owe, and your net worth, which is given by subtracting liabilities from assets. Therefore, if your assets exceed liabilities, you will get a positive result for your net worth. Otherwise, you will get a negative number.
Generally, this statement helps the user record economic goals and indicates current financial status. You are required to provide this sheet when applying for a personal mortgage. Through it, the lender will see whether you have the ability to cover the debt in a given time period. For that reason, this spreadsheet is an important indicator of your financial status and defines most of your financial ability.
People might think about what items should be involved in this sheet. You can add your name, postal address, and other individual information. Also, financial elements such as assets, liabilities, and income are needed. In detail, you can divide these elements into current and non-current accounts to better calculate your financial liquidity.
Personal Financial Statement Template for PDF
A complete statement is usually composed of several parts, including a personal balance sheet and the income flow. Other spreadsheets such as cash flow might also be involved. It is a great method to evaluate your individual economic position.
To better deal with it, here, we show you one sample template.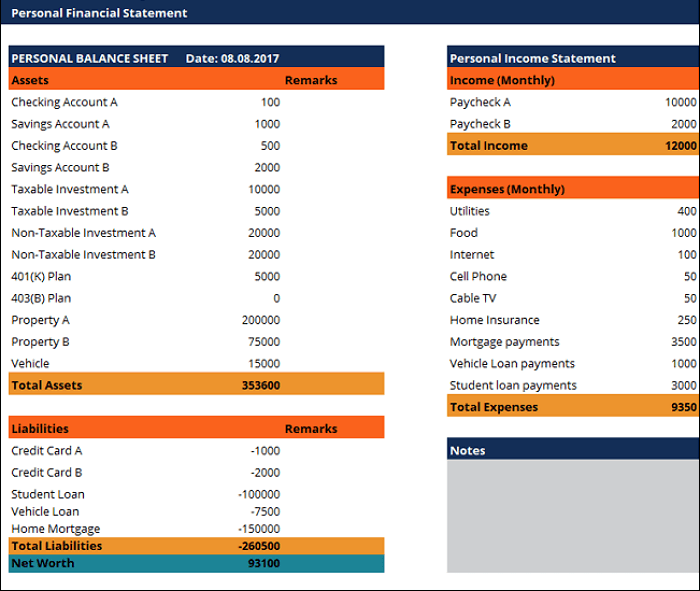 (Image credit: https://corporatefinanceinstitute.com)
 Notice:

PFS involves legal consideration as it is an essential indicator of your economic status. You should ensure the information is true and accurate. For financial usage, you should have this from official financial institutions.
How to Create a Personal Financial Statement
For individual usage, you can make this template without downloading it from the Internet. You can include items you want and calculate the financial stability yourself. The sample template from the market may not meet your specific needs, or it may include some invalid elements. For that reason, you can use a useful PDF form creator to help you. 
Followed is a list of steps to create an individual financial announcement:
Step 1. List all your Assets. It may include current assets like cash in the bank, account receivable, and so on. Also, non-current assets such as real estate are also needed in this part.
Step 2. Conclude all your Liabilities. You should list all individual unpaid accounts and other debts. Then, calculate the Net Worth by getting the difference between total assets and total liabilities. 
Step 3. To create a complete statement, you can add more parts like the individual income sheet, cash flow, and so on.
However, if you want to apply for a loan, you need an official one which the official department usually gives.
How to Fill out a Personal Financial Statement
For convenient sharing, this announcement is commonly made in PDF format. To get a fillable one, you should have a good PDF editor to allow you to fill out PDF form with ease. EaseUS PDF Editor is one of the most functional editors that give you an easy way to fill out your monetary forms. Simply click the Text Field button, and you can choose a specific area to work with a flat PDF form. After that, you can do more for editing a PDF as you like.
More features are provided by this PDF editor for Windows:
Add an e-signature field to the PDF
Make a PDF editable and searchable
Edit PDF image quickly
Use a password to protect the document
Create a watermark effect on PDF
To ensure the safety and privacy of your document, you can use this tool to protect your file. Most importantly, you can get a fillable PDF form. If you want to start the mission, download it for free!
About the Author

Crystal Chen is very interested in technology products. Experiencing many technological applications like video editors, screen recorders, and PDF editors, She is willing to solve users' issues through writing tech-related articles. Through her words, you can find various solutions to solve one problem.